An Easter Tree that can hold all of your Easter Ornaments. It's easy, inexpensive to make and it looks pretty on the table.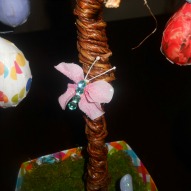 Here's What You'll Need For The Tree:
Wire Cutters
A 12 in. Wooden Dowel – Size Depends on how thick you would like your trunk. You can find a bag of dowels in any craft store.
Block of Craft Styrofoam – I used a 4-inch block.
A container of choice. – Try to find something the foam will fit in snuggly. I found my Easter basket in Walmart – I like the unique square shape. the square basket is perfect for the foam. They have several different colors to choose from – Some even have little bunnies on the design!
A sheet of Moss – I found mine at Michael's craft store. I've seen them at Walmart, in the floral-craft supply aisle.
Silk flowers – Get ones that look like a spring blossom.
Instructions: 
Starting with a dowel, as your base, using long strips of naturally wired – about 15 inches long – start wrapping the naturally wired around the dowel – going up in a spiral fashion. Leave gaps in the dowel is OK. You'll fill those in with the next few wires. Make sure you don't make it so tall that it's top-heavy
As you add another long strip, try to wrap it around the dowel, and fill in the gaps left from the last wire.
As you get to the top, wrap the two wires together twisting them for strength – leaving about 6-8 inches unwrapped.
The unwrapped pieces will be branches – place those outward, and upward to look like tree branches.
You can repeat until you are happy with the thickness of your trunk, and amount of base branches.
Now, if you want to use your leftover wire, add more secondary branches.
Just, start twisting out at the base of the branch – where the branch meets the trunk.
This would be a good time to add some flower stems with your silk blossoms. – Just cut off a piece of the flower and stem, and twist around it to secure it in the branch.
Shape to your preference!
Almost there:
Place your foam into your container, and push the tree into the center of your foam.
You can add some decorative rocks for weight, or whatever you have on hand to give it more weight. Fill in the gaps around the foam.
You can even cut out holes into the foam and put the weight there as well – don't worry about the looks of it. You'll cover it up.
Place the foam insert and tree into your container
~Melissa – KidFriendlyThingsToDo.Com
[box] [/box]