Halloween is so exciting for kids.  They love all of the spooky, fun decorations, the pumpkin carving, the Halloween books, the excitement of trick-or-treating, and of course all of the candy!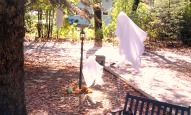 Why not try this simple, ghostly display to light up your path, on Halloween night.  The neighborhood kids will be sure to anticipate your doorstep.  And, your kids will love to help you prepare these ghostly friends for a fun display.
This Is What You Will Need:
Fabric – JoAnn Fabrics has a material called Costume Satin Sheer-it's what most people would use to make a ghost costume, but any lightweight, and transparent white fabric would work. – The amount is up to you.
White Balloons/-OR-New light up-LED Balloons (they come in assorted colors& are found in the party section).  I think they are my new favorite to put in the ghosts!
Glow Sticks/(unless you are using -LED Balloons)-Coleman Glow Sticks in Camping Section are Brightest
String
Paper Clip
Assembling The Ghosts:
Cut your fabric to the size you would like your ghost to be.  Don't forget that you will pull it up in the middle,  so cut it TWICE as tall as you want your ghost to be.
Find the middle of your ghost, and slide a paper clip through it.  This will help when you hang him or her up in your trees.
Activate your glow stick, and slide into the deflated balloon.
Inflate your balloon.
Let your kids use a permanent marker to make a ghostly face on the balloon.
Blow up your balloon, and fasten it to one end of the paper clip.
Now, flip the fabric over the balloon, tie some string to the top of the paper clip, and hang!
FYI:
For the brightest illumination, activate your glow sticks an hour before dusk, so they are at their brightest when dusk sets in.  It takes them a while to get really bright.
The brightest glow sticks are in the camping sections.  Coleman does a really good job.
New LED Balloons come in packages of 5 or more.  They come in several colors & last 15 hours. (I found mine in the Wal-mart party section.
Any color will do.  Why not try an assortment.