Another crafty mom shared this idea with me! She told me she saw a jet pack made out of 2 soda bottles! I've been thinking about it for months, and finally had the time to give it a shot! I think the jet pack craft came out pretty darn cute! I just hope my kids don't take it too seriously, and try to jump out of tree, today!
I think these would be a great addition to a costume closet, and Halloween Costumes.
Here's what I did to make this jet pack for the kids!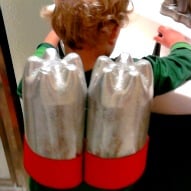 You'll Need:
2 soda bottles – I found these great "3" liter bottles at the Dollar Tree! – the soda was awful, but the size is perfect.
Sharp scissors
A sharp object to poke holes into the bottles – I used a dry wall knife – It's what I found in the toolbox that would work!
Ribbon -or- shoe laces for the handles
Wire to tie the bottles together – I used florist wire
A large piece of craft foam paper 12×16 sheet
A glue gun & glue sticks
Mop & Glo
Silver Glitter
Alright, let's get started! 🙂
Remove the soda wrapper
Start by cutting the tips off of the soda bottles – lining them up to make an even match.
Holding the 2 bottles evenly together, use a sharpie to mark the holes for the wire – this will hold the bottles together – Make 2 pairs of holes – 1 pair at the top, and 1 at the bottom
Poke a sharp object through the holes – be careful – yikes!
Secure the bottles together by stringing wire through the pairs and twisting to secure
Poke a larger pair of holes (only 1 pair this time) on the outside of the bottles to thread the shoe lace through
Put the lace through, and tie in a knot – inside the bottle – this will be the arm bands
Cut 2 long strips out of the craft foam – mine are about 4 inches wide by 20 inches
Wrap each strip around the bottom of the soda bottles – meaning the cut part ( I guess the original bottom is the top of the jet pack – a little confusing for instructions)
Secure with hot glue – you might want to use a WARM glue gun – the glue could melt the plastic if it's too hot – cut off any excess foam
Use Mop & Glo to saturate the inside of the soda bottles – allow any excess Mop & Glo to drain out of the bottles
Now, shake silver glitter all over the inside of the bottles – the glitter will stick to the Mop & Glo – when it dries, it will stick to the inside of the bottles. I mean…like REALLY stick!
You're done! Enjoy!
~Melissa – KidFriendlyThingsToDo.Com