Soda Bottle Jet Packs are such a great way to add fun to your child's play. If they are into Buzz Lightyear or any type of pretend play, they will love this new addition to their costume closet. Perfect for Halloween costumes. Check out my tutorial on How to Make a Jet Pack from Soda Bottles for a fun craft for kids.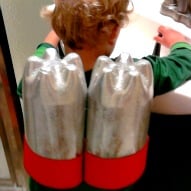 How to make a Jet Pack from Soda Bottles
Another crafty mom shared this idea with me. She told me she saw a jet pack made out of 2 soda bottles. I've been thinking about it for months, and finally had the time to give it a shot. I think the jet pack craft came out pretty darn cute. I just hope my kids don't take it too seriously and try to jump out of the tree, today. I think these would be a great addition to a costume closet and to Halloween costumes.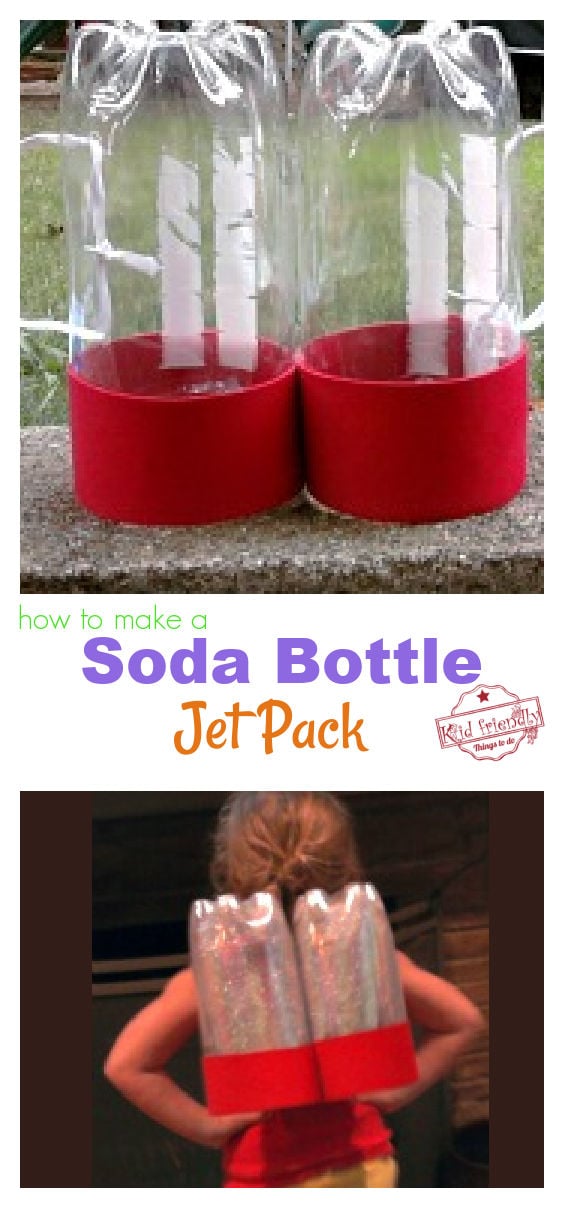 Are you Ready to Make this Jet Pack? Let's make sure you have what you need…
Supplies Needed for Soda Bottle Jet Pack
You'll Need:
2 soda bottles – I found these great "3" liter bottles at the Dollar Tree! – the soda was awful, but the size is perfect.
Sharp scissors
A sharp object to poke holes into the bottles – I used a drywall knife – It's what I found in the toolbox that would work!
Ribbon -or- shoelaces for the handles
Wire to tie the bottles together – I used florist wire
A large piece of craft foam paper 12×16 sheet
A glue gun & glue sticks
Mop & Glo
Silver Glitter
Instructions: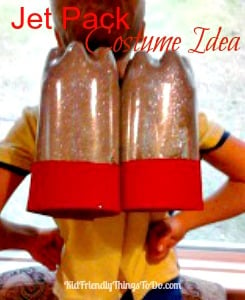 Remove the soda wrapper
Start by cutting the tips off of the soda bottles – lining them up to make an even match
Holding the 2 bottles evenly together, use a sharpie to mark the holes for the wire – this will hold the bottles together – Make 2 pairs of holes – 1 pair at the top, and 1 at the bottom
Poke a sharp object through the holes – be careful
Secure the bottles together by stringing wire through the pairs and twisting to secure
Poke a larger pair of holes (only 1 pair this time) on the outside of the bottles to thread the shoelace through
Put the lace through, and tie in a knot – inside the bottle – this will be the armbands
Cut 2 long strips out of the craft foam – mine are about 4 inches wide by 20 inches
Wrap each strip around the cut part of the soda bottles
Secure with hot glue – you might want to use a WARM glue gun – the glue could melt the plastic if it's too hot – cut off any excess foam
Use Mop & Glo to saturate the inside of the soda bottles – allow any excess Mop & Glo to drain out of the bottles
Now, shake silver glitter all over the inside of the bottles – the glitter will stick to the Mop & Glo – when it dries, it will stick to the inside of the bottles. I mean…like REALLY stick!
You're done
~Melissa – KidFriendlyThingsToDo.Com