Tomato Cage Ghosts are such a great Halloween decoration to put on your front porch. Easy to make and so much fun! They truly stand out as an amazing Halloween display both day and night.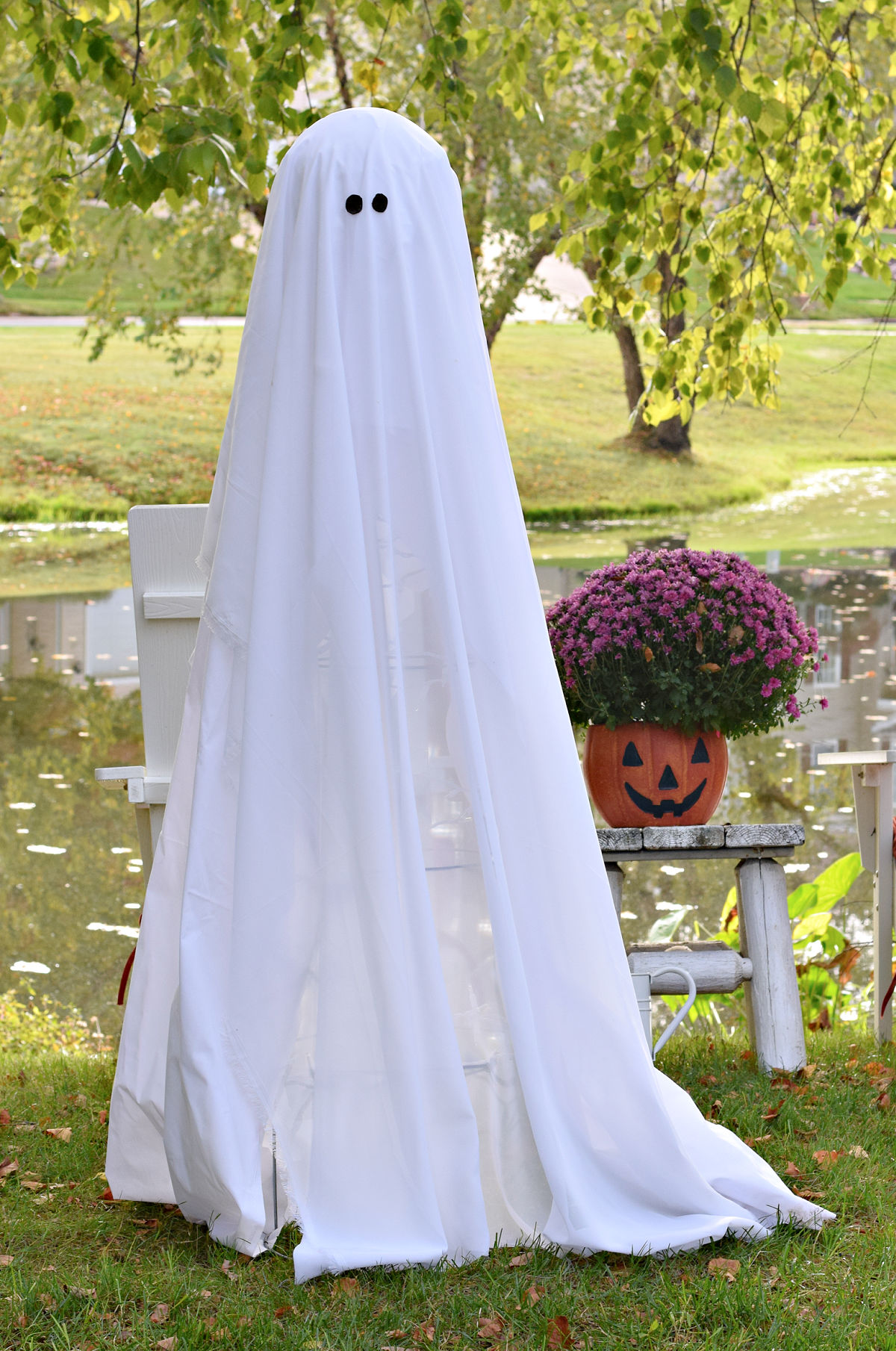 Tomato Cage Ghost
You can make the most adorable Halloween displays by making ghosts from a tomato cage.
I have been wanting to do this for a couple of years. Last year, I went over to Home Depot during that in-between time of summer and fall, and the tomato cages were already wrapped up for the winter. So, I told myself to remember tomato cages in the spring. Of course, I completely forgot about tomato cages. Here I go again, just like deja vu, in between summer and fall back to Home Depot looking for tomato cages. This time, I enlisted the help of some staff members for my Ghost Tomato Cage idea, and they were happy to grab their machine, pull down a pallet of tomato cages, and let me buy as many as I wanted. No problem! Some women even snapped a picture of the ghost made from a tomato cage idea so they could make some for themselves.
Now, with all of the supplies that I needed, I hurriedly got to work on these tomato cage ghosts. I have to say, they are some of my all-time favorite Halloween displays. They look expensive, adorable, and so fun.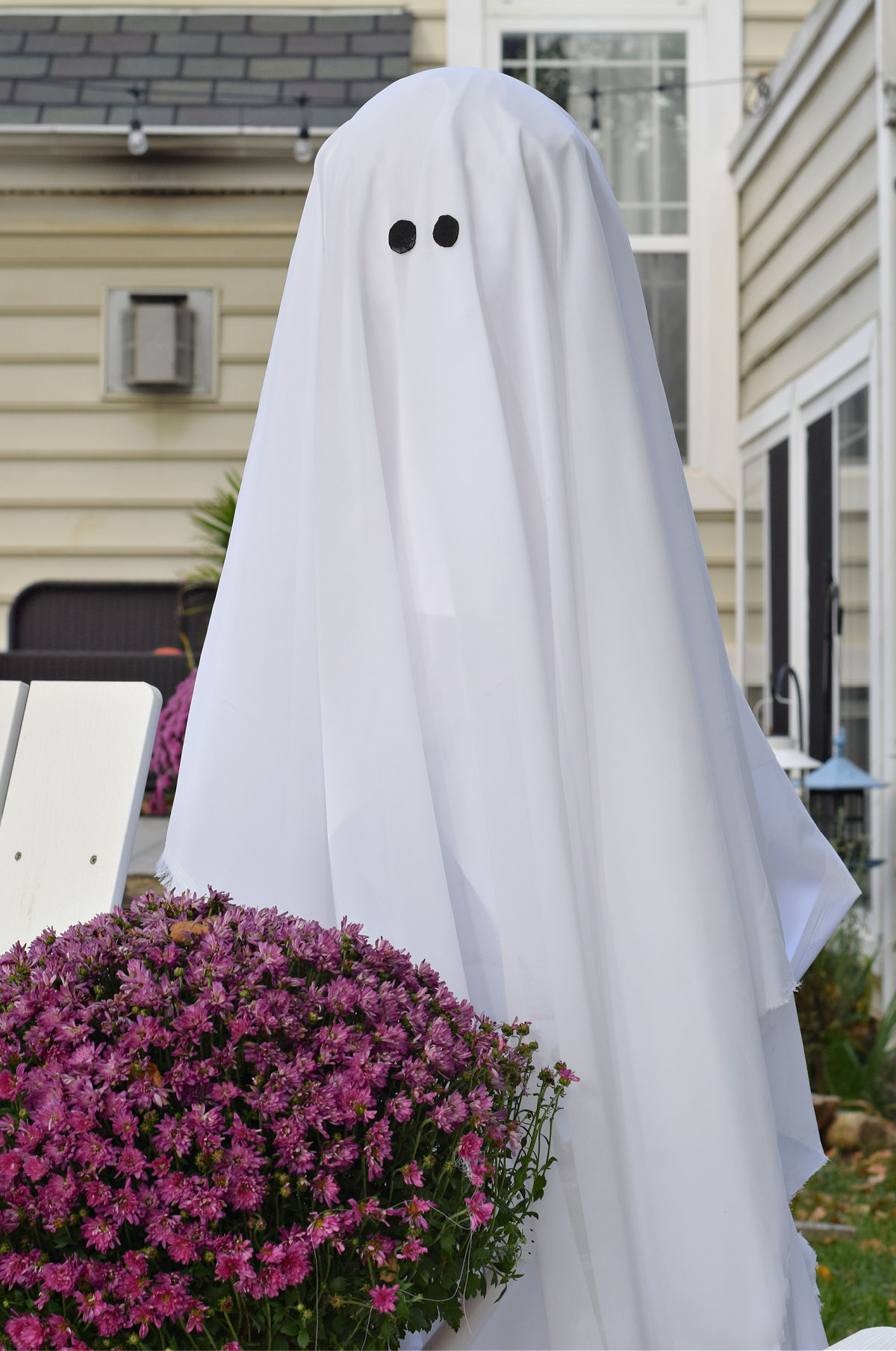 What I love about tomato cage ghosts
They are so stinking cute as Halloween displays
These ghosts made from tomato cages are so easy to make
They light up, so they are just as cute at night
Supplies You'll Need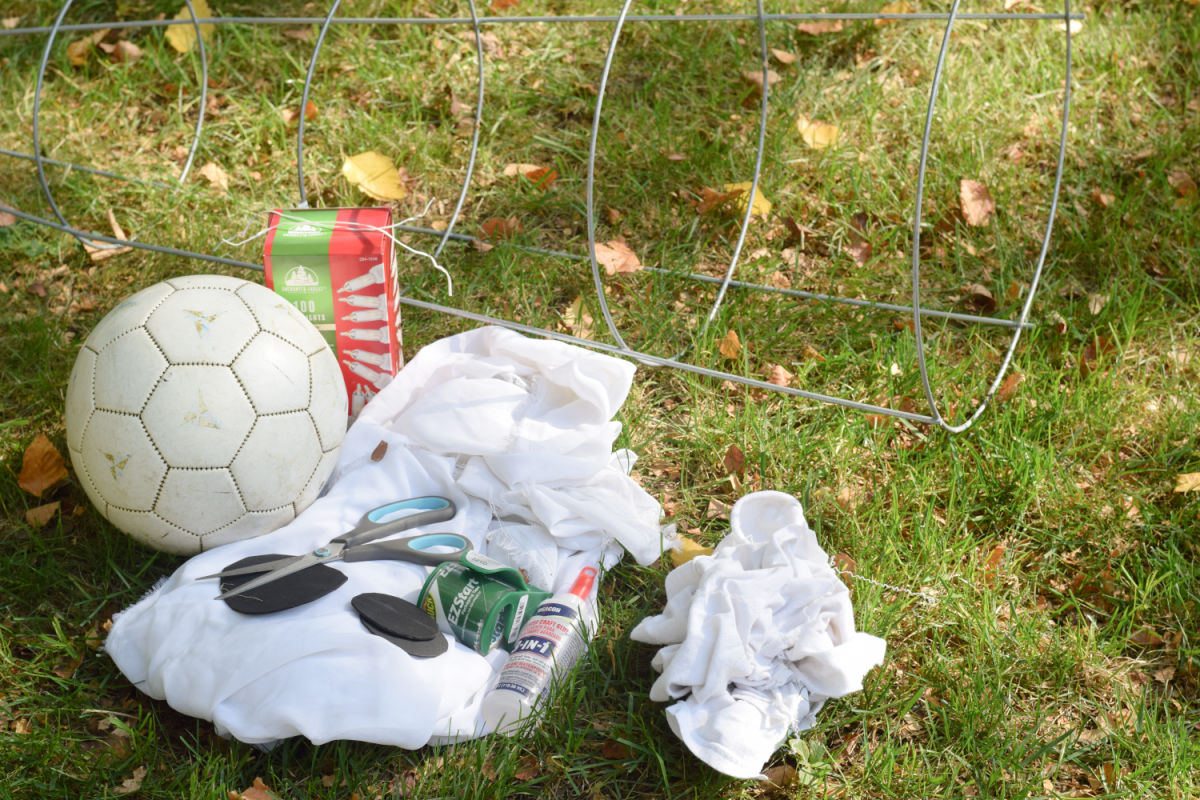 (Printable can be found below with full list and instructions)
tomato cage
old sports ball – if you have a white one, then that's perfect. I used old soccer balls. I have tons of them and I thought this was a great way to make use of them again. An alternative to using a sports ball is to use a styrofoam ball which can be found at most crafts stores. I'll supply a link to Amazon for some
Packaging tape – This will be used to make sure the ball doesn't go anywhere and is taped to the metal cage securely
White LED lights – you'll want to get the ones with white wire. I bought a string of 100 LED lights. LED lights don't get hot like the old-fashioned lights used to, so they are safer to use with fabric
An old white t-shirt or small piece of white fabric to go over the ball. I did this because even though I had white soccer balls, there were still some colors to hide. The white shirt covered that up. If you are using a Styrofoam ball, then you don't need the t-shirt or white fabric
White Fabric – You'll need at least 2 yards. It should be 2 yards wide and 2 yards long – basically a full square 6ft. x 6 ft. If you can't find wide fabric then, get 4 yards and you'll need to crisscross the fabric. My favorite type of fabric to get is polyester because it isn't stiff, it flows. You can also get a blend of polyester and cotton. or buy a full-size white sheet and cut it to fit your cage
Black foam sheet
Fabric Glue – or 3in1 craft glue. It should withstand bad weather outdoors
Scissors
Binder clips
Instructions
Step One
(you can find a printable below with full supplies and instructions)
Set your tomato cage upside down so that the pointed parts are at the top
Push your ball down in between the 4 metal stakes
Make sure that the ball is about halfway down, and the stakes are not poking out too much
Use the packaging tape to tape the ball and metal stakes
If necessary, cut up an old white shirt or use a piece of white fabric large enough to cover the ball and place it over the ball to hide dark colors – tape to secure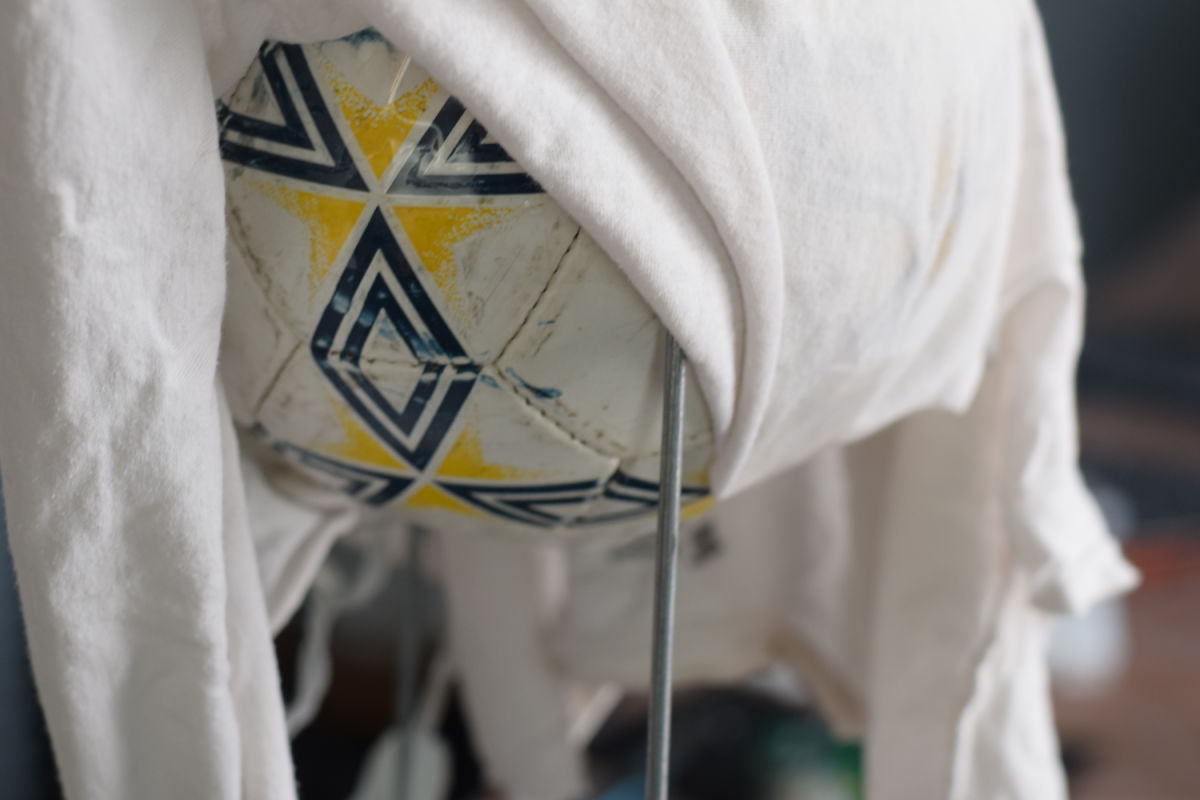 Step Two
Place your foot down on the bottom of the cage and start wrapping the lights from the bottom up. The plug end should be on the bottom
Use tape to secure the lights in a few places – as needed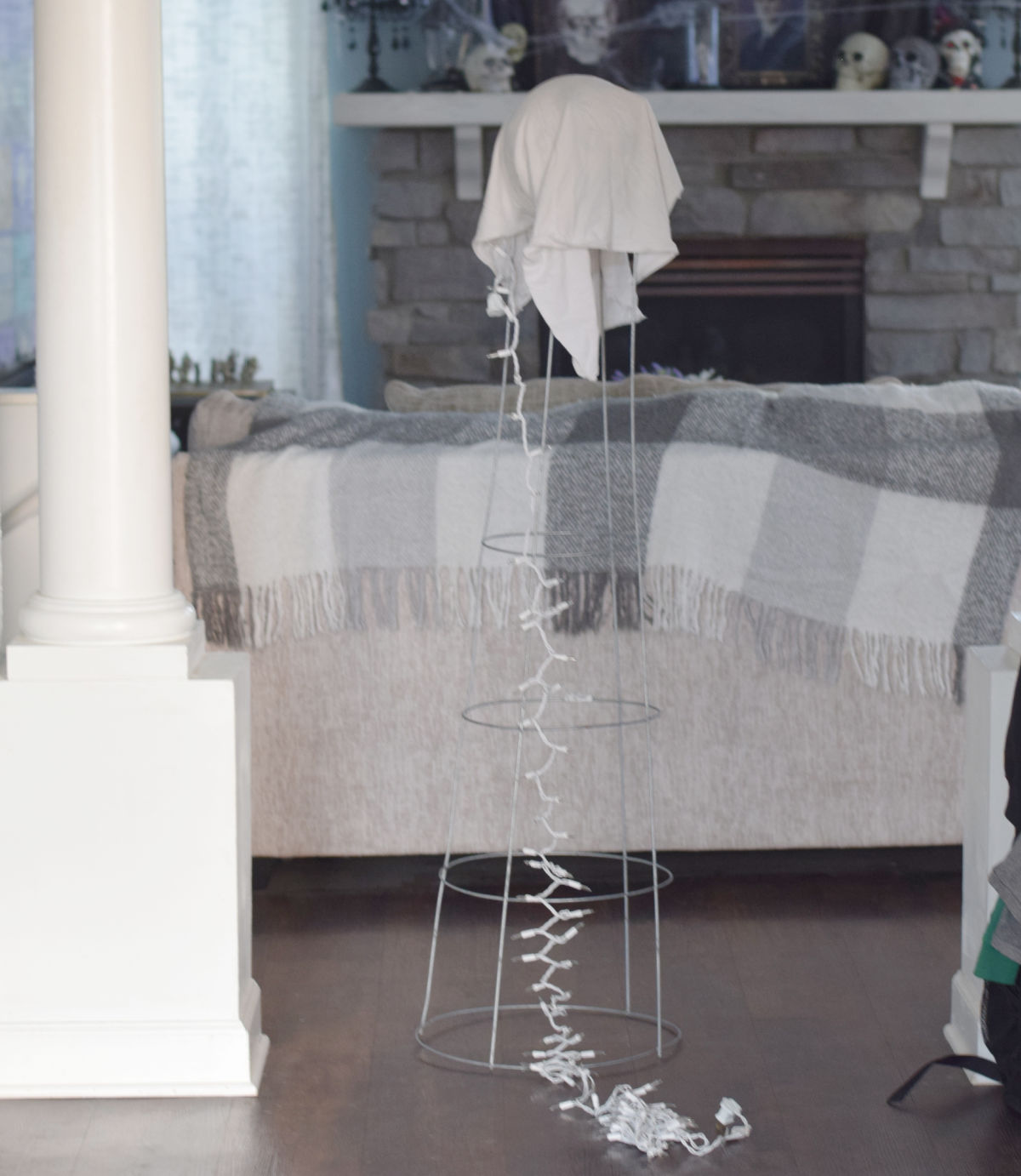 Step Three
Take your big fabric and throw it over your tomato cage and ball so that it hangs down all the way to the ground. If you have 2 pieces, then criss-cross the fabric so it goes all the way around the cage (in some cases, you don't need to cover the back)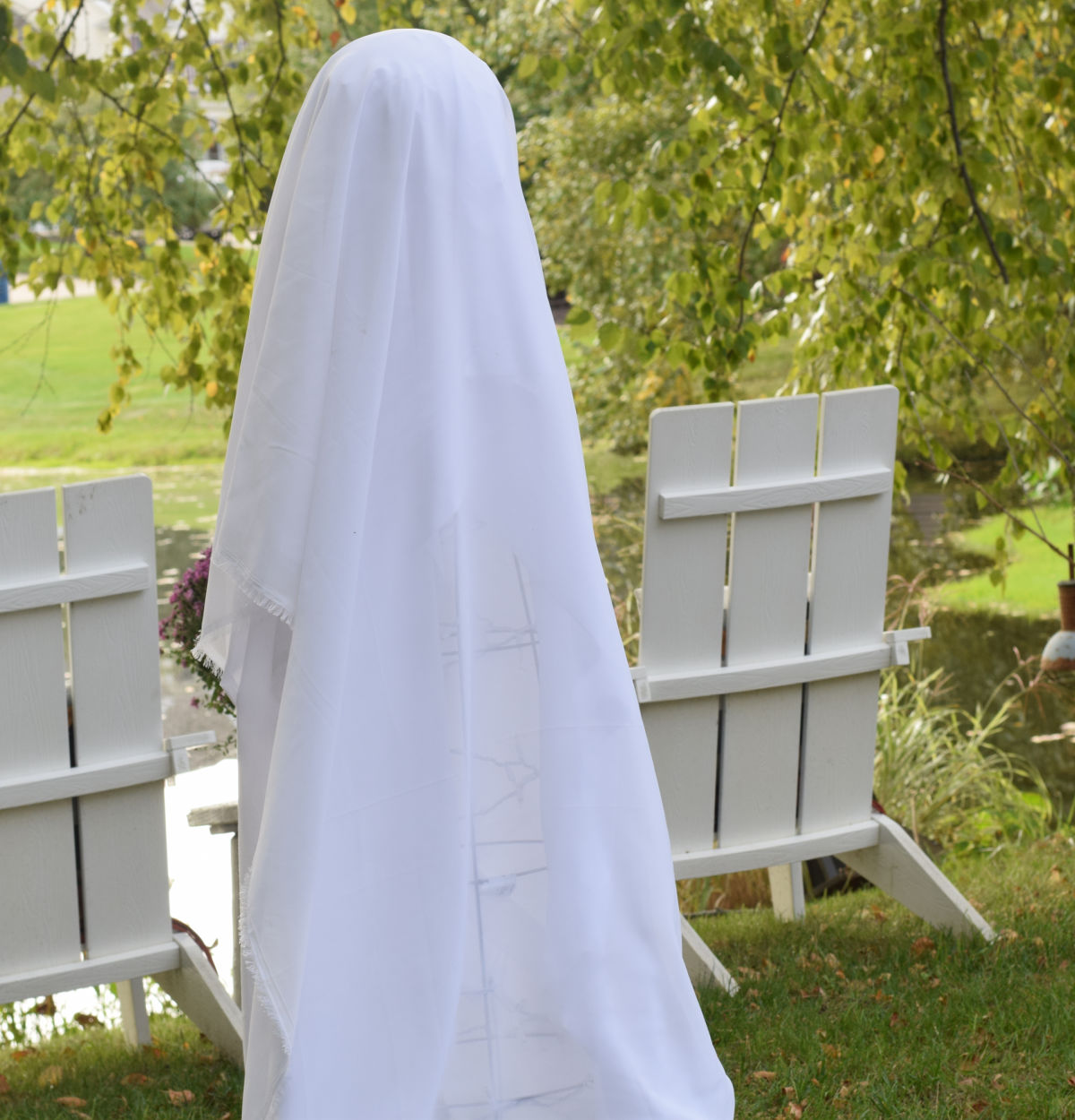 Step Four
Cut out eyes, and if you want, a mouth and glue it to the ghost's head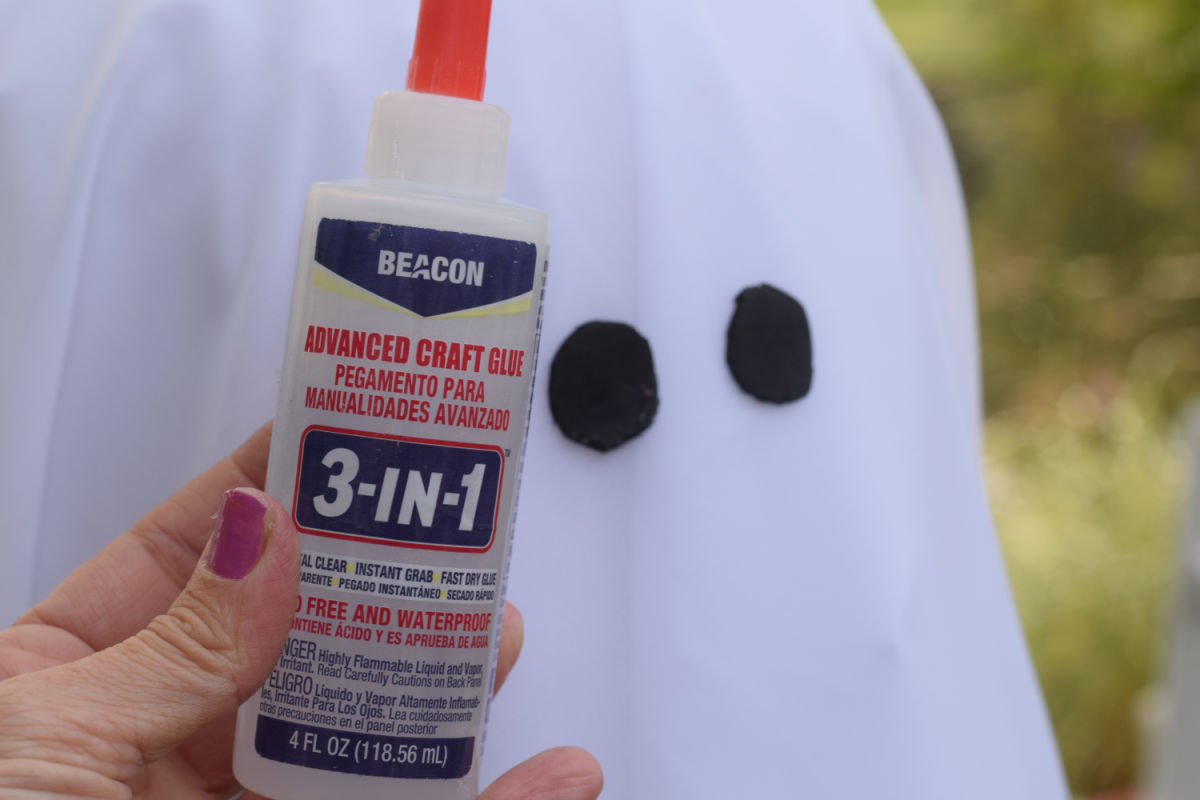 Step Six
Note: If you are placing these in the yard, use stakes to hold them down, and if you are in a really windy area, use bricks or something similar to weigh them down.
On porches, add something heavy to the bottom of the cages to hold them in place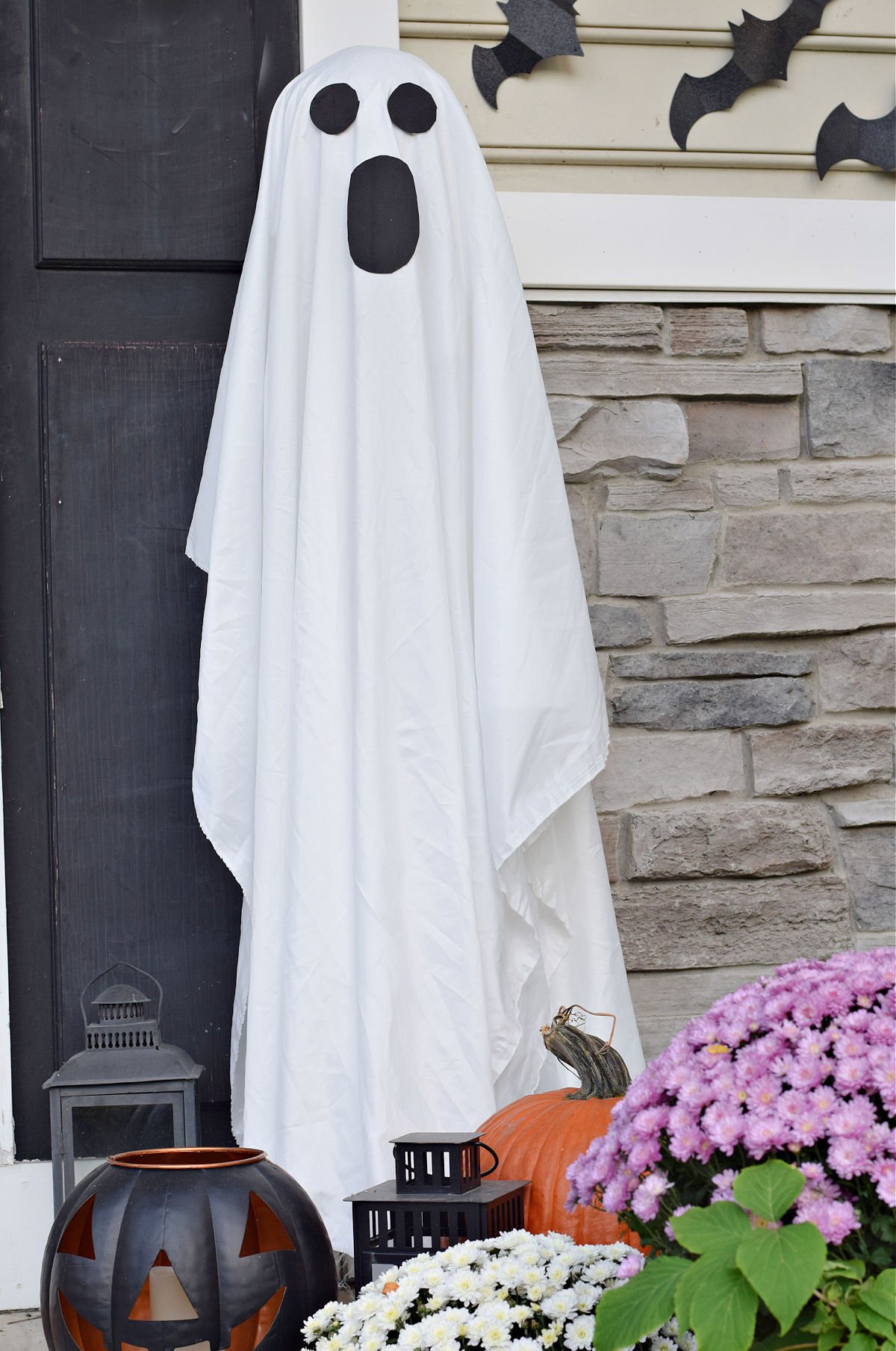 My top Amazon Picks
(affiliate links)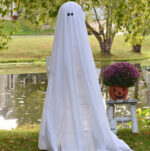 Print
Tomato Cage Ghost
Easy to make tomato cage ghosts for a cute Halloween decoration
Materials
tomato cage

old sports ball

or Styrofoam ball. If you are using a sports ball, find as close to white as you can

Packaging tape

White LED lights

I used a strand of 100 lights

An old white t-shirt or small piece of white fabric

to go over the ball – If it is not white or has other colors on the ball

1

piece

White Fabric – You'll need at least 2 yards

More about fabric in notes: I like polyester, or a polyester cotton blend

Black foam sheet

Fabric Glue

or 3in1 craft glue

Scissors

Binder clips
Instructions
Set your tomato cage upside down so that the pointed parts are at the top

Push your ball down in between the 4 metal stakes

Make sure that the ball is about halfway down, and the stakes are not poking out too much

Use the packaging tape to tape the ball and metal stakes

If necessary, cut up an old white shirt or use a piece of white fabric large enough to cover the ball and place it over the ball to hide dark colors – tape to secure

Place your foot down on the bottom of the cage and start wrapping the lights from the bottom up. The plug end should be on the bottom

Use tape to secure the lights in a few places – as needed

Take your big fabric and throw it over your tomato cage and ball so that it hangs down all the way to the ground. If you have 2 pieces, then criss-cross the fabric so it goes all the way around the cage (in some cases, you don't need to cover the back)

Cut out eyes, and if you want, a mouth and glue it to the ghost's head

Note: If you are placing these in the yard, use stakes to hold them down, and if you are in a really windy area, use bricks or something similar to weight them down.

On porches, add something heavy to the bottom of the cages to hold them in place
Notes
Note about fabric
It should be 2 yards wide and 2 yards long – basically a full square 6ft. x 6 ft. If you can't find wide fabric then, get 4 yards and you'll need to crisscross the fabric
Types of Fabric : My favorite type of fabric to get is polyester because it isn't stiff, it flows. You can also get a blend of polyester and cotton. or buy a full-size white sheet and cut it to fit your cage