Scouts Honor. Since the creation of this game, my kids have asked to play this game with me every single night. And I mean…all of the kids. Come on in, and I'll show you my "how to" on The Spider Race – A Halloween Party Game for Kids: 

Spider Race – Halloween Party Game for Kids
I love the fun memories this game has made, but it's a competition and mom takes no prisoners! Of course, we are all practicing to beat the ultimate challenger…dad. I think this game would be an awesome addition to a Halloween Party. We all know the room parents, teachers, and parent helpers are looking for fresh, new ideas for classroom parties.
Watch this video to see how easy it is to Make a Spider Race Game…
Don't forget to share this idea with your friends. They will love you for it!
Do you love Halloween as much as I do? Check out some of my other fun Halloween Game Ideas like, Ghost Bowling, Glow in the Dark Pumpkin Ring Toss and Spaghetti Noodle Eyeball Dig
Here's what you're going to need for this fun party idea:
Supplies Needed: 
2 or more Liquid Coffee Cream Tops – Get the ones with the rounded top. See the picture below. If you're a coffee addict like me…this shouldn't be a problem for you.
Black paint – I used fabric paint because it goes on thick the first time. Who has time for extra coats?  (Spray Paint is another good alternative)
Paint Brush
Black Pipe Cleaners – About 2 per spider, cut into 4 pieces
Scissors
1 Black pom-pom for the head – no specific size. Anything would look adorable!
2 Wiggle Eyes per spider
A paper or plastic straw
A 10 ft. piece of twine –   If you get a thick fluffy yarn the straw will get stuck and that won't be fun at all
*optional, but a good idea – strong black duct tape (just in case some pieces fall off in a rip-roaring race!) It could happen…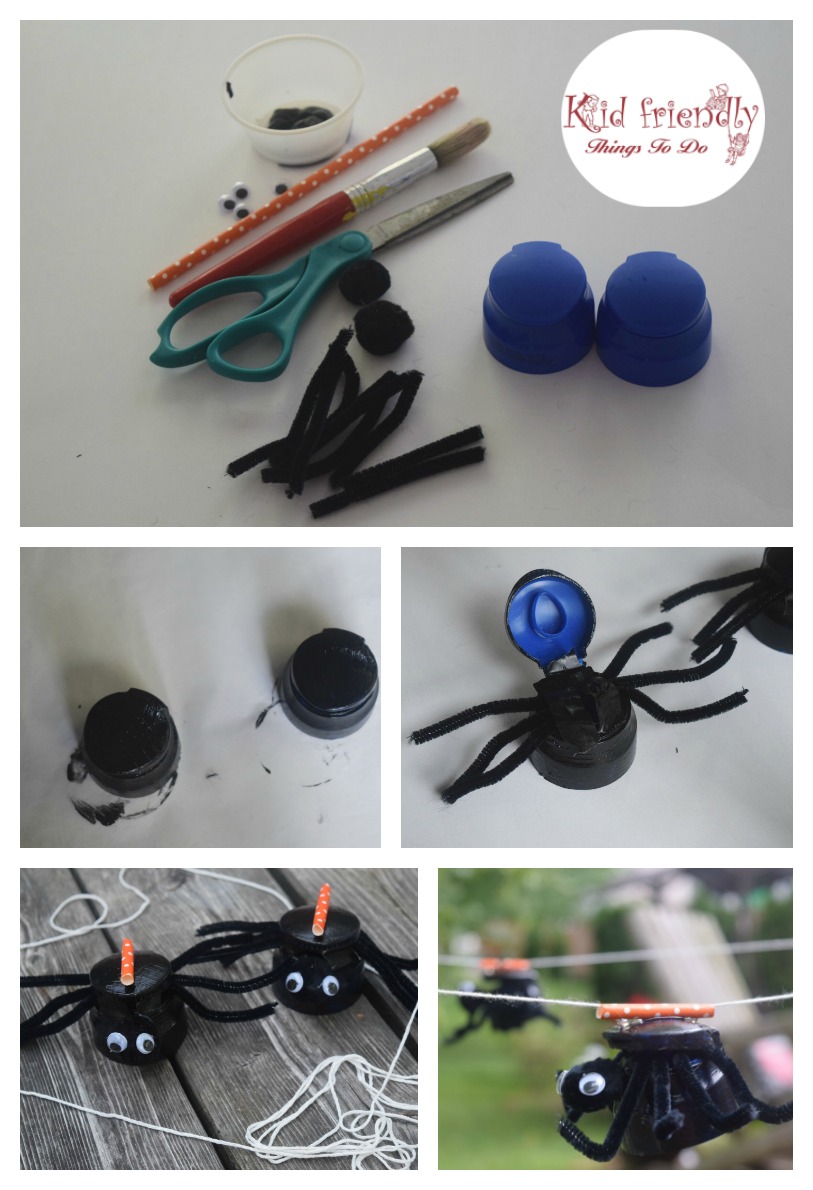 Instructions: 
Cover your painting surface and paint the coffee cream tops black and let dry
Open the lid and glue 4 pipe cleaner pieces to each side
Close the lids and add the Pom-Pom heads with wiggle eyes
Cut a piece of the paper straw and glue it to the top of the lid
If you're worried about the glue coming off during race after race, then you're my kind of person. I just can't help myself from thinking that a classroom of 30 little angels might tend to be a little rough for these cute spiders. In case of a spider emergency, have some super strong black duct tape ready to tape that straw back on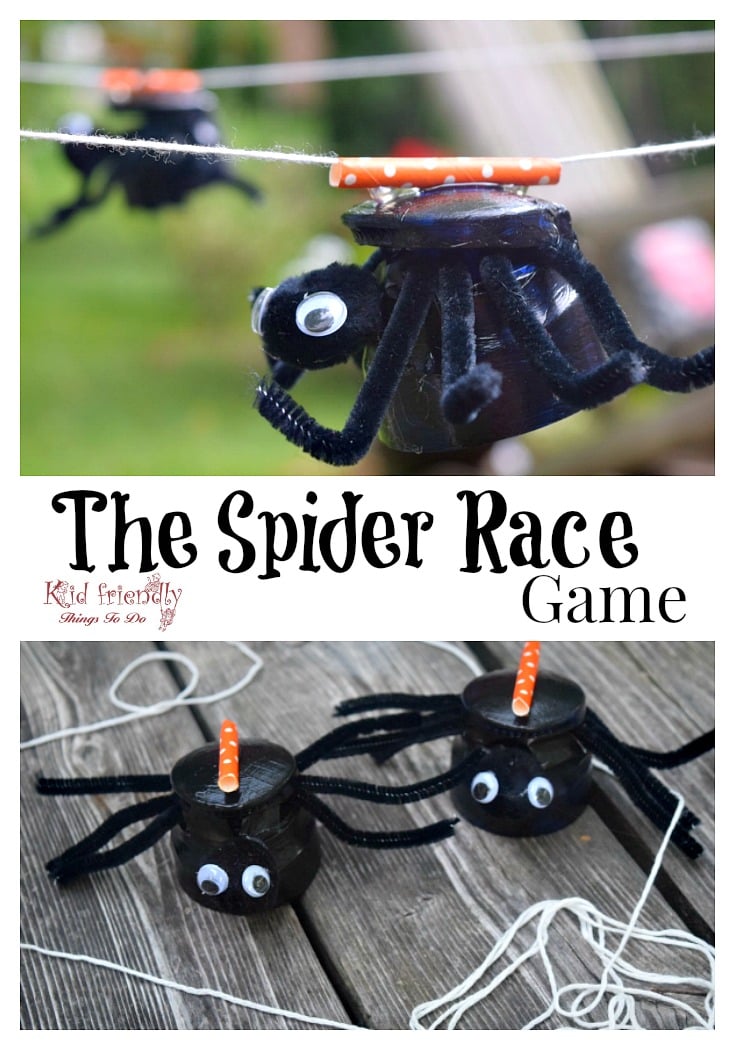 When you are ready to play, tie one end of each  piece of yarn to something in the room or in the yard – I used our soccer net to tie the yarn onto *In the classroom, you could use a chair leg
String the other side of the yarn through the straw on the spider
You can tie the other side of the string onto something taller, or just have the kids hold the other end of the string. (They can raise their arms up high to help the spiders on their way)
*The idea is one end of the string is elevated so the spider has a slope to race down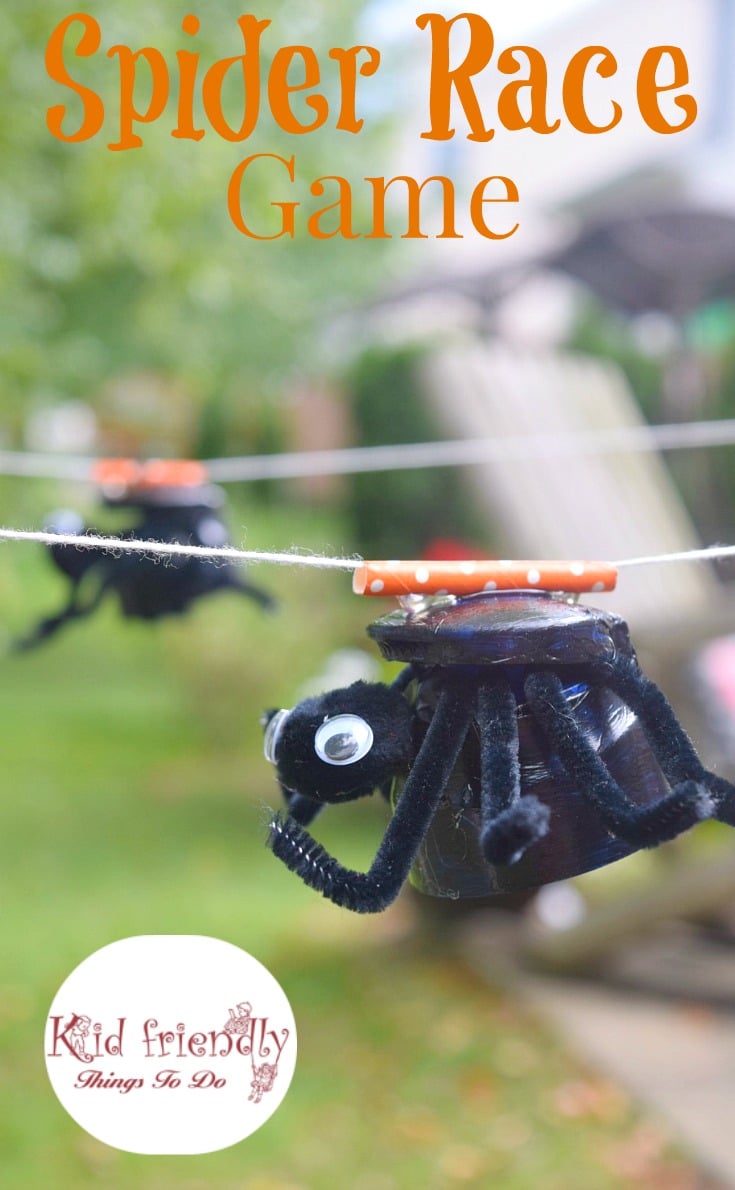 Pull the spiders to the starting position, and when you're ready say go!
Let the spiders go, and The spiders are off!
My one rule in this game was that my kids could not push the spiders.
Kids can use gravity to help by lifting the yarn up to the starting point