Eyeball Dig is an easy & grossly fun DIY Halloween Game for Kids and Teens to Play. It's perfect for a school party or a Halloween Minute to Win It Game! Come on in and I'll share this fun Halloween Game with you…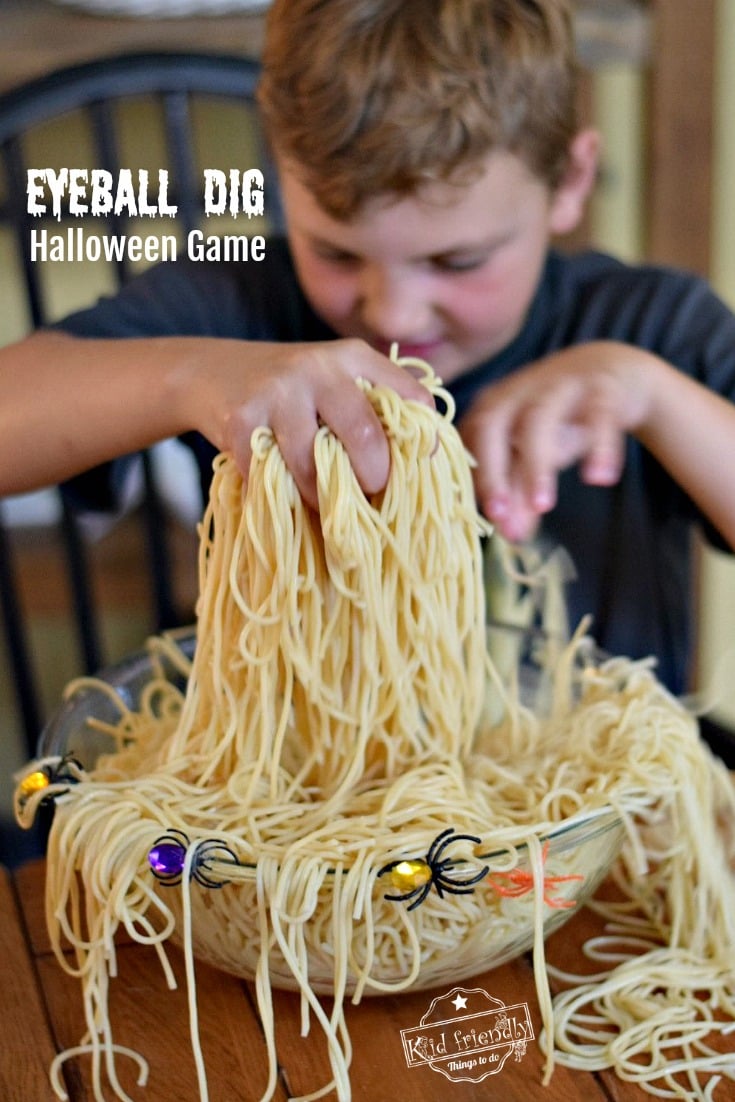 This is such an easy game to set up for your party.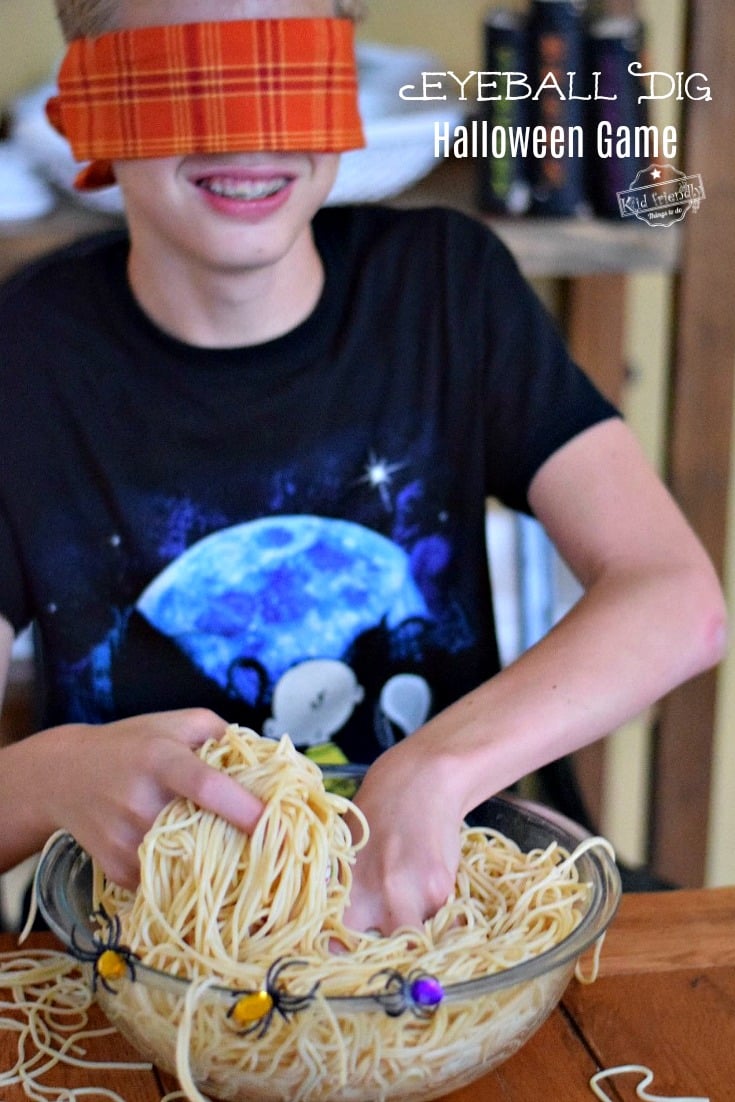 As you can see, the kids had a ton of fun playing this Halloween Game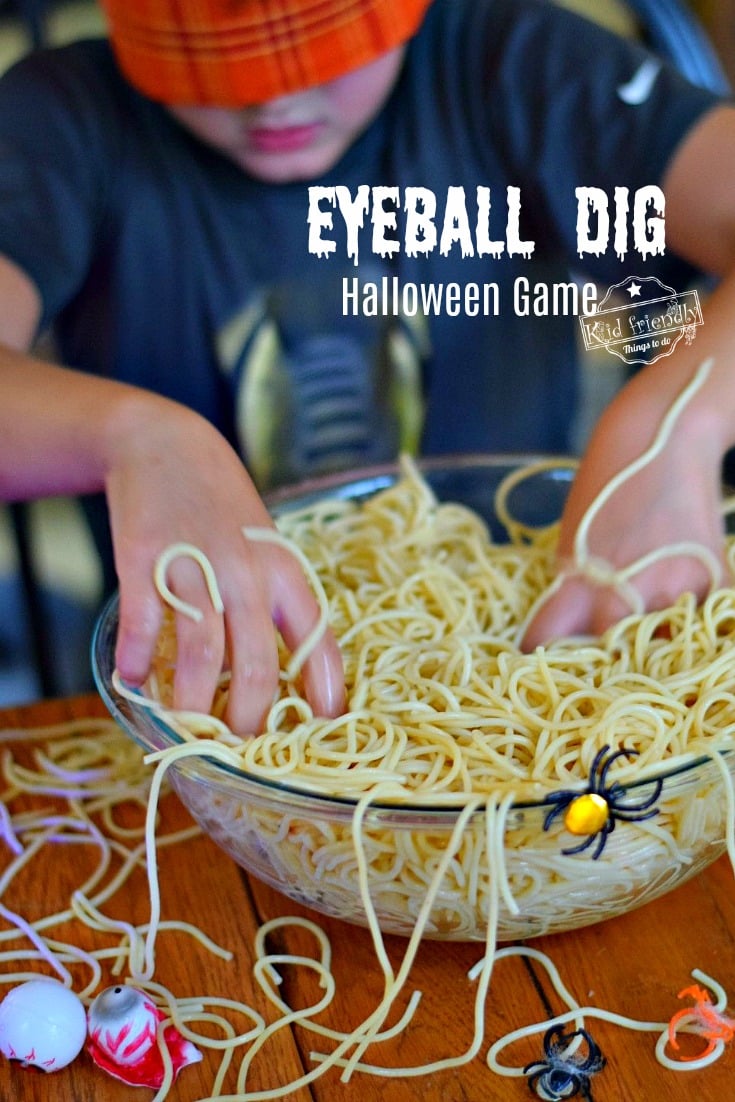 It's a great sensory game for kids to play. the wet spaghetti noodles are so much fun to play with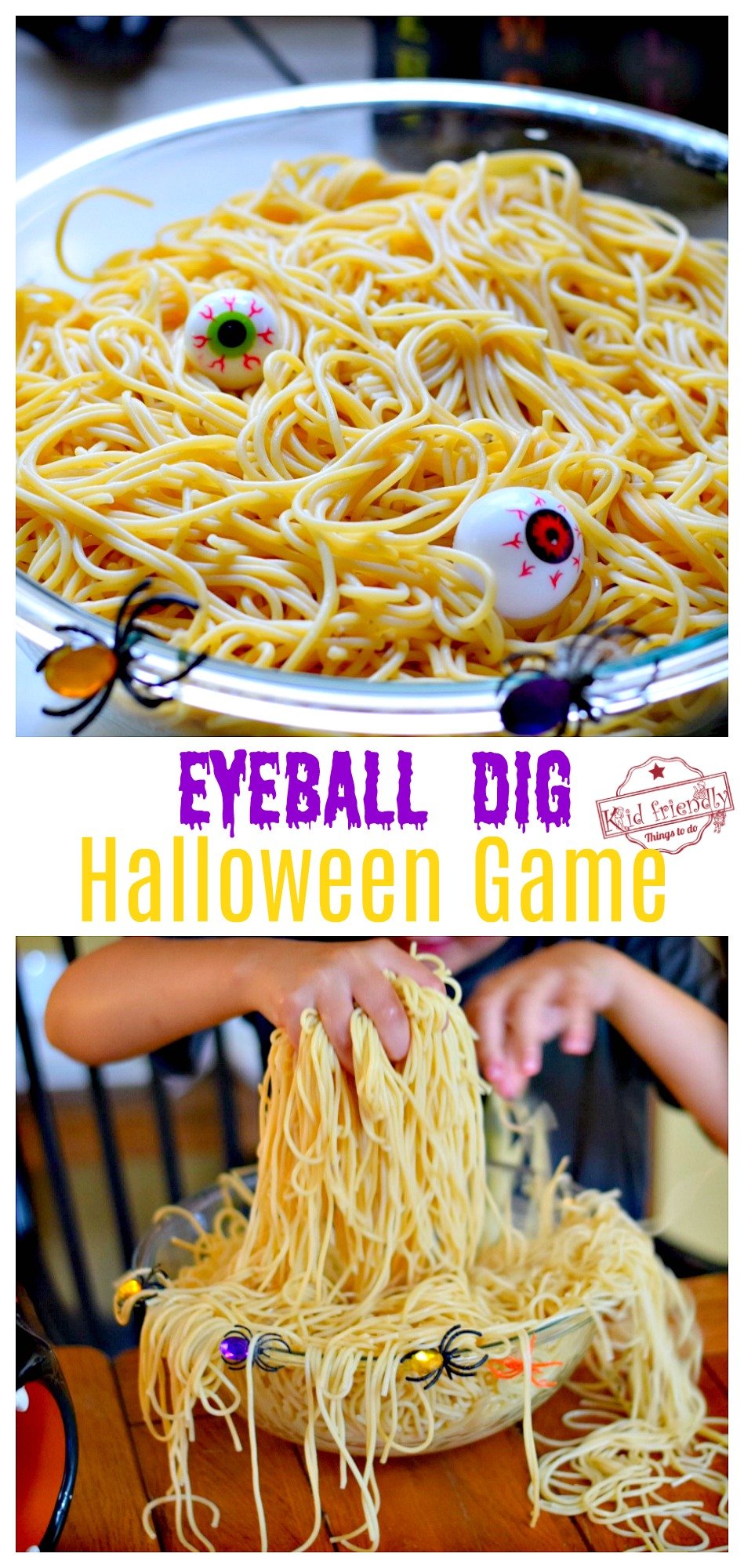 This Halloween Game would also be a perfect addition to your Minute To Win It Game Night! Just time the kids for 1 minute and see how many eyeballs they can find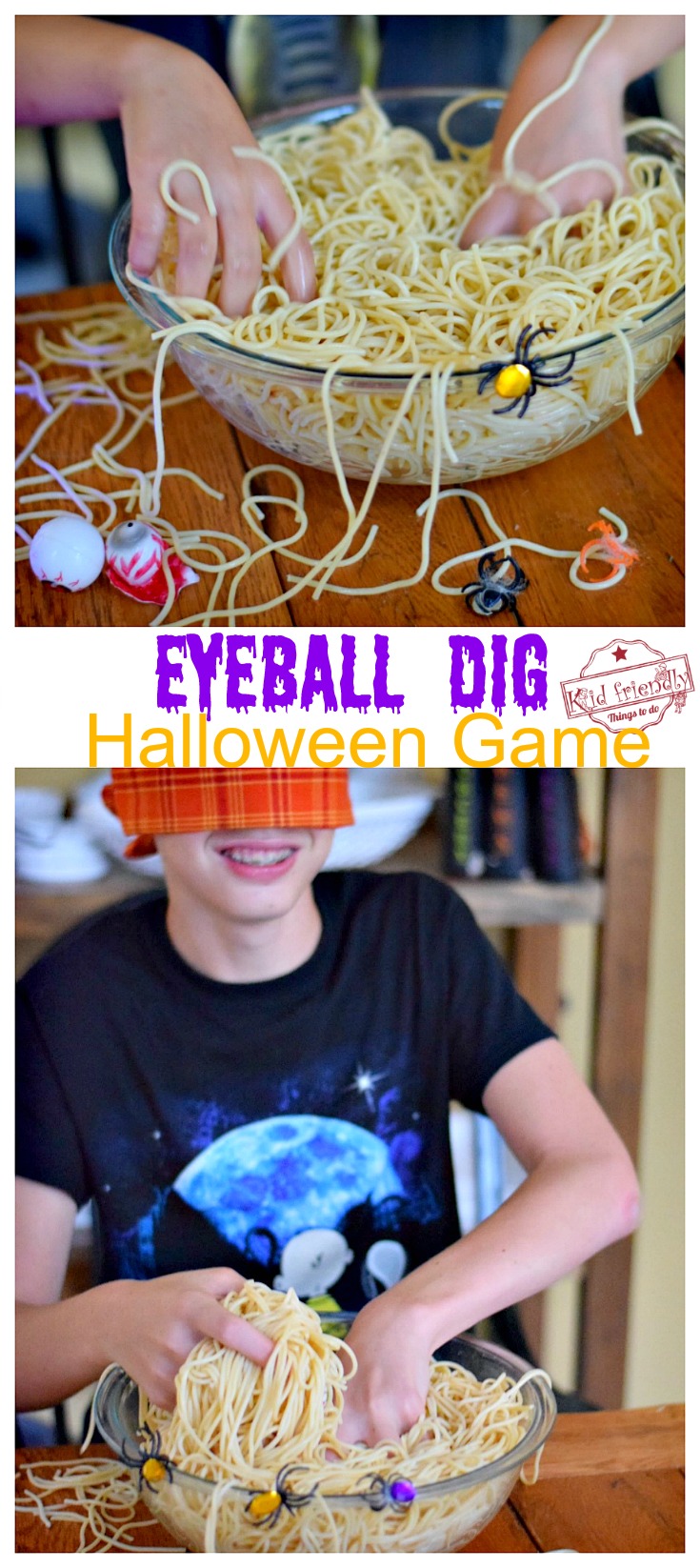 Obviously, unlike me, you'll want to place an easy to clean up plastic tablecloth under the game. It can get messy!
Here are my top Amazon Picks for this fun Eyeball Halloween Game for Kids and Teens to Play…
(affiliate links)
Finally, here's the supplies and instructions needed for this fun Halloween Game Idea…
You'll Need…
At least…2 lbs. of spaghetti noodles, cooked and drained (the more the better)
2 cups of water set aside for game time
Large bucket, bowl or even an inflatable pool – the biggest you can find. A big storage tub would be awesome
Toy eyeballs 12 or more -again…the more the better
Eye mask or towel so nobody peaks
Suggested – plastic tablecloth
*If you want to take this game up a notch, and I love you for that…get yourself a giant bucket or storage tub, tons of noodles and lots of eyeballs. Part of my job as a content creator is to show you images that help explain the game. I used the largest see through bowl that I have in my cabinet to show you the noodles inside. In real time, I would use a 5 gallon or larger bucket. That would give people more gross wet noodles to dig through and make it a lot more challenging.
Instructions for Setting up the Eyeball Dig Game…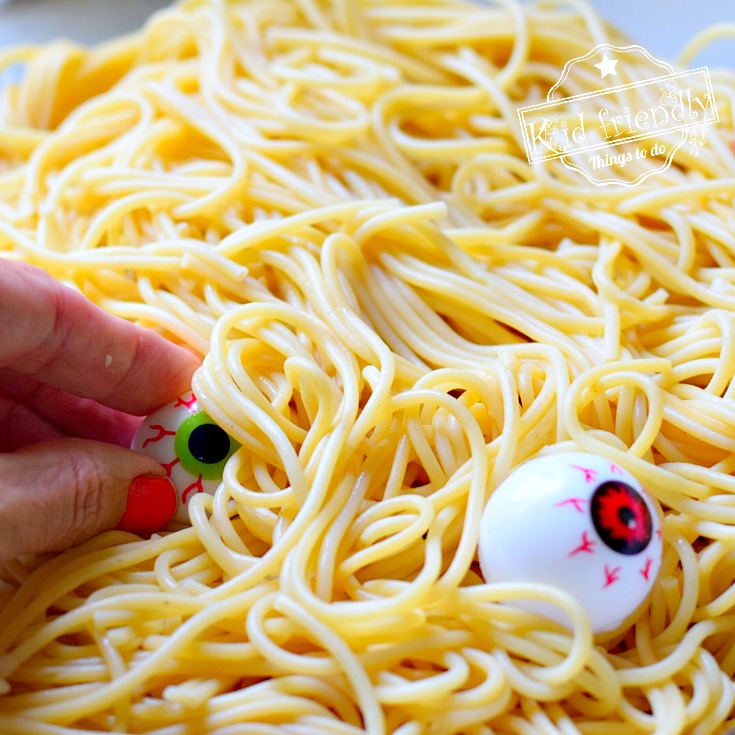 Pour the drained and cooled spaghetti noodles into a large bowl
Push the eyeballs into the wet spaghetti noodles
When you are ready, place the bowl of eyeballs and noodles onto the table
Playing Eyeball Dig Halloween Game…
-Blindfold the kids that are playing
-Set the timer for 1 minute
-Have kids dig to find as many eyeballs as they can in one minute!
-Let kids take turns until everyone has had a chance to play
*Keep your cup of water nearby to moisten noodles as they tend to dry out
Here's another variation for a large group…
*Another option would be to have 2 or more bowls of noodles set up and let the kids go head-to-head
– They can race to see who can find all of the eyeballs first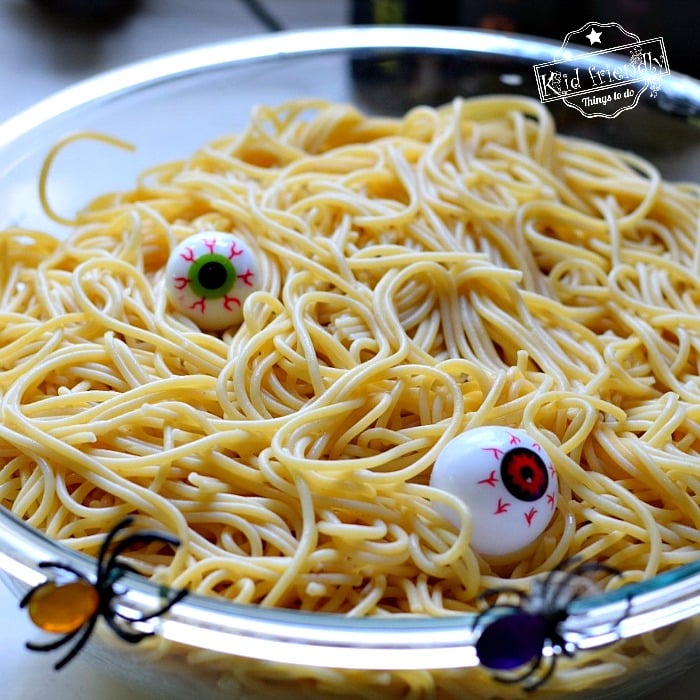 Happy Halloween
~Melissa – Kid Friendly Things To Do