This Halloween Ring Toss Game is so easy to set up and is the perfect game for any Halloween party at home or Halloween School Party.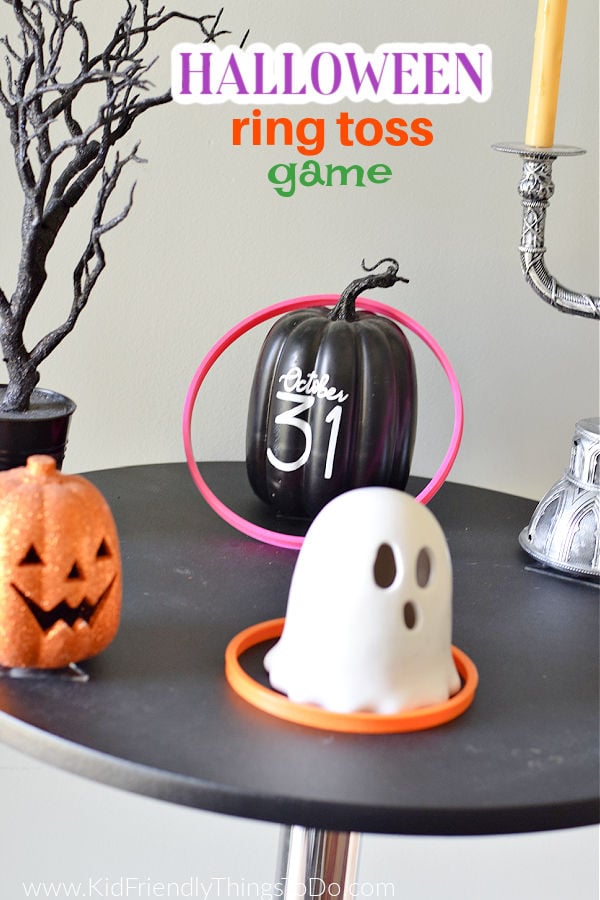 Halloween Ring Toss Game
This is such a fun game to play. It's perfect for little kids, teens, and adults.
More Halloween Games to Play
Glow in the Dark Candy Hunt Halloween Game
Skeleton Bones Dig Halloween Game
What I love about this game:
It's easy to set up
Very few supplies
Perfect for school parties
A great game for all ages
FAQs
Can this Halloween Game be played Outdoors?
Yes. This is a game that can be played outdoors or indoors. You do not need a lot of space to play this game, so you can set it up just about anywhere
Is this a good game for preschoolers?
Yes! This is perfect for young kids, teens, and adults to play. You can adjust the height of the targets by setting them on the floor or on a table. Another way to make this kid-friendly would be to allow the kid to get closer to the targets
How Many Players do you need for this Ring Toss Game?
You'll need at least 2 players for the ring toss. If you have more than 2 players, you'll want to divide them up into teams
How do you Score in Ring Toss?
the first team to score 21 points wins at the ring toss
ringers typically count as 3 points each
if both teams ring the same target then they cancel each other out
if nobody rings the target, then the closest to the target wins
(you can adjust scoring as needed for your age group)
What Items should I use to ring for this Halloween game?
Top Amazon Picks
(affiliate links)
If you are ready to play Halloween Ring Toss, then let's make sure you have everything you'll need
Supplies needed for this Halloween Game
2-4 Halloween decorations to ring – examples would be, a pumpkin, ghost, haunted tree, haunted candlestick, witch hat, and skull
double-sided tape – preferably one that is strong and won't harm your surface. I included an Amazon link to the one I used, above
table to set decorations on
3 embroidery hoops per team – you can use different sizes or use one large size. They should be big enough to ring objects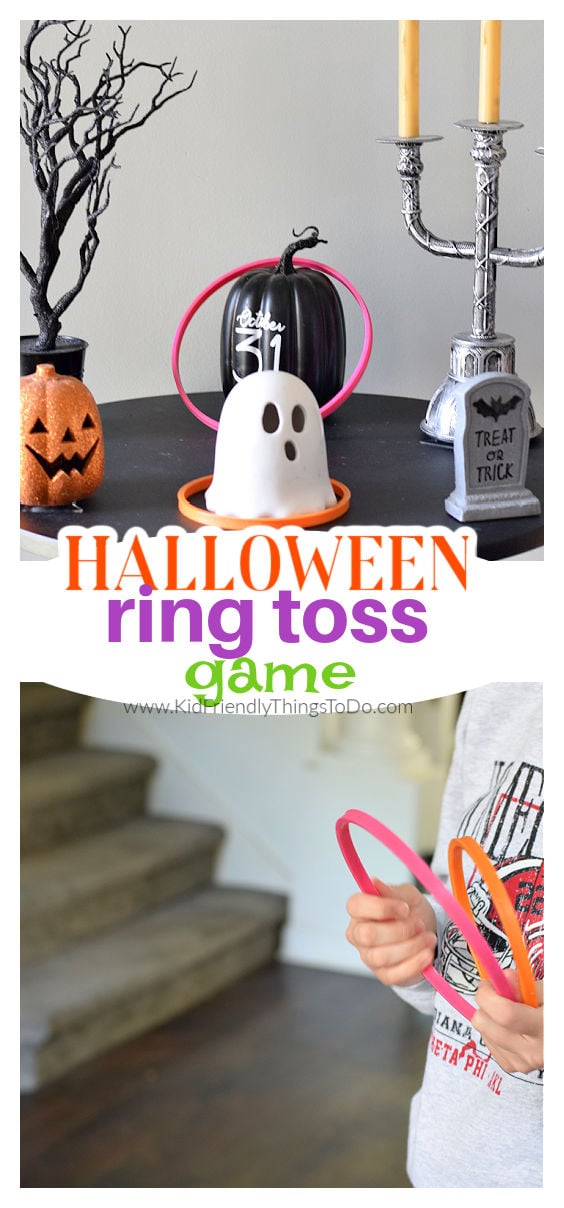 Setting Up and Scoring:
Use double side tape to place objects on a table securely
Assign points per object and mark them – objects that are harder to ring could be assigned 3 points and easy objects could be 3 points
Decide if you are going to award points for rings that are leaning on objects – leaning rings could be worth 1 point
How to play:
Pick your teams and divide the rings evenly between teams (3 per team is typical)
Decide on the distance away from the targets – somewhere between 6-10 ft. You might want less for little kids
To ensure that there is no cheating – It might be a good idea to place a marker down for the person to stand on
Give each person 3 tries to ring an item
Count up the points as they ring objects
The first team to get to 21 points wins
More Halloween Games