I can't wait to share this simple and fun Outdoor Halloween Game with you, today. Come on in and I'll show you how I made a simple fun family night with A Glow in the Dark Halloween Candy Hunt Idea for Kids…

Glow in the Dark Halloween Game for Kids to Play
We had the best time last night hunting for Glow in the Dark Halloween candy. It was so much fun to watch my teenager (who thankfully never wants to grow up) and younger kids giggle and race around the back yard trying to find Halloween Candy Bags.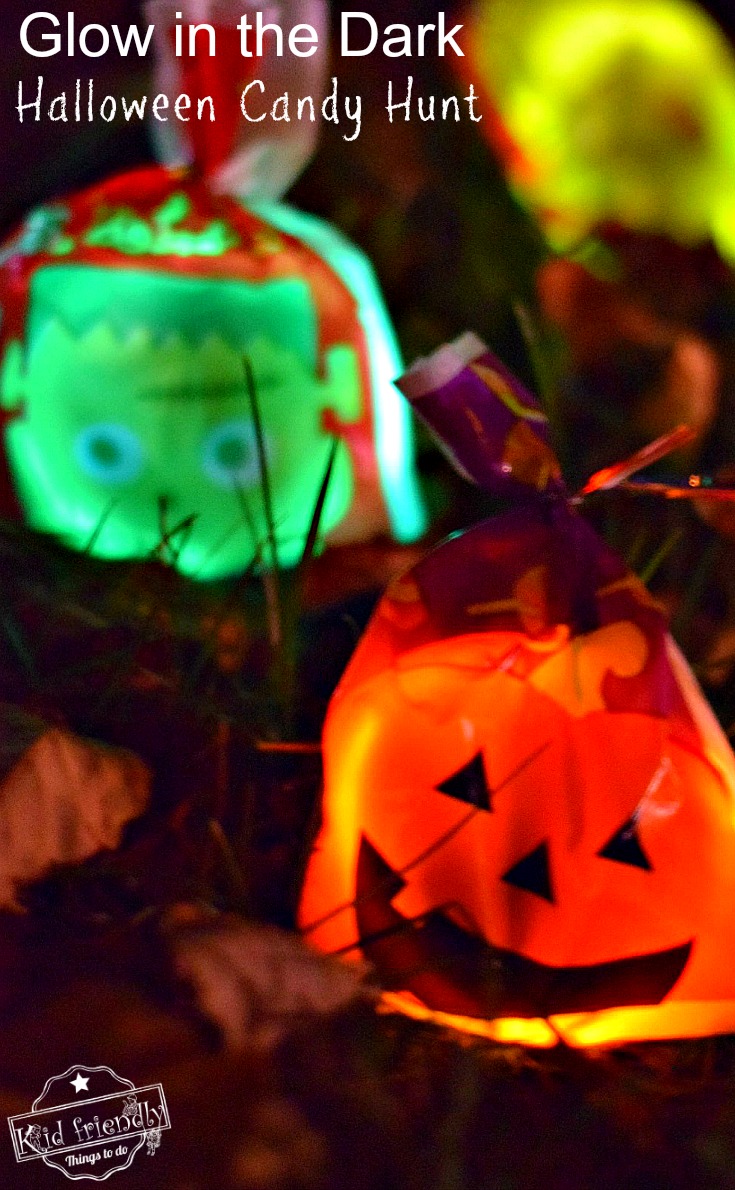 Normally, I'm horrible at surprises and secrets. I get too excited and I just have to express my excitement. Christmas is WAY hard for me. That is how I was with this idea – super excited! But, I held it together. I waited until dark and dinner was done before I told the kids about my idea of hunting Halloween Candy at night. There response…"Wait. Candy, glowing candy, on a school night. We get to hunt for candy, in the backyard?"…Yesssaaa!
Needless to say, they were all in.

I had to contain them on the back patio until I yelled go. They were spotting stuff glowing in the grass and it was feeding the excitement. It was like "Releasing the Kraken" when I finally let them run into the night and grab glowing bags. So fun!
And, it's so super simple to pull this together. You'll have this fun family time ready to go in minutes.
If you love Halloween fun as much as we do, then you might want to check out some of my other fun projects like:
The Spider Race Game, Halloween Ghost Bowling or Making a Haunted Gingerbread House 
Here's What You'll Need to Make Your Own Glow in the Dark Halloween Candy Hunt for Kids: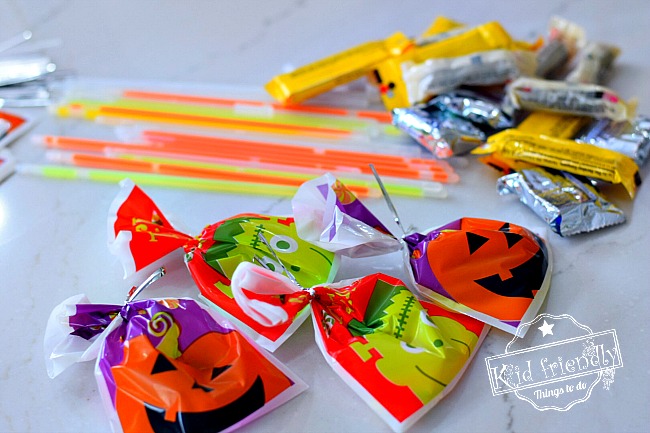 Halloween Treat Bags – I love these simple bags with a fun Halloween picture on the front and completely white on the back. The glow sticks really shine right through them. I think I found them at the Dollar Tree. Cellophane bags are mostly clear, so those would be a great option, too
Twist Ties – they usually come with the bags
Glow bracelets – enough for each bag
Halloween Candy
*optional – Halloween prizes
*optional – bags for kids to hold their glowing bags in as they hunt for more
Here are my top Amazon Picks for this Glow in the Dark Halloween Candy Hunt Idea for Kids!
(affiliate links)
[box]  [/box]
Here's a quick Video to show you my latest Glow in the Dark Halloween Candy Hunt Game…
Instructions:
Before sunset, activate your glow bracelets
Add the connector to form a bracelet
Place the activated glow bracelet into the bags
Place one or more pieces of candy in each bag
Twist tie the bag to secure them
When it gets dark or just before dark, hide the bags around the yard
*Glow bracelets usually hold their light for several hours, so you could do this in early afternoon
After it gets nice and dark outside, explain to the kids that this game is a lot like an Easter Egg hunt
They should gather as many glowing bags as they can and hold onto them or if you gave them big bags to hunt with, they can collect them in their bags
Of course, once finished, they will immediately dump out the candy and trading will commence. You know the drill
One more note Here's an idea, if you want the kids to get an even amount…Because I was dealing with 4 siblings and I knew the fight would be on if one kid got more than the others, I made sure that there was an even amount of bags hidden per kid and told them before the hunt that they were each allowed to find a certain number of bags. Once they found their max. they had to stop, so there was enough for each bid to find and they all had an even amount of candy
Tips and Tricks for this fun game:
Don't forget to activate the glow sticks, so they are glowing at night
Find bags that are transparent so kids will see them glowing in the dark
Hide the bags during the day but don't let the kids see where they are hidden
If you want everyone to find an equal amount, be sure to tell them how many they can grab
You could also do this indoors
Have Fun!
What Glow Sticks Glow the Brightest?
Apparently green and yellow glow sticks glow the brightest followed by orange
Happy Halloween!
~Melissa – Kid Friendly Things To Do