Brining a turkey makes a beautiful and juicy turkey and delicious gravy. Once you've brined a turkey, it will be your "go-to" method for roasting a Thanksgiving turkey. This Herbed Brine Recipe is easy and delicious…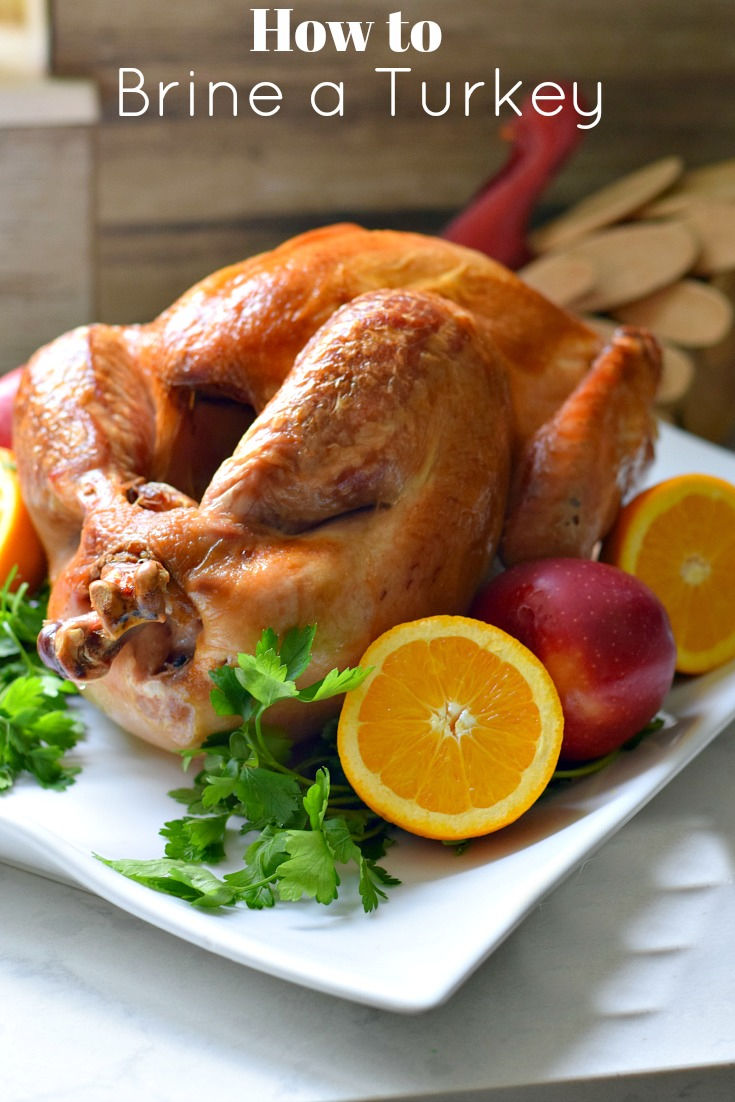 How to Brine a Turkey
Brining a turkey gives such a beautiful color to the outside of the roasted turkey.
If you are looking for Thanksgiving Turkey Recipes then you might like my recipe for Savory Herbed Turkey Recipe, Lemon Turkey Breast, and Juicy Sage Roasted Turkey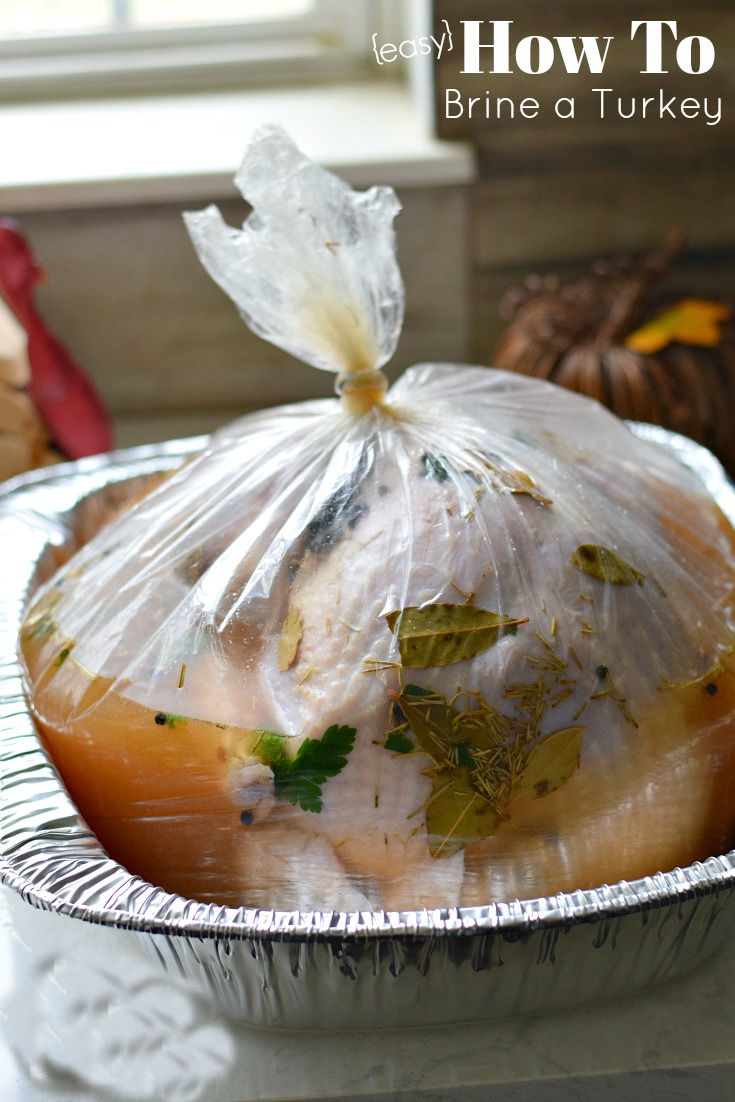 When you brine a turkey, you are basically giving the turkey a salt bath. The saltwater pulls water into the meat and locks the moisture into the turkey creating a delicious and moist turkey – every time.

How Long Should You Brine a Turkey For?
Overnight – which would be several hours, up to 24 hours before roasting your turkey.
Should you Brine Turkey?
Brining a turkey is really giving a turkey a saltwater bath. The turkey pulls in water from the brine and the salt breaks down some muscle proteins so the turkey will retain more moisture while cooking.
Can I Use Table Salt While Brining a Turkey?
If you are using table salt in place of sea salt or kosher salt, use less of it. Table salt is broken down into super fine crystals, so you will get more salt crystals out of a tsp. of table salt than you would a large piece of Kosher salt
Will my Brined Turkey be too Salty?
It is very important to rinse the turkey from the brine mixture. You do not want your turkey to be too salty.
So…How Do You Brine a Turkey?
Mix water, herbs, spices, and salt into a large pot
Boil and mix until the salt is dissolved
Add cold water to the mixture and let the water cool off
Using a large roasting pan to hold the turkey and a large oven bag to hold the turkey and water mixture
Pour the brine over the turkey that has been placed into the bag
Seal the bag and place the turkey into the refrigerator for several hours
Rinse the brine off in cold water
Roast as directed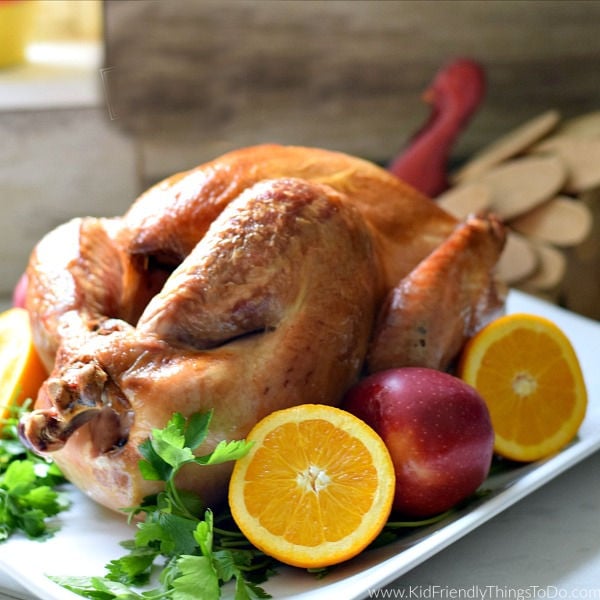 Here are my top Amazon Picks for Brining a Turkey…
(affiliate links)
[box] [/box]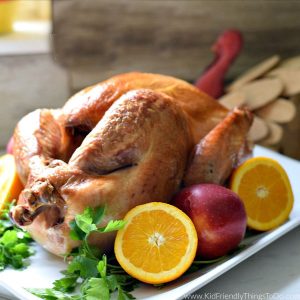 How To Brine A Turkey – An Herbed Brine Recipe
An herbed brine for a juicy and delicious turkey – every time
Equipment
turkey oven roasting bag

disposable aluminum turkey roaster
Ingredients
4

Quarts

water

2

cups

sugar

1&1/2

cups

salt

½

cup

fresh parsley

½

cup

fresh rosemary

6

Bay leaves

– a small handful

4

tsp.

dry mustard

4

tsp.

garlic powder

4

tsp.

ground

cayenne red pepper

4

tsp.

whole peppercorn

4

Quarts

water

cold

Turkey
Instructions
In a large stock pot…add the first 10 ingredients

Bring to a boil, and stir to dissolve the salt & sugar

Add 4 more quarts of cold water to the brine – this will cool it off for you (you don't want to cook your turkey in a hot bath of water)

Let the water mixture cool off until it is cool to the touch – let it cool for about 20 minutes

Transfer your brine to whatever you'll use to pour the brine with

*I used a nice big bowl with a spout to transfer the brine into the roasting bag. A pitcher would have worked well, also

Take out any gizzards and neck from the turkey cavities

Place your turkey inside the roasting bag, and place the bagged turkey it in the disposable roasting pan.

*I find the pan to be very helpful in catching splashed water, and a great container for rinsing the turkey

Seal the bag, and place the turkey – still in the disposable container – into the refrigerator

You will want to let the turkey marinate in the brine for several hours, or overnight – up to 24 hours

Occasionally flip the bird over so everything is exposed to the brine

When you are ready to cook the turkey empty the bag of juices, and thoroughly rinse the turkey – inside, and out – I know, it seams odd to rinse off all of the spices, and seasonings, but you'll want to really give it a thorough rinsing. Trust me…you don't want a bird that's too salty

Pat it dry, and place it in your roasting pan…breast side up

Rub olive oil all over the turkey – top, and bottom

You can shake a little ground pepper over the turkey for some added flavor

Or, if you are using a printable, make sure your turkey is registering 165 degrees when your thermometer is inserted into the thickest part of the breast or thigh
Notes
nutrition facts are only an estimate and do not include the turkey nutrition – only the brine 
Nutrition
Calories:
237
cal
Carbohydrates:
55
g
Protein:
2
g
Fat:
3
g
Saturated Fat:
0.3
g
Polyunsaturated Fat:
1
g
Monounsaturated Fat:
1
g
Sodium:
77860
mg
Potassium:
148
mg
Fiber:
2
g
Sugar:
50
g
Vitamin A:
384
IU
Vitamin C:
6
mg
Calcium:
110
mg
Iron:
2
mg
Happy Thanksgiving Everyone!
Find the original recipe and so much more at Taste of Home
~ Melissa – Kid Friendly Things To Do