This is one of the most delicious and moist turkeys I've ever had. Not only was it yummy, the smell wafting through the kitchen was just heavenly. Savor the aroma of this Herbed Turkey as it roasts in the oven, on your special holiday.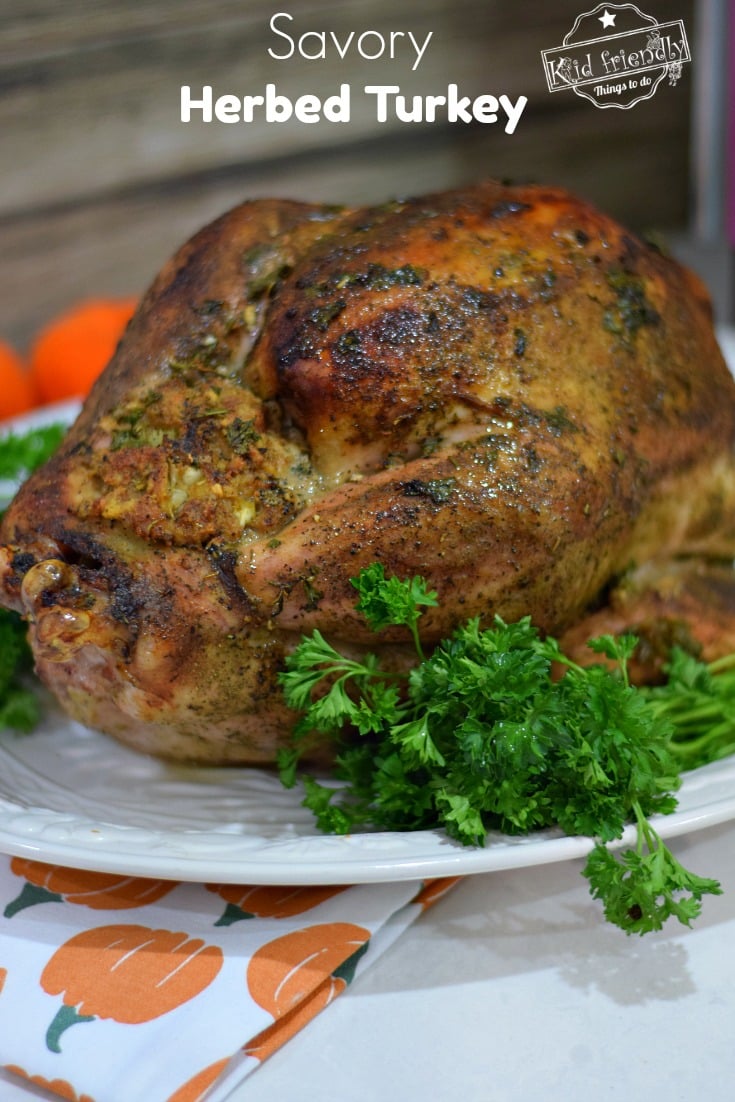 Oven Roasted Turkey:
If you are someone who likes to eat the skin of the turkey, then you will love the savory herbs on this turkey. They give it such a delicious flavor.
If you are looking for Turkey Recipes then you might like my recipe for Lemon Herbed Flavored Turkey Breast, Juicy Sage Roasted Turkey, and Brining a Turkey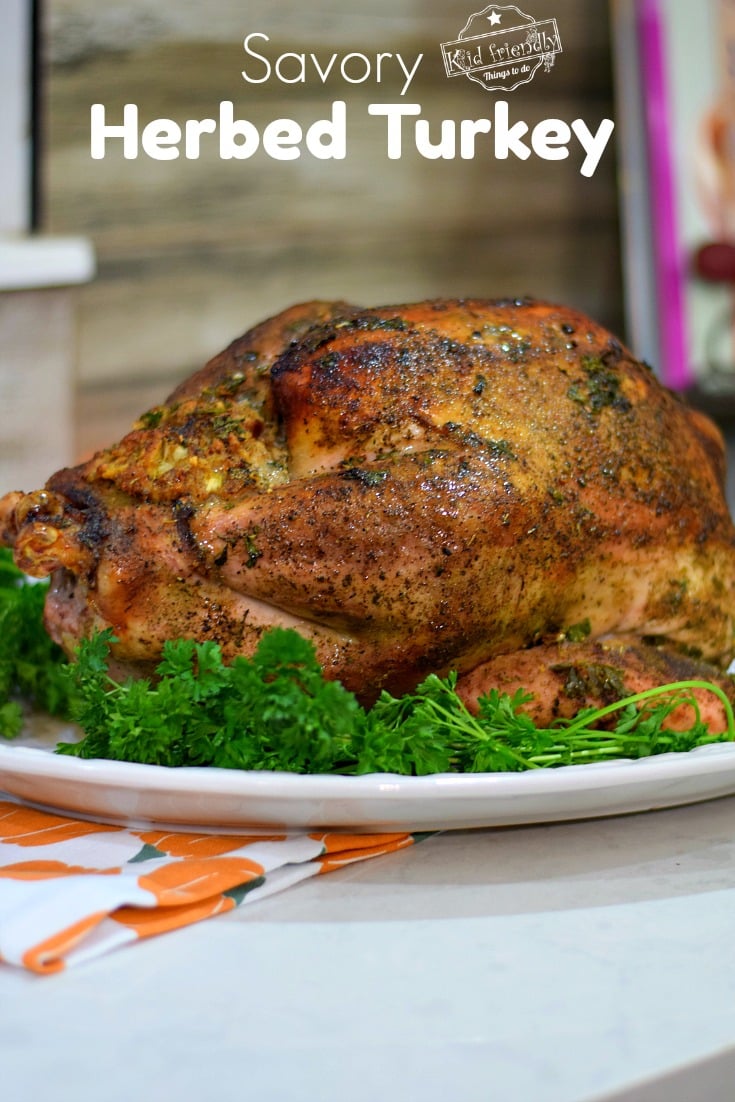 When is a turkey done?
The turkey's internal temperature – checked in the thickest part of the thigh – should reach 165 degrees
Here is a handy chart to use as a roasting guide: Use this chart as your guide on the length of roasting your turkey
What if the skin is as dark as I want it before the turkey is done roasting?
Place foil over the skin to slow down browning and continue to roast your turkey
How long should I let a turkey rest before carving?
15-40 minutes. Place foil over the turkey to keep it warm while you finish the sides for the turkey meal
How long will cooked turkey keep in the refrigerator?
Done turkey should last up to 3 days in the refrigerator – if properly cooked and stored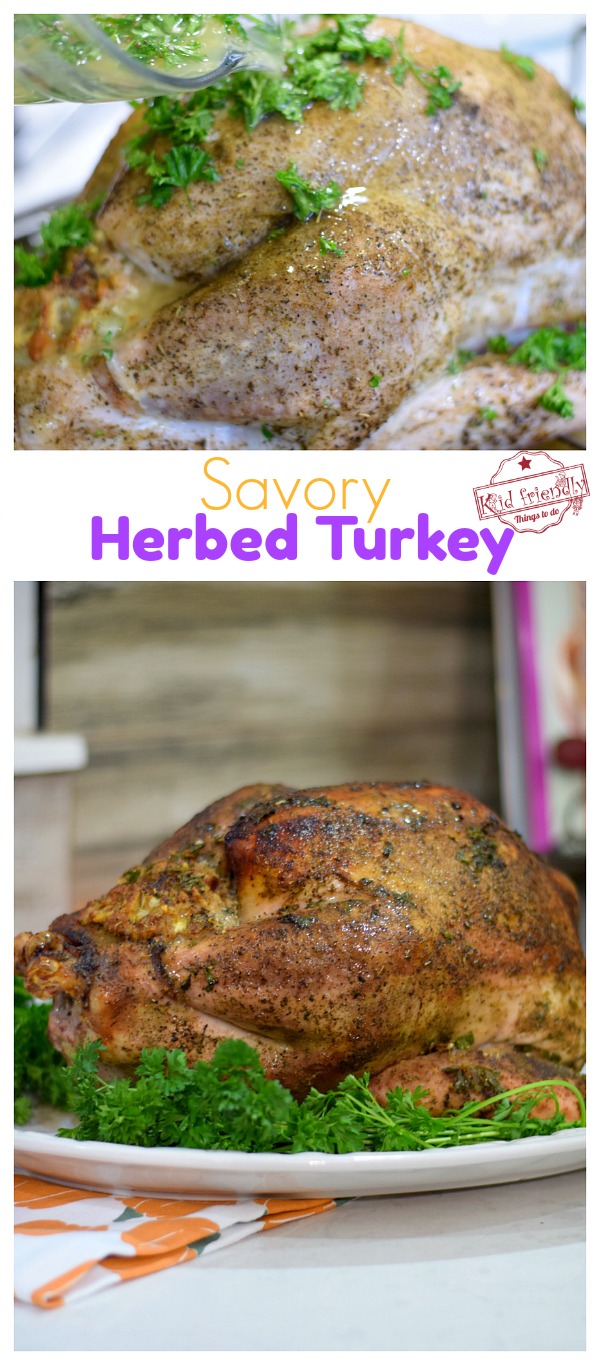 Herbed Turkey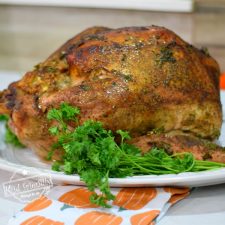 Savory Herbed Turkey Recipe (Delicious Flavored Skin)
A delicious turkey with a crisp and flavorful skin
Print
Pin
Rate
Ingredients
1

13-15 lb.

turkey

you will need to adjust baking times to the size of turkey that you purchase

2

tsp.

chicken seasoning blend

or poultry

1

tsp.

black pepper

ground

3

cups

chicken broth

½

cup

fresh parsley

minced

¼

cup

lemon juice

1

tsp.

dried thyme

– or 1 T of fresh thyme, minced

2

tsp.

emon peel

grated

2

tsp.

garlic cloves

minced
For Gravy:
2

cups

water

1

Tbsp.

flour

¼

cup

water

this will be added to the flour to thicken the gravy
Instructions
Preheat the oven to 325 degrees

Remove the neck and the giblets from your turkey

Sprinkle the turkey with chicken seasoning, and pepper

Rub these spices in like you are massaging the turkey

Place on a rack in the roasting pan, breast side up – tuck the wings under the turkey

If the turkey legs are not bound, use kitchen twine to tie them together (or, if you don't have that – unwaxed dental floss is a great substitute)

You're going to Pre-Roast the turkey for about 30 minutes

While the turkey is in the oven, get started on your herb broth

Grab yourself a large bowl – preferably with a spout

In the bowl – Mix the broth, herbs, lemon peel, and garlic

Pull the turkey out of the oven, and pour the herb broth over the turkey

Place the turkey back into the oven to finish cooking

Generally, you'll cook the turkey for 20 minutes per pound. Don't forget to add in the fact that you already pre-roasted it for about 30 minutes, so you will subtract that from the total amount of tiem. However, if you stuffed your turkey – allow an extra 30 minutes. See More on checking for doneness in the notes section. 

Baste the turkey occasionally

Once your turkey has finished, remove the turkey, and transfer to your serving platter

Allow it to cool off while you work on the gravy

Pour the 2 cups of water into the bottom of your roasting pan to the bottom of the roasting pan, and stir to get all of the baked goods off of the bottom – otherwise known as deglazing

Holding a strainer over your saucepan to catch turkey bits, pour the deglazed liquid into a saucepan

Make a mixture of 1 Tbsp. flour, and 1/4 cup of water

Bring to a boil, and continue to boil for about 2 minutes or until thickened

Once your turkey has rested – for about 15 minutes, carve your turkey, and enjoy with your gravy
Notes
Cooking Times will vary depending on the size of the turkey that you purchase 
What temperature should the turkey be when done? The turkey should reach an internal temperature of 165 degrees – check in the thickest part of the thigh and (if stuffed), check the center of the stuffing, as well
About an hour before you think your turkey should be done, start checking it – about 15 minutes apart
nutrition facts are only an estimate 
Nutrition
Calories:
16
cal
|
Carbohydrates:
3
g
|
Protein:
1
g
|
Fat:
0.3
g
|
Saturated Fat:
0.1
g
|
Polyunsaturated Fat:
0.04
g
|
Monounsaturated Fat:
0.04
g
|
Cholesterol:
1
mg
|
Sodium:
222
mg
|
Potassium:
50
mg
|
Fiber:
1
g
|
Sugar:
0.5
g
|
Vitamin A:
252
IU
|
Vitamin C:
7
mg
|
Calcium:
28
mg
|
Iron:
1
mg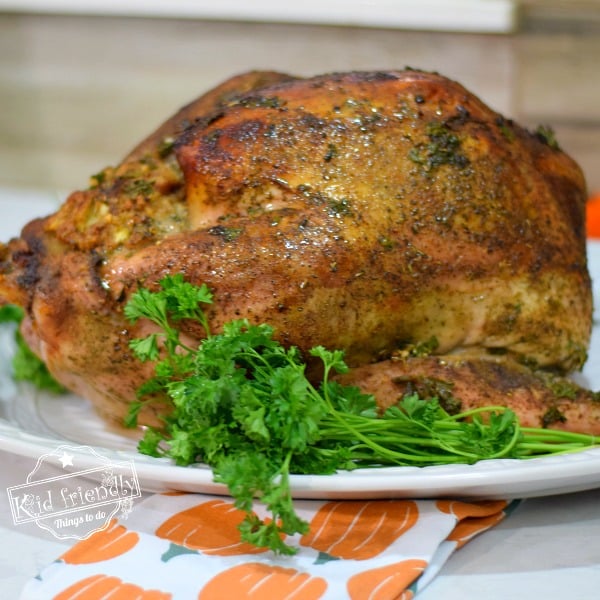 ~Melissa – KidFriendlyThingsToDo.com
Find the original recipe and more for your Thanksgiving meal on Taste of Home