This pie is a delicious custard-filled pie that is easy to make. Creamy, sweet, and comforting, this Classic Buttermilk Pie is the perfect dessert for any meal.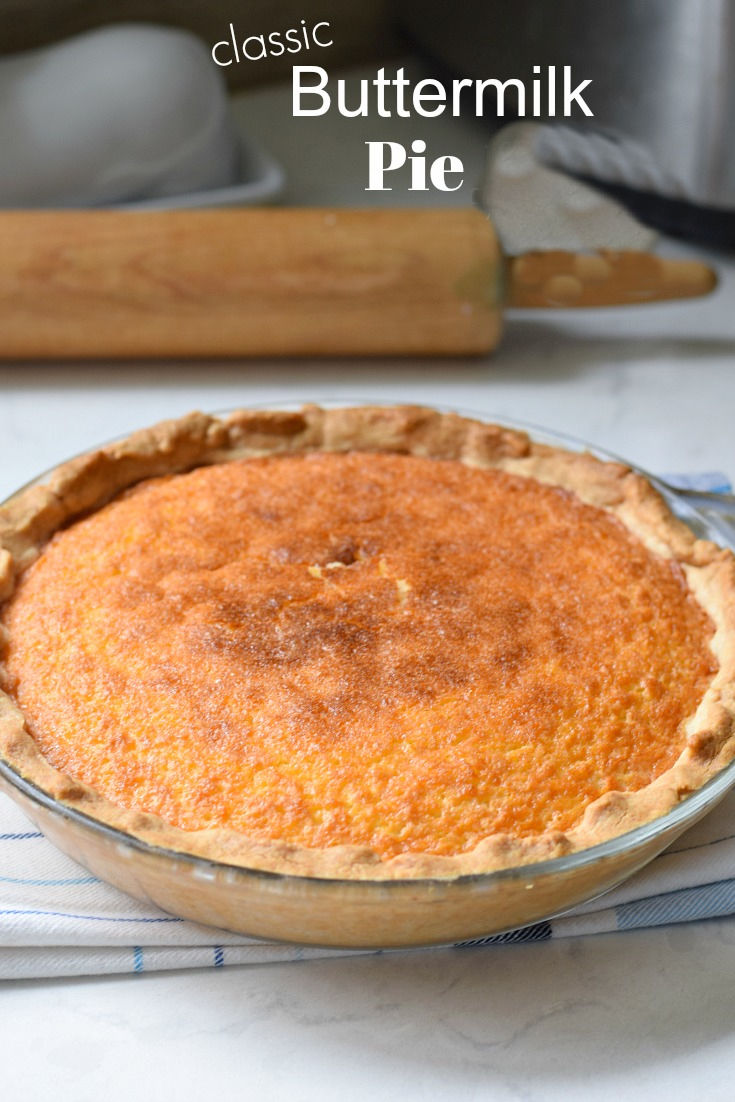 Classic Buttermilk Pie
A custard pie with the most delicious old-fashioned flavor and simply heaven.
To make this pie even more delicious, try my Whipped Cream Recipe – that comes together in minutes and only has 3 ingredients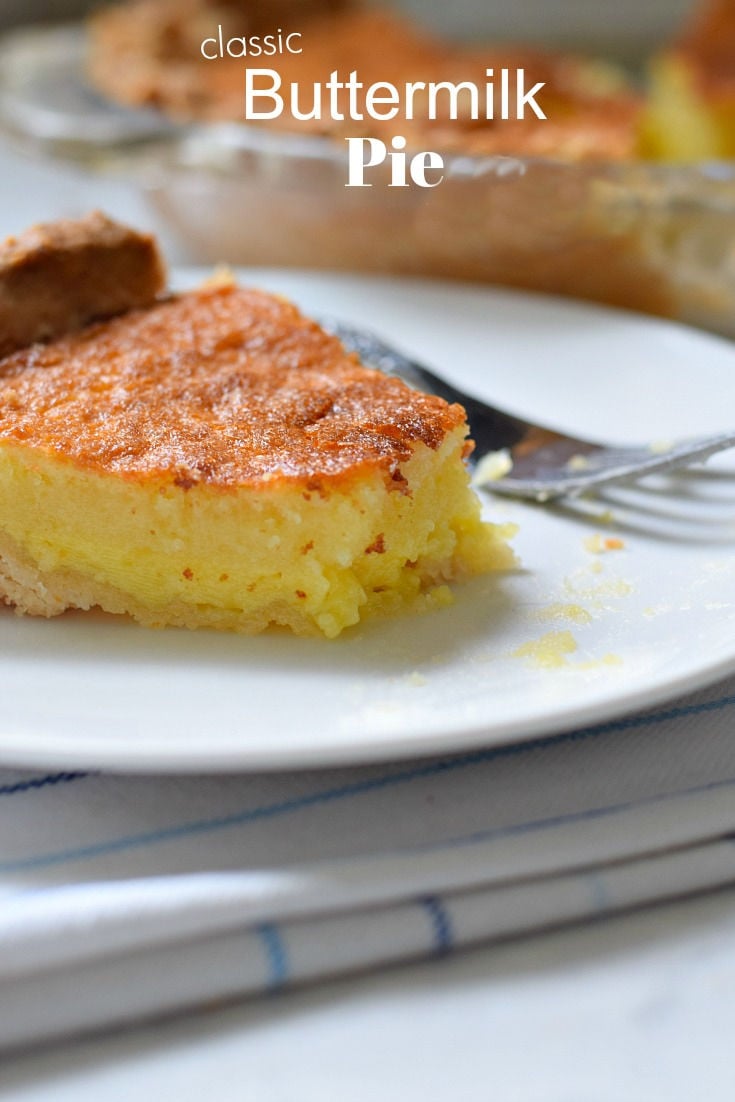 Aside from buttermilk, you most likely have the ingredients for this buttermilk pie already sitting right in your kitchen. If you just can't wait until you purchase buttermilk, you can easily make buttermilk with a couple of simple ingredients.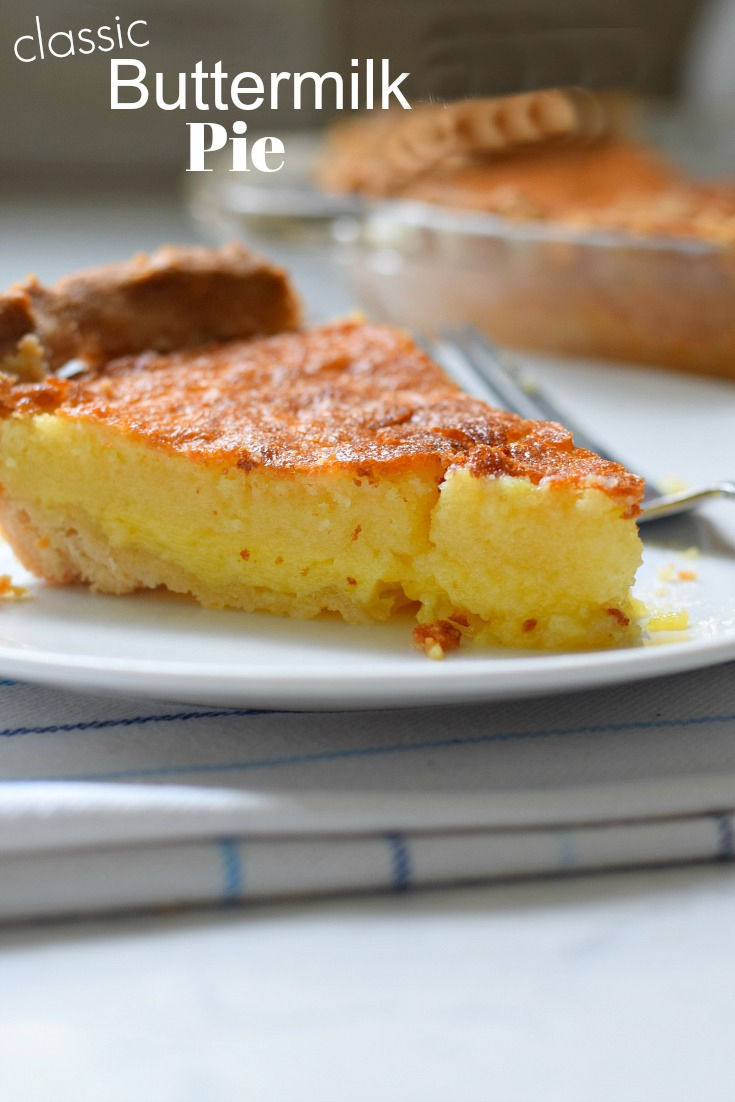 How do you make buttermilk?
Simply mix 1 cup of milk (with 2% or higher fat content) with 1 Tbsp. of lemon juice. Let it sit and thicken up for about 5 minutes. Pour it into your recipe with curdled bits and all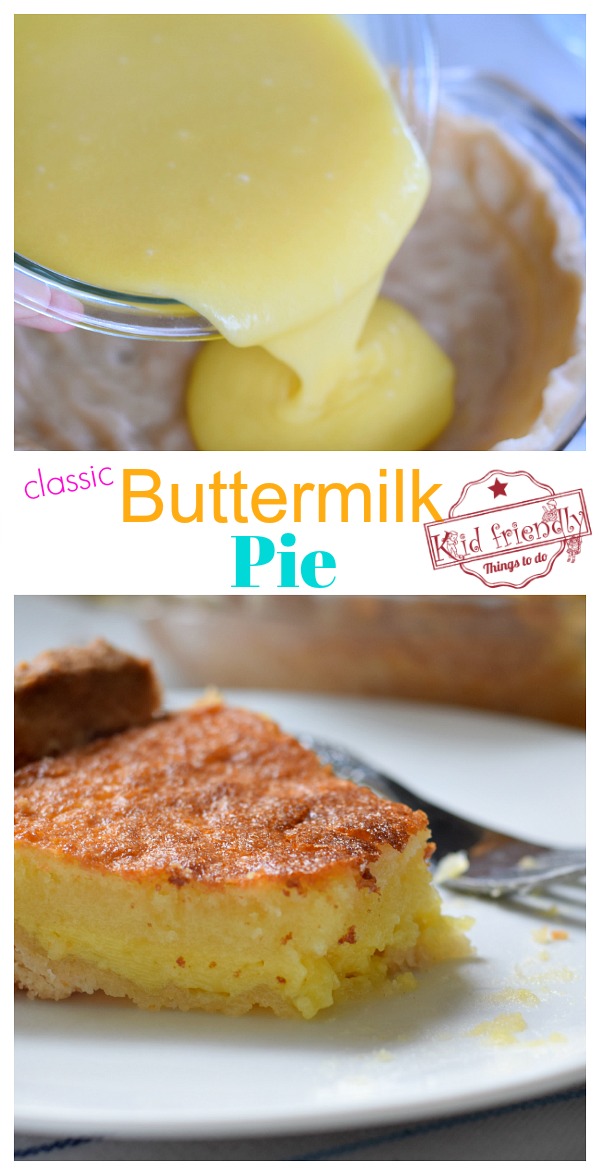 What is the difference between Chess Pie and Buttermilk?
Both pies are very similar. Chess pie typically has cornmeal in the filling while buttermilk pie usually has some zesty ingredients (such as buttermilk) and vanilla.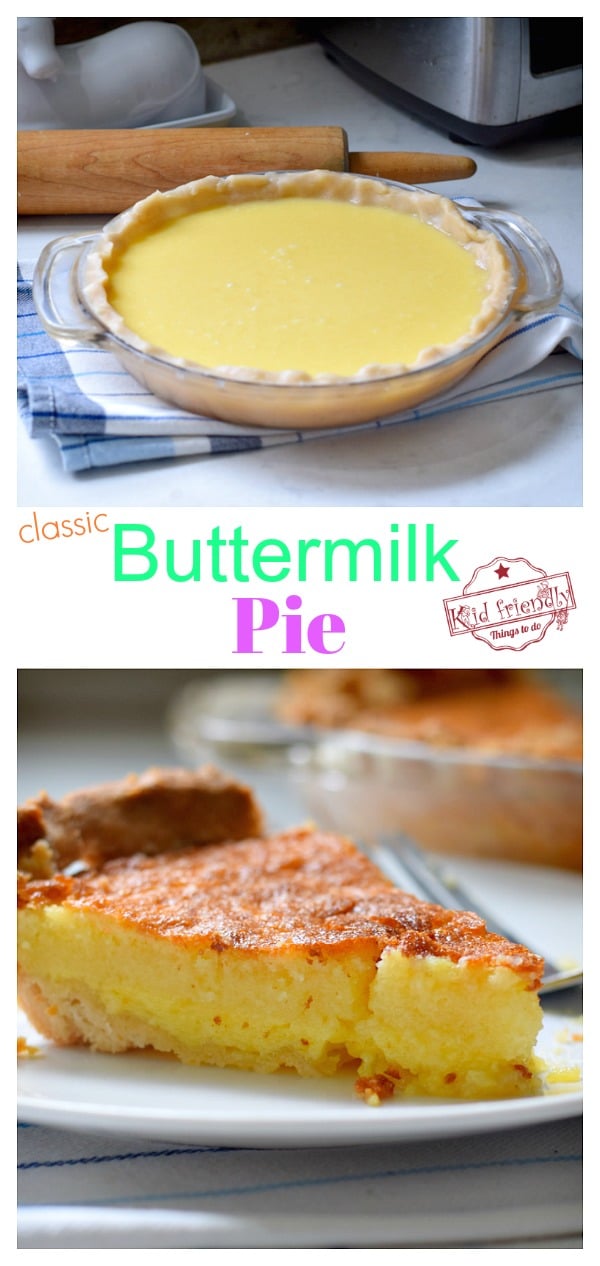 What is buttermilk pie made of?
Buttermilk pie is made of butter, flour, sugar, buttermilk, eggs, vanilla, salt, and sugar
What does buttermilk pie taste like?
Buttermilk pie tastes like a creamy, buttery custard. Buttermilk lends a zesty flavor to this pie with just the right amount of sweetness to balance it out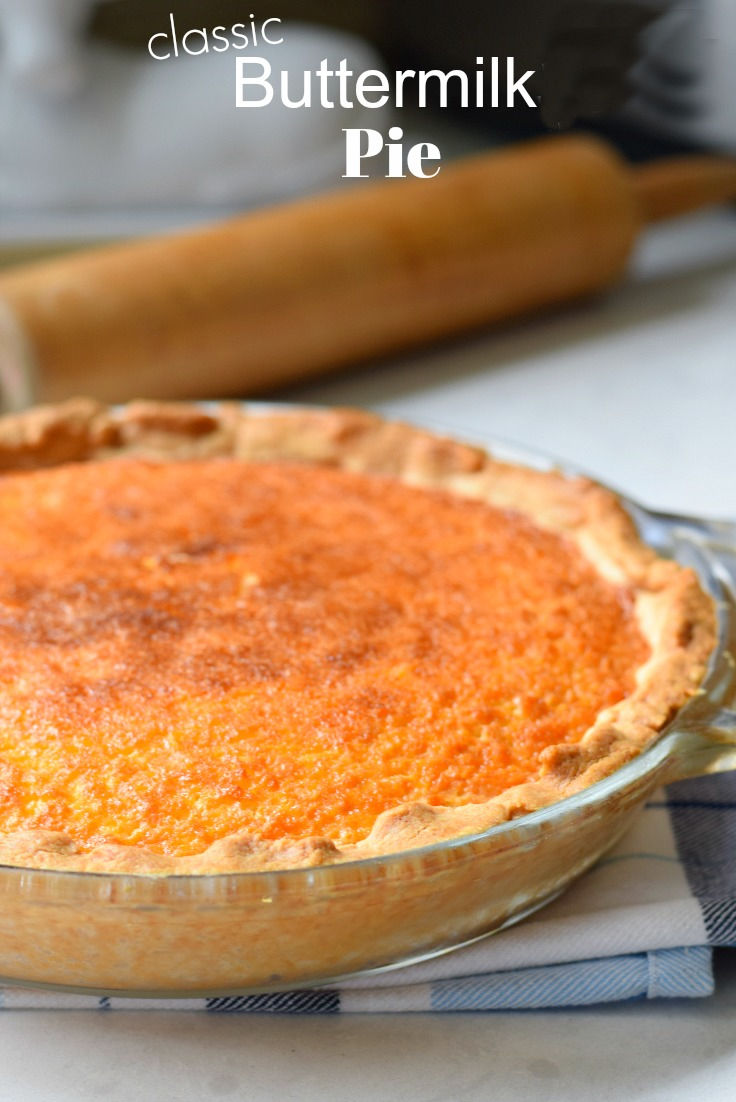 Tips and Tricks for making this Buttermilk Pie
use a deep-dish pie plate and really pull the crust up and over the sides. The filling is enough to fill a pie plate all the way to the tippy-top
for a shortcut prep to making this pie, try my no-roll pie crust recipe
really listen when it says to let the pie cool for 2 hours. The crust and the pie filling need time to cook more and firm up before cutting into them
Make-Ahead and Storage:
How long will buttermilk pie last?
Buttermilk should be covered and refrigerated. It can last up to 3 days in the refrigerator.
To serve warm pie, place a slice in the microwave for about 30 seconds
Buttermilk pie is made with milk and eggs, so after you've eaten your share, leftovers should really only sit at room temperature for 2 hours.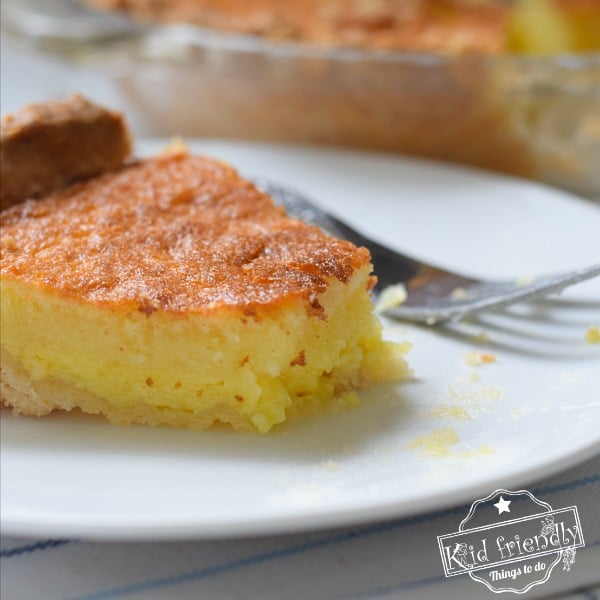 What Ingredients do I need to make this Easy Buttermilk Pie?
Ingredients:
unsalted butter – melted
granulated sugar
all-purpose flour
large eggs
salt
vanilla – I like to use pure vanilla extract but you can use imitation
buttermilk
1 unbaked pie crust
This pie doesn't have a lemon in the ingredients. Should I Add Lemon?
I know there are several buttermilk pies that have lemon flavoring, but this is an old-fashioned and classic recipe from the mid-west that happens to not have lemon, and I kind of love it the way it is.
This particular recipe does not have lemon flavoring or lemon zest in the ingredients. I love this pie as-is, but I also think that during summer, a fun twist would be to add a tangy and refreshing lemon flavor
southern buttermilk pie recipes do tend to have lemon zest or lemon juice in the recipe which gives it a refreshing and even more zesty flavor. If you love a tangy lemon custard, then you might enjoy this pie with 1-2 teaspoons or up to 1 tablespoon of fresh-squeezed lemon or the lemon zest from one lemon.
Do you need a recipe for a simple and easy homemade pie crust?
You'll be obsessed with this milk pie crust recipe that is made directly in the pie pan and produces a delicious flaky pie crust. The best part is – No rolling is needed – which I love!
How do you make this Buttermilk Pie Recipe?
Instructions
Make the filling:
Preheat oven to 400 degrees
In a large bowl, cream the sugar and butter together
Add flour and mix in
Whisk the eggs and mix them in
Pour in the buttermilk, salt, and vanilla and whisk to mix
Pour into pie shell and bake for 10 minutes
Bake and Cool:
Pour the buttermilk mixture into a 9-inch uncooked pie shell
bake in the preheated oven on the middle oven rack at 400 degrees for 10 minutes
lower the temperature to 350 degrees and bake for 40 minutes
Let the pie cool on a wire rack (if you have one) for about 2 hours
It should continue to set up as it cools and the crust will cool enough to slice into without crumbling
Serving suggestions:
This custard pie is best served warm. You could sprinkle on a little cinnamon or nutmeg to add to the delicious flavor. Whipped cream and pecans would complement a slice of this pie so well.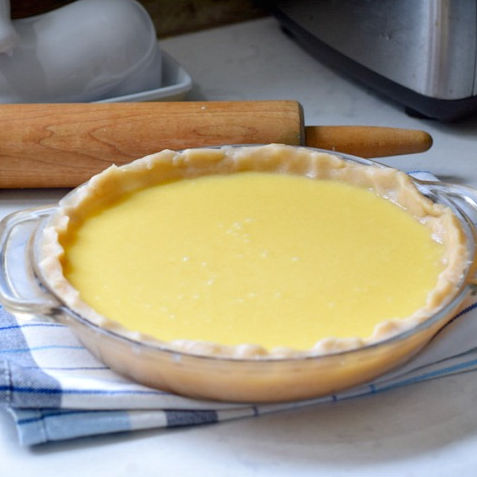 Here are my top Amazon Picks for this pie:
(affiliate links)
[box] [/box]
Try these other pie recipes:
For more fun and more recipes…Come Hang out with Me on Social Media
Facebook Page: Recipes Passed Down
Facebook Page: Kid Friendly Things To Do
I'd love for you to join my Facebook Groups
Easy Family Recipes – Just Like Mom Used to Make
Here's a quick Video to show you how I made this buttermilk pie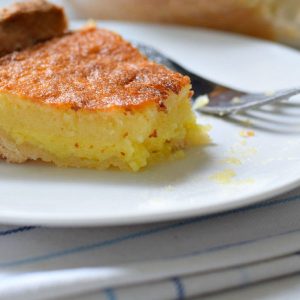 Classic Buttermilk Pie Recipe
Creamy, sweet buttermilk pie recipe
Ingredients
½

cup

unsalted butter

– melted and cooled

1

cup

granulated sugar

3

Tbsp.

all-purpose flour

3

eggs

– beaten

1

cup

buttermilk

⅛

tsp.

salt

1

tsp.

vanilla extract

1

9 in.

deep dish pie shell
Instructions
Preheat oven to 400 degrees

In a large bowl, cream the sugar and butter together

Add flour and mix in

Whisk the eggs and mix them in

Pour in the buttermilk, salt, and vanilla and whisk to mix

Pour into pie shell and bake for 10 minutes

Reduce heat to 350 degrees, and bake for 40 more minutes

*buttermilk pie should be golden brown on top and the knife inserted should come out clean

Allow pie to cool for about 2 hours

Best when served warm
Notes
Nutrition Facts are only an estimate 
*pie will continue to set up as it cools
Storing your pie:
Any leftover pie should be covered and placed in the refrigerator for up to 3 days
Nutrition
Calories:
263
cal
Carbohydrates:
31
g
Protein:
4
g
Fat:
14
g
Saturated Fat:
8
g
Polyunsaturated Fat:
1
g
Monounsaturated Fat:
4
g
Trans Fat:
0.5
g
Cholesterol:
95
mg
Sodium:
87
mg
Potassium:
74
mg
Fiber:
0.2
g
Sugar:
27
g
Vitamin A:
493
IU
Calcium:
48
mg
Iron:
1
mg