This whipped cream recipe is the only one you'll need for homemade whipped cream that is done in minutes using only three ingredients. The perfect topping for any dessert.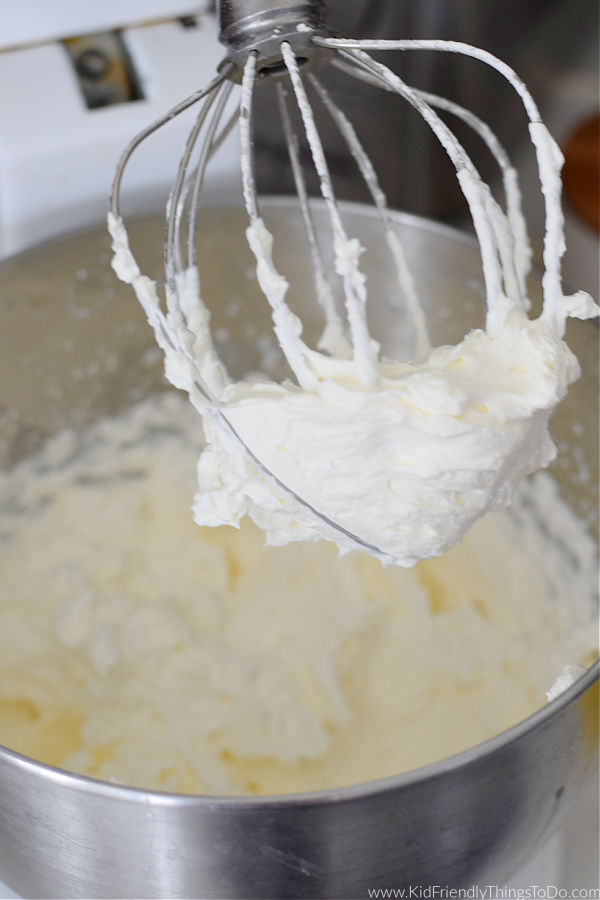 Whipped Cream Recipe
Once you make your own whipped cream and taste the difference, it will be hard to go back to the store-bought version. Rich, creamy, and so delicious, it's hard to believe it is made with only three ingredients.
If you need quick and easy dessert ideas, then you might like my recipe for an Easy Chocolate Sauce, S'more Ice Cream, Cream Cheese Fruit Dip
What I love about this recipe
it's ready in minutes – This recipe is quick and simple to make. Heavy whipping cream lasts for a long while in the fridge, so next time you are at the grocery store, grab some for a last-minute whipped cream topping
with simple ingredients to find – you won't have to search all over town to find the ingredients for this recipe, and you might even have them right at home – now
this makes a nice stiff whipped cream – thick and creamy, it's the perfect texture to top pies, puddings, cakes, and more
Homemade Whipped Cream
This recipe will most likely go in your favorite saved recipes. It's a great basic whipped cream recipe that you can transform into so many variations, like chocolate whipped cream, coffee-flavored whipped cream, peppermint whipped cream, cinnamon-flavored whipped cream, or lemon whipped cream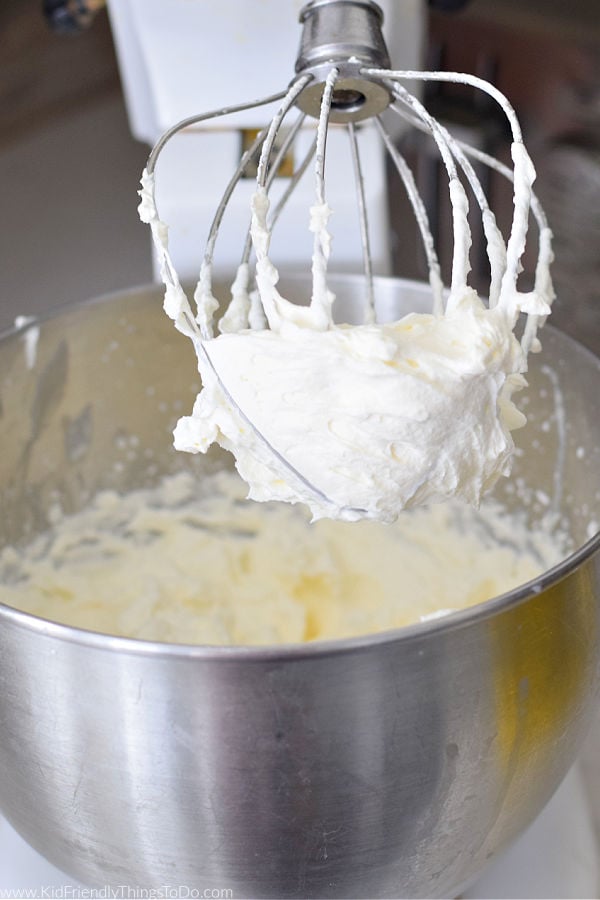 Flavor Variations to Make with this basic whipped cream recipe
To change the flavor of your whipped cream to the ideas below, add the suggested ingredient after your whipped cream has formed (you may need to whip more after adding the flavors). Fold in any nuts, or other fillings
Peanut butter whipped cream – 1/3 cup of creamy peanut butter
Caramel Nut – add 1/2 cup of brown sugar and 2 Tbsp. caramel flavor – whip in, then fold in nuts
Cream Cheese Whipped Cream – 4 oz. cream cheese
Lemon whipped cream – add powdered sugar, fresh squeezed lemon juice, lemon zest
Orange Whipped Cream – whip in 1 tsp. orange extract, fold in orange zest
Chocolate Whipped Cream – 1/4 cup unsweetened cocoa
Coffee Whipped Cream – add 2 tsp. instant espresso
Peppermint Whipped Cream – exchange vanilla extract for peppermint extract
FAQs
Make Ahead and Storage
How long will homemade whipped cream last in the refrigerator
Easily 1-2 weeks. The whipped cream will stay fluffy the entire time, but the milk may expire. Check for smell and a difference in texture to see if it has spoiled
Can I make Homemade Whipped Cream Ahead of Time?
Yes. Homemade whipped cream will stay fluffy and delicious if stored properly. You can make it a few days in advance to save yourself time
How do you Store Homemade Whipped Cream?
Store whipped cream, in an airtight container in the fridge
Can I Freeze Whipped Cream?
Yes. You can freeze whipped cream for up to 2 months. Thaw in the refrigerator
Ingredients for Homemade Whipped Cream Recipe
People are often surprised to find out that homemade whip cream is made with only a few ingredients and is so easy to make. All you need is a few minutes and 3 ingredients to transform heavy whipping cream into stiff peaks and enjoy on top of all of your desserts.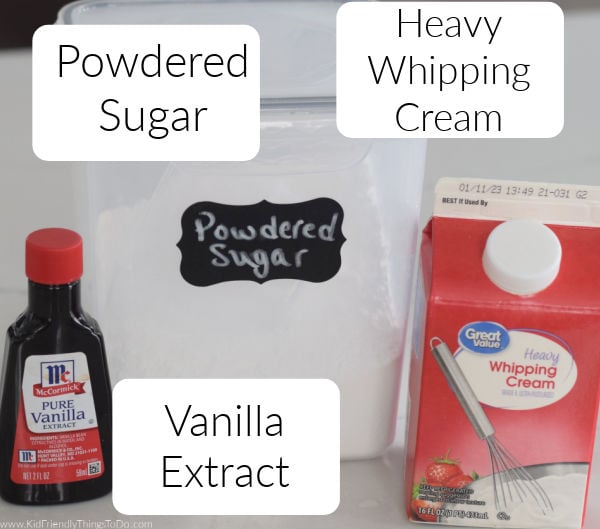 Heavy Whipping Cream – this is made up of a high-fat content and is absolutely delicious whipped up. It is crucial that it is cold when you whip it
Powdered Sugar – powdered sugar provides the perfect sweetness and balance for this whipped cream recipe
Vanilla Extract – I like to use pure vanilla extract for the most decadent flavor. You can easily change up the flavor of whipped cream by exchanging other extracts for vanilla extract
Types of Whipping Cream
Heavy Whipping Cream and Heavy Cream – These are the exact same product but might be packaged differently and is the preferred ingredient for making homemade whipped cream
Whipping Cream – While you can use this in place of heavy whipping cream, the milk fat in heavy whipping cream is greater and will come together faster and hold its shape longer
Equipment You Might Need
stand-up mixer or hand-held electric mixer – you probably do not want to whisk whipped cream manually. It is possible but will take a lot of energy to do
Whisk Attachments
Mixing whipping cream without a Stand Mixer
You can make whipping cream without a stand mixer. Here's how…
Use a mason jar. This is a great way to make whipped cream without any equipment. The kids can help make whipped cream this way. Make sure the jar lid and seal are on nice and tight and shake vigorously for 2-3 minutes
Use a hand-held mixer – Pour the ingredients into a mixing bowl, plug in your hand-held mixer, add whisk attachments, and beat on high for 2-3 minutes or until peaks form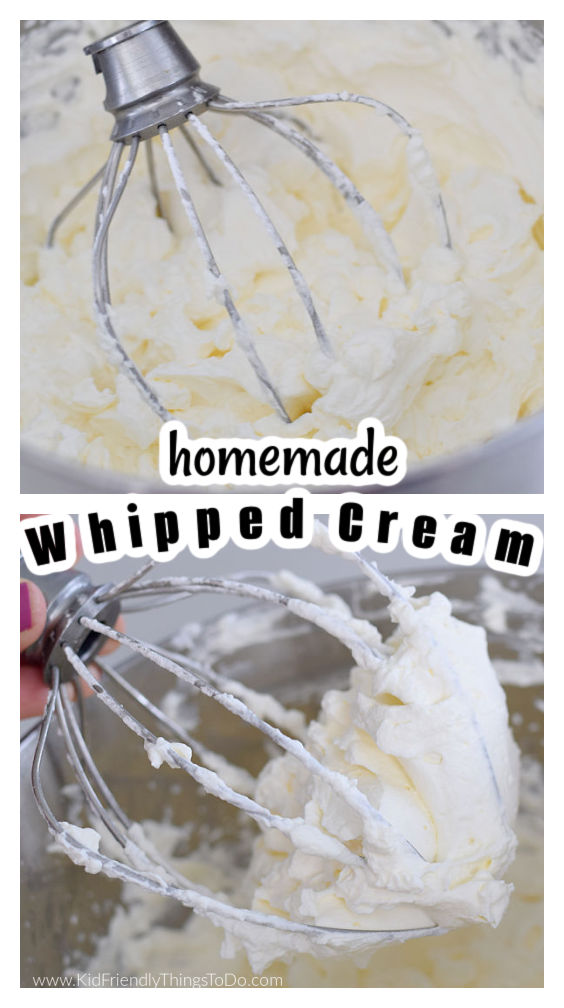 How to make Whipped Cream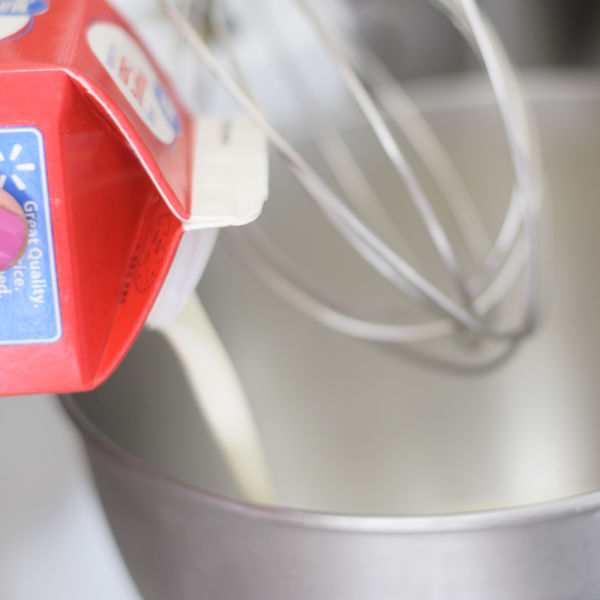 Chill your mixing bowl for at least 15- 30 minutes – while you are at it chill the attachments too. If I'm in a big hurry (which I usually am), I have skipped this step. It usually comes out just fine, but better to be safe than sorry
Pour your whipping cream in, and set the mixer to the highest setting – mix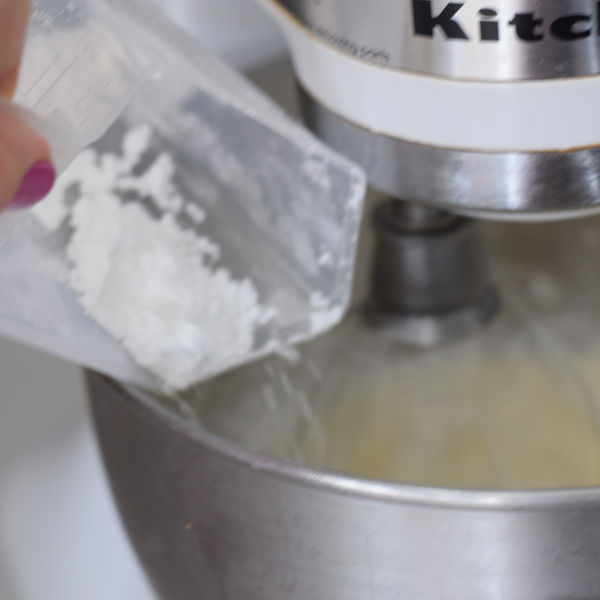 Add the powdered sugar and continue to mix
Now, add the extract and keep mixing until stiff peaks form
Serve and enjoy for days
Beating Whipped Cream to Stiff Peaks
As I mentioned before, homemade whipped cream forms in just a couple of minutes, so don't set your mixer on high and walk away. Once your peaks are stiff then stop the mixer before the mixture turns back into liquid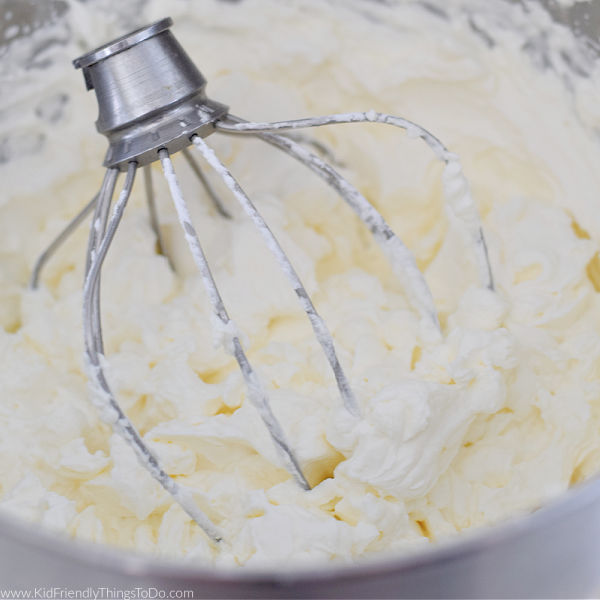 What are Stiff Peaks?
Stiff peaks in whipped cream are when you pull your attachments out of the whipped cream and the spot in the whipped cream that pulls up stands straight up
Medium peaks have a slight bend to them
Serving Whipped Cream
These are desserts that are made even better by adding a spoonful of whipped cream on top
Here's the recipe for Basic Whipped Cream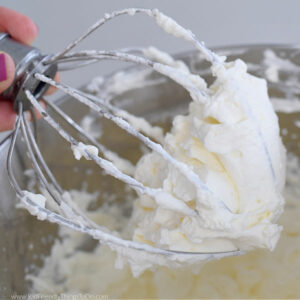 Whipped Cream Recipe
Easy to make whipped cream with only 3 ingredients
Print
Pin
Rate
Equipment
1 Electric Mixer

cold mixing bowl
Ingredients
2

cups

heavy whipping cream

cold

½

cup

powdered sugar

1

tsp.

vanilla extract

pure
Instructions
Chill the mixing bowl in the refrigerator for 15-30 minutes

Pour whipping cream into cold bowl

Add powdered sugar and extract – turning off mixer if you need to as you are adding ingredients

Mix for 60-90 seconds until stiff peaks form – if needed, stop mixer to scrape down ingredients from sides of bowl
Using whipped cream as a fancy topping
Place whipped cream into a piping bag and pipe onto your dessert
Notes
Nutrition Facts are only an estimate 
Storing
Store whipped topping in the refrigerator for 1-2 weeks, pending the expiration date on the heavy cream has not expired 
Checking for Signs of Spoiled whipped topping: 
The cream will curdle and smell bad 
Nutrition
Calories:
156
cal
|
Carbohydrates:
6
g
|
Protein:
1
g
|
Fat:
14
g
|
Saturated Fat:
9
g
|
Polyunsaturated Fat:
1
g
|
Monounsaturated Fat:
4
g
|
Cholesterol:
45
mg
|
Sodium:
11
mg
|
Potassium:
38
mg
|
Sugar:
6
g
|
Vitamin A:
583
IU
|
Vitamin C:
0.2
mg
|
Calcium:
26
mg
|
Iron:
0.04
mg