So…I'm in a little bit of a pickle. What kind of pickle am I in? What happened? Really? You want me to go on? Alrighty then! Let me explain my predicament to y'all. Zulilly, have you heard of the catalog company Zulilly? I've always drooled over their kid's clothes, but I'm getting off track here.
Back to my point…A couple of months ago, Zulilly reached out to me, and mentioned they'd like to feature a Minion idea that was getting a lot of attention on Pinterest. Well, yay!!! is what I say to that! Yay! I gave them the stuff they needed, and they featured it – Yay! Once it went live…and here's my pickle…they asked if I would feature their Minion round up, as well. Sure thing! They were so nice to think of me, Of course I will! IF, I hadn't just told my readers that I would leave them alone with my Minion ideas for a while. I'm trying to hold back people! It's a struggle. Also, how the heck do you blog about a feature without sounding like a total (insert G rated version) butt? You'd all be like, Oh no she didn't! She did not just come out and brag about her big ole' feature! Hmm…think, think, think. Got it! I'll re-do a really down right embarrassing post on Chocolate Covered Minions. Down right embarrassing pictures, sloppy job, etc… I'll update it with better pictures. I'll make it easier, and a lot more fun for Minion parties. Then, I'll re-post it and slide my Zulilly thing right in with the Minion Chocolate Covered Pretzels! Brilliant, right?! I amaze myself, sometimes. 😉
Here's my re-post from years ago that really isn't anything like the old, so I'm not sure if I can technically even call it a re-post. Shut up, Melissa?! Yep…I know. I'm rambling. Here goes:
This week seems to have a Minion Them to it! I thought I would keep going with it, by making some Minion Chocolate Covered Pretzels! These would be fun to hand out at a Despicable Me 2 Party, or Minion Party! Here's what I used to make these, and little step by step for you:
You'll Need – For Yellow Minions:

Wilton Chocolate Melts – Yellow & Black
Pretzel Rods
Candy Eyes
Squeeze tube – Wilton, I buy mine at Michaels in the candy making aisle
Chocolate Flavored Licorice Sticks – the kids like these soooo much better than the black.
Scissors
Wax Paper
Optional paint brush – small
For Purple Minions: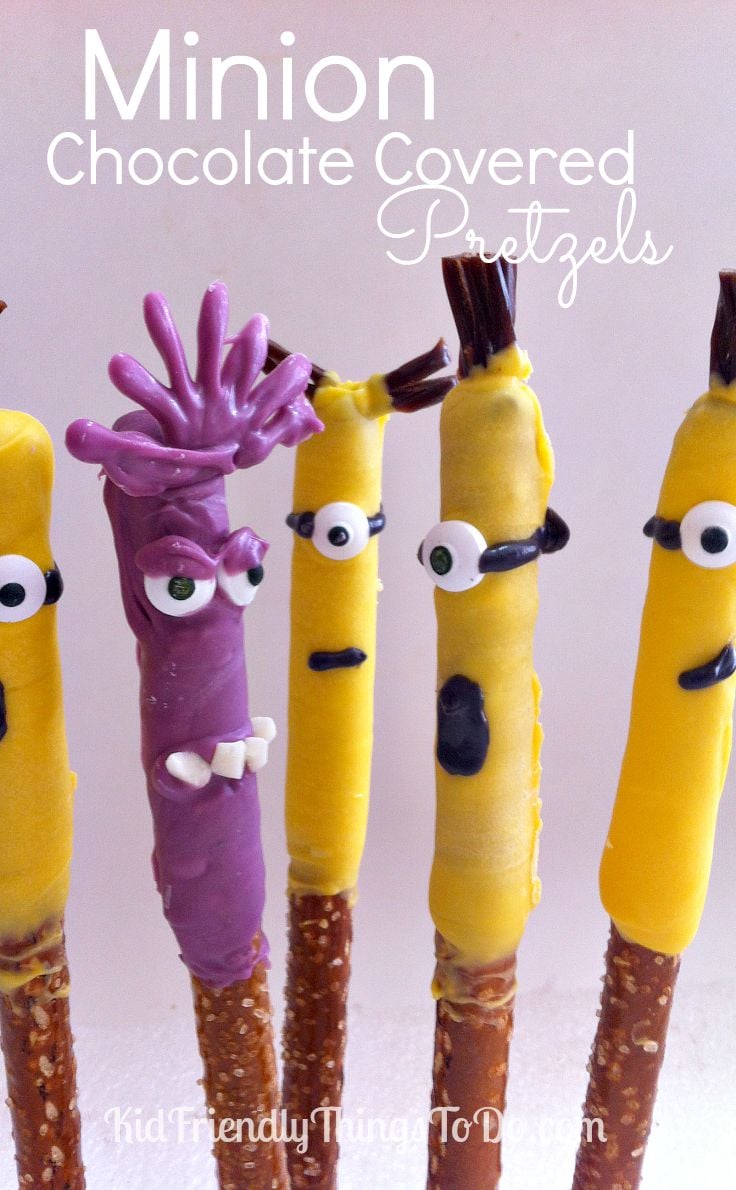 Wilton Chocolate Melts – Purple
Wilton Chocolate Melts – White
Pretzel Rods
Candy Eyes
Candy Squeeze tube
Paint brush – small
Yellow Minions: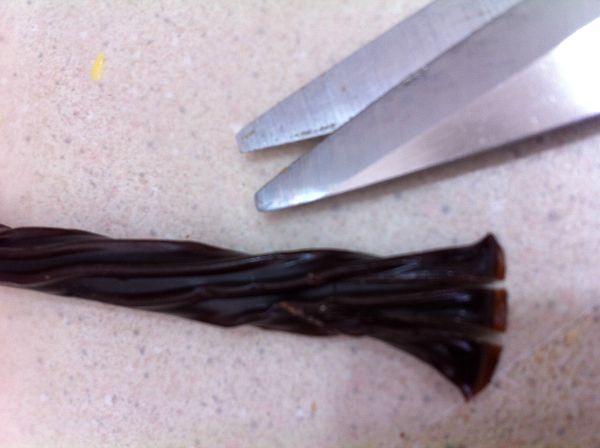 Get some hair ready for your Minions by cutting the licorice strips like the picture above – Cut sections off that are about 1/4 to 1/2 in. long, and repeat, making as many hair pieces as you need
I had some single strips set aside for parted hair pieces, too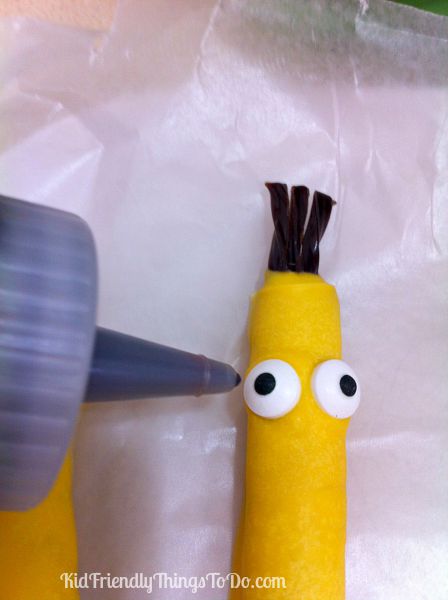 Melt the yellow chocolate melts in a glass bowl using the directions on the back of your package
Dip the pretzel rods into the melted yellow chocolate, rolling them until they are coated
Place them down on wax paper to dry
While they are drying add one or two eyes to each pretzel
Once dry, use the melted chocolate to dip the hair pieces (licorice) into, and attach the hair pieces to the top of each pretzel
Melt the black chocolate and place it into the squeeze tube
Use the black chocolate to make the goggle bands, and mouths for the Minions 🙂
You can really change their expression by the type of mouth you give them. Experiment and have fun!
I didn't do this with the yellow Minions, but if you still have some yellow chocolate, and I think you will, re-melt it, and use a paintbrush to add eyelids to some. That really gives them the ticked off look that I love!
Purple Minions:
Melt your purple chocolate in a glass microwave proof bowl using the package directions
Place a small amount into a squeeze tube
Set out a piece of wax paper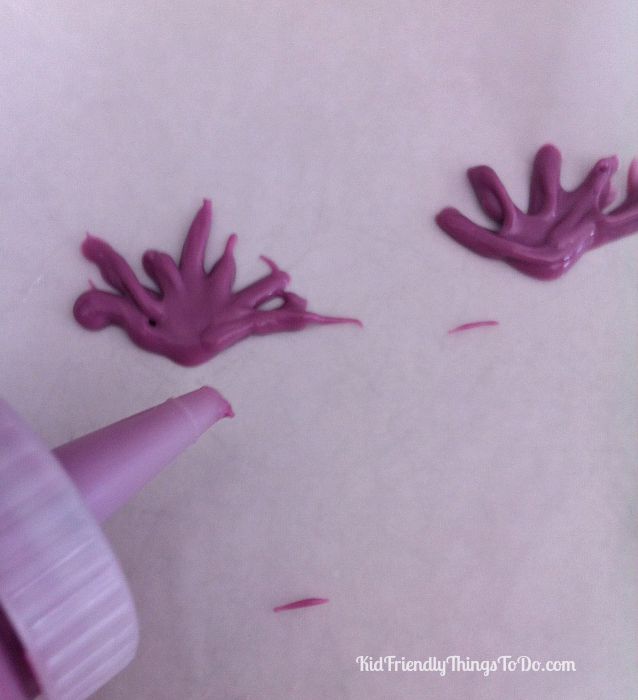 Get some crazy hair ready for your Evil Minions by making hair designs on the wax paper
Let those dry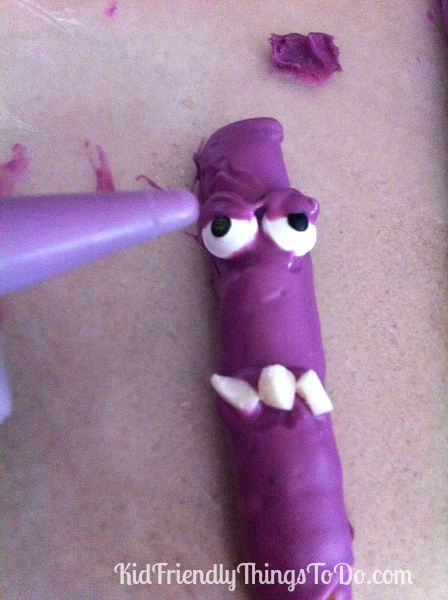 Roll the pretzel rods in the rest of the purple chocolate and set them on wax paper to dry
While they dry, add 1 or 2 candy eyes
You can use any extra chocolate in the squeeze tube to give some of the Minions eyelids
Teeth:
Break some white chocolate melts into pieces, and use them as teeth

Once they have dried use the melted purple chocolate as glue to attach the crazy hair pieces
You can package these individually to give out in party bags, or use them as a fun party snack!
If you're lookin for more Minion ideas…I've gotcha covered! Check out this Minion Rice Krispies Snack that was featured on Zulilly! Chocolate covered pretzles and rice krispies?! You'll be the bomb at the party!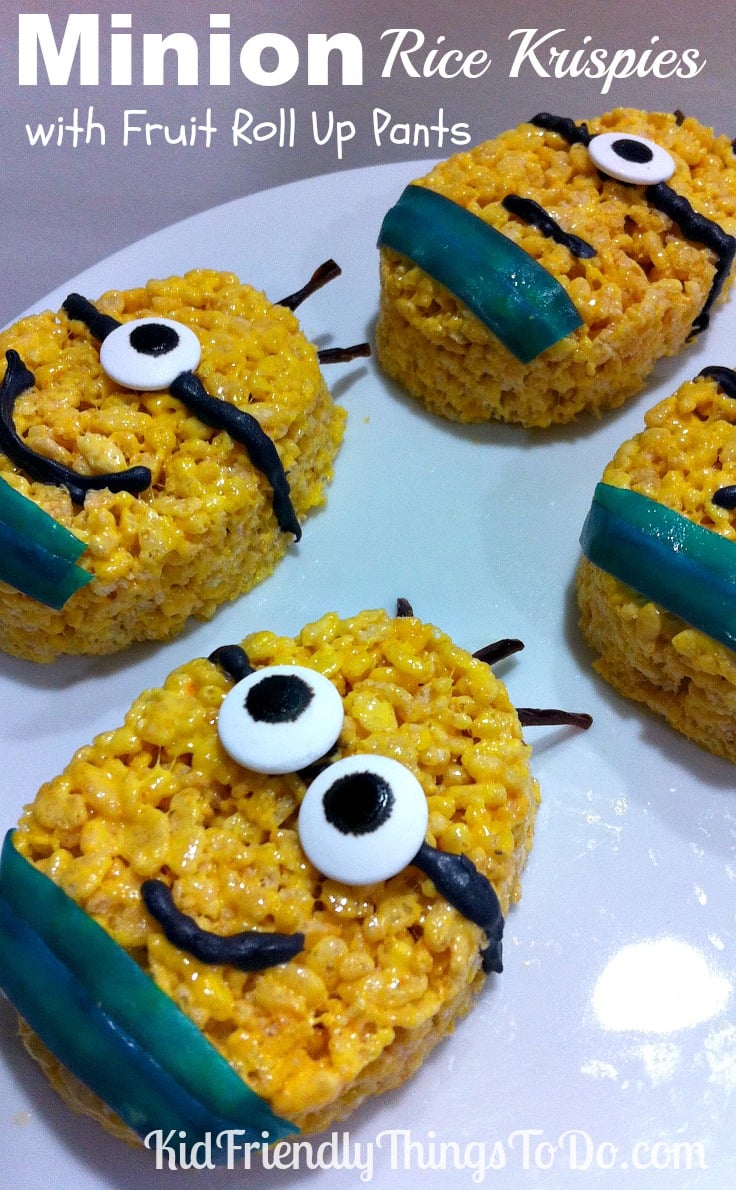 How'd I do? Do you hate me? Don't hate me! As a matter of fact…let's be friends! Come hang out in my social places! I can't wait to see you there.
Melissa – KidFriendlyThingsToDo.com
You thought I was done with this never ending post? Nope. Here's my original post from 2013. Blah!