This Shirley Temple Drink is always a big hit! Easy to make and the perfect party drink for kids and adults all year round.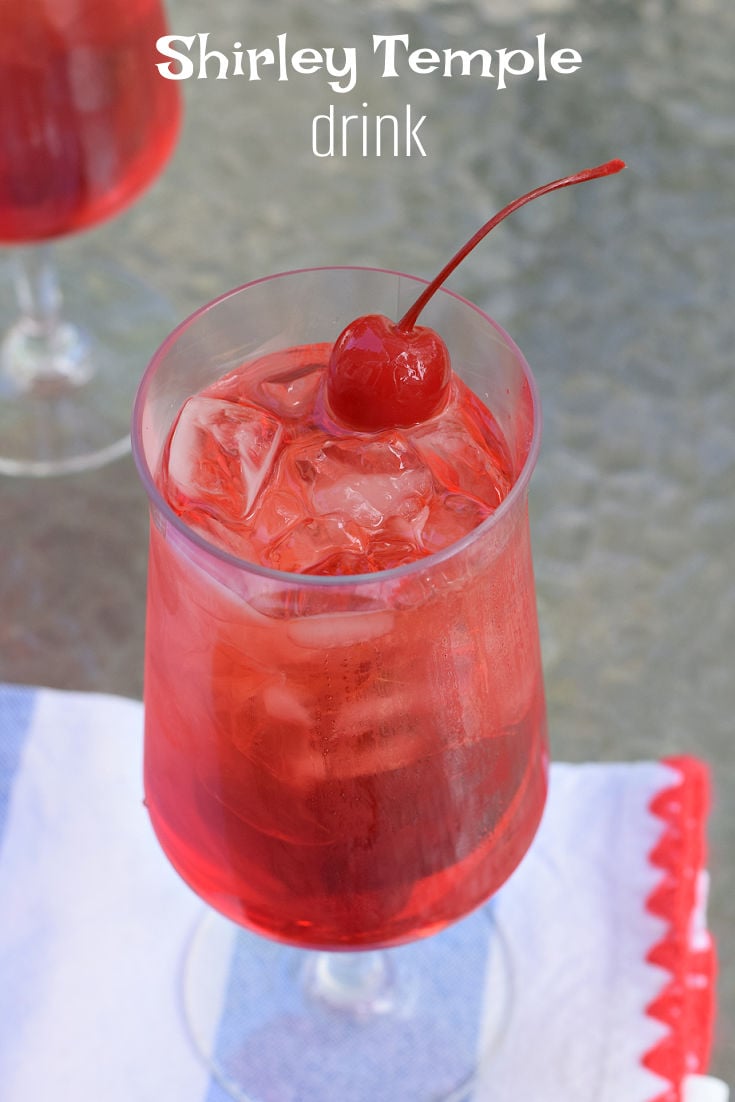 Shirley Temple Drink
Who's Shirley Temple and why does she have a drink?
If you don't know who Shirley Temple is, then you might be wondering about the name of this drink. Shirley Temple is a child actress from the 1930s. I grew up watching her old movies with her bouncing curls singing "On the Good Ship Lollypop". Now, I'm happy to say the love for Shirley goes on as my oldest daughter loves her classic musical movies.
If you love refreshing summer drinks as we do, then you might want to check out my recipe for this 5 ingredients Tropical Smoothie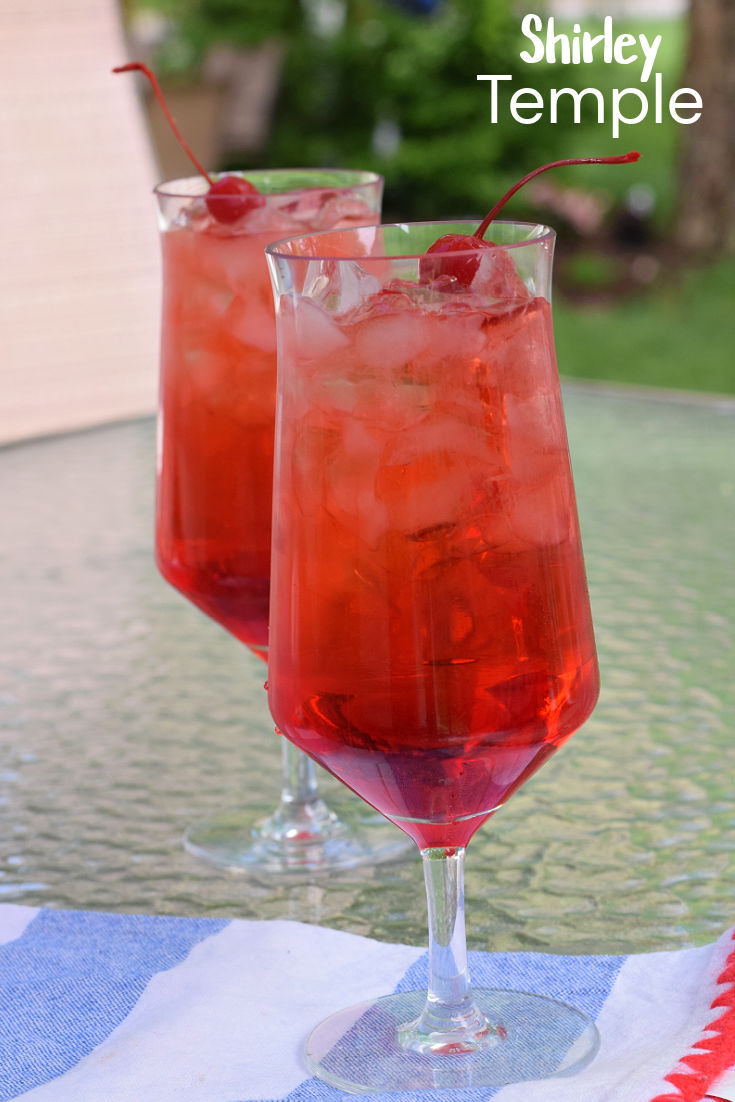 This Shirley Temple Recipe is so much fun and couldn't be easier to make. It's a refreshing summertime drink. There are a few variations that I'll talk to you about, but you can really make it with just 2 ingredients!
I love making drinks for the kids, so you'll probably find loads of drink recipes on this site. This one is definitely a keeper.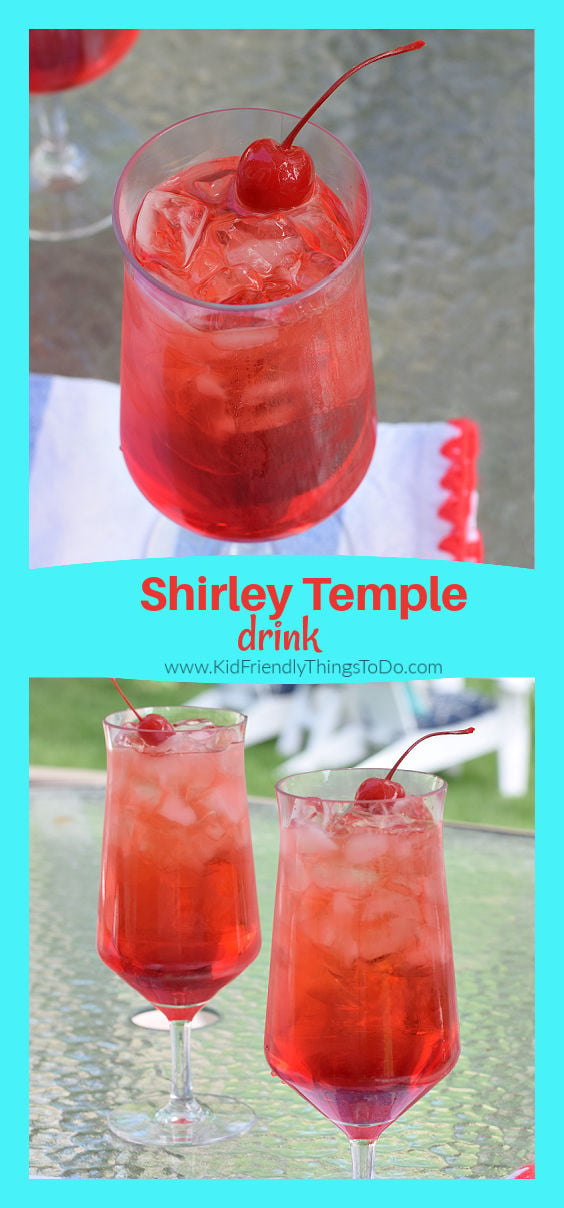 Did you know that the type of soda you use will change the color of the drink? A more pink or pale drink is probably made with lemon-lime soda while a dark red drink is made with ginger ale. Both are common combinations, and sometimes a Shirley Temple Drink Recipe will even combine the two sodas.
Shirley Temple Variations:
Sodas: A Shirley Temple can be made with one or both of the following sodas. Gingerale is commonly used, but so is lemon-lime soda while it is not uncommon to combine the two sodas in equal amounts.
Grenadine Substitutions: The red in the drink is classically grenadine (the classic ingredient of this drink) but if that is nowhere around, you can substitute maraschino cherry juice. Both are extremely sweet and work well in this drink.
Adding Citrus: Another variation is adding orange juice to this mocktail. This is a delicious variation and I highly recommend it. If you want to add orange juice just add a splash or two to give this drink a nice tang. Adjust it to your liking. Some people also use lime juice, lemon juice, or pineapple juice as a fun citrus or tangy addition to this drink
Roy Rogers Drink: Want to go a totally different direction? Use coca-cola instead of the clear sodas and it becomes a Roy Rogers Drink
Garnishes for a Shirley Temple
The classic garnish is a maraschino cherry on top, but a lime or orange wedge is also a fun garnish. Of course, a sprig of mint would be delicious and fun, as well
FAQs
What is Grenadine Syrup?
Grenadine is a commonly used syrup by bartenders in bars. It is made from pomegranates and is very sweet pomegranate syrup. It adds a pop of pink or red color to drinks for a fun cocktail or mocktail
A Good Substitute for Grenadine
Making Homemade Grenadine: You can mix 2 parts of simple syrup with 1 part of pomegranate juice. In a pinch, just use the juice from a jar of maraschino cherries as a substitute for grenadine
What is a Simple Syrup?
Simple syrup is basically equal parts of sugar and water.
How do you Make Simple Syrup?
In a saucepan, mix 1/2 cup of sugar and 1/2 cup of water over medium heat. Heat the mixture while continually stirring it until the sugar is dissolved. Let the mixture completely cool off and store it covered in the refrigerator for up to one month
What's In a Shirley Temple?
Ice, Grenadine, and Lemon-Lime Soda make up the base of this drink. You can also add a maraschino cherry for a garnish.
Is a Shirly Temple Drink Kid-Friendly?
Yes! It is a wholesome drink that is made out of soda pop and syrup.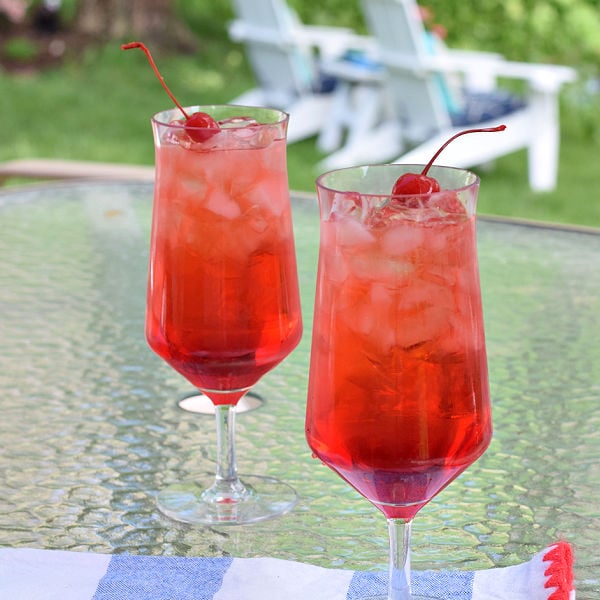 Tips and Tricks for making a Shirley Temple Drink:
Really pack the cup with lots of ice
Find grenadine in any grocery store that has a liquor aisle or at your local liquor store. (There is no alcohol in grenadine – It's just a sweet syrup)
Use lemon-lime soda like 7-Up, Sprite, or a generic form, or use Gingerale – You can also make a combination of both. I prefer the ginger ale because the lemon-lime is a little sweeter and combined with the sweet syrup it's almost too sweet for me. My kids, however, love the lemon-lime soda
Maraschino Cherry juice can be substituted for grenadine
You can also easily adjust the size of the drink by using an easy ratio of 1.5 oz. to "about" every 12 oz. of soda
Are you ready to make this recipe for Shirley Temple? Let's make sure you have everything you'll need: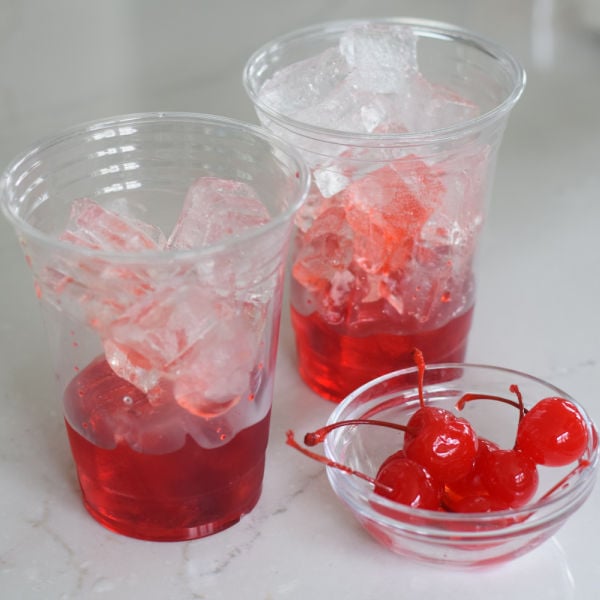 Shirley Temple Drink Ingredients…
Lemon-Lime Soda or Ginger Ale (or both)
Grenadine Syrup
Ice
Garnish: Maraschino Cherry with the stem on and optional lime wedges
Helpful Equipment that you might want
Shot glass for measuring the syrup (1/5 oz. = 3 Tablespoons)
My top Amazon picks for this recipe:
(affiliate links)
How do you make a Classic Shirley Temple Drink?
How to make a Shirley Temple:
pack your cup full of ice
pour in the Grenadine Syrup
Pour the soda over the top of that
Gently stir
For more fun and more recipes…Come Hang out with Me on Social Media
Other Fun Summer Drinks you Might Enjoy
Frozen Lemonade – Just like the ones from the county fair
Red, White, and Blue Layered Drinks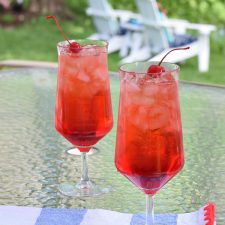 Shirley Temple Drink
Easy to make Shirley Temple Drink that is always a big hit.
Print
Pin
Rate
Servings:
1
(16 oz.) serving
Ingredients
1.5

oz.

3 Tbsp. of Grenadine Syrup

12

oz.

of lemon-lime soda or ginger ale

ice
Instructions
Pack a 16 oz. a cup full of ice

Add 1 shot glass full (or 3 Tbsp.) of Grenadine syrup over the ice

Pour soda

Gently stir

Serve with a garnish of maraschino cherry
Notes
optional additions:
splash of orange juice, pineapple juice, lemon juice, or lime juice
optional garnishes:
lime wedge, a sprig of mint
Soda variations:
all lemon-lime soda, all ginger ale, or a mixture of the 2
Nutrition
Calories:
253
cal
|
Carbohydrates:
64
g
|
Protein:
0.3
g
|
Sodium:
46
mg
|
Potassium:
15
mg
|
Sugar:
54
g
|
Calcium:
9
mg
|
Iron:
0.1
mg