This Copy-Cat Orange Julius Recipe is just like the creamy orange drink that I remember from my younger days at the mall. It's such a great summer treat. Come on in and I'll share the recipe with you…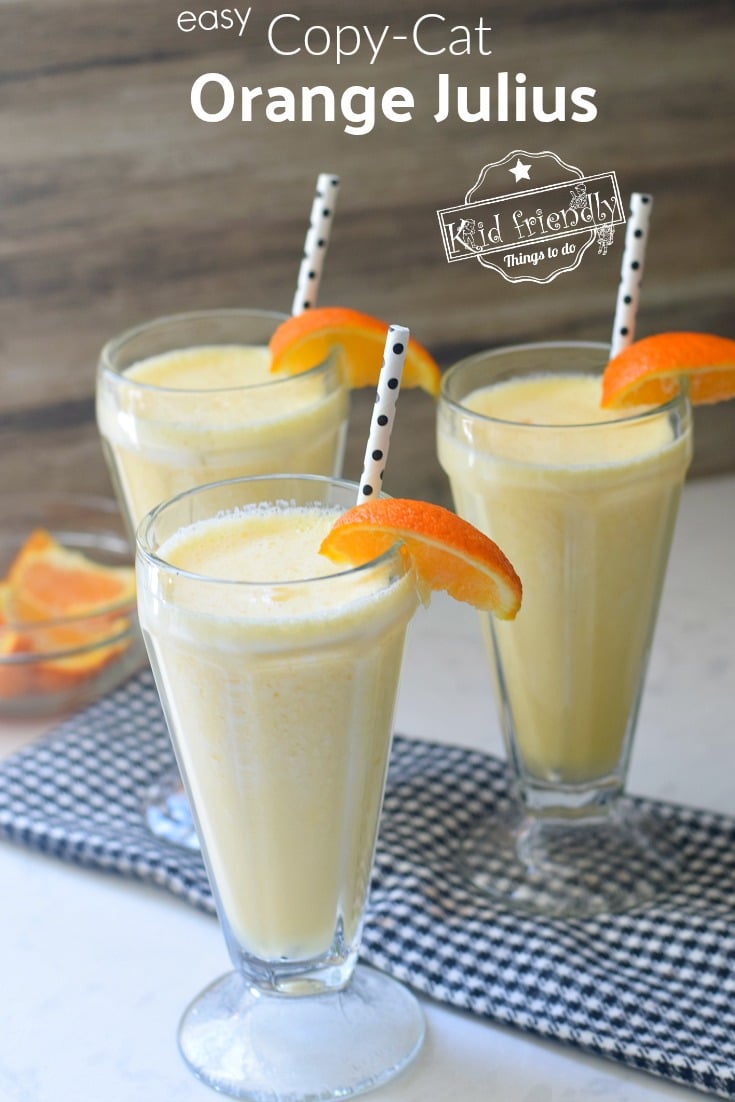 Copy-Cat Orange Julius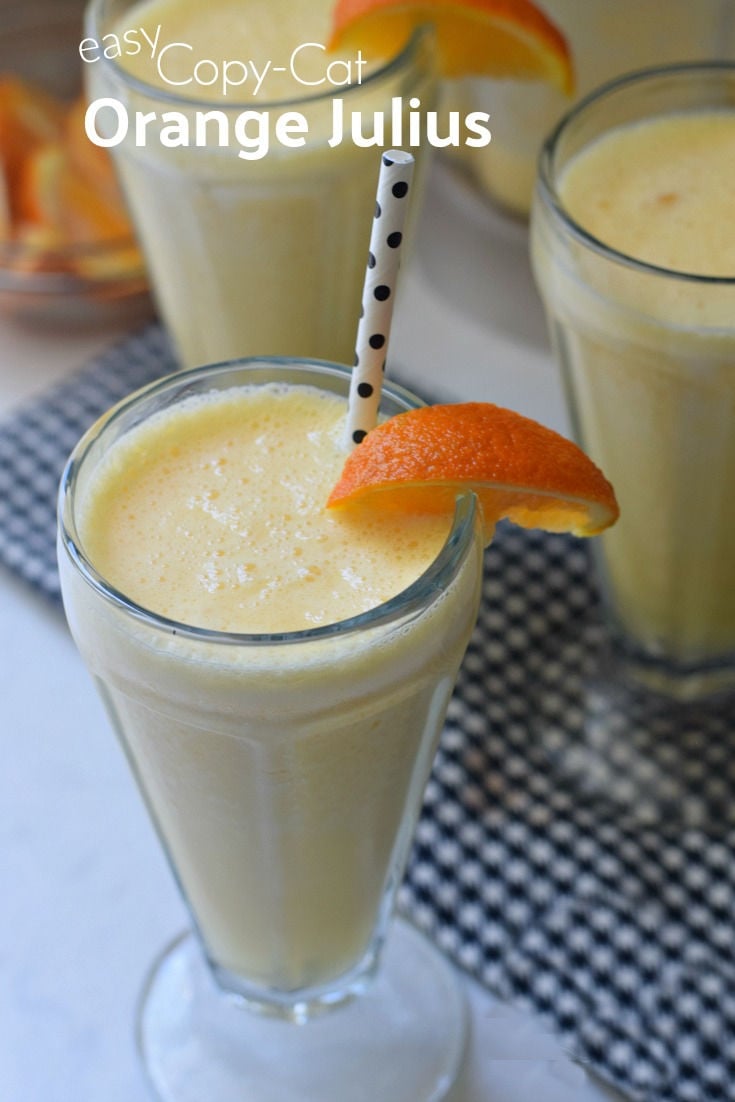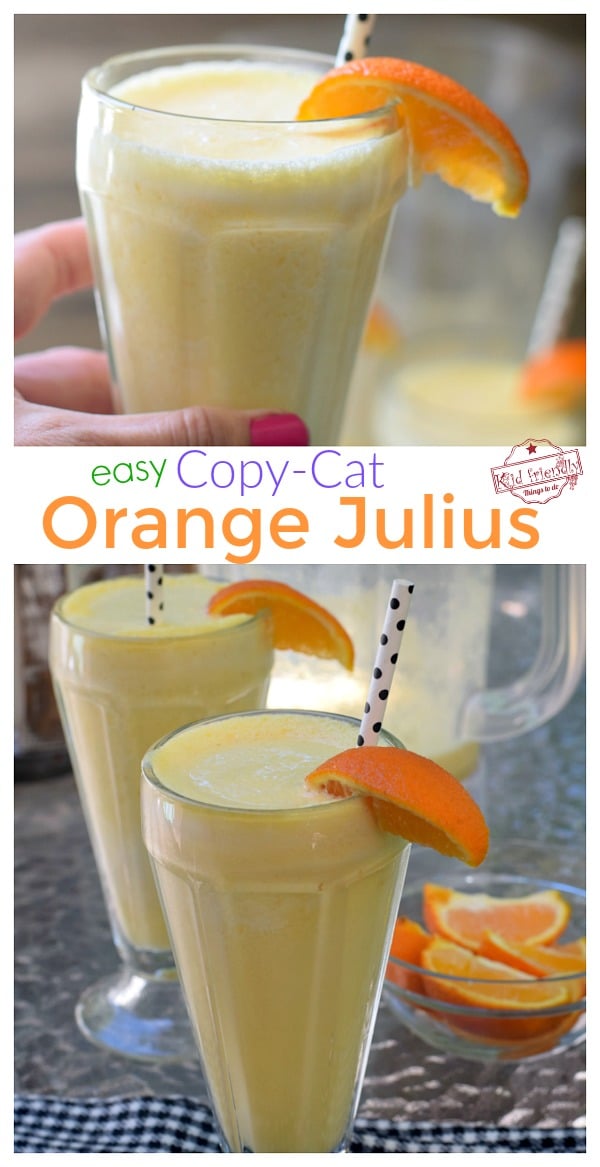 As a kid, I used to visit Orange Julius in our local mall. It was such a treat to get one of those creamy orange drinks.
That combination of cream with the tartness of orange was irresistible to me. I'm pretty sure that I pestered my mom until she finally gave in.
If you like making fun drinks, then you might want to try my recipes for…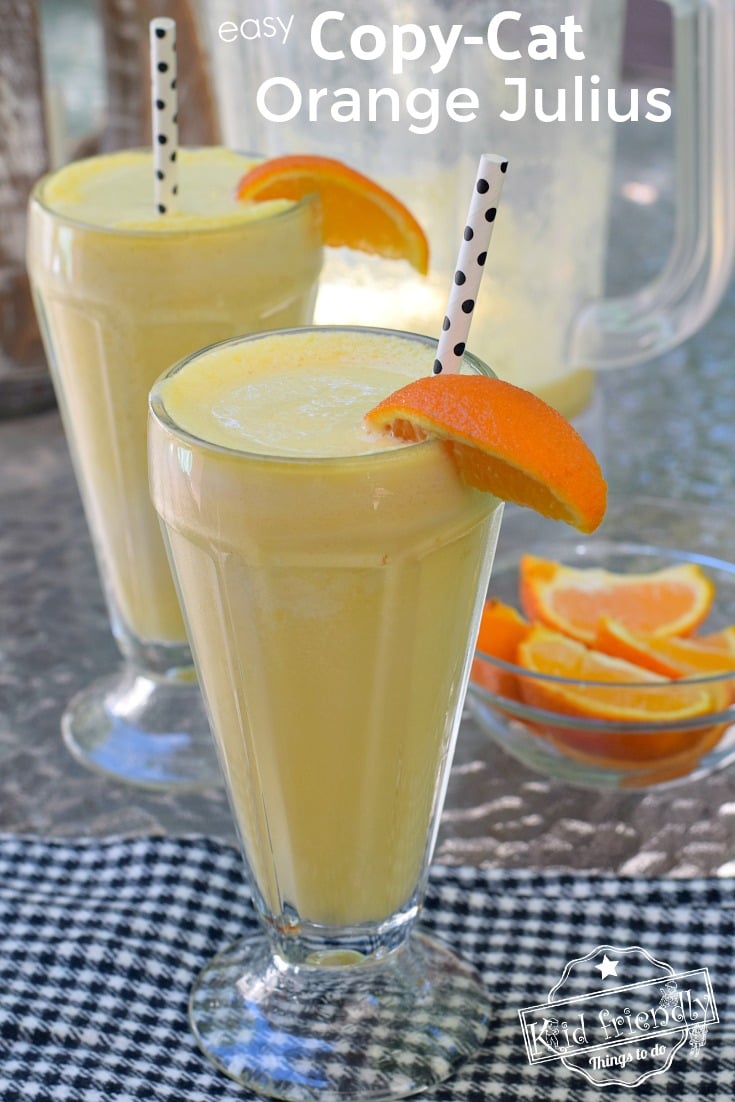 Sadly, Orange Julius isn't a staple at every mall anymore. Dairy Queen bought the franchise and only sells the Orange Julius at select locations. They aren't sold at my local DQ. You can usually find them at the old fashioned Dairy Queen Treat stands. Which is exactly what I did in my quest to find one and compare it to this copy-cat version. The nearest Orange Julius friendly DQ to me is about 20 minutes away. Of course I loaded up the family and headed straight to it.
Here's what I discovered…The flavor was a lot more tart than I remembered. It really makes you pucker up. This Copy-Cat version has the same effect. It's made with orange juice concentrate which lends itself well to the tangy flavor found in an Orange Julius.
I love the recipe – as is, but In this copy-cat version, you can customize the flavor of your drink simply by adding more milk for a creamier (less tart) flavor or if you really like the strong citrus flavor then only add 1 cup of milk instead of the recipes recommended 1&1/2 cups.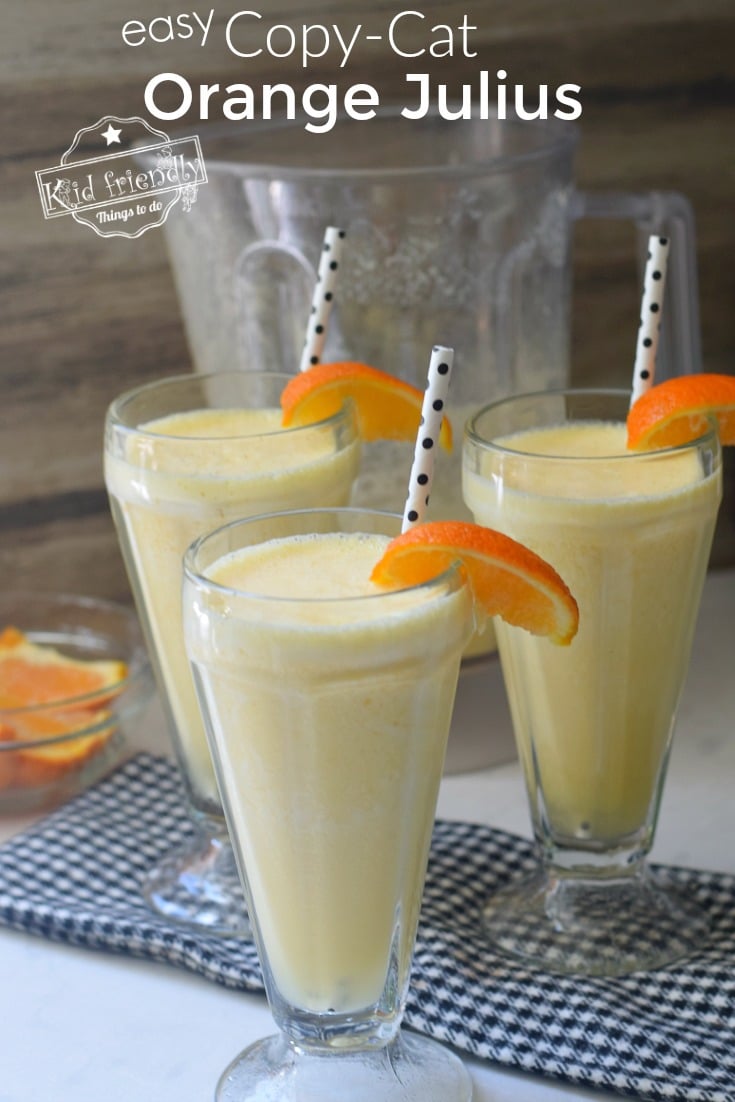 What does Orange Julius Taste Like?
Orange Julius tastes like a mixture of cream and oranges. It tastes a lot like a liquid version of a creamsicle.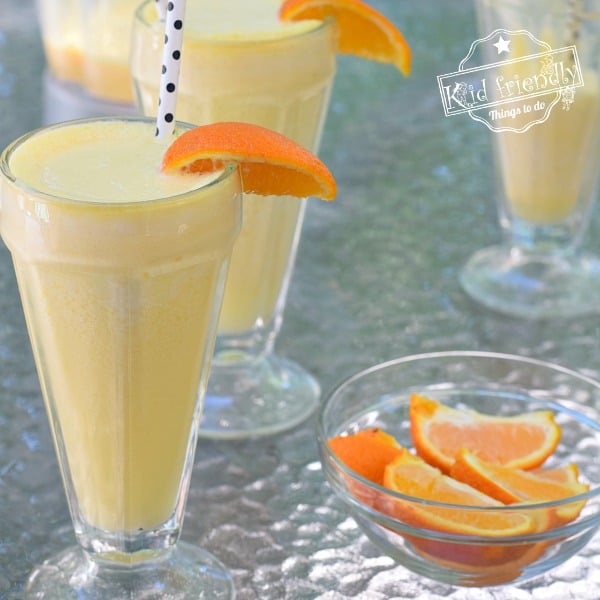 What is an Orange Julius Copy-Cat Made of?
Frozen Orange Juice Concentrate, Water, Milk, Ice, Vanilla, Ice and a form of Sweetener.
How do you make a Copy-Cat Orange Julius?
In a blender, add orange juice concentrate, milk, water, honey, ice, and vanilla
Blend until smooth
Tips and Tricks for the Ultimate Copy-Cat Orange Julius…
Start off by adding 1/2 cup less milk than the recipe states. Taste the finished product. If it's too tart, add the last 1/2 cup of milk to make it more creamy
If left to sit, the ingredients may start to separate. Simply stir the drink with your straw or a spoon until it's creamy again
Some recipes add powdered sugar to add a sweeter flavor
Here's a quick VIDEO to show you how I made this Orange Julius Drink…
Here's the handy dandy recipe printable:
Print
Copy Cat Orange Julius Juice
A fun summer drink that tastes like a creamy orange Creamsicle.
Author:
Prep Time:

5 minutes

Cook Time:

30 seconds

Total Time:

5 minutes

Yield:

4

servings

1

x
1

(12 oz.) container of orange juice concentrate

1

&1/2 cups of milk

1/2 cup

of water

1 tsp

. of vanilla extract

2 Tbsp

. of honey

1 cup

of Ice Cubes
Instructions
Add the ingredients to a blender
Blend until smooth
Serve immediately
Notes
If the drink is left to sit, the ingredients may start to separate. Stir to mix together
Recipe Variations…
Feel free to play around with the taste by adding more milk for a creamier version or dialing the milk back for a tart flavor. Some recipes have added powdered sugar as well for a sweeter version.
~Melissa – KidFriendlyThingsToDo.com