This drink involves mixing two fun drinks together to produce an even more exciting drink – a slushy and a milkshake. Ice Cream Slush drinks are much like a Tasty Freeze and are always a favorite treat. On top of that, they are surprisingly easy to make. With this ice cream slush recipe, your homemade slush drink.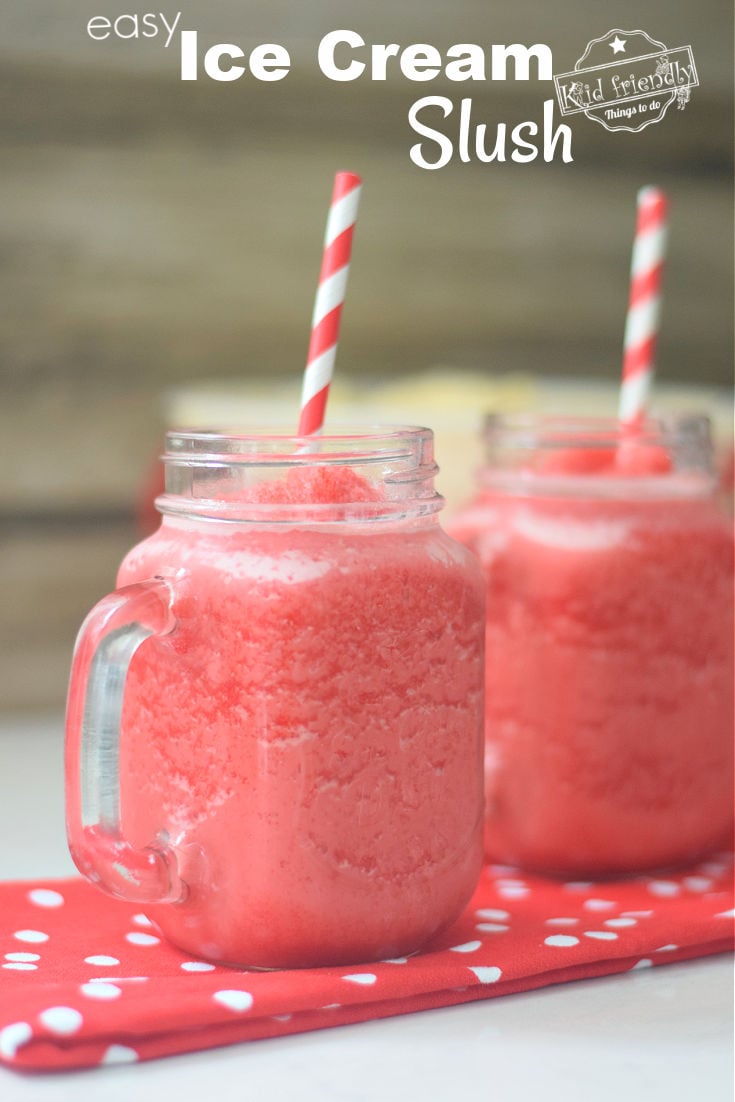 Ice Cream Slush Recipe
With so many Jell-O colors and flavors available, you can make these any color you want. Since the Fourth of July is just around the corner, I made these fun drinks in red and blue. But, it would be fun to have one of every color at a kid's birthday party.
If you are looking for refreshing drinks and drinks for fun, then you might like my recipe for Watermelon Juice, Vanilla Chocolate Chip Milkshake, and Homemade Cherry Vanilla Milkshakes
What I love about this recipe
creamy slushy recipes are so delicious. They remind me of the old-fashioned Tasty Freeze from Dairy Queen
homemade slushies are easy to make and recreate over and over for lots of summer fun and refreshing drinks on hot days
You can double this recipe for double the fun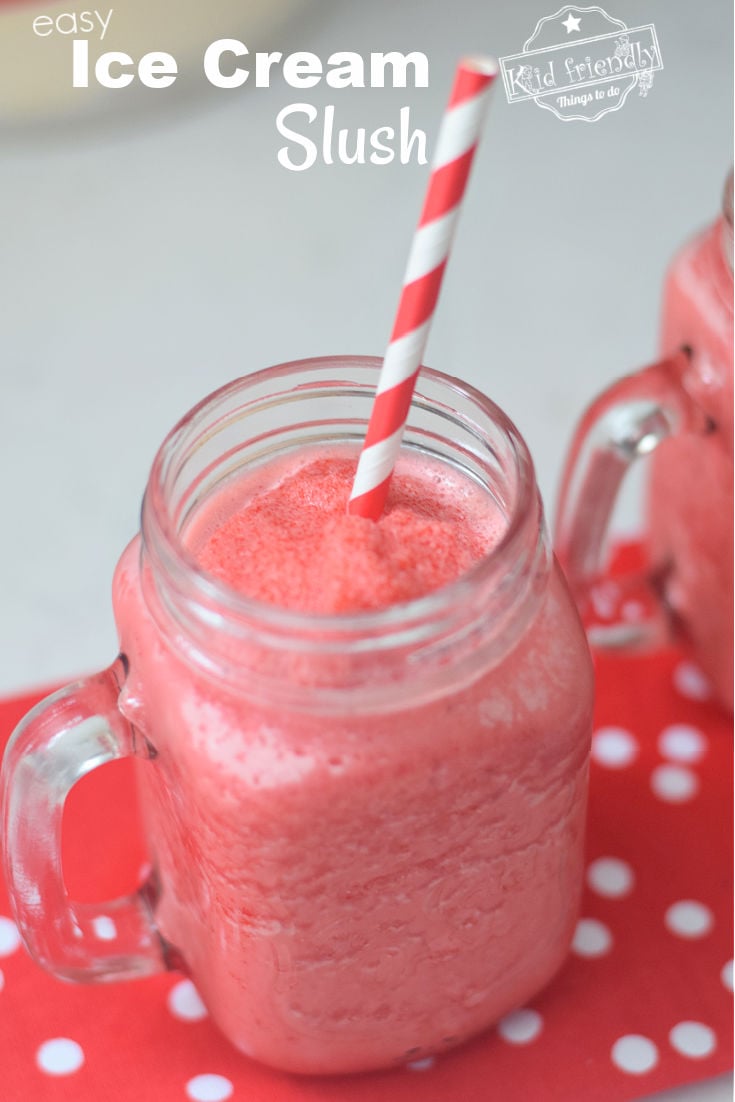 Are you ready to make this fun Slushy and Milkshake Drink? Here's What You'll Need To Make Your Own: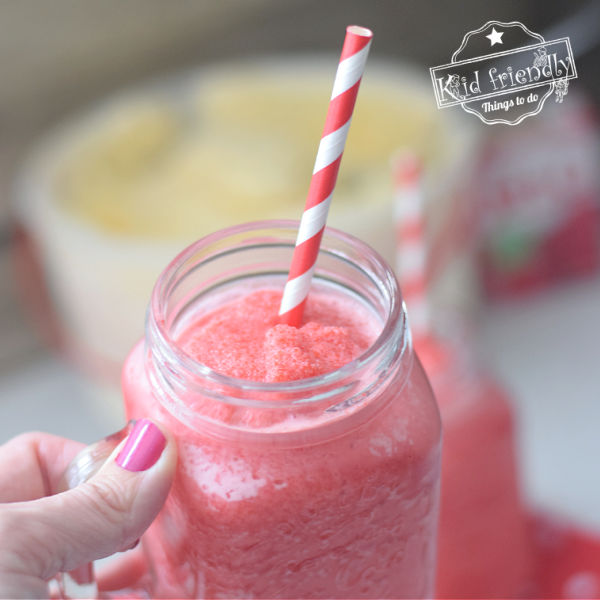 Are you ready to make this Ice Cream Slush? Let's make sure you have all of the ingredients…
Ingredients
Jell-O mix – any flavor/color you like – small package
cold water – the Jell-O mix will not dissolve completely, but it will mostly dissolve. It will leave some of the granular texture
crushed ice – you can crush ice in a blender to make is super-fine
vanilla ice cream – ice cream makes this drink a creamy slush. I love Tasty Freeze at Dairy Queen. This kind of reminds me of that
marshmallow creme fluff – this really helps to bind this drink and adds another layer of creaminess
How do you make Slushies with Ice Cream?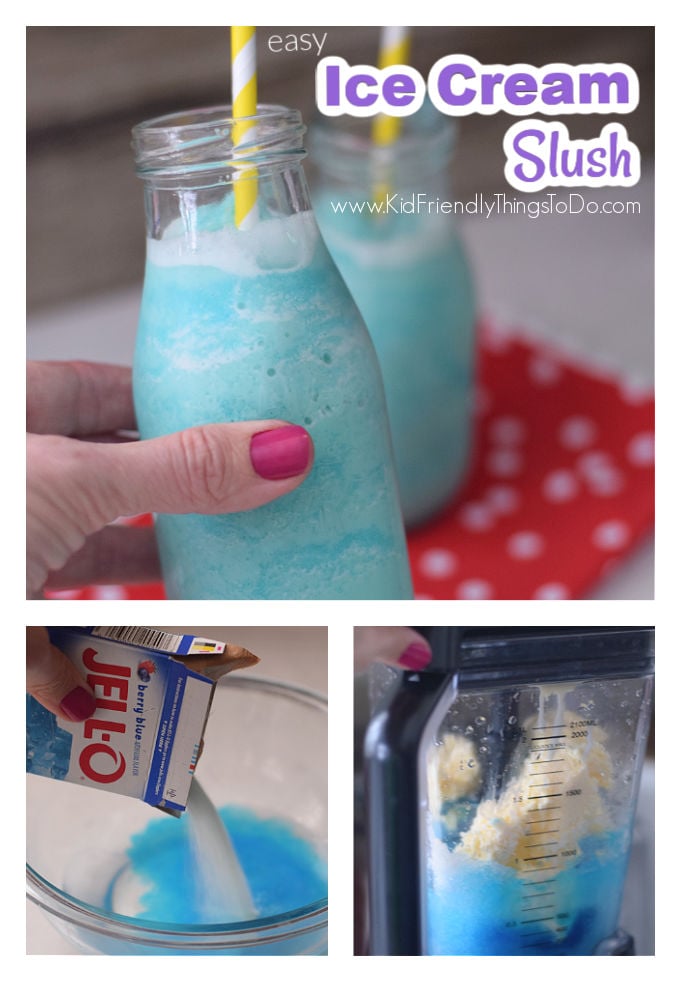 Step One:
In a small bowl, mix the gelatin and cold water together
Mix until mostly dissolved
Step Two:
Use a blender to blend the ice until it is crushed and looks like snow
Step Three:
To the blender, add the gelatin mixture and the ice cream
Blend
Step Four:
Finally, add the marshmallow fluff and blend in
Expert Tip
Add a scoop of vanilla ice cream to the top of individual slushies for an added delicious factor and more summertime fun
Add ice cream a little at a time. As it blends in, add more
How do you make a Slushie in a Blender?
Blend ice until super fine and resembles snow. Add a liquid flavor that is usually a flavor packet of some kind like kool-aid or Jell-O that has been mixed with water, and add granulated sugar
What thickens Slushy?
Ice thickens a slushy
What flavors a slushy?
The concentrated slushy liquid is found at most grocery stores during summertime. If you can't find that, then mix a kool-aid packet with water and sugar or Jell-O with water and sugar
What is the most favorite slushy flavor?
In my experience most kids prefer the blue raspberry flavor first, Next is a cherry flavor, and then a Coca-Cola or other dark soda flavor
Make Ahead and Storage
Slushies are best served right away. Once frozen, they never return to their fresh state. They are either too frozen or melted and the flavor is never really the same
Storing Slushies: If you must store your slush, then cover it and freeze it
Thaw at room temperature until there is enough liquid to make it easy to eat with a spoon or slurp with a straw
Serving Size
This slushie recipe makes two large glasses of slush or 4 small cups of slush
You can double the recipe to make more
More Fun Drink Ideas
My top Amazon Picks for this slushy recipe
Follow me on my Favorite Social Media Places
I love to make family recipes, crafts, fun foods, and family game ideas. I always catalog them here for you to find and enjoy, but some of my favorite places to share are on my Pinterest boards, On my Facebook Pages: Cooking Up Fun and Recipes Passed Down
You can also find me on my new favorite sharing app Flipboard. It is so much fun!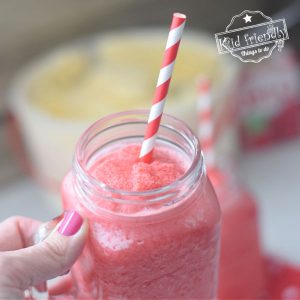 Jello Flavored Ice Cream Slush Recipe | Kid Friendly Things To Do
A slushy milkshake recipe that is easy and delicious.
Ingredients
1

3 oz.

Jell-O

any flavor you like

1

cup

cold water

2

cups

crushed ice

1

cup

vanilla ice cream

½

cup

marshmallow creme fluff
Instructions
In a small bowl, mix the cold water and gelatin together until gelatin is mostly dissolved

Using a blender chop the ice until it looks like snow

To the blender, add the gelatin mixture and blend, then add the ice-cream

and finally, add the fluff

I recommend adding a scoop of ice-cream to the top for an extra yumminess factor
Notes
Nutrition facts are only an estimate 
Need more? *you can double the recipe
Nutrition
Calories:
236
cal
Carbohydrates:
43
g
Protein:
2
g
Fat:
7
g
Saturated Fat:
4
g
Polyunsaturated Fat:
0.3
g
Monounsaturated Fat:
2
g
Cholesterol:
29
mg
Sodium:
73
mg
Potassium:
131
mg
Fiber:
0.5
g
Sugar:
34
g
Vitamin A:
278
IU
Vitamin C:
0.4
mg
Calcium:
95
mg
Iron:
0.1
mg
~Melissa – KidFriendlyThingsToDo.Com

This recipe was adapted from "Smoothies and Summer Drinks"