This Ham and Noodle Casserole is a great way to use leftover ham. It's such an easy and delicious dinner for the whole family to enjoy. The perfect recipe for any holiday leftover ham that you might not know what to do with.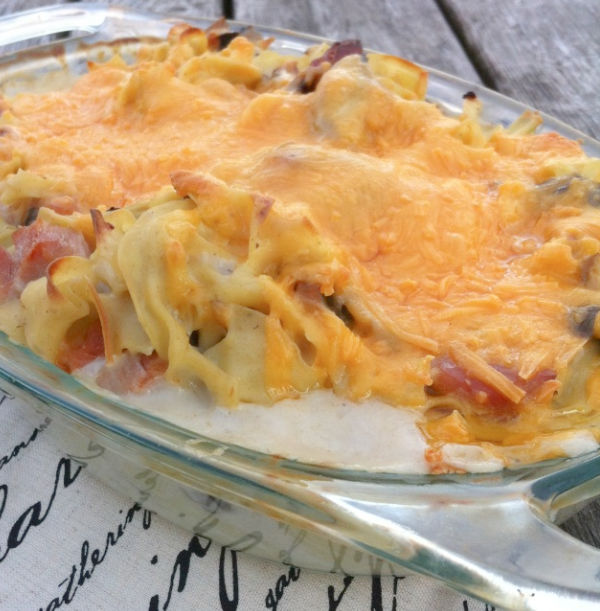 Ham and Noodle Casserole
This was such a delicious casserole. I had to stop myself from going back for thirds. I know some of you detest mushrooms. That's ok – you can leave those out and even substitute for the cream of mushroom soup.
What are Good Substitutions for Cream of Mushroom Soup?
I happen to love mushrooms, but I know that they are not everyone's cup of tea. If you hate them, then why not try…
Cream of Celery Soup
Cream of Chicken Soup
Cream of Broccoli Soup
Make-Ahead and Storage:
If you plan on making this dish ahead of time, I would suggest only the day of. The pasta might get a little soggy and lose its' texture any more than that. If you make it the morning of, then wrap it in foil and refrigerate until you are ready to bake
Storage:
The Short answer is – This ham and noodle casserole should last 3-5 days if covered in the refrigerator
How Long will Noodle Casserole Last in the fridge?
Any noodle or pasta casserole should last 3-5 days in the fridge. Some say that you can freeze a pasta casserole, however, pasta mixed with a cream sauce is not best when frozen. The cream sauce will alter the flavor of the pasta upon thawing and reheating.
How Long will Cooked Ham Last in the Fridge?
Cooked ham covered in the refrigerator should last 3-5 days
Can I use Frozen Veggies in a Casserole?
Yes! You most definitely can use frozen veggies. Thaw the veggies and make sure any extra moisture has had a chance to seep out and drain before folding them into your casserole. Do not over stir, or the vegetables might start to break apart.
Fresh Vegetables in a Casserole:
Fresh vegetables in any casserole are always a great way to add a little crispy crunch. Unless you plan to saute' the vegetables in butter ahead of time, they will not completely soften and that might be preferred. It's totally up to your taste preference. You can customize taste and texture as much as you want in any casserole.
Vegetable Add-Ins for Casseroles
Great add-ins would be
onions
broccoli
mushrooms
squash
green beans
carrots
spinach
bell pepper
Are you ready to make this Ham and Noodle Casserole? Let's make sure you have everything you'll need.
Supplies You'll Need:
(Serves 4)
Cream of Mushroom soup
can of sliced mushrooms – drained
milk – 2% or whole milk would work best in this recipe
cooked cubed ham
noodles – wide egg noodles are my favorite, but you could substitute Penne, Spaghetti, Rotini, or another soft pasta noodle
shredded Cheddar Cheese
Instructions: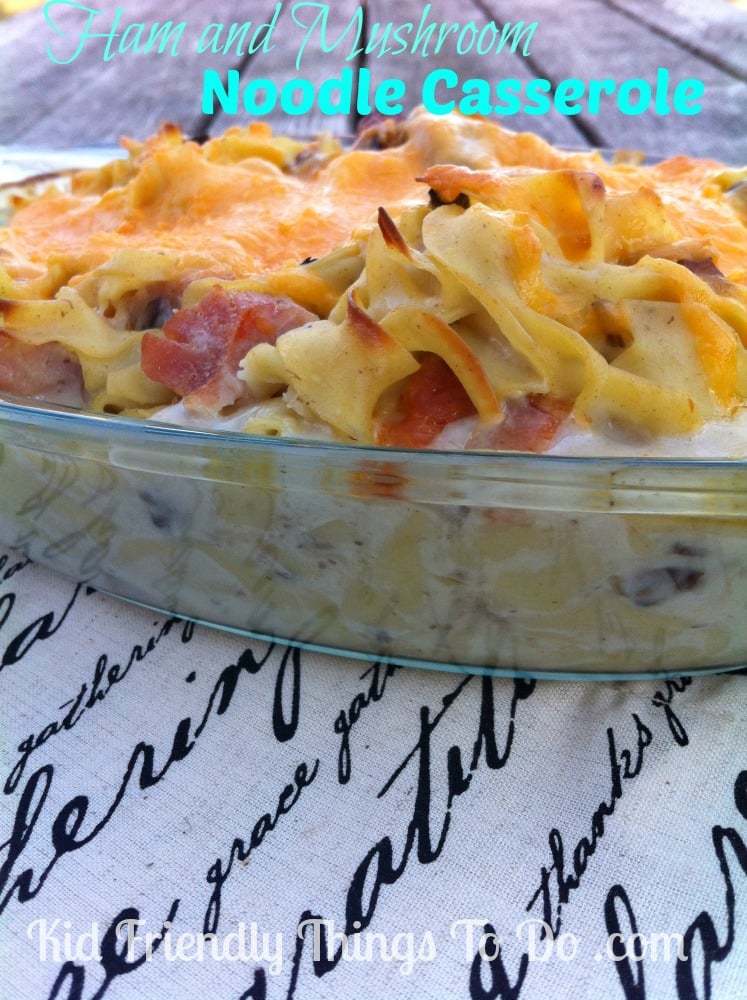 Preheat the oven to 350 degrees
Boil the noodles to Al Dente – according to package instructions, and drain them
In a large bowl, or right at the bottom of your baking dish – whisk the soup, milk, and mushrooms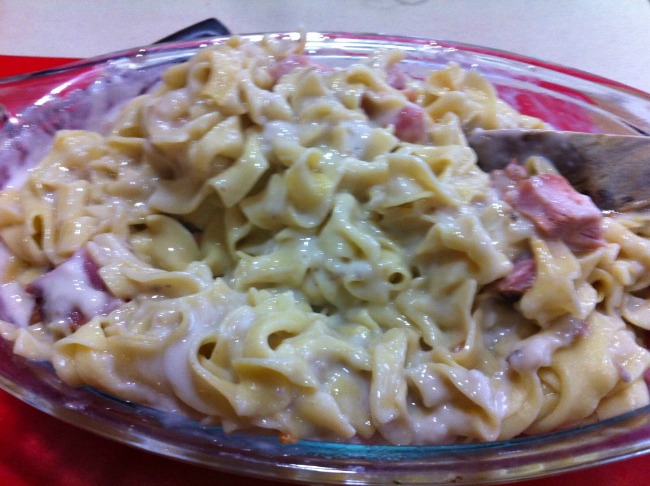 Gently fold the noodles and ham into the mixture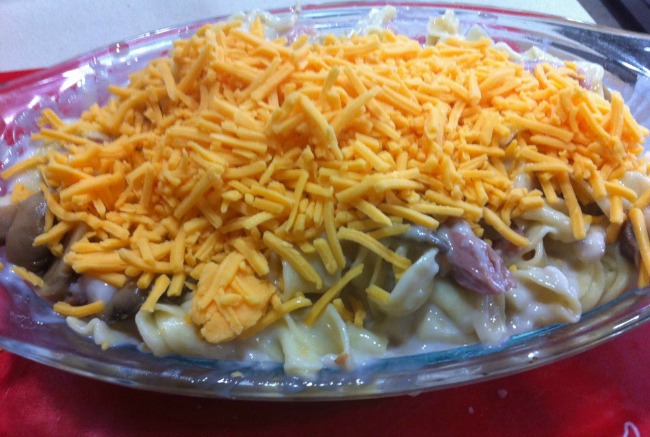 Sprinkle the top with cheese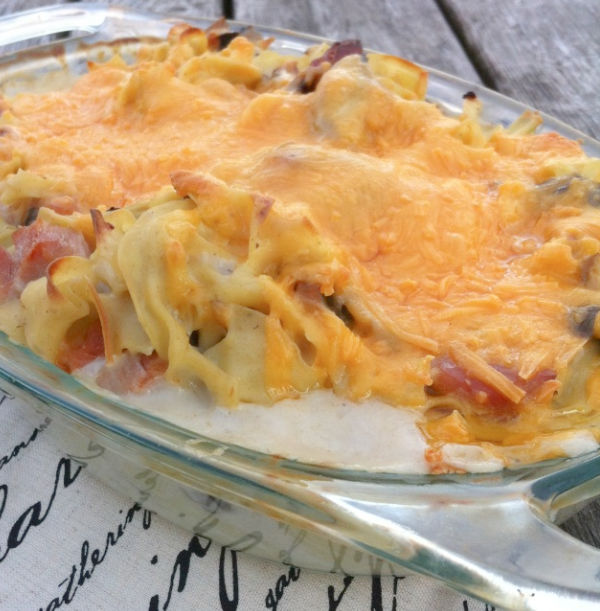 Follow Me on Social Media
FACEBOOK
Facebook Page: Recipes Passed Down
Facebook Page: Kid Friendly Things To Do
Join my Facebook Groups
Easy Family Recipes – Just Like Mom Used to Make
Kid's Crafts and Activities for the whole family
PINTEREST
Print
Ham and Mushroom Noodle Casserole
1

can of Cream of Mushroom of soup

1

can of sliced mushrooms – drained

1/2 cup

of milk

2 cups

of cubed ham

8 oz

. of noodles egg noodles

1/2 cup

of shredded Cheddar Cheese
Instructions
Preheat the oven to 350 degrees
Boil the noodles, and drain them
Mix the soup, milk, and mushrooms together in the bottom of a 1.5 quart pan (9×9) would be perfect for this
Gently fold in the noodles and ham
Sprinkle the top with cheese
Bake for 30 minutes