This Dorito Taco Casserole is layered with refried beans, seasoned beef, and delicious melted cheese. Load this Taco Bake Recipe up with your favorite Taco Toppings for an easy, flavorful, and fun family meal…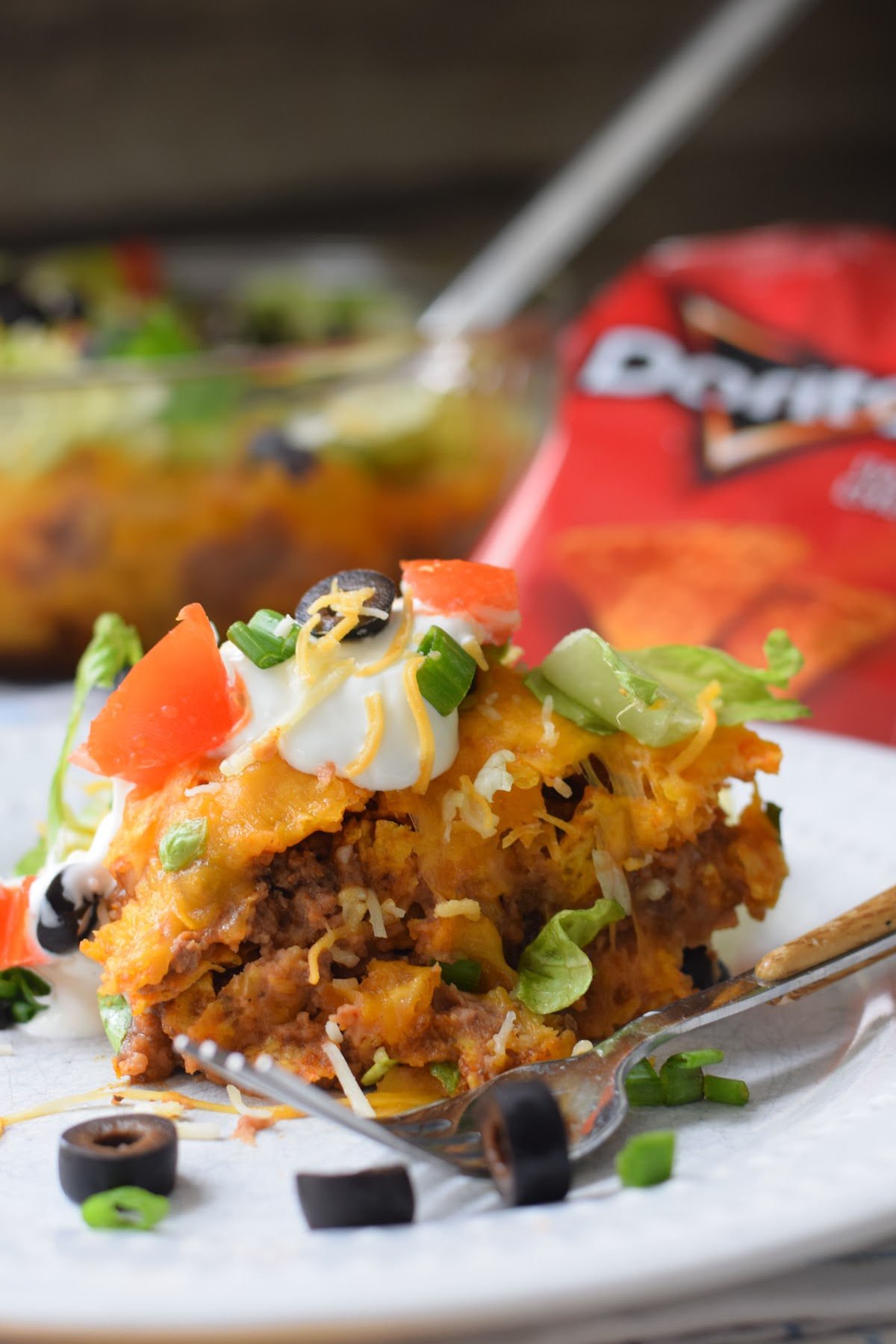 Dorito Taco Casserole
This Dorito Mexican Taco Casserole is an oldie but a goodie. One of my mom's friends shared this recipe with us and it's been a family favorite ever since. Some people refer to it as a taco pie with Doritos. My youngest son calls this dish a Walking Taco. I guess that his school cafeteria has a similar casserole that they call the Walking Taco, which he loves!
I'm happy to oblige his craving for walking tacos. Doritos are and always will be one of my favorite types of tortilla chips. I think this would be a great alternative to taco night. It's something different to try.
This recipe goes by several different names. Its' old-fashioned name is Taco Pie. I've also seen it called Taco Bake Recipe, Taco Bake with Doritos, or Dorito Taco Bake.
However you refer to it, you'll simply love the easy-to-make taco recipe that turns your favorite taco flavors into a layered casserole.
Are you looking for delicious but easy Mexican-style meals for the family? Try some of my other recipes, like Chicken Enchiladas with Sour Cream Sauce – a reader favorite and a great family meal, Mexican Pie with a Cornmeal Crust which is an old-fashioned recipe that holds the test of time, or my recipe for Mexican Lasagna
What I love about this Taco Casserole with Doritos
It's so easy to make with very few ingredients
It's already filled with flavor, but you can add your own touch to this recipe like adding corn, bell pepper, jalapenos, or salsa
You can double or triple this recipe to feed more
Use regular-flavored Doritos which is my favorite or use Cool Ranch, Spicy Nacho, Spicy Sweet Chili and other Dorito flavors
this Dorito taco bake is the ultimate comfort food – so delicious and filling
it's those old-fashioned flavors of nostalgia that really hit home with this recipe
I can really picture taking this to a potluck or making it an easy family meal for busy nights
This recipe is very easy and has fewer ingredients than other variations or similar recipes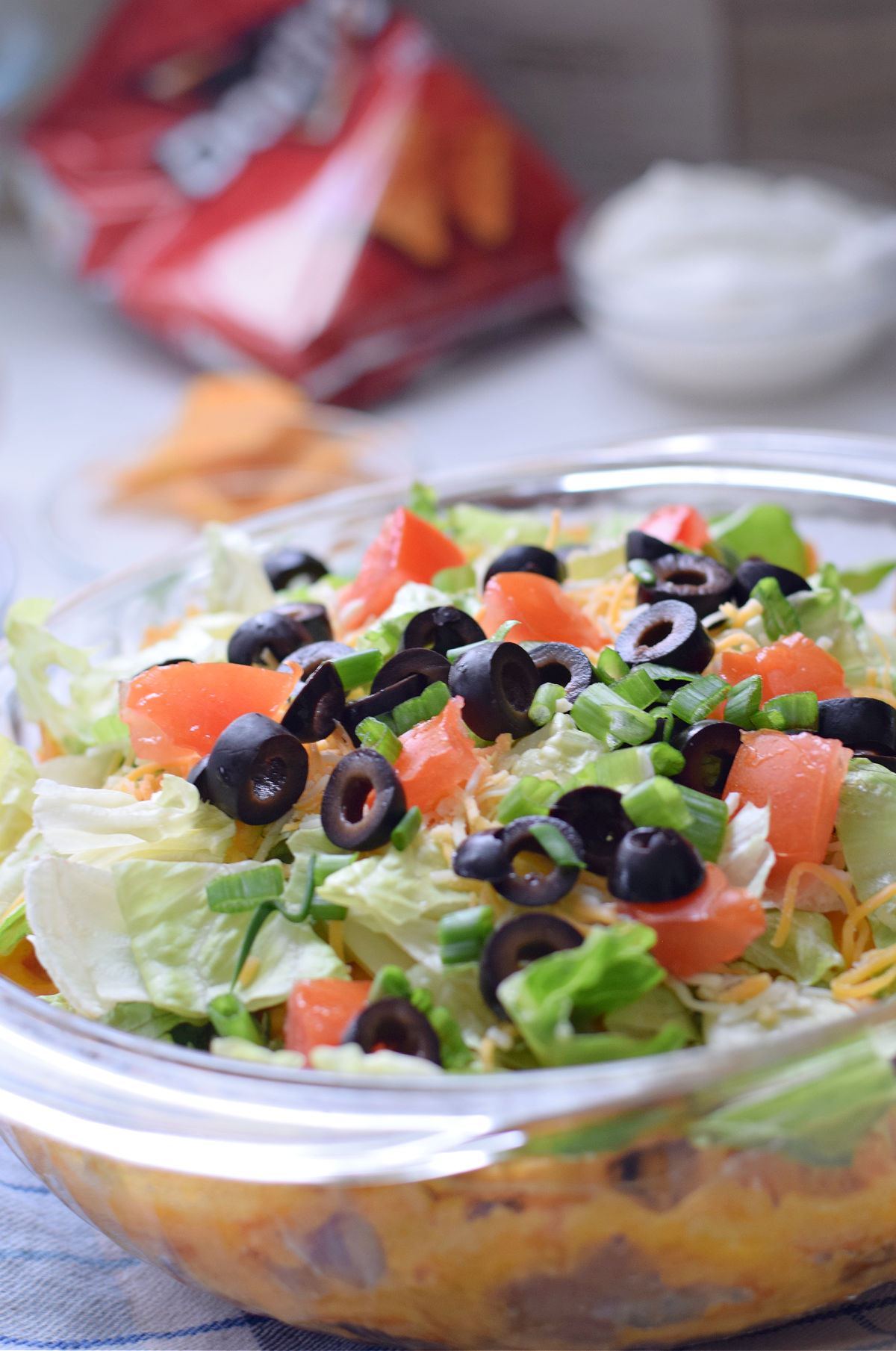 Ingredients Needed: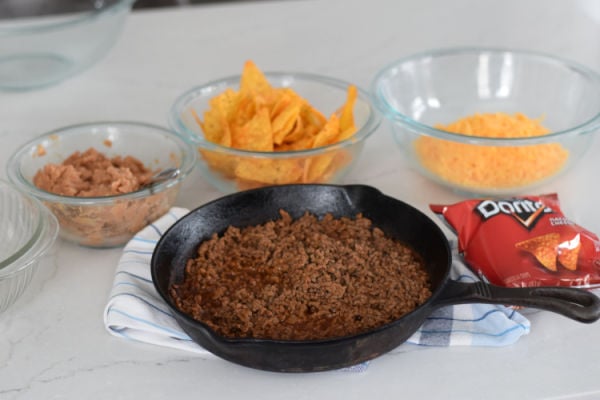 ground sirloin – sirloin is a personal preference, but I feel like it tastes the best. If you have another type of ground beef, then feel free to substitute it for the ground sirloin
taco seasoning – I don't use reduced sodium. I think it takes away from the flavor, but if you are cutting back on salt, then, by all means, use it. The brand does not matter here. I typically use Aldi's flavor packets which are a generic company
water – this will be used to mix with the taco packet and flavor the beef
refried beans divided into layers – I have used all kinds of refried beans, vegetarian, low fat, etc… I can't really taste a difference between them
crushed nacho cheese chips (Doritos) divided – Generic Dorito chips are totally fine in this recipe
shredded cheddar cheese divided – you can also use Mexican Blend shredded cheese
Suggested toppings are lettuce, diced tomatoes, sliced olives, avocado cubed, sour cream
Substitutions:
Some substitutions I've used in this recipe for taco bake are…
generic Doritos for the regular brand
Mexican blended cheese instead of cheddar – you could use sharp cheddar, as well
different types of refried beans
Expert Tip
After cooking your ground beef, blend it in an electric blender or food processor until it is super fine. I absolutely do this most of the time that I make any type of taco and it is a game changer
Equipment Needed for this taco bake recipe with Doritos
Skillet – You'll need this to brown the sirloin beef
Casserole Dish – I used a 2-quart casserole dish, but you can double the recipe and use a larger dish
Utensils for cooking beef, layering ingredients, and serving
How do you make a Doritos Taco Bake?
Step 1
Cook the beef (hamburger meat), add water, and a packet of taco seasoning mix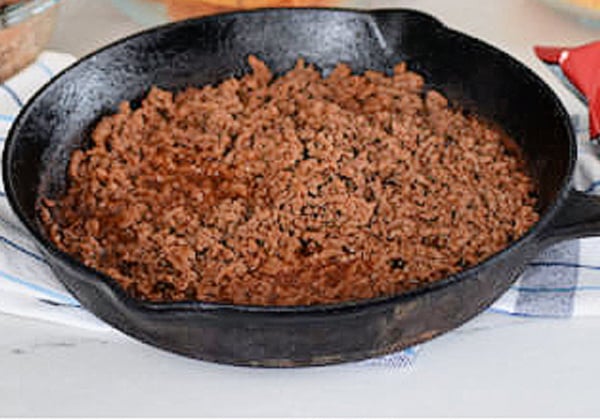 Step 2
Let the taco meat simmer until most water has evaporated and the mixture is thick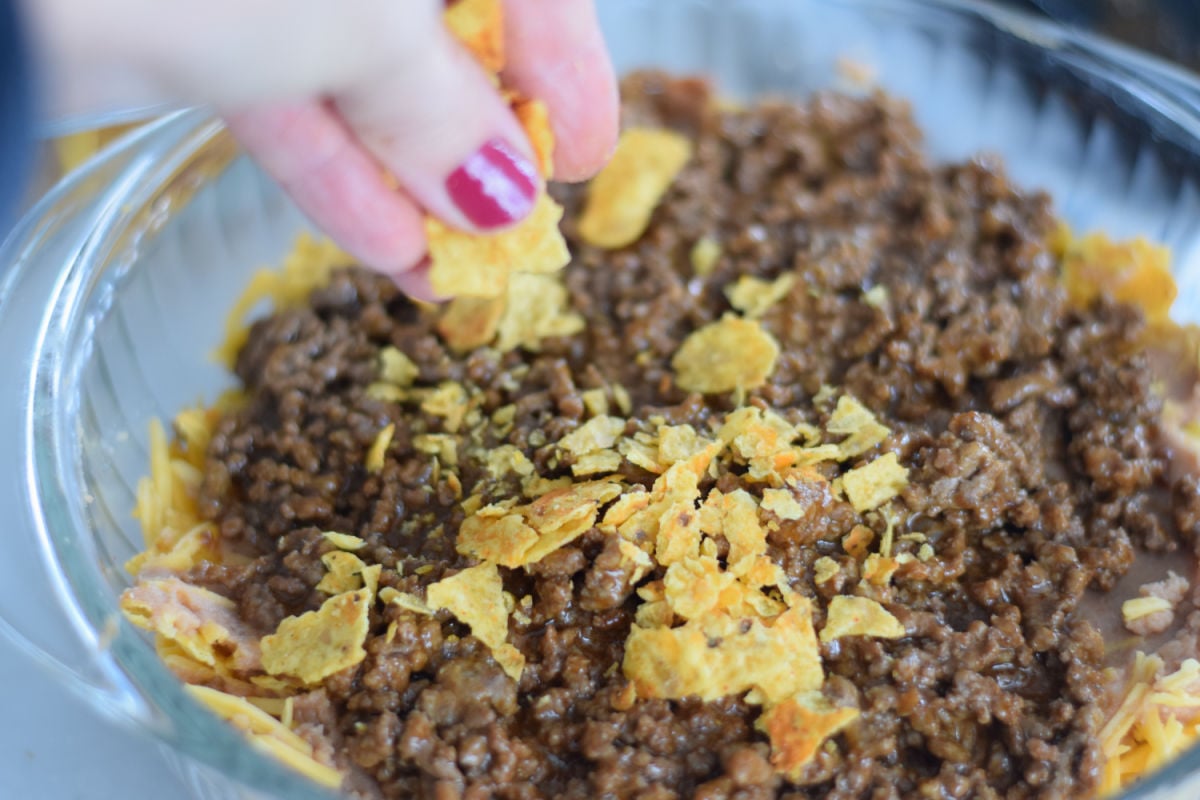 Step 3
Layer, meat, Doritos, and Cheese – do this twice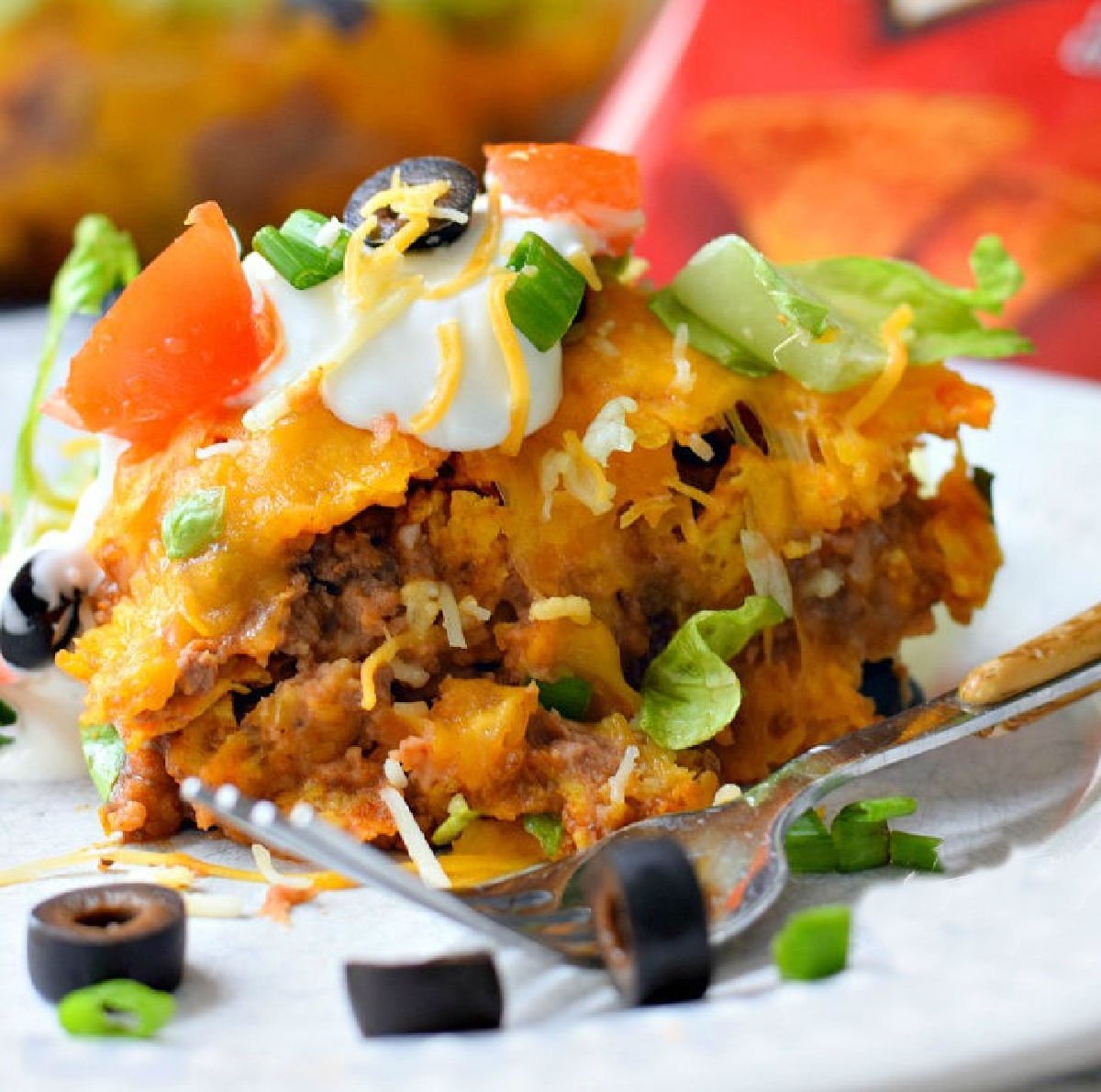 Step 4
Bake and serve with toppings like sour cream, lettuce, tomatoes, avocado, sliced black olives, pickled jalapenos, and/or salsa. It's that easy!
Recipe Variations
Add even more flavor with corn, bell pepper, diced chiles, salsa, salsa verde, black-eyed peas, rotelle, or cooked diced onion – If you add any of this, I would suggest that your cook it in with the ground beef mixture to make veggies tender and cook some of the liquid out of salsas and tomatoes
Double or triple to feed more
Tips and tricks for making this Dorito Taco Bake
I find that crushing the Doritos by hand gives the perfect size pieces. Medium pieces are preferred. You don't want them crushed, or they will get lost in the bake
Sirloin Ground Beef is my preferred. The beef is not too greasy and holds a great flavor
I used Mild Cheddar Cheese, but you can substitute a Mexican Mixture which is another good melting cheese when baked in this dish
You can easily double or triple this recipe to feed more
What kind of Ground Beef is the Best for Tacos?
Use beef that is 80%-90% lean. Sirloin is my preferred because it holds the flavor, but has very little fat. Other good choices are ground chuck, ground turkey, ground chicken, or round
Can you make a Taco Bake Doritos in advance?
You can assemble the ingredients in the morning—place them covered in the fridge. The baking process in the oven may take longer because the ingredients are cold. Check to see that it is warmed and the cheese is melted.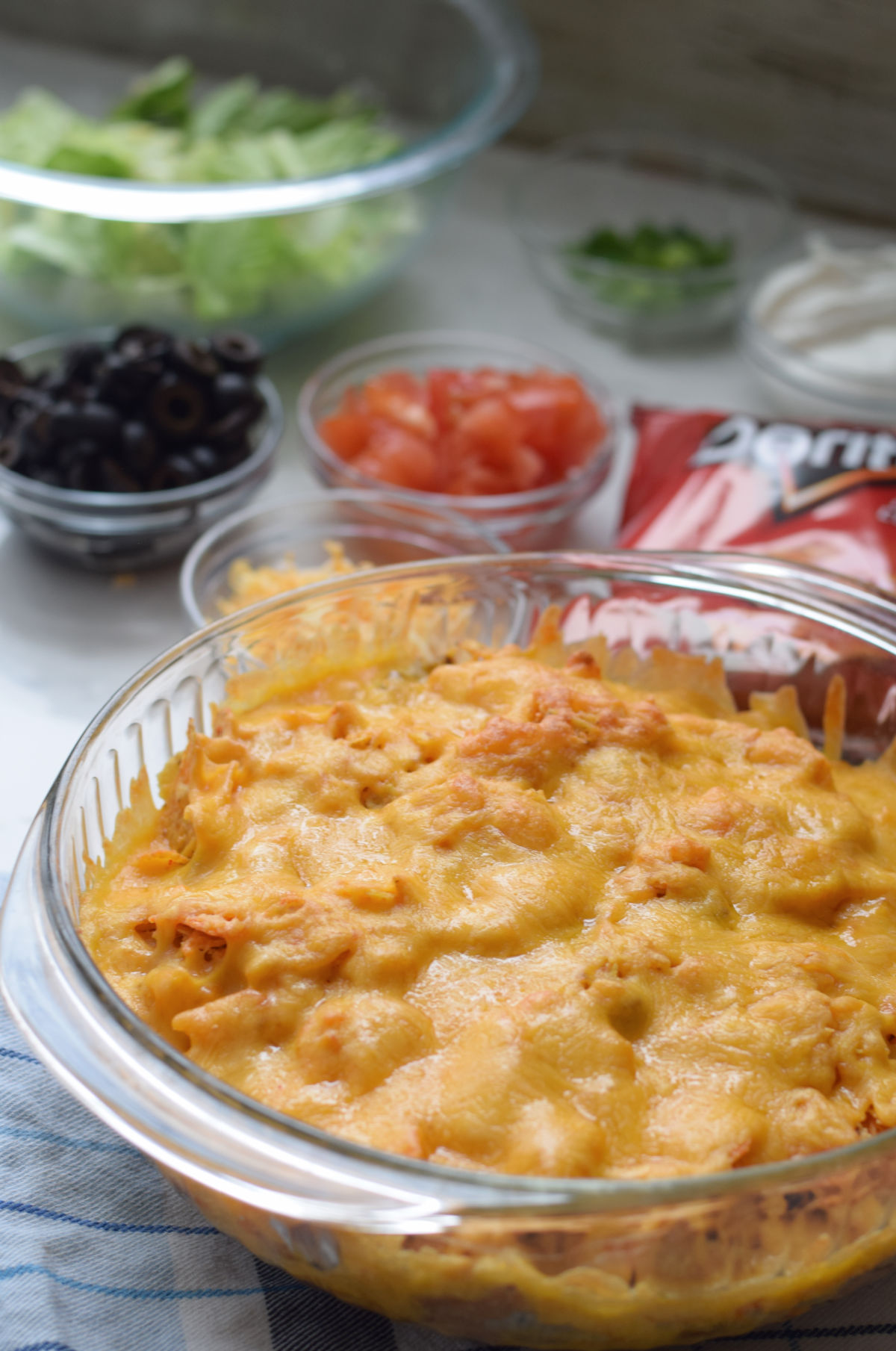 Here are my top Amazon Picks for this Dorito Taco Casserole…
(affiliate links)
[box] [/box]
What are some good sides to this Taco Bake?
salsa
refried beans
black beans
chopped onions
Spanish rice
Cilantro rice
Pico De Gallo
Guacamole
Serving Size
This recipe serves a hearty 4. You could squeeze 6 servings if you have plenty of sides.
Don't forget that you can double and triple for more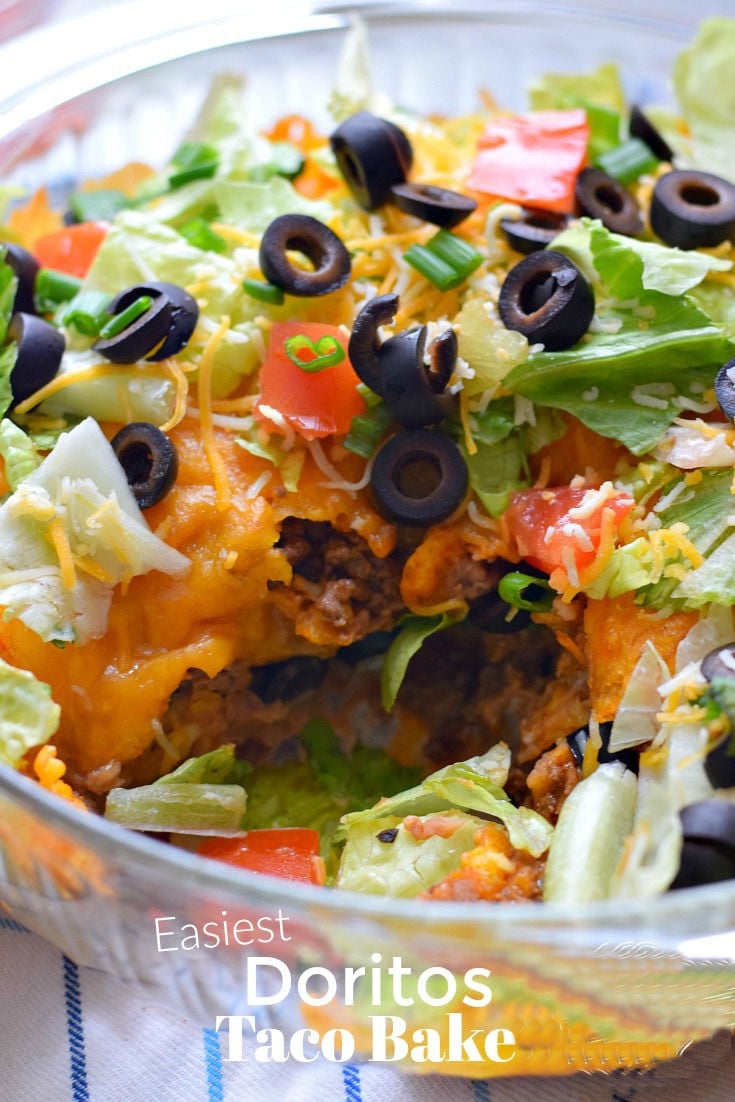 Here's a quick video to show you how I made this easy Taco Bake…
Finally, here is the recipe for this Doritos Casserole: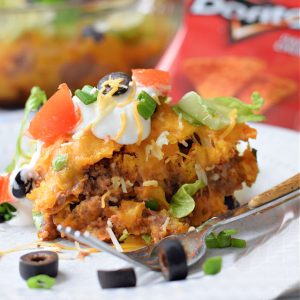 Dorito Taco Casserole
A fun alternative to taco night. A delicious Doritos Taco Bake Recipe.
Ingredients
1

lb.

ground sirloin

1

packet

taco seasoning

¾

cup

water

1

16 oz.

can of refried beans

divided

2

cups

crushed nacho cheese chips (Doritos)

divided

2

cups

of shredded cheddar cheese

divided

Suggested toppings

lettuce, diced tomatoes, sliced olives, avocado cubed, sour cream
Instructions
Brown ground beef

Add taco seasoning and water

Cook down for about 5 minutes

Layer casserole dish with half of refried beans, then half of the beef, half of the chips, then half of the cheese

Repeat

Bake at 350 degrees for 30 minutes

Add toppings and enjoy
Notes
Need more servings for a big family? You can double or triple the ingredients and use a larger dish for a bigger meal
Nutrition facts are only an estimate 
Nutrition
Serving:
4
g
Calories:
762
cal
Carbohydrates:
45
g
Protein:
38
g
Fat:
48
g
Saturated Fat:
19
g
Polyunsaturated Fat:
7
g
Monounsaturated Fat:
15
g
Trans Fat:
1
g
Cholesterol:
134
mg
Sodium:
1343
mg
Potassium:
483
mg
Fiber:
5
g
Sugar:
2
g
Vitamin A:
1389
IU
Vitamin C:
4
mg
Calcium:
479
mg
Iron:
4
mg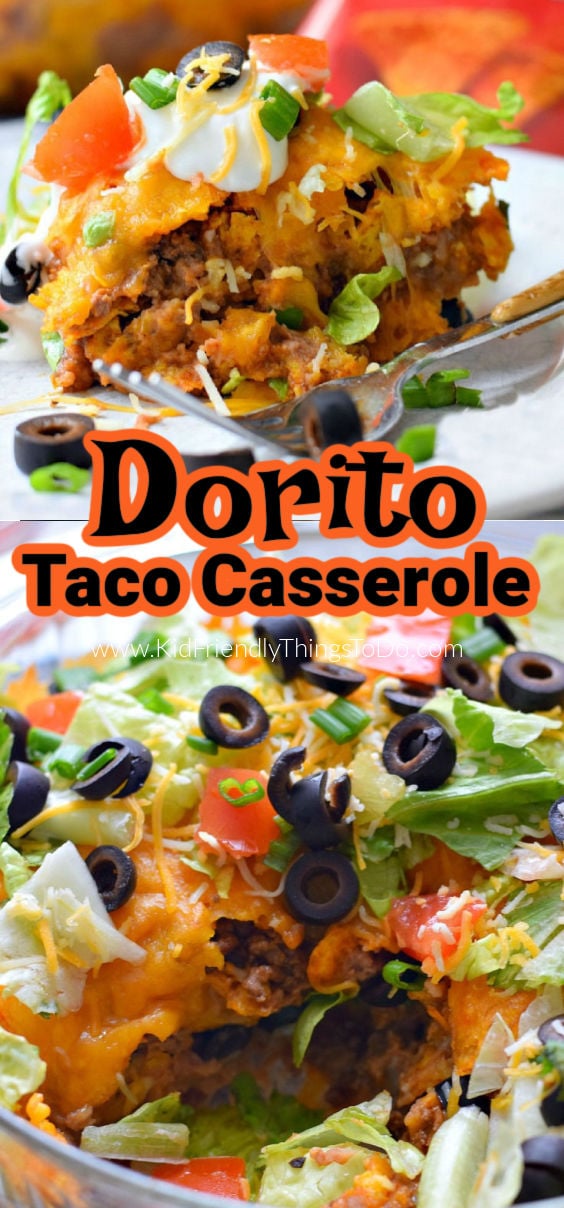 Come Hang Out With Me on Social Media
FACEBOOK
Facebook Page: Recipes Passed Down
Facebook Page: Kid Friendly Things To Do
Join my Facebook Groups
Easy Family Recipes – Just Like Mom Used to Make
Kid's Crafts and Activities for the whole family
PINTEREST