This no-bake Red, White, and Blue dessert is perfect for any American patriotic holiday like Memorial Day, 4th of July, and Labor Day parties and potlucks. Fresh fruit paired with cream cheese, homemade whipped cream, and topped with fruit to resemble an American Flag, it's a great way to celebrate America.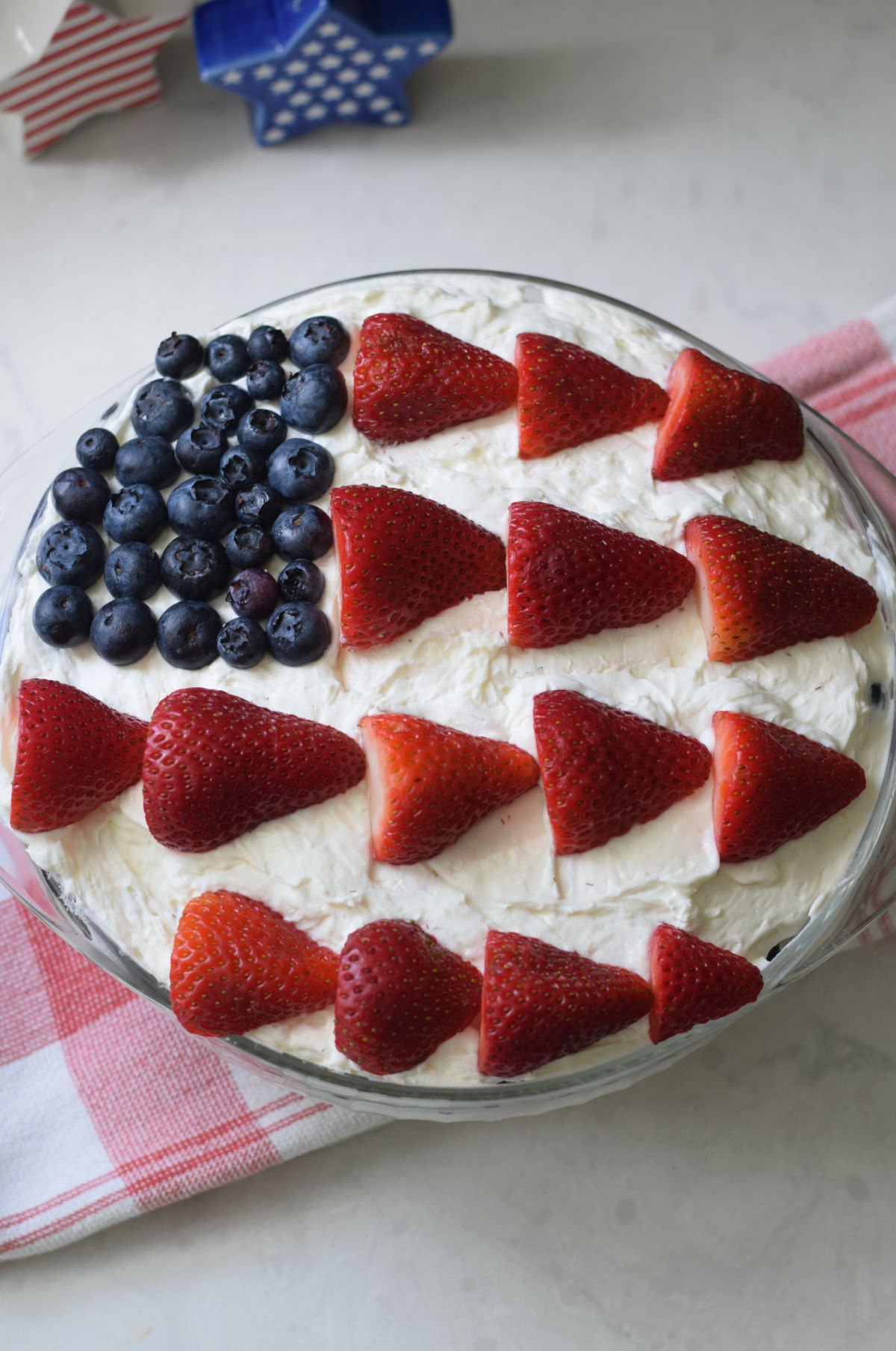 Red, White, and Blue Dessert
This Patriotic Dessert is an old-fashioned classic that has stood the test of time. It's always a hit at every potluck, picnic, and party. With the addition of fruit made into a flag display on top, it's as festive as it is delicious.
If you love making patriotic treats, then you will love this firecracker Jell-O dessert that has layered cubed Jell-O and whipped cream throughout, this no-bake simple-to-make Patriotic Fruit and Whipped Cream Tray, or my Patriotic fruit kabobs with cake, fruit, and chocolate for a single serving delicious dessert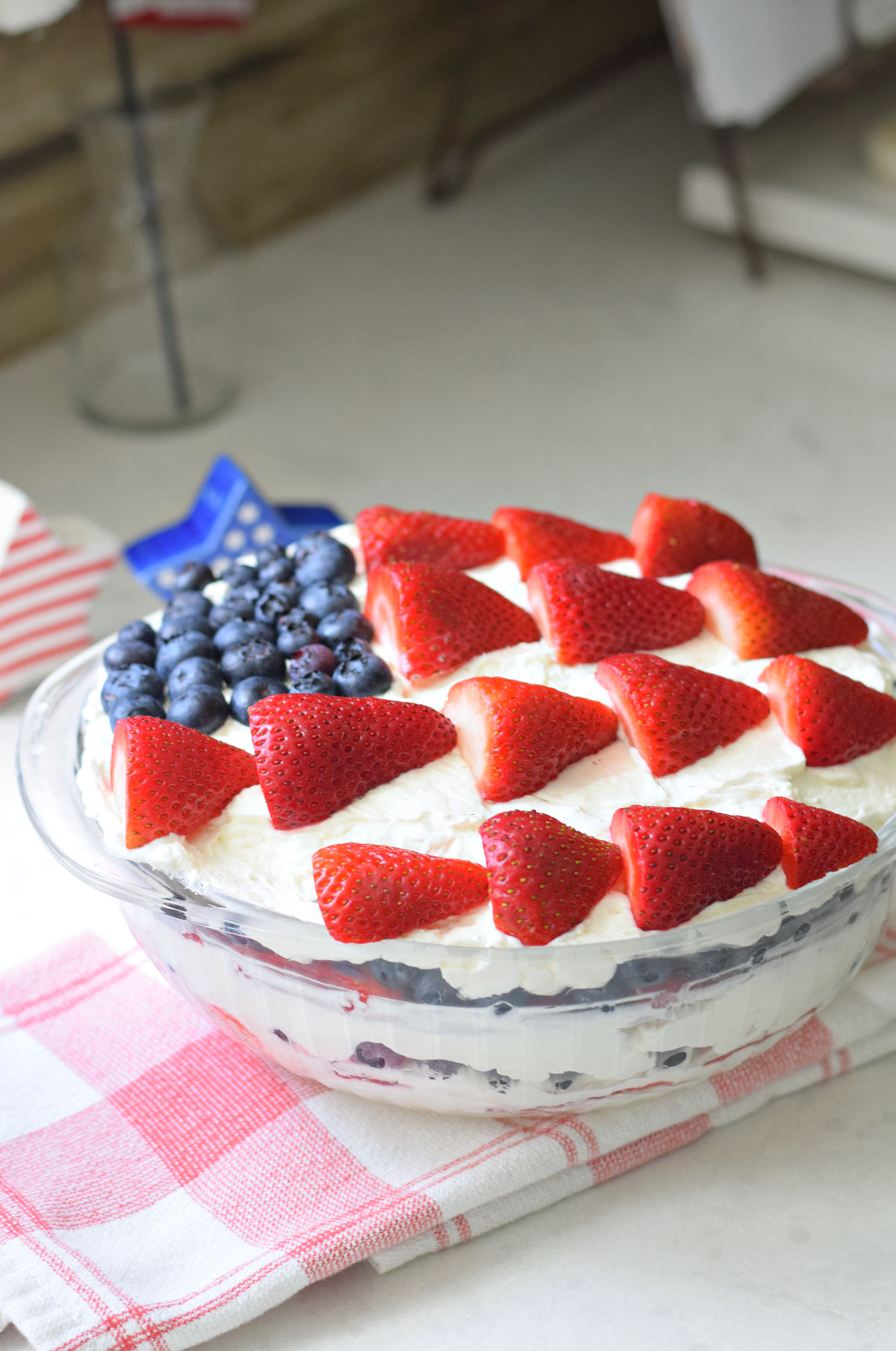 What I love about this easy-to-make patriotic dessert
It's simple and easy to make – with very few ingredients that are easy to find for a quick no-bake dessert
Flavorful: with homemade whipped cream and cheesecake filling, this cheesecake dessert is always a family favorite
you can customize your dessert with add-ins
with no crust, it's a healthier low-carb version than pie
the perfect dessert dish to take to potlucks
Ingredients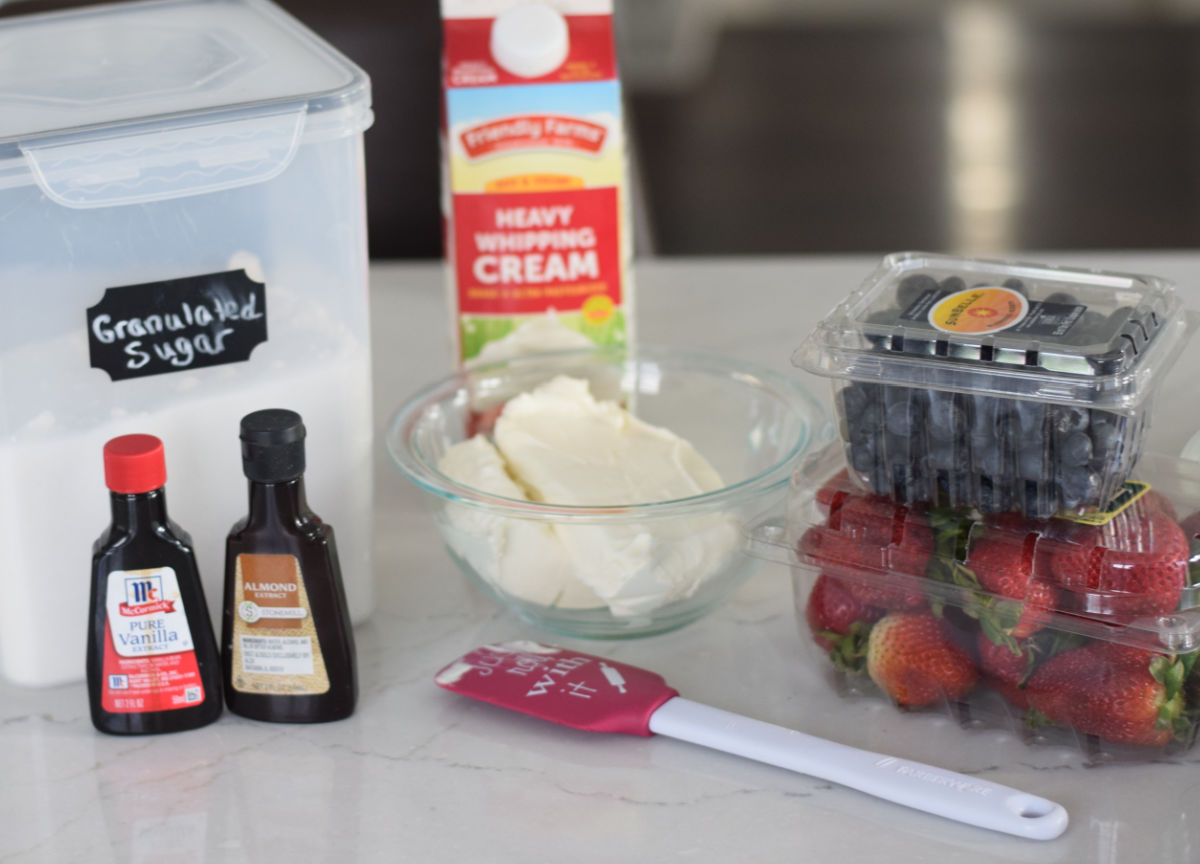 Cream Cheese: You can use either original cream cheese or Nuefchatel with 1/3 less fat for this recipe
Sugar: You'll use granulated sugar for this recipe
Vanilla Extract: I always use pure vanilla extract, but to make the cream cheese filling a bright white you may want to use clear vanilla extract
Almond Extract: This adds a delicious flavor to the cream cheese mixture, but no worries if you don't have it – just double the vanilla extract
Heavy Cream: this will be used to make homemade whipped cream. If you use an electric mixture, it is simple to make and will be ready within a few minutes
Strawberries: You'll probably end up using all sizes in order to fit them into your dish, so don't worry about trying to find uniform strawberries. However, do try to find fresh and firm strawberries. You'll use your strawberries in the layers as well as the top
Blueberries: Again, you'll use various sizes just to get them to fit into the square area on top of your dessert. Some will go into the layers, as well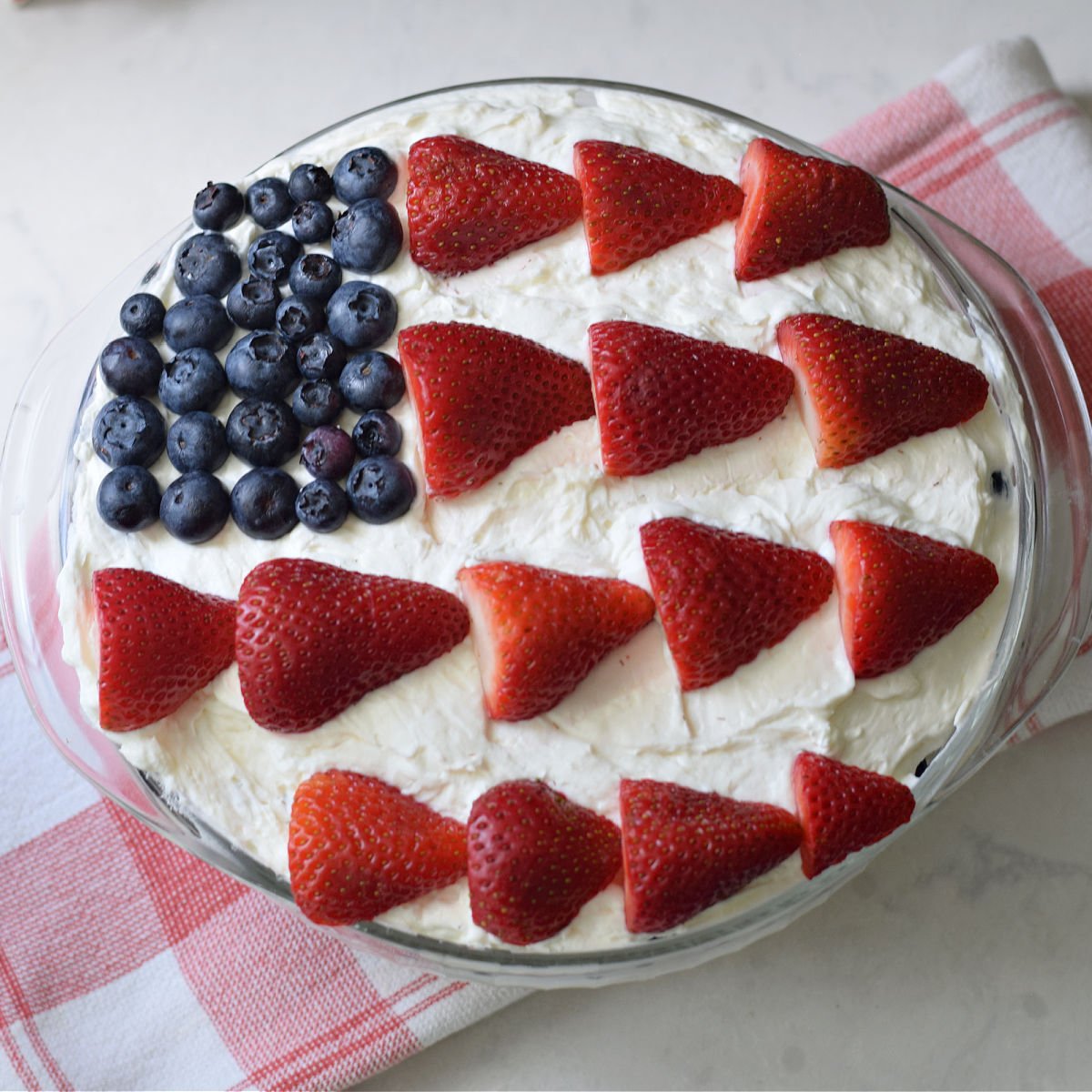 Equipment You Might Need
a stand-alone mixer or electric mixer
serving dish – I would use a clear glass serving dish to fully appreciate the colors and layers of this dish
silicone spoon or spatula for spreading
How to Make This Red, White, and Blue Dessert
Step One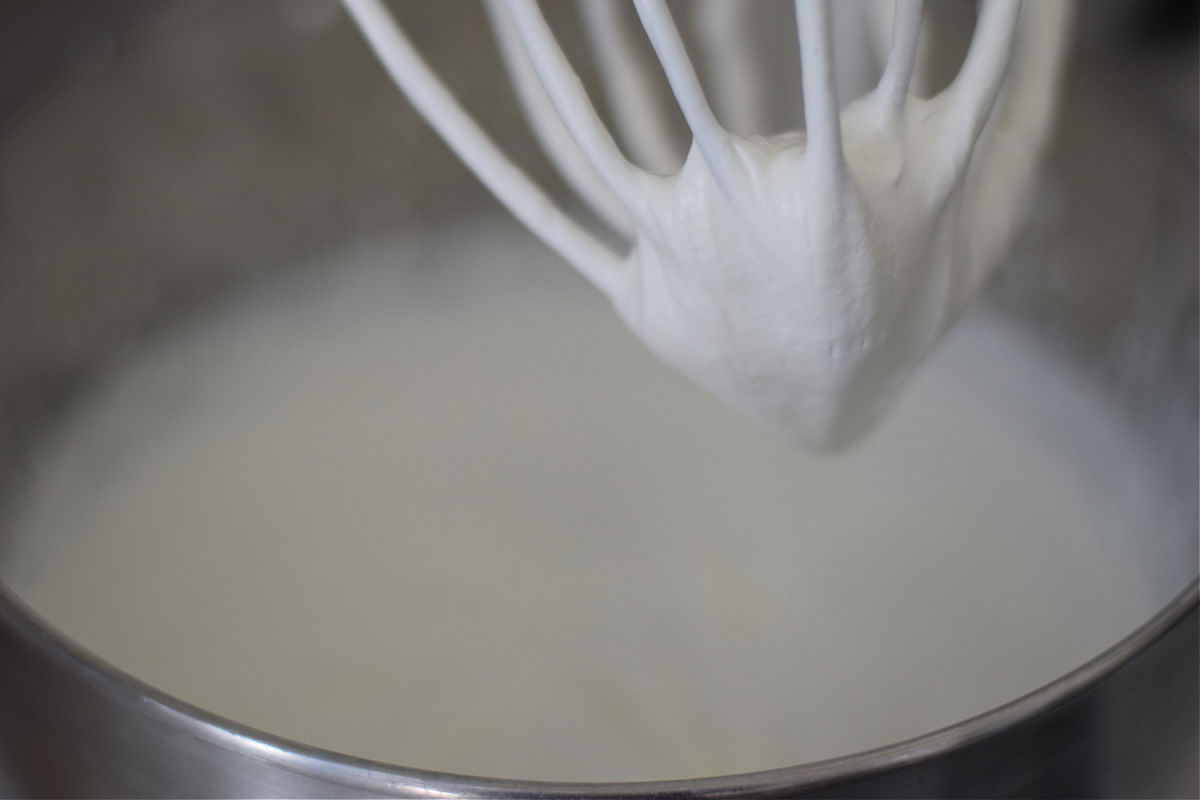 In a cold mixing bowl, add heavy cream and mix on high until whipped to stiff peaks
(my mom used to test her whipped cream by placing a spoon or utensil onto the whipped cream and lifting it up. If the whipped cream lifts up to a point and doesn't curve, you have stiff peaks)
Set whipped cream aside, and rinse out a bowl for step 2
Step 2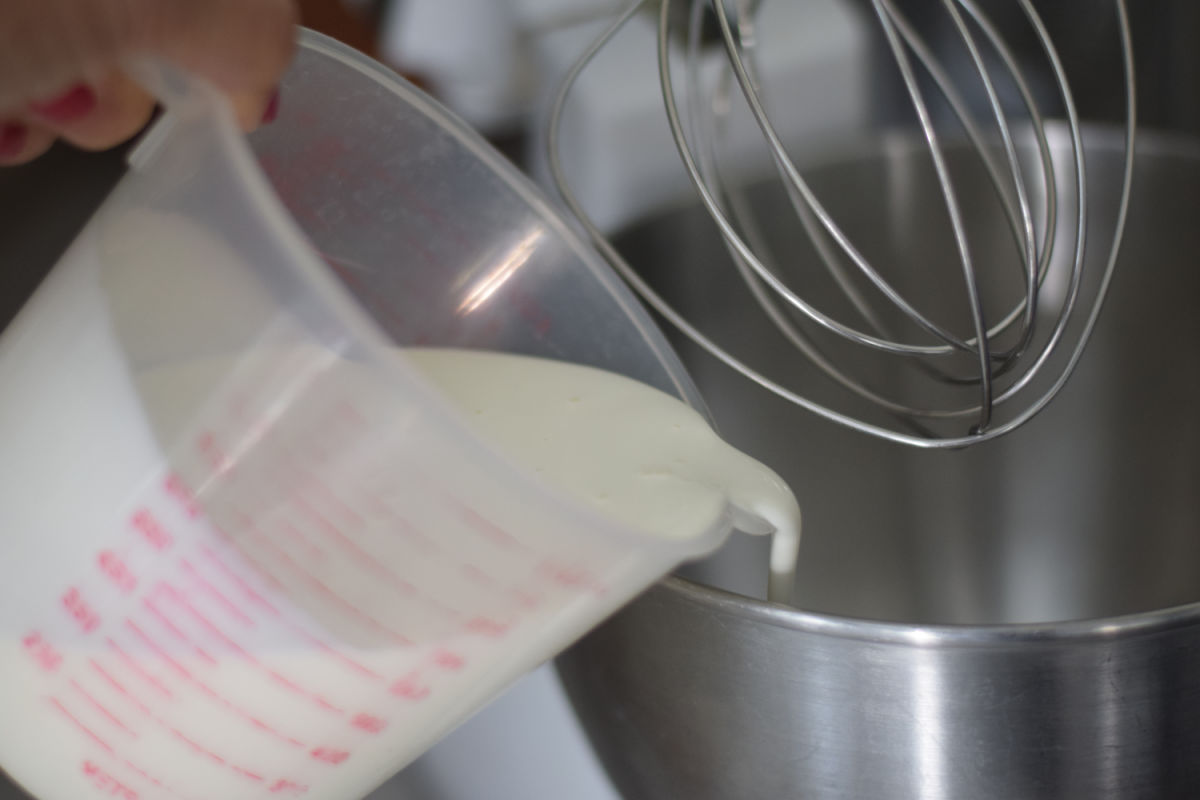 In a large mixing bowl or stand-up mixing bowl mix the cream cheese, sugar, and extracts until well blended and fluffy
Step 3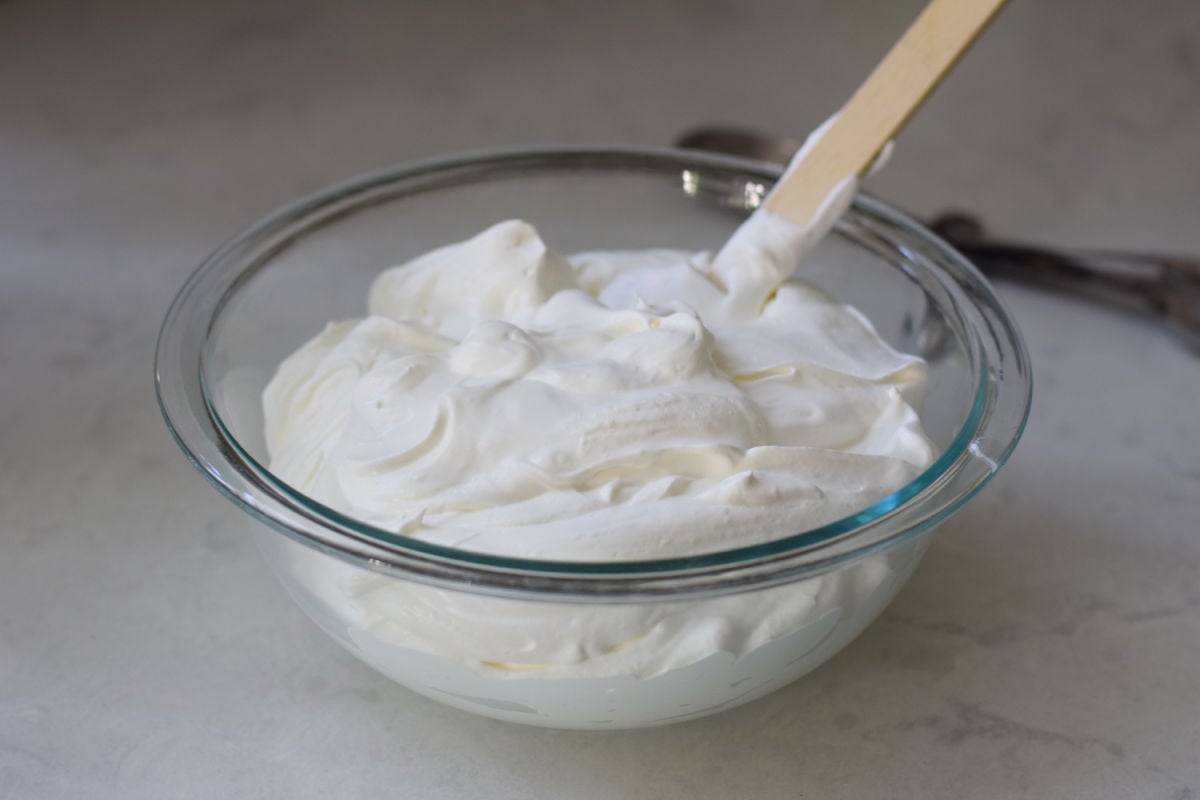 Fold the whipped cream into the cream cheese mixture
(folding in is gently mixing 2 ingredients together by scraping the bottom of the bowl with your spatula and lifting that ingredient to the top using wide slow strokes, then repeating it until the ingredients are blended together)
Step 4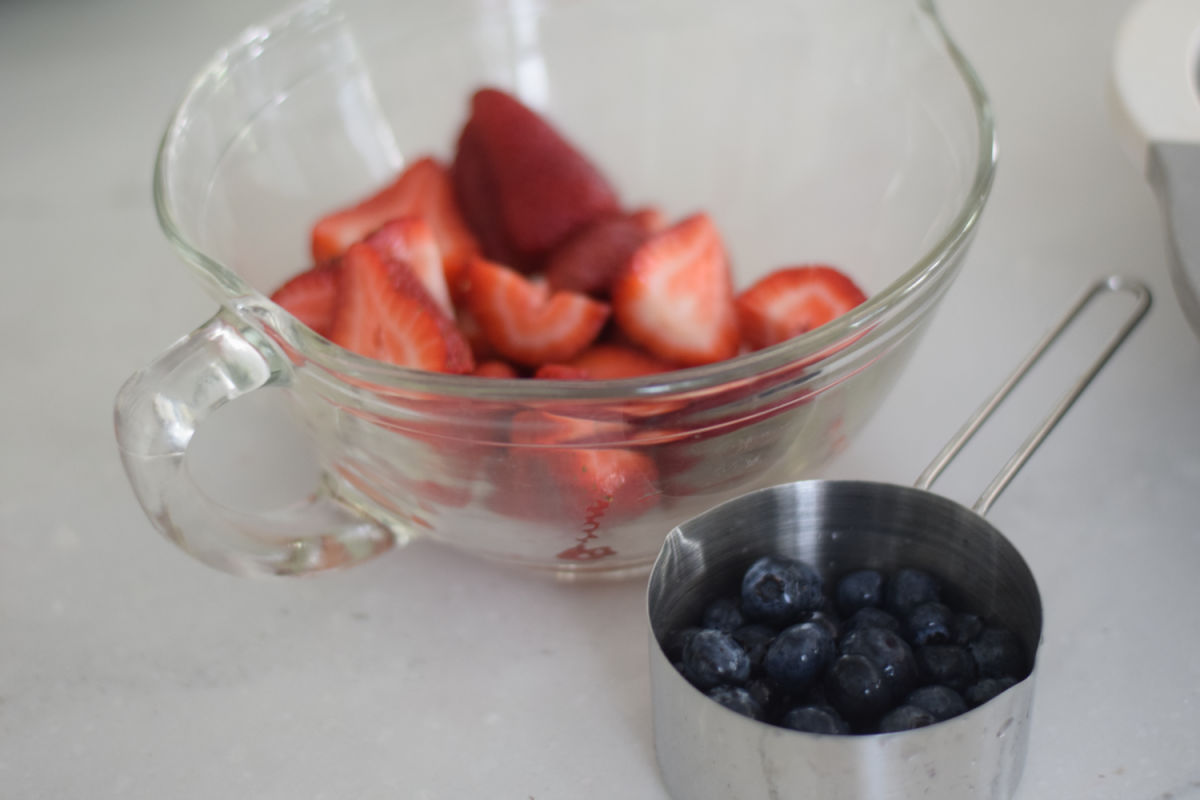 Halve about 10 strawberries to set aside, and set aside about 3/4 cup of blueberries for the decorative top
Step 5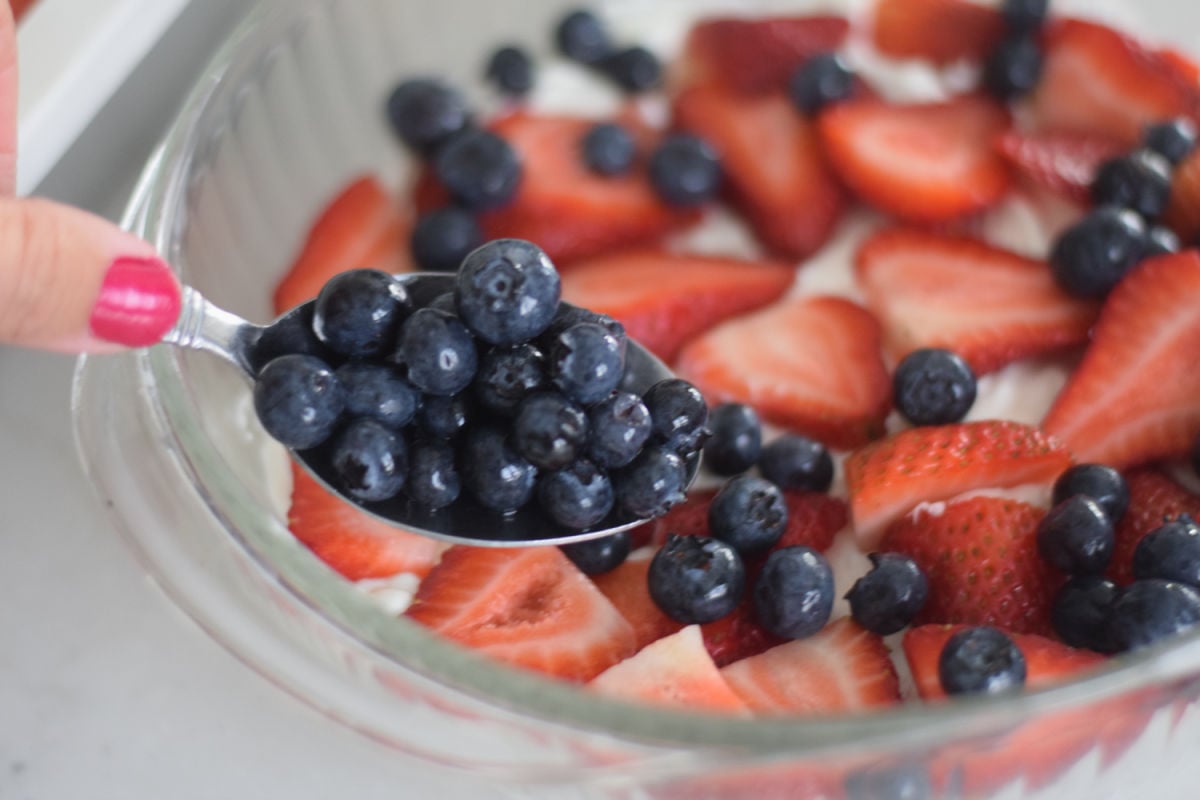 Place one-third of the cream cheese mixture into the bottom of the bowl
Add a layer of halved strawberries and then blueberries
Step 6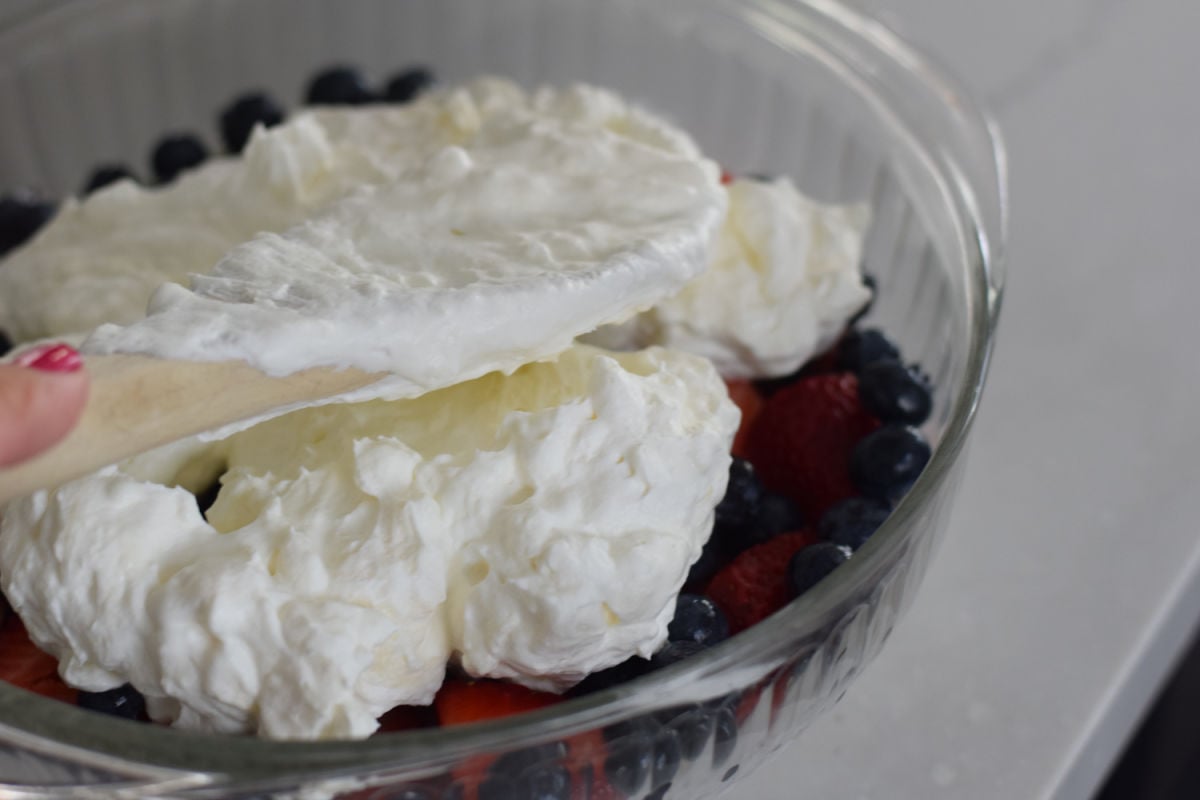 Spread one-third more of the cream cheese mixture
Step 7
Add another layer of strawberries and blueberries
Finally, add the last layer of cream cheese mixture
Step 8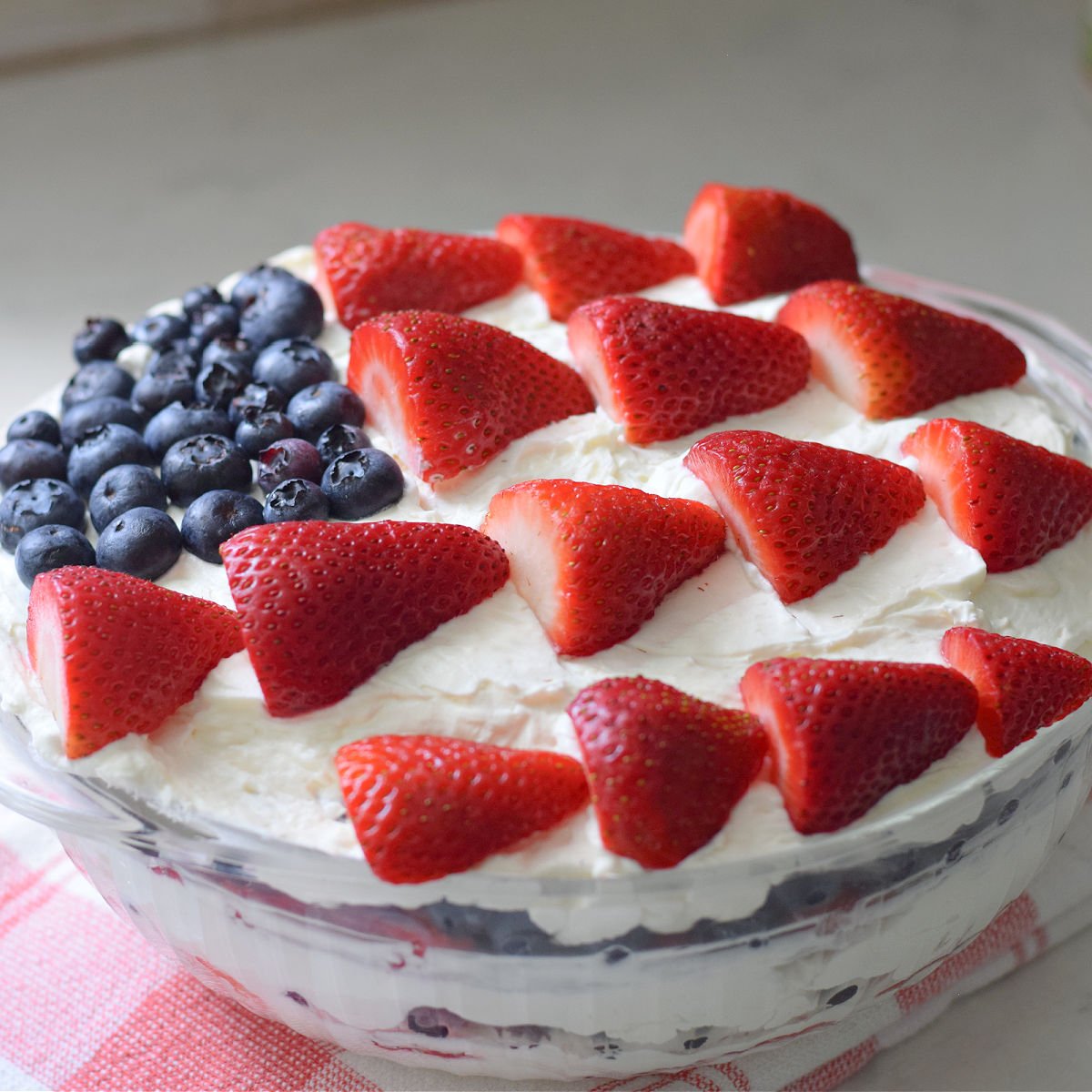 Use the fruit that you set aside to decorate the dish with an American Flag
Variations
Mix mini marshmallows and/or coconut shavings into the whipped cream mixture
Mix the fruit into the cream cheese mixture and place over a graham cracker crust for a
Add a small amount of powdered sugar to the heavy cream to make a sweet whipped cream mixture
Make in a rectangular dish with fewer layers to really resemble an American Flag
What to Serve with this Easy and refreshing summer dessert
Spare Ribs
Hamburgers and hot dogs
How do I get Stiff Peaks from Heavy Cream?
Use a cold bowl and a cold mixing paddle that has been chilled in the refrigerator to pour the heavy cream into. Place the mixer on high speed and mix for about 60-90 seconds
How do you Fold In Ingredients?
Use gentle and wide strokes to lift one ingredient from the bottom of the bowl to the top. Then, repeat until the ingredients are combined
Make Ahead and Storage
You can make the cream cheese mixture ahead of time. Store covered in the refrigerator for up to 3 days. When you are ready to serve it, layer as directed and decorate
Storing:
Store leftovers covered in the refrigerator, for 1-2 days. The fresh fruit is perishable and the strawberries will leak their sugars making the cream cheese have a bit of liquid. If this happens, just whip the ingredients together and enjoy
More Dessert Salads that you will enjoy
Serving Size
In a 4 qt. serving dish, this recipe will yield 18 servings
Get more servings by using a rectangular dish and fewer layers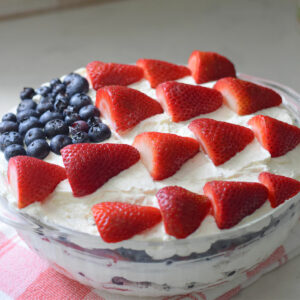 Red, White, and Blue Dessert
A festive and patriotic dessert for American holidays with fruit, whipped cream, and cream cheese
Equipment
1 Electric Mixer

1 silicone spreading utensil

1 4 qt. bowl
Ingredients
2

cups

heavy cream

2

8 oz.

cream cheese

½

cup

sugar

½

tsp.

vanilla extract

½

tsp.

almond extract

2

lbs.

fresh strawberries

2

qts.

fresh blueberries
Instructions
Using an electric mixer, mix the heavy whipping cream on high until stiff peaks form

Set whipped topping aside, and rinse and dry the bowl

In the same mixing bowl, beat the cream cheese, sugar and extracts until mixed well and fluffy

Fold in the whipped cream

Place one-third of the cream cheese and whipped cream mixture into the bottom of a 4 qt. bowl

Reserve 20 strawberry halves and about 3/4 cup of blueberries

Add a layer of strawberries and then blueberries to the cream cheese mixture

Layer one-third more of the cream cheese mixture

Add more srawberries then blueberies

Finish with the last one-third cream cheese mixture

Decorate with the reserved strawberry halves in lines leaving an open space at the top corner for blueberries
Notes
Nutrition facts are only an estimate 
Variation
Use a rectangle dish and less layers to make a larger flag dessert 
Make Ahead and Storage
You can make the cream cheese mixture ahead of time. Store covered in the refrigerator for up to 3 days. When you are ready to serve it, layer as directed and decorate
Storing:
Store leftovers covered in the refrigerator, for 1-2 days. The fresh fruit is perishable and the strawberries will leak their sugars making the cream cheese have a bit of liquid. If this happens, just whip the ingredients together and enjoy
Nutrition
Calories:
189
cal
Carbohydrates:
25
g
Protein:
2
g
Fat:
10
g
Saturated Fat:
6
g
Polyunsaturated Fat:
1
g
Monounsaturated Fat:
2
g
Cholesterol:
30
mg
Sodium:
9
mg
Potassium:
184
mg
Fiber:
4
g
Sugar:
19
g
Vitamin A:
453
IU
Vitamin C:
40
mg
Calcium:
32
mg
Iron:
1
mg