Who doesn't love a chocolate-covered strawberry? This Patriotic Fruit Kabob that is drizzled with chocolate has the feel and taste of a chocolate-covered strawberry without having to take the time actually dip the strawberries. Easy to make and perfect for patriotic holidays.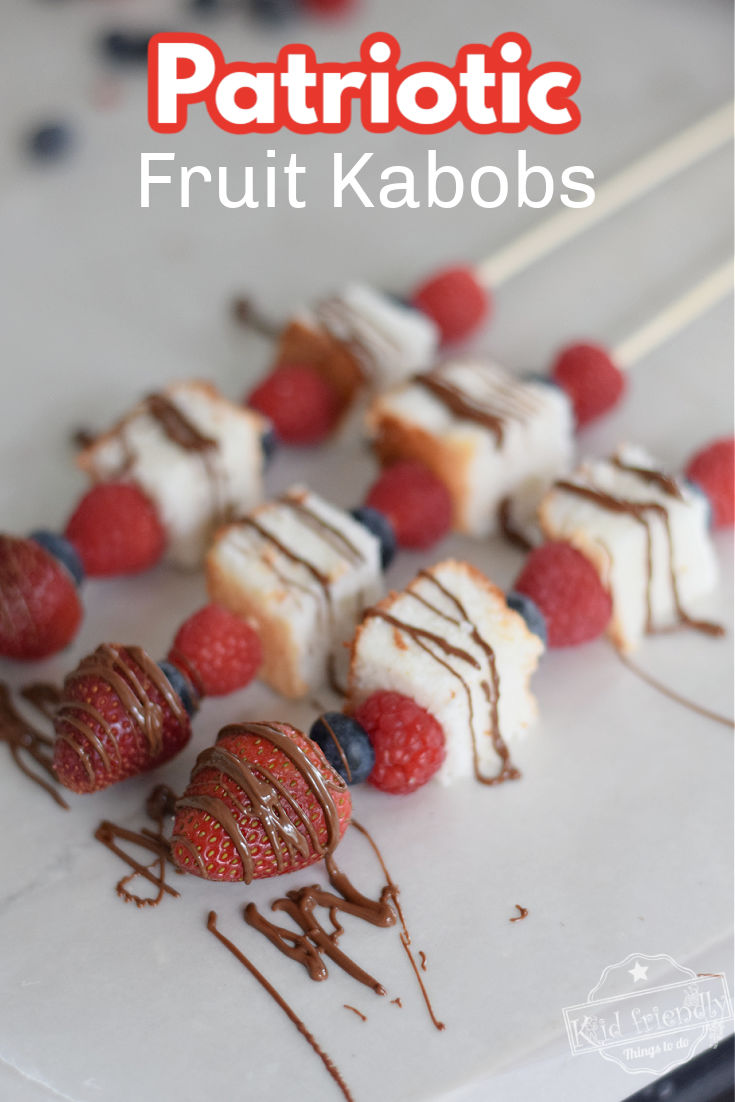 Patriotic Fruit Kabobs
If you are looking for Patriotic Treats for your party, you might like these Angel Food Cake Patriotic Sparkler Kabobs, Red, White, and Blue Marshmallow PopsRed, White, and Blue Marshmallow Pops, Firecracker Jell-O Dessert Red, White, and Blue Marshmallow Pops
When you are scrambling to get ready for those summer picnics and holidays, simple is so nice.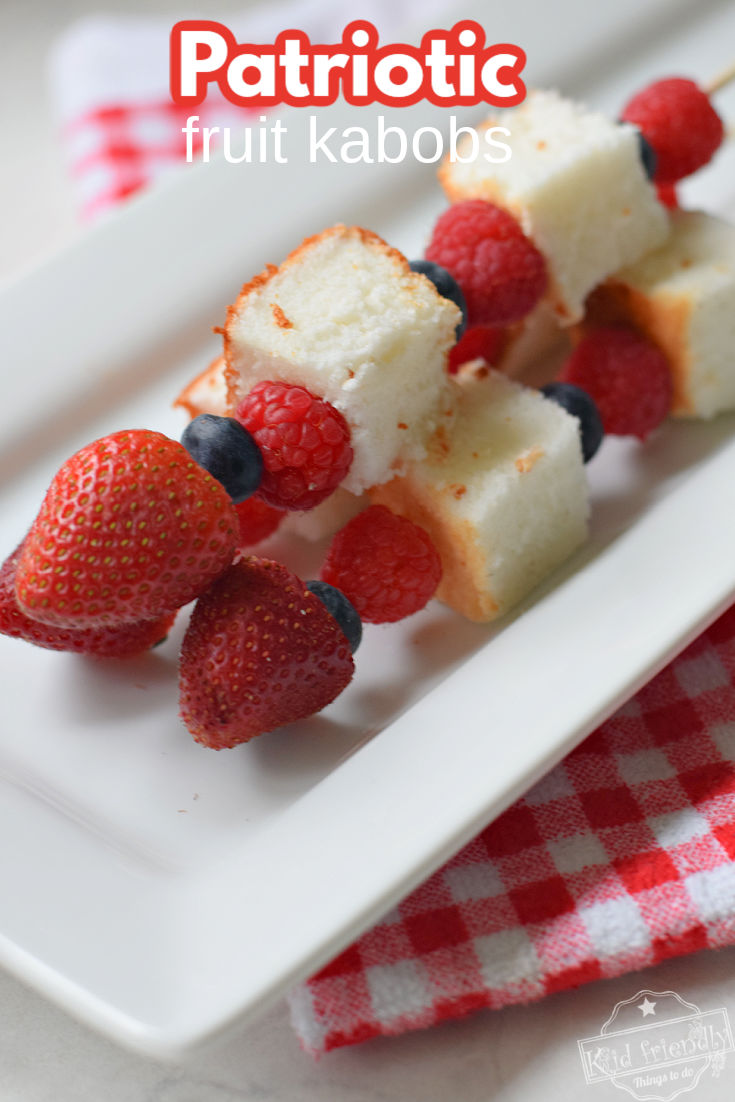 And…if you don't want to bother with the chocolate part, they are adorable and yummy without it.
With red strawberries and raspberries, white angel food cake, and blue blueberries – these make the cutest patriotic or summer treat for your picnic or backyard bbq.
Are you ready to make these cute Patriotic Fruit Kabobs? Let's make sure you have everything you need:
1 lb. of strawberries
raspberries
blueberries
chocolate bark – or – chocolate melts (you'll probably need around 6 oz.)
angel food cake loaf
kabob skewers
Extra Equipment
Glass microwave proof bowl
silicon spoon
fork
Wax paper
Make-Ahead and Storage:
These fruit kabobs are best served the day that you make them, but you can store them covered in the refrigerator on the day of your celebration.
Substitutions for Your Red, White, and Blue Fruit Kabobs:
White Food Ideas for your fruit kabob – angel food cake, marshmallows, pineberries (white strawberries), coconut, cubed white cheese, banana slices
Red Food Ideas for your fruit kabob – strawberries, raspberries, watermelon, cherries, apple slices
Blue Food Ideas for fruit kabobs – blueberries, grapes
What kind of chocolate should I use for melting?
flavored chocolate bark, chocolate flavored candy melts or semi-sweet chocolate are all great ideas for melting. A warning though, when working with real chocolate you may have to temper the chocolate to give it a smooth glossy finish and keep it from melting when you pick it up with your fingers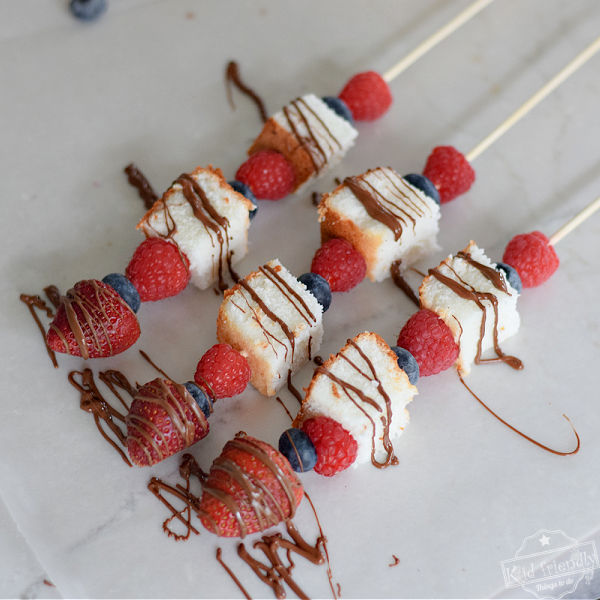 Why do you need to temper chocolate?
If you are using candy melts or bark. You do not need to temper it. When working with real chocolate for dipping purposes, it is best to temper the chocolate to give it a smooth finish and make it stable so that it does not melt when you touch it with your fingers
How do you temper chocolate?
Tempering is an easy process. Add fresh chocolate chips to your newly melted chocolate chips. Stir until smooth. Add chocolate chips until the chocolate will no longer melt the fresh chips completely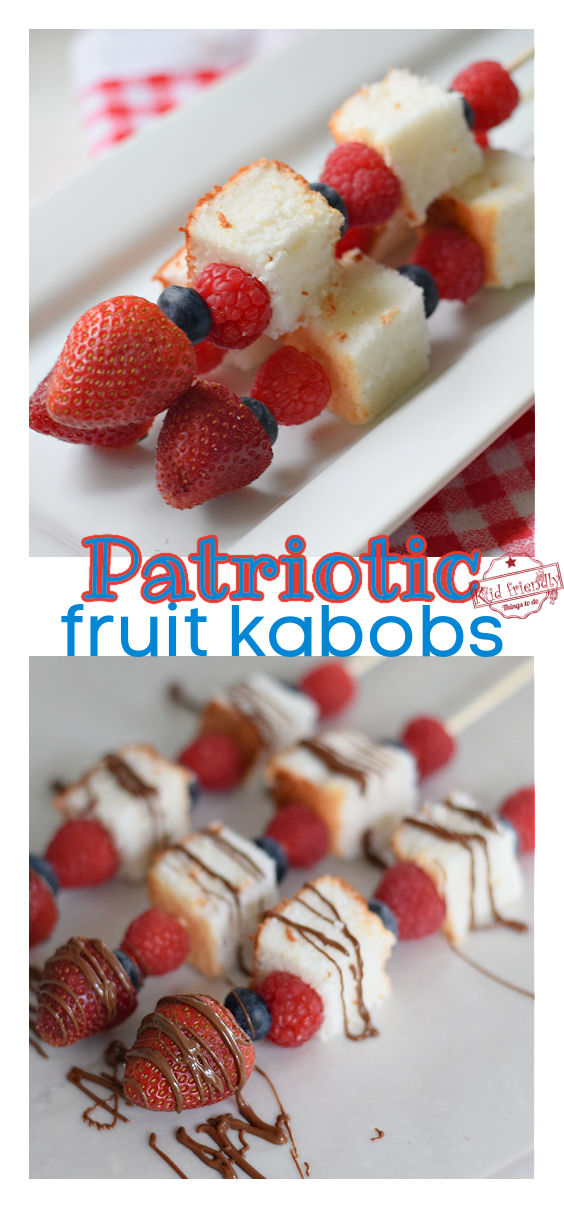 Instructions for making your fruit kabobs
Grab a handy printable below with full instructions
Wash and dry your fruit
Cut stems off of the strawberries
Cube the angel food cake
Melt a small number of chocolate melts in the microwave according to the package directions – You are only drizzling the chocolate so you probably won't use a full bag. You can always add more to your melted chocolate if you need to
Skewer fruit and cake onto kabobs
use a fork to drizzle chocolate onto the fruit kabobs
Come Hang out with Me on Social Media
Facebook Page: Recipes Passed Down
Facebook Page: Kid Friendly Things To Do
I'd love for you to join my Facebook Groups
Easy Family Recipes – Just Like Mom Used to Make
Print
Patriotic FruitKabobs
Easy to make Patriotic Fruit Kabobs
Author:
Prep Time:

10 minutes

Cook Time:

none

Total Time:

0 hours

Yield:

10

–

12

servings

1

x
1

lb. of strawberries
raspberries
blueberries
chocolate bark – or – chocolate melts (you'll probably need around 6 oz.)
angel food cake loaf
kabob skewers
Extra Equipment 
Glass microwave proof bowl
silicon spoon
fork
Wax paper
Instructions
Wash and dry your fruit
Cut stems off of the strawberries
Cube the angel food cake
Melt a small number of chocolate melts in the microwave according to the package directions – You are only drizzling the chocolate so you probably won't use a full bag. You can always add more to your melted chocolate if you need to
Skewer fruit and cake onto kabobs
Place them onto wax paper
use a fork to drizzle chocolate onto the fruit kabobs and let chocolate dry
Notes
store any leftover kabobs covered in the refrigerator for up to 2 days