I should call these Shish Kebacon! What a fun and different way to make an ordinary Chicken or Beef Shish Kabob into something fun and unique!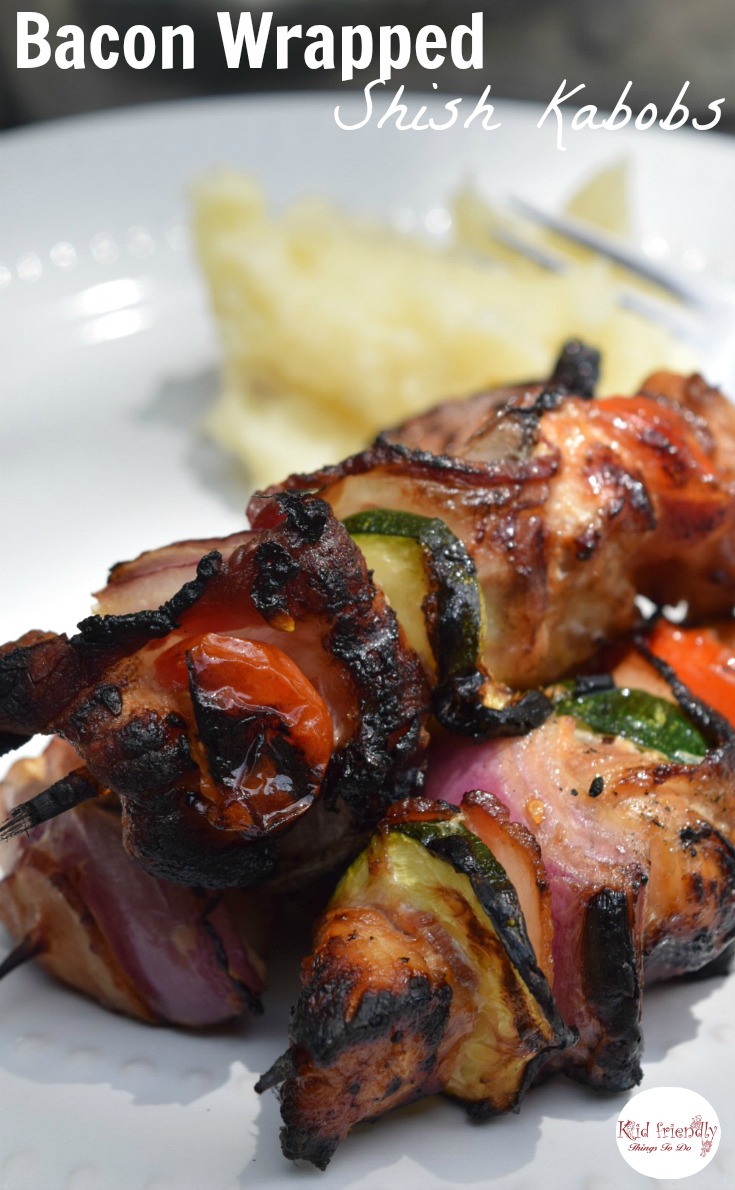 I'm all about fun and interesting spins on an old favorite. This old favorite comes out of an old church cookbook. It's one of our family's favorite grilled dinners. The kids love finding their favorite parts of the kabob, and the stuff they don't want…well, they just push it over to my plate! I'm perfectly fine with that, because I love everything about these!
Here's the recipe to this delicious Shish Kabob:
Print
Bacon Wrapped Shish Kabobs
Delicious grilled Shish Kabobs wrapped in bacon. Use chicken or beef.
Marinade
3

T soy sauce

1/4

t ground pepper

1/2

t garlic powder

1/2

t ground mustard

1/2

t paprika

2

t sugar

1/4

c of white cooking wine

2

T white vinegar
Veggies – Cut for skewers…Some good ones are: Purple Onions, Cherry Tomatoes, Bell Peppers (Assorted Colors), Whole Mushrooms, Squash
Bacon slices – 1 for each skewer
Chicken or Steak Cut into bite sized pieces
Wooden Skewers that have been soaked in water or metal skewers
Instructions
In a large bowl, mix the marinade together.
Divide the marinade into 2 bowls – 1 for the meat and 1 for the veggies
Add cut veggies and meat to their alloted bowls
Cover the bowls and refrigerate for 1/2 hour or more, letting the meats and veggies soak up the marinade
When you are ready to grill,
Start by skewing a piece of bacon at the very tip
Don't push this down to the bottom of the skewer, leave everything close to the top, and push down when you are ready for the next piece of food, only to allow room for that piece
Add a piece of meat, then pull the bacon up and over the meat and skewer the bacon again – push down a little to allow room for the next piece of food
Now add a vegetable, then pull the bacon up and over the vegetable and skewer the bacon – push down a little to allow room for the next piece of food
A piece of meat, bacon, veggie, bacon, meat, bacon, veggie, bacon and so on
Grill for about 10 minutes on each side – Make sure the chicken is cooked through or the steak is done to your liking
Enjoy!
~Melissa – KidFriendlyThingsToDo.com