This Pasta Salad with Italian Dressing or what we used to call Cold Spaghetti Salad has always been a staple side at potlucks. It's always a big hit and is even better the next day. Easily make this delicious noodle salad in advance for your next party.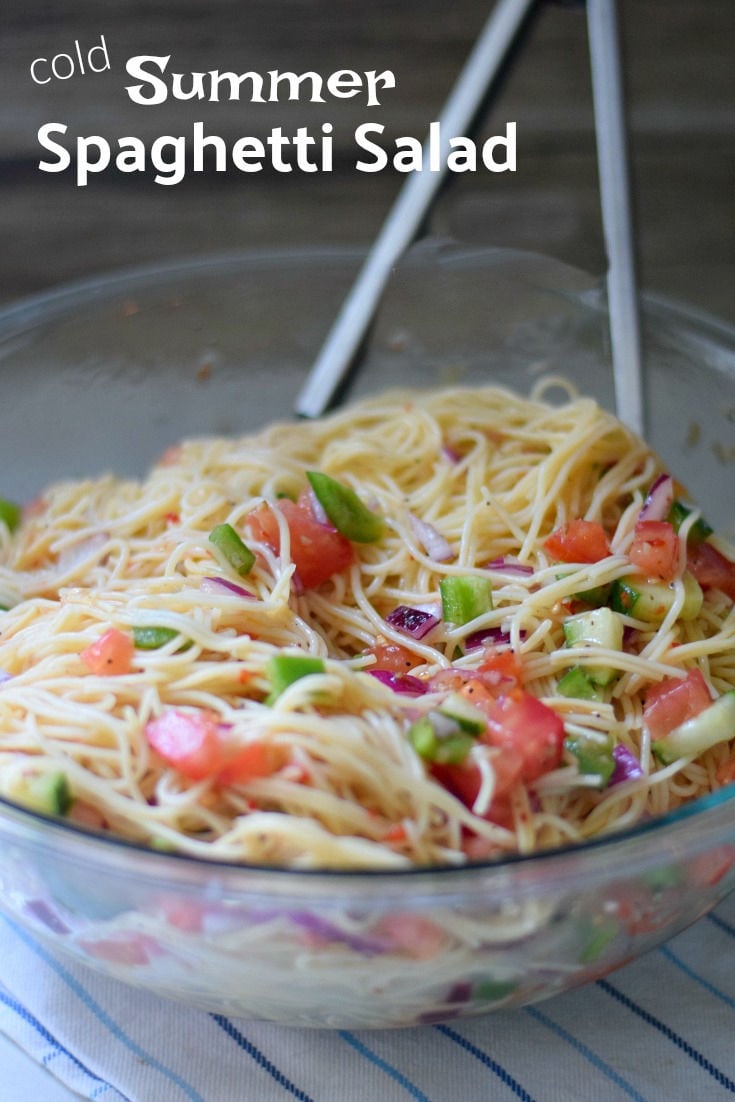 Pasta Salad with Italian Dressing
Spaghetti Pasta Salads like this one are Also known as Italian Spaghetti Salads or Spaghetti Pasta Salad
Cold Salads are always a hit at any potluck, like this Seven Layer Salad or Macaroni Salad
This Cold Spaghetti Salad recipe dates back to my childhood when my mom would inevitably bring out the noodle salad for outdoor picnics. It's our go-to summer recipe for salad recipes. In my opinion, this spaghetti salad is the best, but it is even better the next day. It's a great side dish for any potluck or holiday meal. The Italian Dressing has more time to really soak into the noodles and add its' zesty flavor.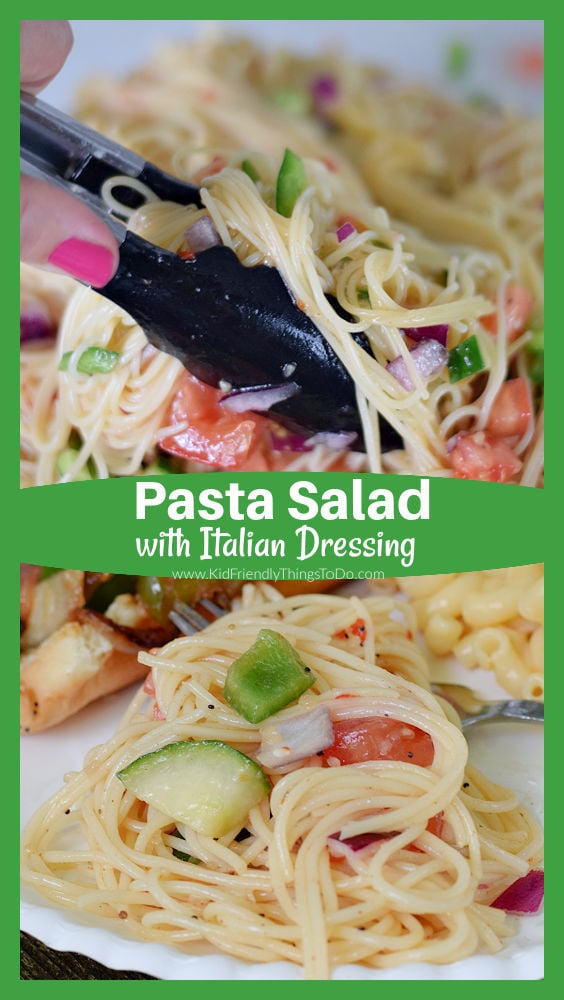 What I love about this Spaghetti Salad Recipe:
It's a classic old-fashioned cold pasta spaghetti salad
this recipe is always a favorite at potlucks and summer parties
you can customize the recipe by adding different vegetables
it can be made ahead of time
Can I Make Pasta Salad with Italian Dressing ahead of time?
Yes! This pasta salad tastes better after a day of being in the refrigerator. This gives the flavors time to meld and allows the vegetable time to soak up that delicious seasoning
Should pasta be rinsed off after it's cooked for cold pasta salad?
When making pasta to go into a cold pasta salad, it is a good idea to rinse the noodles in cold water to help lower the temperature of the pasta.
How long will pasta salad last in the fridge?
Cold pasta salad that is covered and stored in the refrigerator should last up to 5 days. Just watch the vegetables that you add to the pasta salad. Some of them could expire sooner.
How do I make sure my Pasta Salad is not Soggy?
Adding too much dressing will make the pasta salad soggy. Cooking the pasta past al dente softens the pasta and it will absorb liquids quicker making it mushy or soggy.
Do I Need to Add Salt to this Spaghetti Salad?
No. The zesty Italian salad dressing and other spices will give enough flavor to this recipe. Salt is not necessary
Types of Pasta for this Pasta Salad: We love using spaghetti pasta for this summer pasta salad, but you can really use just about any type of pasta. Some pasta that has twists and turns might even provide places for all of the yummy ingredients to settle into. Some great examples would be – farfalle (one of my kid's favorite shapes) we also call bow tie pasta, penne – which is a tube-shaped pasta, and rotini which are those curly pastas
Tips and Tricks for Summer Spaghetti Salad
Only cook noodles to al dente
Rinse noodles to take off the starch and cool down the noodles
Add-ins such as zucchini, tomatoes, cucumber, chives, purple onion, green pepper, and black olives all pair well with cold noodle salad
Use Zesty Italian Dressing, not regular Italian dressing
Make one day in advance and store covered in the refrigerator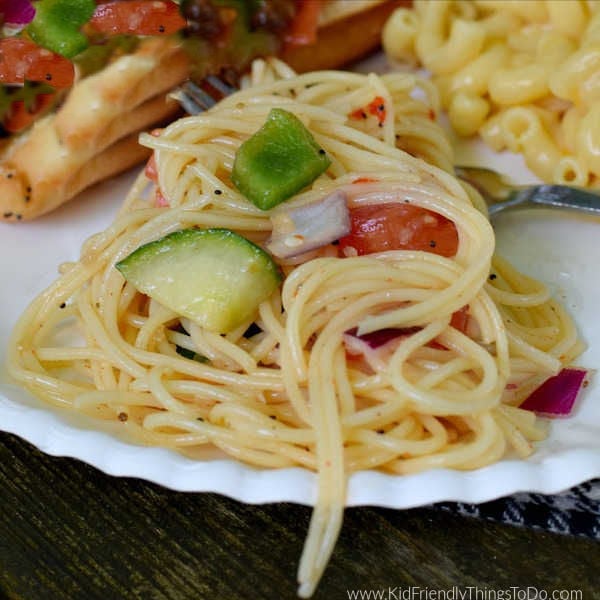 Storing this Pasta Salad
Making Ahead of Time – this pasta is delicious at any time, but it is even better after it has been covered and stored for a couple of hours in the refrigerator. This gives the pasta time to soak up that delicious Italian Dressing.
Storing: Pasta has a sweet spot for storing. If you store it too long, the pasta can get grainy as it starts to break down
Typically, pasta is good for storing covered in the refrigerator for 3-5 days
Freezing: This cold pasta salad is not a great candidate for freezing.
What Does Cold Noodle Salad with Italian Dressing go with?
hot dogs
macaroni salad
fried chicken
hamburgers
corn on the cob
kabobs
steak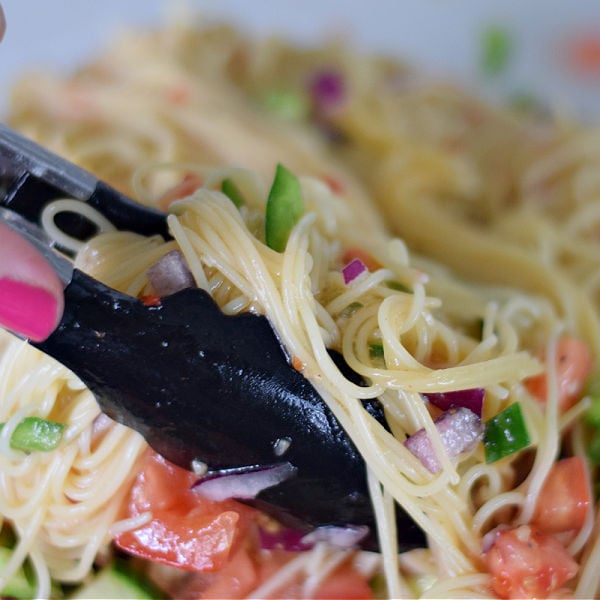 Add-Ins to Consider with a Cold Pasta Salad:
Personally, I would make this the classic way it started out, but I am also all for playing around with recipes to improve them. Here are some vegetables that would be fun additions to this summer salad
– fresh veggies like…
zucchini
red bell pepper
sliced black olives
yellow squash
green onion – sliced
sugar snap peas
green beans
broccoli florets
More Add-Ins to consider:
– freshly grated parmesan cheese
– sprinkle fresh parsley on top
Are you Ready to Make this Easy Pasta Salad Recipe? Let's make sure you have everything you'll need…
Ingredients:
thin spaghetti noodles – You can use other pasta noodles, but in my opinion, spaghetti noodles are the best for this summer pasta salad
tomatoes – the best would be fresh out of the garden. I love to use a nice big tomato like a beefsteak – cubed. Some people prefer cherry tomatoes. Either is fine. Just cut them into bite-sized pieces
cucumber – I would use fresh garden variety cucumbers. I peel them and slice them into bite-sized pieces
green bell pepper – this is added for flavor and a bit of fun and crunchy texture to this pasta salad with spaghetti noodles. You could also add other colorful bell peppers
red onion – Some people refer to this as a purple onion – probably because it is more purple than red. This is a key ingredient. It adds so much flavor to this cold salad. If you don't like red onion, then definitely use chives or another sweet onion as a substitute
zesty Italian salad dressing – Zesty Italian dressing has a stronger flavor than regular Italian dressing. It is the preferred dressing for this pasta salad. I've used an inexpensive generic almost every time, but Olive Garden's Italian dressing would be delicious too
seasonings like

poppy seeds – which add more crunch and flavor
sesame seeds – which have a nutty flavor and add crunch and texture
paprika – which is a sweet and vegetable-like seasoning and compliments this spaghetti cold pasta salad very well
celery seeds – I do think that this adds a delicious flavor along with a crunchy texture
garlic powder – adds to the Italian dressing even more flavor
How do you make Spaghetti Salad?
Instructions
Cook and drain noodles
Rinse with cold water until cold
Slice vegetables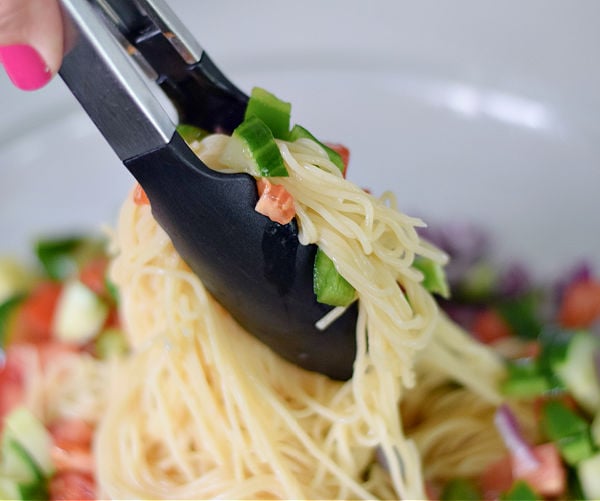 In a large bowl, mix cooked spaghetti noodles, vegetables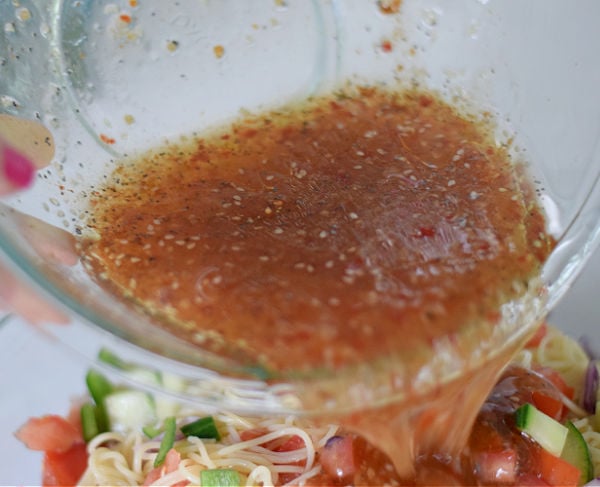 Add Zesty Italian dressing and spices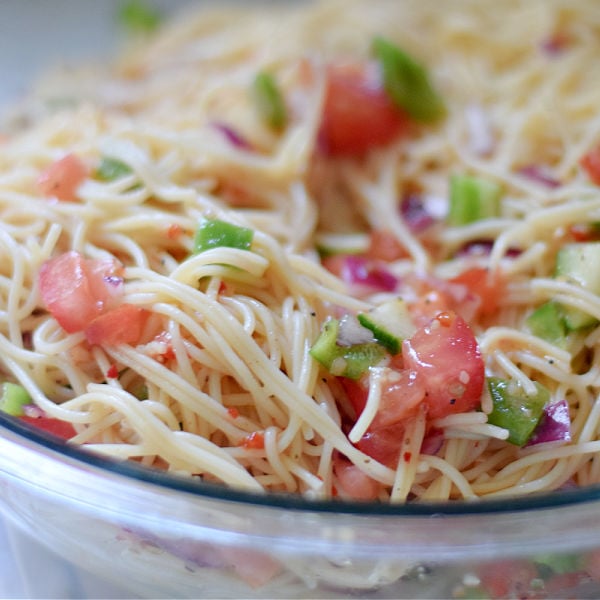 Cover and store in the refrigerator for at least 2 hours
Here's a quick video to show you how I make Cold Spaghetti Salad…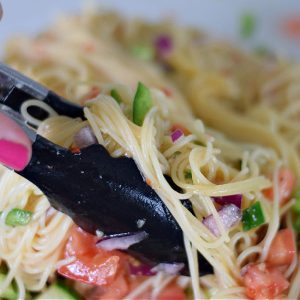 Pasta Salad with Italian Dressing
A delicious cold spaghetti salad that is the perfect side for a barbecue.
Ingredients
16

oz.

thin spaghetti

3

tomatoes

medium – cut into bite sized pieces

1

cucumber

peeled and cut into bite sized pieces

1

green bell pepper

chopped

1

purple onion

chopped

1

8 oz.

Zesty Italian Dressing

1

tsp.

poppy seeds

1

tsp.

sesame seeds

½

tsp.

paprika

¼

tsp.

celery seeds

¼

tsp.

garlic powder
Instructions
Cook spaghetti noodles according to package directions

drain and rinse in cold water until pasta is cold

Place noodles in bowl

Add vegetables, dressing and spices

Cover and refrigerate for 2 hours or overnight
Notes
Other optional  vegetables to add in:
zucchini
sweet red pepper
yellow squash
sliced black olives
Nutrition
Calories:
160
cal
Carbohydrates:
32
g
Protein:
6
g
Fat:
1
g
Saturated Fat:
0.2
g
Polyunsaturated Fat:
0.5
g
Monounsaturated Fat:
0.2
g
Sodium:
6
mg
Potassium:
234
mg
Fiber:
2
g
Sugar:
3
g
Vitamin A:
412
IU
Vitamin C:
14
mg
Calcium:
30
mg
Iron:
1
mg
Follow Me on Social Media
Facebook Page: Recipes Passed Down
Facebook Page: Kid Friendly Things To Do
I'd love for you to join my Facebook Groups
Easy Family Recipes – Just Like Mom Used to Make