Basil Layered Salad for a Crowd Recipe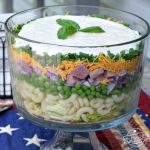 Posted by Melissa in Easy Family Recipes, Pasta, Soups & Salads | 0 comments
Take this delicious Basil Layered Salad Recipe to your next potluck. It's the perfect make ahead dish to feed a crowd and with layers of peas, ham, macaroni and more…it looks so pretty in a trifle bowl. Come on in and I'll share this colorful and tasty Basil Layered Salad Recipe with you…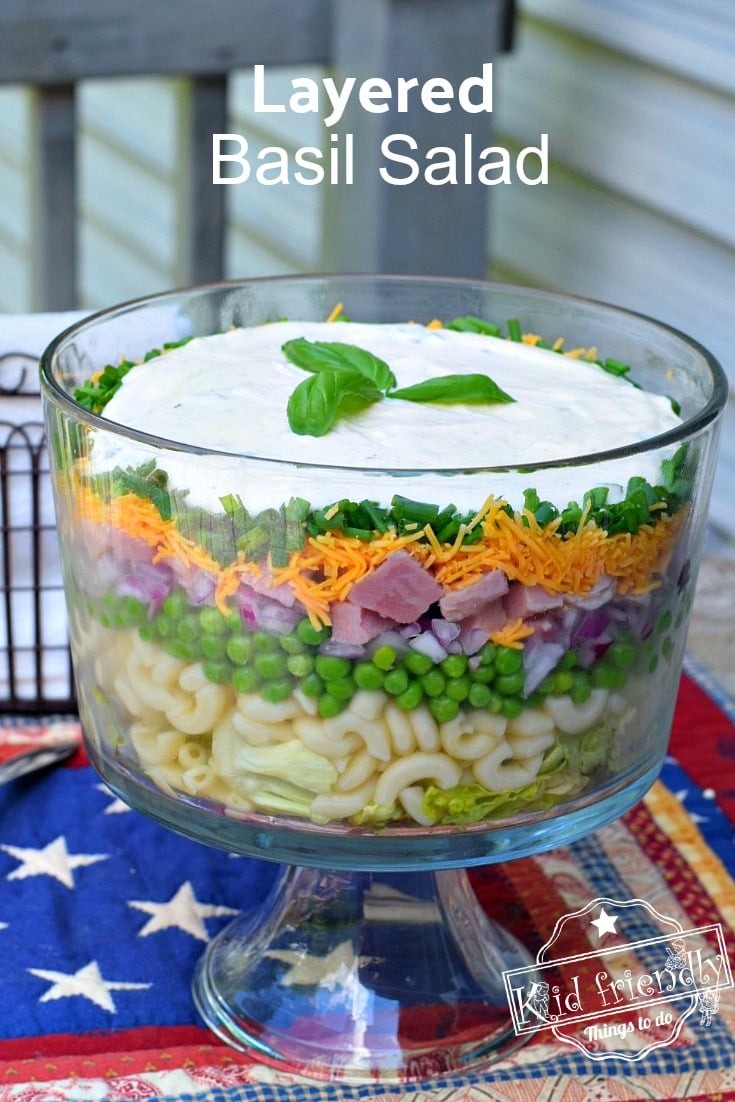 If you do take this to a picnic, hopefully you'll have leftovers. This layered salad tastes even better the next day.
It's even a snap to put together. The only part you'll have to cook are the macaroni noodles. Easy, Peasy!
Here are my Top Amazon Picks for this Layered Salad Recipe…
(affiliate links)
Here's the recipe for Basil Layered Salad to Feed a Crowd…
Basil Layered Salad Recipe to Feed a Crowd
2018-07-06 16:14:59
Ingredients
4 cups of salad greens
1&1/2 cups of cooked macaroni noodles
2 cups of "thawed" - frozen peas
1 medium red onion - diced
3/4 cup of cubed cooked ham
1/2 cup of sharp cheddar cheese
3-4 stalks of green onion sliced
Dressing...
1 cup of mayonnaise
1/2 cup of sour cream
2 tsp. of Dijon mustard
2 tsp. of shredded fresh basil
1/2 tsp. of salt
1/2 tsp. of garlic powder
1/4 tsp. of onion powder
1/8 tsp. of ground black pepper
Instructions
Cook the macaroni noodles as directed, drained and cooled
Layer in the trifle bowl...
Greens,
Cooked Macaroni Noodles
Peas
Onion
Ham
Cheese
Green onion
In a small bowl, Mix the dressing ingredients
Spread the dressing across the top of the layered salad
Optional - place fresh basil on top for decoration
Kid Friendly Things to Do.com - Family Recipes, Crafts, Fun Food Crafts, and Game Ideas https://kidfriendlythingstodo.com/

That's it! I hope you enjoy the layered salad.
If you are still looking for Potluck Recipes, check out the recipes below…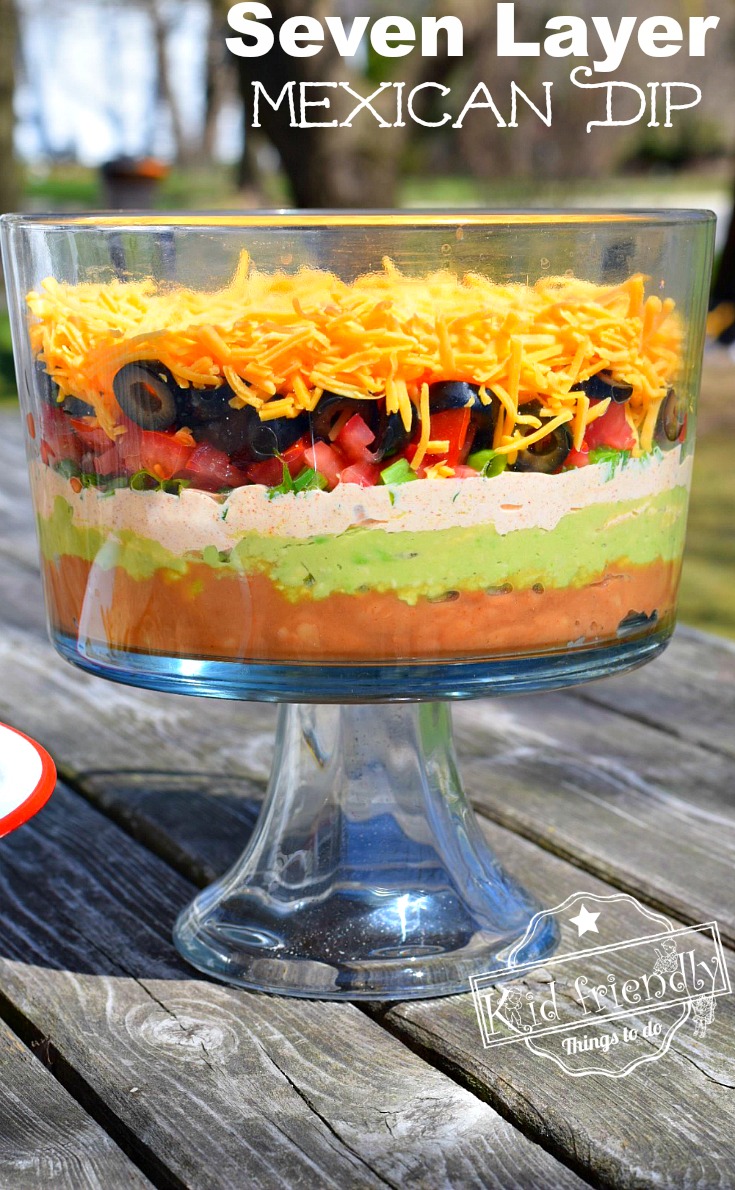 Here's another layered salad recipe – Mexican Layered Salad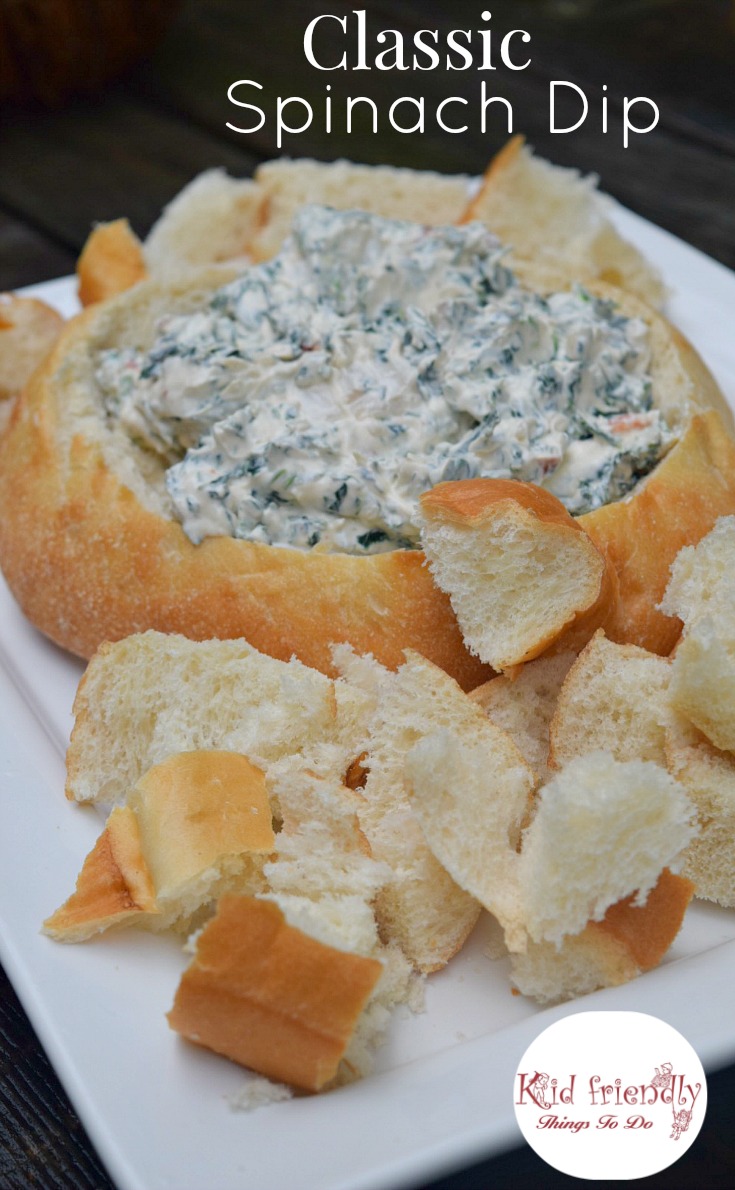 ~ Melissa – Kid Friendly Things To Do