Woo Hoo! Hurray for shortcuts! Today, I can't wait to share this "No Roll" One Crust Flaky Pie Crust Recipe. It's such a simple pie crust. You literally make this in the pie pan. No rolling required. That is such a huge time saver. Whipping up an extra one for your recipes that require 2 pie crusts is a snap! Come on in and I'll share my recipe for this delicious and so easy – "No Roll" One Crust Flaky Pie Crust…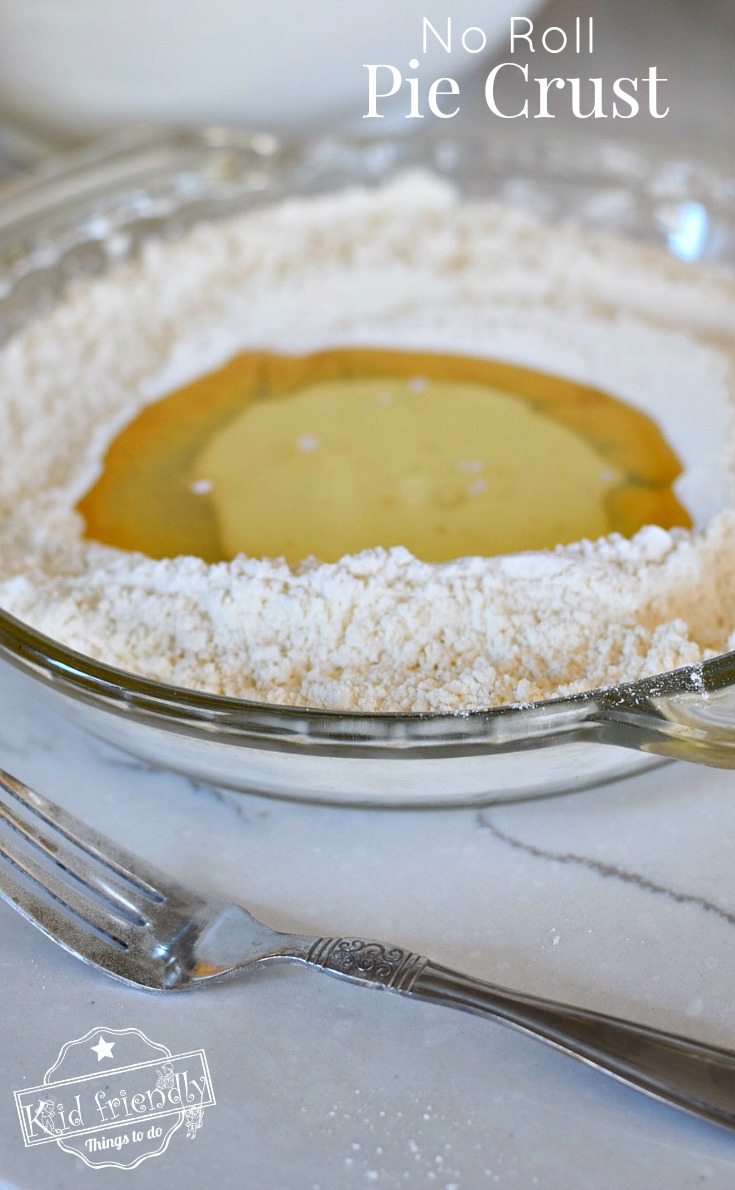 As much as I cook, bake, and create in the kitchen…on a day like The Fourth of July, you won't find me in Betty Crocker mode. Nope, you'll find me scrambling to find clean, patriotic clothes for the kids. Because there's no time for me to take a well needed shower, I'll be looking for my one article of clothing that's not wrinkled or stained to throw on myself! Then I head to the basement to grab some plastic bags for parade candy! Finally, wishing I had planned better, I stand, staring at the refrigerator, wondering what I can whip up for the picnic that looks like I was in Betty Crocker mode!

This is it, you guys! This super easy, Thank God for it, "no roll" pie crust is my saving grace. You make it right in the pie pan. Just press this dough out to the edges, and done! It's that simple. This is my kind of pie crust, y'all. For a fancy look (if you really want to impress) – Push the dough out on top of the edge, and press down with the flat part of a fork going all of the way around. Voila'
So let's get on with it! Here's your handy dandy printable for "No Roll" One Crust Flaky Pie Crust:
No Roll – Flakey Pie Crust!
1

&1/2 cups of flour

1/2 tsp

. of salt

2 tsp

. of sugar

1/2 cup

of oil

2 Tbsp

. of milk
Instructions
Get your pie pan out
Pour out the flour, salt, and sugar, right into the middle of the pie pan
Mix together with a fork – mix well
Make a well in the middle of the flour mixture by pushing everything to the edges – leaving an empty circle right in the center of the flour
Pour the oil, and milk right into the center of the well
Using your fork, mix the liquid first, and then mix in the dry ingredients until it forms a dough
Press the dough out to the edges of the pie pan
Done! Don't you love that?
Bake according to your pie recipe
Notes
If you need another crust for your 2 crust pies…just make another batch in a large bowl. You'll need to roll that one out, though. 🙂 No worries…it's so simple to roll out. Place the dough between 2 sheets of wax paper and roll over the top sheet of paper. Transfer the crust to the top of your pie by inverting the bottom sheet of wax paper over your pie filling.
If you enjoyed this post on
"No Roll" One Crust Flaky Pie Crust
– then don't forget to Get Social With Me so you don't miss a thing!:)
Here are my Top Amazon Picks for this "No Roll" One Crust Flaky Pie Crust (affiliate links)