Learn how to make a cotton candy mocktail cocktail that's perfect for a kid's birthday party, summer fun, or unicorn party. It's a recipe that includes sparkling soda, cotton candy, and a whole lot of fun.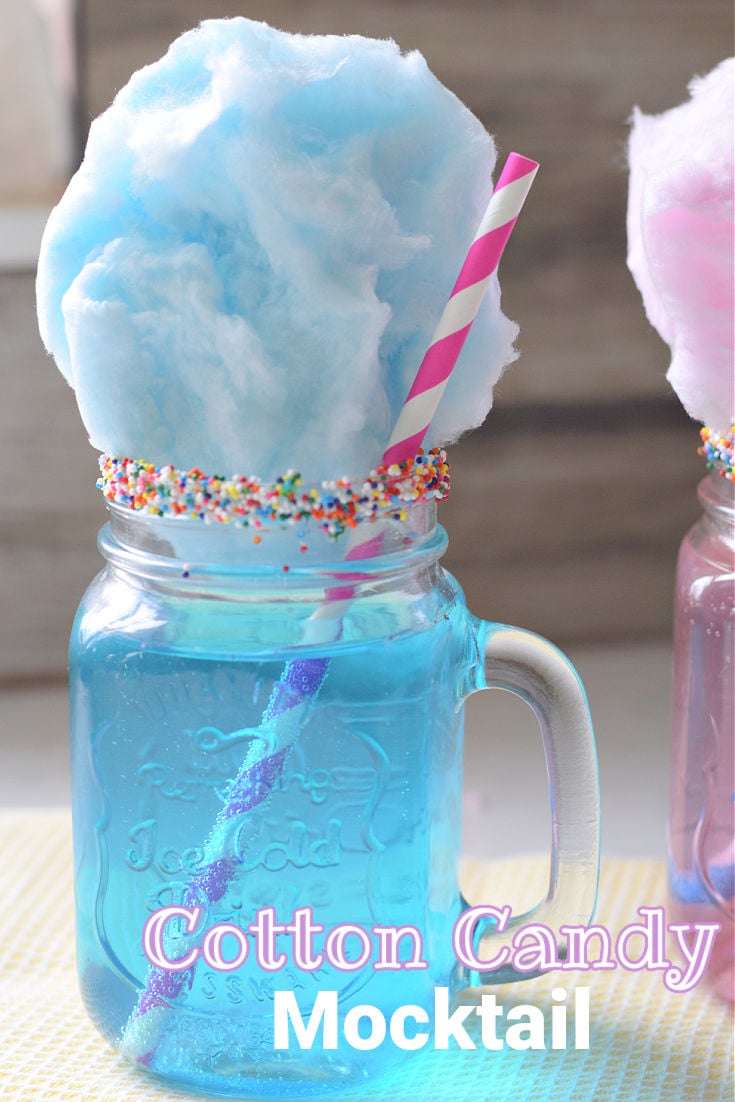 Cotton Candy Mocktail
What is the most famous mocktail?
The most popular mocktails include a pina colada mocktail, a mojito mocktail, and Shirley Temple 
Are Mocktails Safe to Drink?
Mocktails do not contain alcohol, but they do have sugar, so if you are watching your sugar intake be sure to drink them sparingly
Do Mocktails Contain Alcohol?
No! Mocktails are for anyone that wants a fun cocktail without the liquor. It's a great way to enjoy a fun and often fruity drink without the guilt of alcohol and it's a fun drink for the kids to enjoy
On what occasion would you serve a Cotton Candy Drink?
Carnival Parties
summer parties
baby shower
birthday parties
new years
new year's eve celebrations
just for fun
unicorn birthday party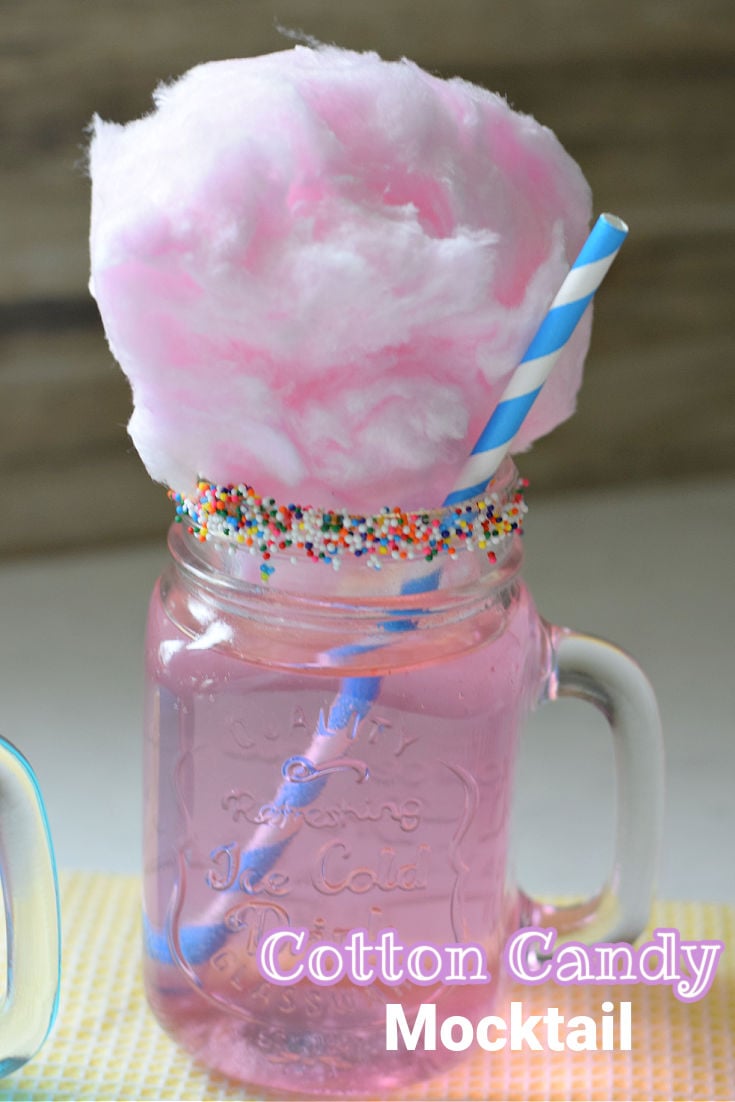 Just look at how much fun this drink is. Any kid and dare I say – any adult – would love to sip on this fun drink. With only two ingredients, it's easy to make. The kids will love watching the cotton candy dissolve and you'll love the simple recipe.
Variations to this Cotton Candy Drink Recipe
Soda Flavors
Lemon-Lime Soda (Sprite, 7-Up, Sierra Mist, or a generic form) I used lemon-lime soda as my soda beverage. It adds sweetness with a hint of citrus but doesn't mask the cotton candy flavor too much
Raspberry Gingerale – this would be delicious, however, you might lose some of the cotton candy flavors due to the strong raspberry flavoring
Strawberry Soda – Again, sounds delicious. I have not tried this particular flavor of soda, so I can't attest to how strong the strawberry flavoring is and how much of the cotton candy flavor would come through
Ginger Ale – ginger ale would be a great substitute for lemon-lime soda but may mask some of the cotton candy  taste
What kind of cups can I use for this cotton candy mocktail recipe?
Any cup will do, but preferably a clear plastic cup or glass. You and the kids will want to watch as the cotton candy fizzes, bubbles, and colors the drink. If you are hosting a New Year's Eve party, then champagne flutes (you can find plastic champagne glasses for the kids) are a fun way to serve this drink. Mason jars, hurricane glasses, and see-through plastic cups are perfect for this drink as well
For more fun and more recipes…Come Hang out with Me on Social Media
Facebook Page: Recipes Passed Down
Facebook Page: Kid Friendly Things To Do
I'd love for you to join my Facebook Groups
Easy Family Recipes – Just Like Mom Used to Make
Cotton Candy Punch
cotton candy punch is a large version of a cotton candy drink. Simply add cotton candy to the punch bowl and pour a 2-liter bottle of soda over the cotton candy
What Flavors of Cotton Candy Should I use for this drink?
I used classic pink cotton candy and blue cotton candy, but with so many flavors available today you could have a number of cotton candy drink flavors like – green apple, watermelon, grape, and even banana
Are you ready to make this Cotton Candy Mocktail Drink? Let's Make sure you have everything you'll need…
Ingredients
cotton candy
lemon-lime soda
Decorating Your Glass or Cup
While this is purely optional it is half the fun! I like to add fun sprinkles to the rim. It's easy to do and I'll teach you how. I've included the complete directions in the printable below
Here are the ingredients you'll need to decorate the rims of your cups
lime wedges
sprinkles or decorating sugar
*a small plate
Garnishes:
piece of cotton candy
paper straw or other fun straw
optional – cherry
Here are my top Amazon Picks for this fun drink
How do you Make Cotton Candy Mocktails?
Instructions
if you are decorating the rim of your glasses, then use a lime wedge to wet the rim and then tip the glass over into a plate of sprinkles
place a good amount (about a cup size portion or more) of cotton candy into the glass
pour the soda over the cotton candy and watch it dissolve while it colors the drink
More Drink Recipes
Print
How to Make an Easy-to-Follow Cotton Candy Mocktail
Author:
Prep Time:

2 minutes

Cook Time:

none

Total Time:

57 minute

Yield:

1 serving
Decorations for the cup rim: 
lime wedges
sprinkles or decorating sugar
*a small plate
drink
cotton candy
lemon-lime soda
Garnishes:
piece of cotton candy
paper straw or other fun straw
optional – cherry
Instructions
decorating the rim: (optional)
cut a wedge of lime and slice it open in the middle
pour a good amount of sprinkles onto a small plate – deep enough so it will coat the rim of a cup
use the lime wedge to moisten your cup – slide it all the way around the rim so it is completely wet on the outside
turn the cup upside down into a plate full of sprinkles
making the drink
place some cotton candy in the bottom of a cup – The amount will vary depending on your cup. I used about 1 cup of cotton candy for my 16 0z. cups
pour soda over the cotton candy and watch it dissolve into the soda
decorate with more cotton candy at the top of the cup and add a straw
Notes
The amount of cotton candy that you use will vary. If you think the drink needs more cotton candy flavor, then toss some more in. It will dissolve immediately.