Wow your friends and family with this tasty dessert the next time you're camping! These campfire cupcakes are sure to surprise everyone at the campfire or serve them at your next summer bbq gathering as a fun summer treat.

Campfire Cupcakes
If you love summertime, you'll love these fun summer treat ideas –
More fun summer food recipes…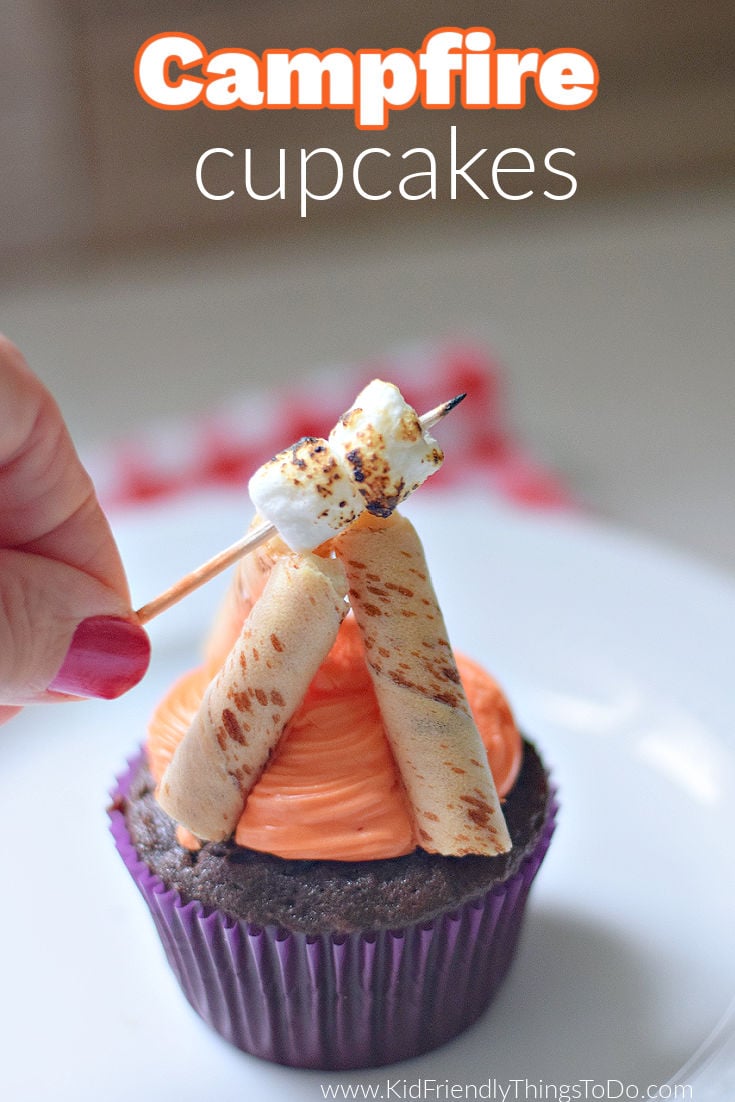 Your friends and family will be delighted to see what a fun summer treat you have made for them. The best part about this summer-themed cupcake idea is how easy it is to make. I just used a boxed cake mix for my cupcakes, baking the batter in dark cupcake liner-filled cupcake pans (muffin tins) and then decorating them into a fun summer treat. If you have a favorite cupcake recipe, then by all means – go for it!
Make-Ahead and Storage:
How Far in Advance can I make these cupcakes?
Make these cupcakes up to 2 days in advance
Store these campfire cupcakes covered at room temperature for up to 2 days – you can use a cupcake container or cover loosely with plastic wrap or foil
Substitutions and Variations:
Cupcake Flavor: use any cupcake flavor that you like. I used chocolate to imitate the color of dirt, but nobody will notice if you wanted to change that to vanilla, or yellow cupcake
Logs or Sticks for the cupcake: I used cream-filled wafers. To me, they look perfectly like wood. They even have different shading and the chocolate has brown in the center. You can however substitute mini pretzel sticks for a smaller stick or pretzel rods for logs
Marshmallows: I used mini marshmallows to represent cooking marshmallows over a bonfire. It's up to you if you want to roast your marshmallows on a toothpick in your with your gas oven flame or not. I liked the added touch, but it is not necessary
Frosting Tips and Tricks for a Campfire Cupcake:
make sure the cupcakes have cooled completely, you can set them on a cooling rack or simply place them on a protected surface on your countertop to cool – away from the heat of the oven
use vanilla or cream cheese frosting and color it orange with food coloring
a star tip fitted to a piping bag provides a great texture and some definition to the frosting
coloring the frosting:
for a fun twist, divide the frosting into 2 bowls and color one orange and one yellow – place the 2 colors separately on both sides of the piping bag. When you squeeze the orange frosting and yellow frosting out they will blend a little but will also create a fun ombre effect showing each color individually as it blends together
another frosting idea is to color the frosting orange, but add a little bit of red food coloring inside the piping bag (near the bottom where the frosting will come out). Just smear a little bit on each side. As the frosting comes out it should pick up some of the red for a fun flame effect
Thickening your Frosting: 
(buttercream frosting)
If you are making your own buttercream frosting, then you'll probably be mixing that in a standing mixer or electric mixer. If you find that your frosting is too thin –
You can thicken buttercream frosting by simply refrigerating it so the butter has a chance to harden, by adding more softened butter to the mixture, or by adding powdered sugar as a thickening agent
(Store-bought frosting)
If the room temperature is too warm, you might find that your frosting has thinned out. You can pop it into the refrigerator to thicken up or add powdered sugar to thicken it up a bit more
What type of occasion would you serve a Bonfire Cupcake or Campfire Cupcake?
camping trips – place these fun desserts in a cupcake carrier and surprise everyone around the campfire with these special treats
for family time in the backyard around a bonfire pit
at summer BBQs or potlucks
the Fourth of July party
at the lakehouse (if you're lucky enough to have one)
just for a fun treat – anytime
Are you ready to make these fun Summer Cupcakes? Let's make sure you have everything you'll need: 
Ingredients: 
Prepared Cupcakes baked in cupcake liners – chocolate preferred because of the brown color
vanilla or cream cheese frosting
orange food coloring (or mix red and yellow together to get orange) to make orange frosting
piping bag fitted with a star tip
cream filled wafers
mini marshmallows
toothpicks
How do you decorate Campfire Cupcake?
Grab the printable below with the full instructions
pipe the frosting out onto the cupcake making a circle and adding more layers until you get a tall peak at the top
break wafers into 3-4 logs
place them around the frosting standing up and leaning on each other
push 2-3 mini marshmallows onto a toothpick and push the bottom of the toothpick into the cupcake sticking out at an angle
We need to get together more often…
For more fun and more recipes…Come Hang out with Me on Social Media
Facebook Page: Recipes Passed Down
Facebook Page: Kid Friendly Things To Do
I'd love for you to join my Facebook Groups
Easy Family Recipes – Just Like Mom Used to Make
Print
Delicious Campfire Cupcakes (An Easy To Follow Recipe)
Author:
Prep Time:

15 minutes

Cook Time:

25-30 minutes

Total Time:

28 minute

Yield:

18 cupcakes
Prepared Cupcakes baked in cupcake liners – chocolate preferred because of the brown color
vanilla or cream cheese frosting
orange food coloring (or mix red and yellow together to get orange) to make orange frosting
*fun frosting color ideas and tips are below
piping bag fitted with a star tip
cream filled wafers
mini marshmallows
toothpicks
Instructions
pipe the frosting out onto the cupcake making a circle and adding more layers until you get a tall peak at the top
break wafers into 3-4 logs
place the broken pieces of wafer around the frosting standing up and leaning on each other
push 2-3 mini marshmallows onto a toothpick and push the bottom of the toothpick into the cupcake sticking out at an angle
*optional – carefully toast your toothpick marshmallows over a small flame from a gas oven before using them as decorations
Notes
Frosting Tips and Tricks for a Campfire Cupcake:
make sure the cupcakes have cooled completely, you can set them on a cooling rack or simply place them on a protected surface on your countertop to cool – away from the heat of the oven
use vanilla or cream cheese frosting and color it orange with food coloring
a star tip fitted to a piping bag provides a great texture and some definition to the frosting
coloring the frosting:
for a fun twist, divide the frosting into 2 bowls and color one orange and one yellow – place the 2 colors separately on both sides of the piping bag. When you squeeze the orange frosting and yellow frosting out they will blend a little but will also create a fun ombre effect showing each color individually as it blends together
another frosting idea is to color the frosting orange, but add a little bit of red food coloring inside the piping bag (near the bottom where the frosting will come out). Just smear a little bit on each side. As the frosting comes out it should pick up some of the red for a fun flame effect
Thickening your Frosting: 
(buttercream frosting)
If you are making your own buttercream frosting, then you'll probably be mixing that in a standing mixer or electric mixer. If you find that your frosting is too thin –
You can thicken buttercream frosting by simply refrigerating it so the butter has a chance to harden, by adding more softened butter to the mixture, or by adding powdered sugar as a thickening agent
(Store-bought frosting)
If the room temperature is too warm, you might find that your frosting has thinned out. You can pop it into the refrigerator to thicken up or add powdered sugar to thicken it up a bit more