Campfire Cupcakes. Make Camping Cupcakes complete with a fruit roll-up tent and campfire cupcake. A Fun dessert idea for summer.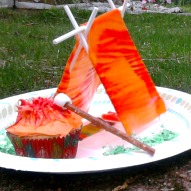 Campfire Cupcake Idea
More fun summer food ideas…
Here's what you'll need for these summer cupcakes.
Prepared Cupcakes
Orange Frosting
Red Frosting
Lollipop Sticks – 5 for each tent
Fruit Roll-Ups – 2 for each tent
Hot Glue Gun & Hot glue
Pretzel Stick
Mini Marshmallows
Plate for each camp
Now, Here's What To Do:
Tent: For Each One
Glue 2 lollipop sticks together to make an X. The Top portion of the X should be narrow, and the bottom portion should be wide. Use this as a template to make another X.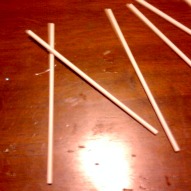 When the posts have dried (lollipop sticks) Set them in the place you have in mind for your tent, with the narrow part of the X on top. Space them about 4 inches apart. Glue the 2 X's to the Plate. Place the 5th lollipop stick across the 2 X's, cradling it into the narrow part of the Xs. Now, you have your poles for your tent.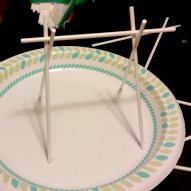 Unroll your Fruit roll-ups. Trim the roll-up at the top, so it fits in-between your X's and onto the middle post. Starting at the top post press the end of the fruit roll up onto the post. Then spreading the fruit roll-up out -like a bedsheet, press it onto the 2 side posts. Wrap any extra around the post.
Do the same with the other side. You have a fruit-roll up the tent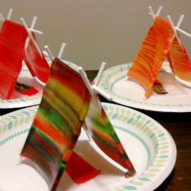 **If you have extra fruit roll-ups, you can make a sleeping bag and pillow. Save the wrapper to the fruit roll-up to place your sleeping bag and pillow on. Otherwise it will stick to the plate.
Cupcake: For Each One

Frost the cupcake with orange frosting.
Add a little dab of red to the center of the cupcake.
Use a toothpick to pull the frosting up into flames.
S'more:
Use frosting to glue the mini marshmallow to the pretzel stick for a S'more by the campfire.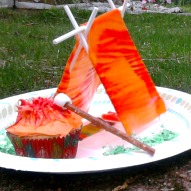 ***I made these for our little den of first-grade boy scouts! I promised cupcakes for the year-end pizza party. Of course, I had no plan. & once I thought of these, I wasn't sure how it would turn out. The picture in my head does not always manifest into something good!  Luckily it worked. If I didn't have to squeeze this into Connor's nap time, I would have liked to go crazy with accessories! So fun! I hope you enjoy them!
Here's a tip for the fruit roll-ups – As the roll-ups to warm up they started to tear as I unrolled them. I popped the roll-ups in the freezer for a couple of minutes, and they unrolled perfectly. Don't worry about a couple of tiny tears, they stick right back together.