Minion Love! If you follow me, at all, you know I've done a few Minion inspired crafts, and foods. Minions are just the cutest little guys! Are there any girls at all? Anywho…you might be aware that there's a Minion Movie coming out this summer. Fandango reached out to me to ask about one of my crafts, and that kind of clued me in! Sometimes it takes a brick to bonk me on the head! I thought I'd better get on a few Minion ideas I've been tossing around. Here's my latest obsession…my Minion Rice Krispies Treats Fun Food Idea. Grab yourself a cup of whatever you like, come inside, pull up a chair, and I'll show you how to make these simple treats for your Minion Party!
First off…For these Minion Party Treats – You're gonna need:
2 Tbsp. of unsalted butter
1 (10 oz.) bag of mini marshmallows, such as Kraft Jet Puffed
Yellow food coloring – I used powdered food coloring, and just used about 1/2 tsp. You can adjust the color by adding more, or less
6 cups of Rice Krispies Cereal
9×13 cake pan
wax paper
cooking spray (butter)
Egg shaped cookie cutter – I used a 3 in.
Fruit by the foot with raspberry/grape flavor inside
Black chocolate melts – I prefer Wilton
Squeeze tube or baggie with corner snipped as a substitute
Giant Candy Eyes – I bought mine at Michael's in the same aisle as the chocolate melts
Black licorice strips
*This recipe made 7 Minions. I probably could have pressed my treats together again to make more. The kids were stalking the treats though, and I had to sacrifice the scraps! You can probably get 10, if you don't make these with kids around. 🙂

I'm going to use this collage as a visual, today. Editing each picture during summer vacation just isn't gonna happen. 🙁
You'll first want to make the rice krispies. Melt the butter in a saucepan over medium heat. Add the marshmallows, and food coloring. Stir until melted. Remove from heat. Add the cereal, and stir until your hand feels like it's going to fall off!
Line the pan with wax paper, and just for the heck of it, spray some cooking spray on top of the paper
Fill the pan with the Marshmallow Rice Krispies mixture, and spread it out – A silicone spatula sprayed with cooking spray is wonderful for this task! Trust me!
Let it cool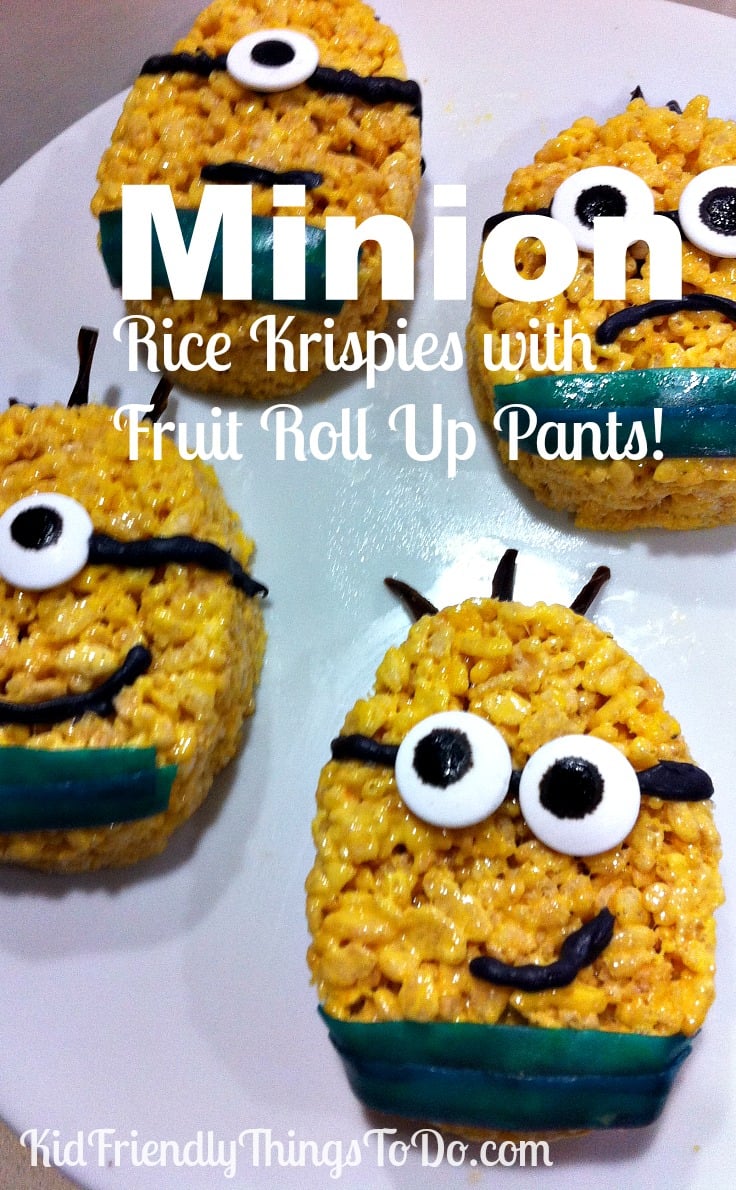 Now, you are ready to make some Minions! Yay!
Lift up the wax paper, and pull the Rice Krispies out onto a working surface. See…aren't you glad I added that wax paper?!
Cut shapes out with your cookie cutter
Melt the black chocolate melts. You don't have to use the whole bag. I only used about 1/2 cup, and had plenty left over! Use the directions on the back of the bag to melt
Pour the melted chocolate into your squeeze tube
Make a line for the goggles going across the top of the Minion
Add 1 or 2 eyes to the melted chocolate line
Add a mouth – I did frowns, smiles, straight across, etc…
*The chocolate should harden pretty quickly. You might want to give it a few minutes to do so, before moving on. If it's not setting up, pop the treats into the fridge to cool the chocolate
Cut the black licorice into strips, and stick some in the top of the egg for hair
Cut strips of the fruit roll ups to cover the bottom of the eggs. I used 2 per egg. Use the blue portion to make pants! I just placed them across the bottom, and pressed down to seal!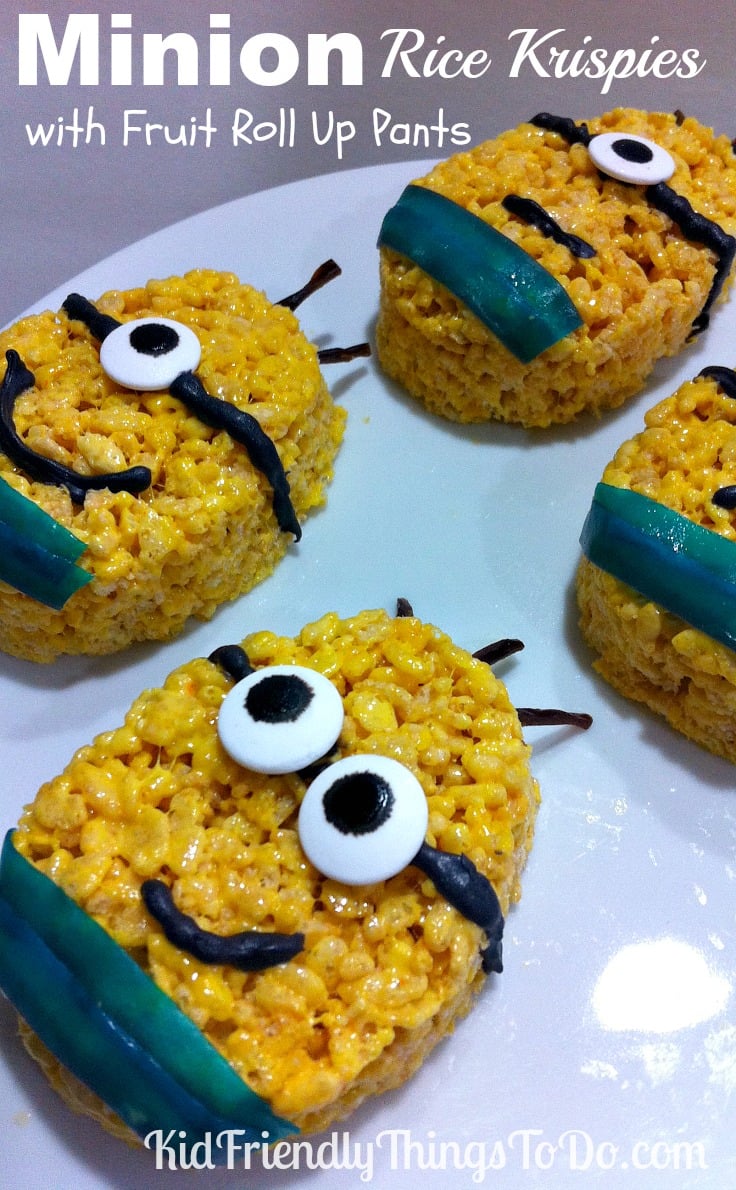 I'm proud to say this post is feaured on Zulilly! Thanks Zulilly!
If you enjoyed this post on Minion Rice Krispies Treats Fun Food Idea – then don't forget to follow me, and sign up for my free newsletter! You don't want to miss my next crazy idea!
Here's some stuff you might need, or even want for this fun food:
[box] [/box]
~Melissa – KidFriendlyThingsToDo.com