The Minions are hitting theaters again this summer, and I couldn't be happier. These Minion-inspired Rice Krispies Treats are a fun way to celebrate those cute little characters and enjoy summer.


Minion Rice Krispies Treats
This is an updated Minion Rice Krispies Treat. The last one had a blue fruit roll-up for pants which are just about impossible to find now. Years ago, Fandango reached out to me about some of my Minion crafts and it inspired me to make this food treat. That was way back in 2015. Now, this summer, another Minion movie is coming out – yay! So, I decided I needed to update these little guys and this is what I came up with.
I actually like the frosting version better, and it tastes great paired with the Rice Krispy. I hope you like it, too.
Need more Minion Ideas? I've gotcha Covered, but please excuse my older photos. I was taking them with an iPhone 4
[box]   [/box]
Ingredients:
3 Tbsp. of unsalted butter
4 cups mini marshmallows, such as Kraft Jet-Puffed
Yellow food coloring
6 cups of Rice Krispies Cereal
9×13 cake pan
wax paper
cooking spray (butter)
Egg-shaped cookie cutter – I used a 3 in.
Frosting Ingredients plus the equipment needed:
white frosting (you'll probably only use about 1/2 cup)
blue food coloring – gel preferred
chocolate frosting (you'll only need about 1/2 cup)
black food coloring -gel is preferred
pastry bag
basket weave tip – I used a Wilton number 47
writing tip
Giant Candy Eyes – large
*This recipe made 7-9  Minions
Instructions:
You'll first want to make the Rice Krispies
Melt the butter in a saucepan over medium heat
Add the marshmallows and food coloring
Stir until melted
Remove from heat
Add the cereal, and stir until your hand feels like it's going to fall off
Spray the pan with cooking spray – butter flavor would be the best tasting. An alternative to spray would be to line the pan with wax paper
Fill the pan with the Marshmallow Rice Krispies mixture, and spread it out – A silicone spatula sprayed with cooking spray is wonderful for this task. Trust me.
Let it cool just a little bit
Minions:
Cut shapes out with your egg-shaped cookie cutter
To make black…In a small bowl, mix some black food coloring with the chocolate frosting
Put the black frosting into the pastry bag with the basket weave tip
Make a line for the goggles going across the top of the Minions
Add 1 or 2 eyes to the melted chocolate line
switch the pastry tip to the writing tip to make the mouth
Add a mouth – I did frowns, smiles, straight across, etc…
mix the white frosting with the blue food coloring until you get the color you like
spread the frosting on the lower part of the minion to represent his blue jeans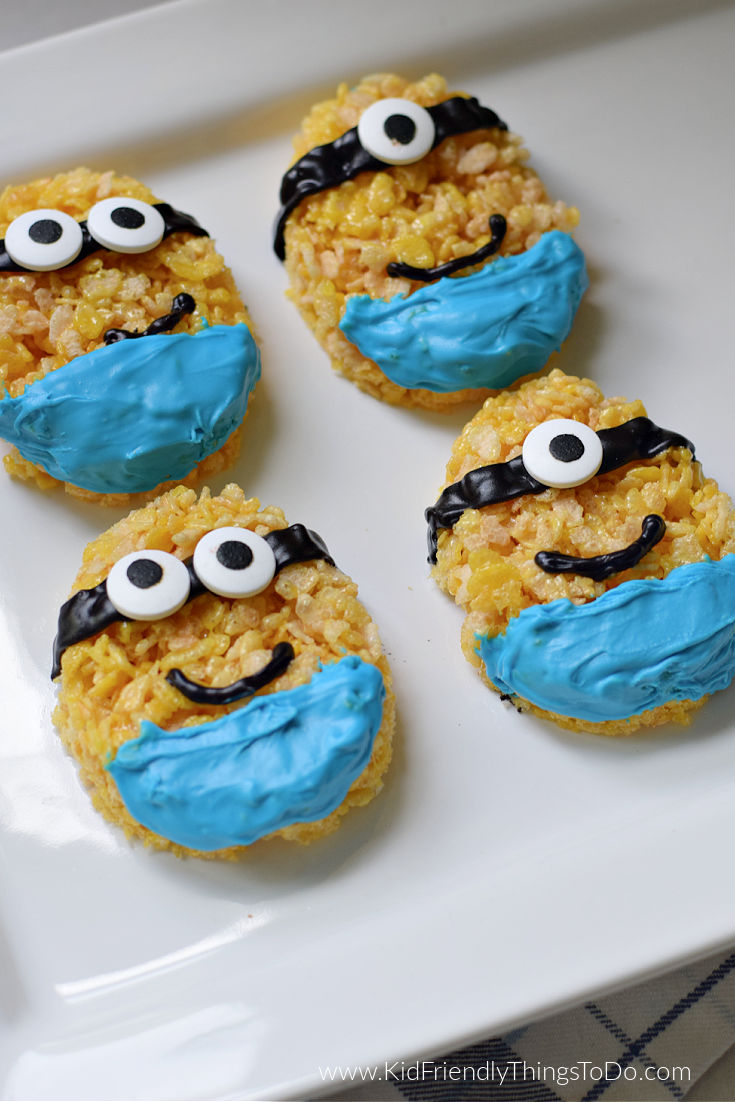 ~Melissa – KidFriendlyThingsToDo.com
I'm proud to say the original post with fruit roll up pants is featured on Zulilly!