St. Patrick's Day Drinks are a fun way to celebrate an Irish Heritage and welcome spring all at the same time. This RAINBOW DRINK IDEA is perfect for St. Patrick's Day, Summer drinks, or spring parties.  
RAINBOW DRINK IDEA
For a fun spring party, I made  DIY rainbow ice cubes out of melted Popsicles. This idea was inspired from a rainbow slush I posted in my St. Patrick's Day roundup. I melted Popsicles and froze each color, one by one, in an ice cube tray. They were so easy to make, and the drink is so awesome. I had no idea that the Popsicle would start oozing into the Sprite, and create this cool effect. Then, the Sprite turned a blushing pink color, until it finally ended with an Ombre of gradual pink to dark purple.
Here's What You'll Need for this fun drink:
(for 1 ice cube tray)
1 double popsicle (twin pops) for each color – red, orange, yellow, green, blue, purple
lemon-lime soda


Extra Equipment:

measuring spoons
ice cube tray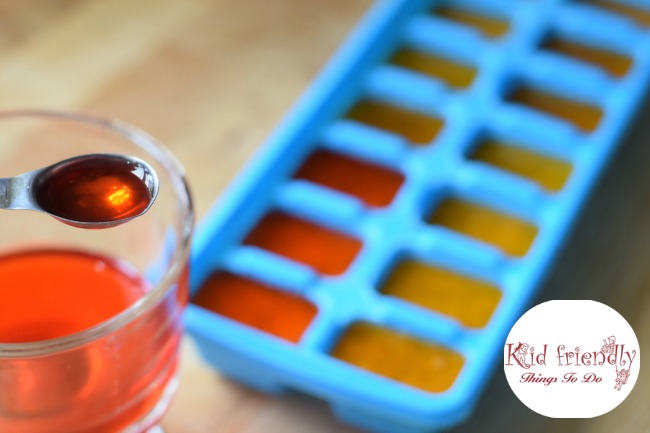 Making the Ice Cubes:
I found a box of popsicles, the double popsicle kind at Walmart that had every color of the rainbow (well except indigo…where do you find that?)
What you'll want to do is – for 1 tray of ice cubes – set out one of each color popsicle and let it melt inside the sealed bags
Once they are melted, pour each one into a different cup bowl
Starting with purple place 1 teaspoon of melted popsicle into the bottom of the ice tray
Freeze the purple for about 30 minutes.
Pull the frozen purple out and add the next color – Blue and freeze
Repeat with  Green, Orange,  and finally Red
To Make the Drinks:
Just grab some lemon-lime clear soda and pour some into a cup for the kids
Add 1 ice cube per drink
The color turns pretty fast, so make sure the guests are ready for their drinks so they can see the fun color changes
Plop an ice cube into your soda, and watch it ooze
Equipment You Might Want For This Recipe:
[box] [/box]
Happy St. Patrick's Day!

Don't miss a thing! Follow me on social media for more recipes, party ideas, crafts, DIY, Home & Garden, and so much more
~Melissa – KidFriendlyThingsToDo.com