The end of Christmas always makes me a little sad. Making these fun Countdown to the New Year Rice Krispies Treats for Kids was just the cheering up that I needed. The kids loved them, and today, I'd like to share the "how to" with you. Come on in, and I'll show you how to make these for your family and friends as a fun New Year's Eve Treat!
I still can't believe the Christmas is already over. I still remember Ella saying, "Mom, there's only 13 days until Christmas." I also remember me saying in response, "Don't remind me!" Now, it's all over. Doesn't it go by so fast?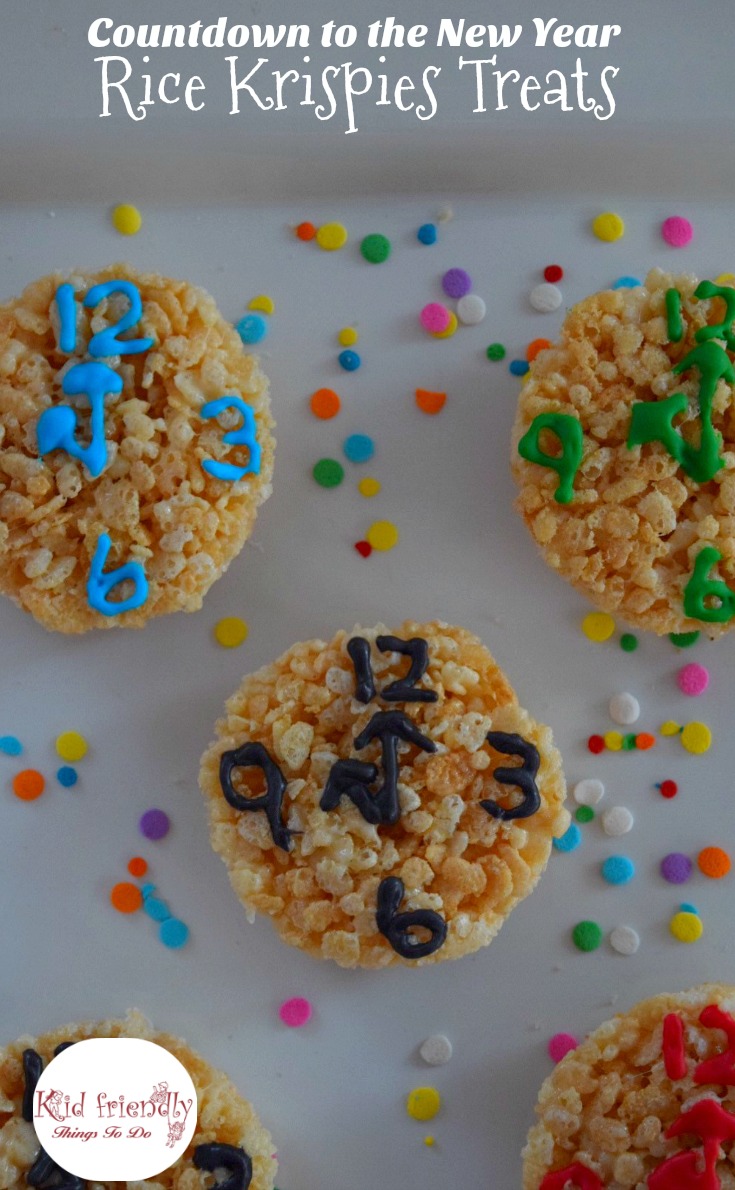 Luckily, we still have another holiday to celebrate! You can put these fun Countdown to the New Year Rice Krispies Treats for Kids on lollipop sticks or you can just leave them alone like the above picture. Whatever floats your boat. 🙂
Here's what you'll need for these Countdown to the New Year Rice Krispies Treats for Kids
(this will make about 1 dozen treats)
3 Tbsp. of unsalted butter
4 cups of fresh mini marshmallows
6 cups of krispy rice cereal
wax paper
spray oil
9×12 baking pan
round cookie cutter
squeeze tubes of frosting and/or melted chocolate melts for decorating
Optional – lollipop sticks & colorful ribbon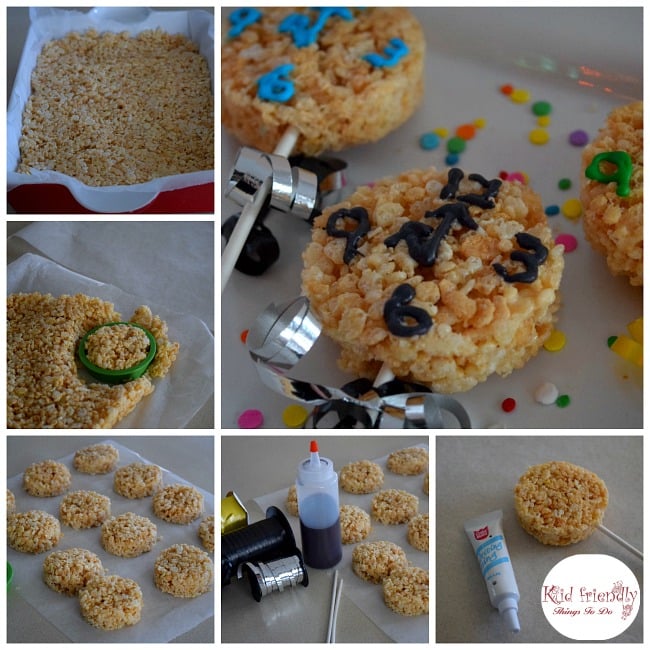 First you'll want to make the rice krispies. Melt butter in a medium saucepan over medium heat
Add the marshmallows and stir until melted
Pour the cereal into a large bowl, and add the melted marshmallow mixture
Stir, stir, and stir some more
Then, when that's all done:
Place a piece of wax paper in the baking dish and spray oil on the wax paper for added slipperiness!
pour the treat mixture into the baking dish and spread it around. Pack it down
Immediately pull the formed rectangle rice treats out of the pan, and get to work
Set out another piece of wax paper for the circles
Grab your circle cut out, and cut out the circles
You can take the scraps, put them together, press them all down and get some more circles out of them – or you can eat the scraps – whatever floats your boat 🙂

Now, you can add the lollipop sticks, if you want
Use the squeeze tubes of frosting to make the numbers on the circles, and the clock hands
If you are using chocolate melts, I would suggest pouring the melted chocolate into a baggie and snipping the tiniest piece off of the corner to squeeze the chocolate out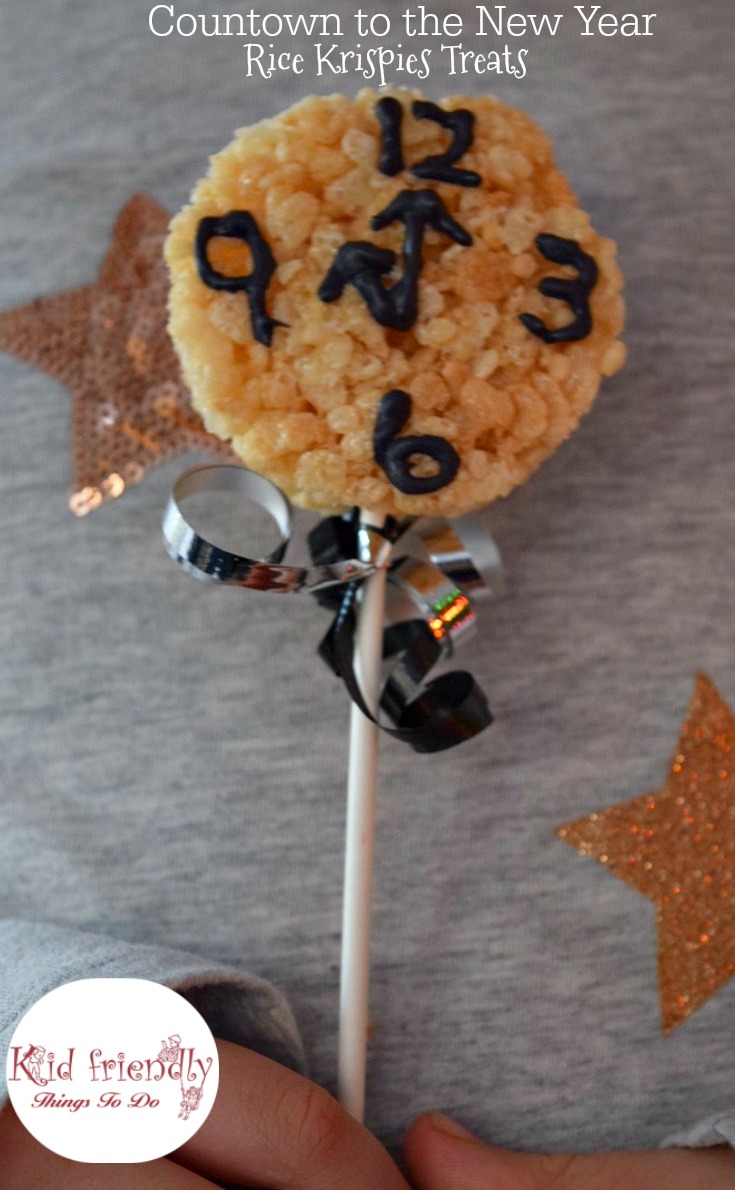 If you went with lollipops, add the ribbon
Tie it and curl it up real pretty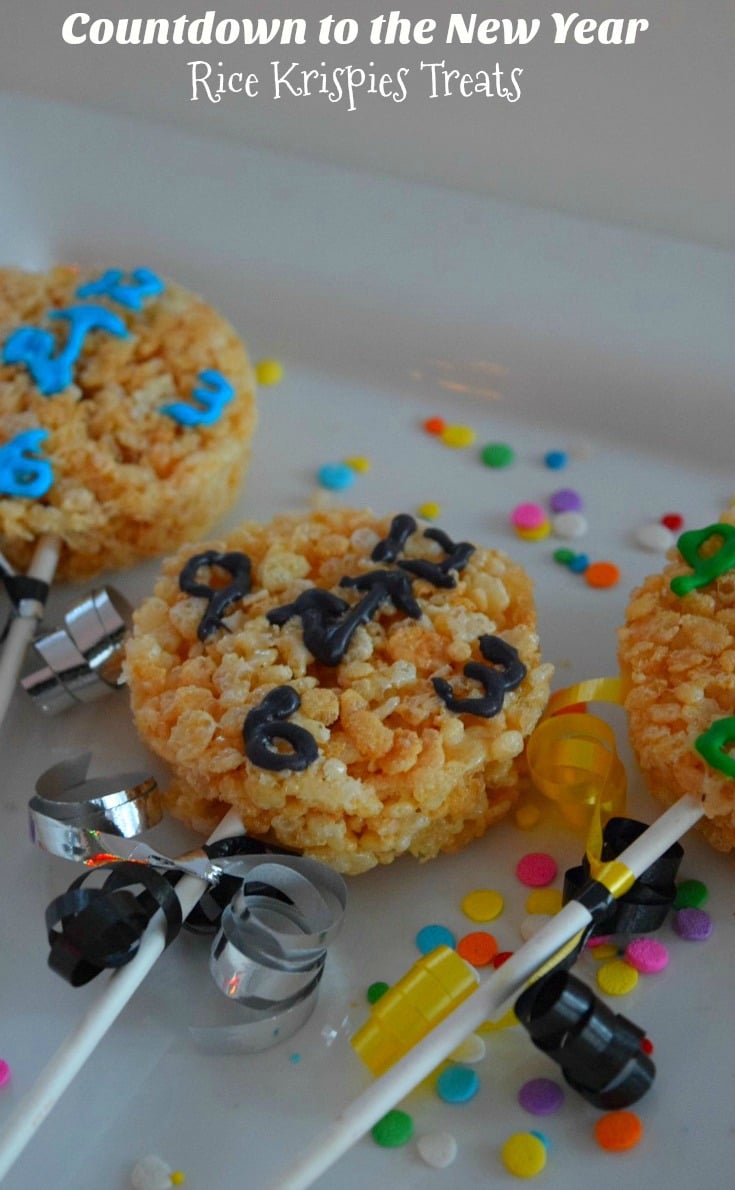 That's it!
Happy New Year!
Here are my Top Amazon Picks for these Countdown to the New Year Rice Krispies Treats for Kids
(affiliate links)
[box] [/box]
~Melissa – Kid Friendly Things To Do