Yesterday, was one of those kind of hibernation feeling snow days. There was a lot of fun in the snow, followed by a lot of hot cocoa! I thought it would be fun to add a snowman to the cup of cocoa. But, after discovering all of my large marshmallows had mysteriously vanished…I had to resort to a snowman buddy! Still fun, and the bonus is you can reuse him. Oh…I have a great short cut secret to this craft. This snowman was easy peasy to put together.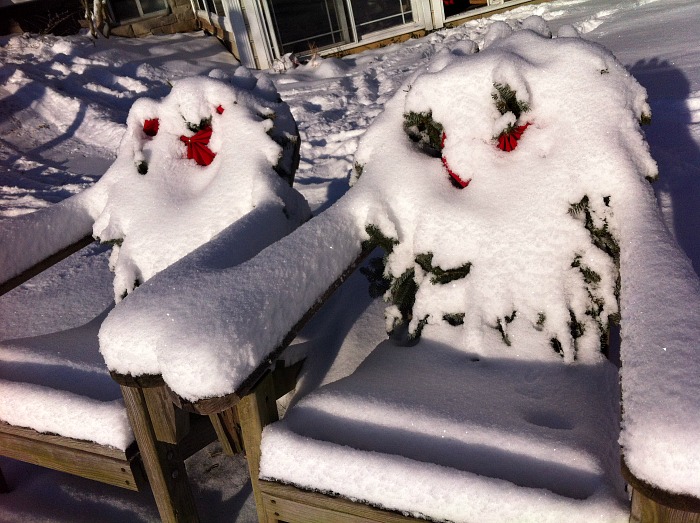 I was really surprised the big kids had school. The roads aren't all that wonderful to drive on. It's not like the Nor'easters in our old Connecticut home, but it's a decent amount.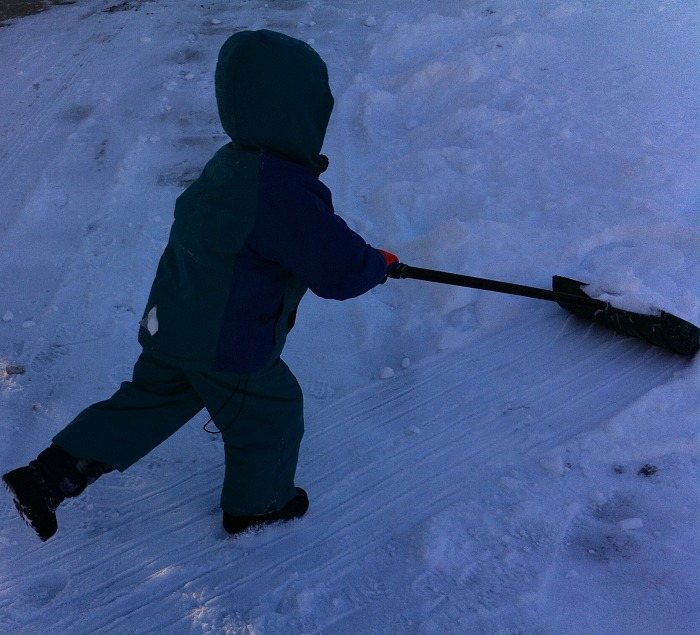 After I sent the big kids off to school, Connor and I got right to work shoveling the driveway. I think he's pretending to attack the snow. It's always a game of attack with him. 🙂 Eventually I had to confiscate the shovel and give him a sled instead!
Back inside, of course it was hot chocolate time! But, not before mommy could take it up a notch…hence the snowman buddy. Connor loves to craft, so he didn't mind waiting. Here's what you'll need:
Pom-Pom Garland
Black pom-poms buttons – I'm sorry I don't have the exact size – I think they are around 5mm
Googly Eyes – I don't have the size on these either – I'll use my technical term of small to tiny in size
Orange Pipe Cleaner
Warm Glue gun and sticks (hot glue guns are fine – I just like to keep it to a warm glue gun when crafting with the kids) If you want to keep it really safe – Fabri-Tac works great for immediately gluing crafts like this! I love that product! Connor poked holes in the side of my fabri-tac bottle – so I used the warm glue gun. 🙁
Twigs for arms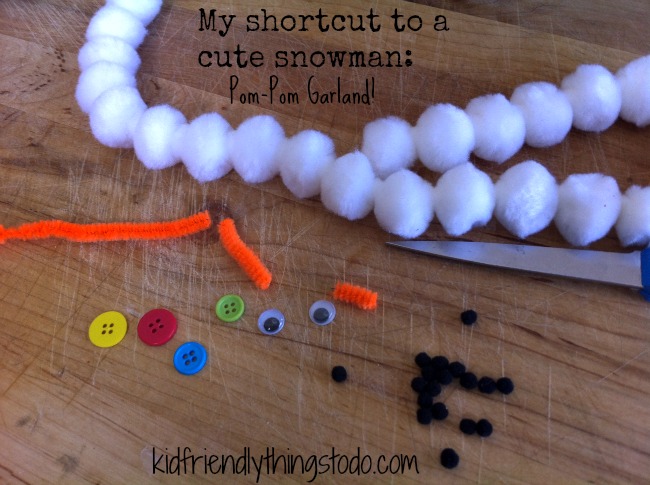 I went to my craft section to gather supplies for the snowman and saw the Pom-Pom garland out of the corner of my eye! I immediately thought of a shortcut to our snowmen. Yay! Love keeping it simple
While I was downstairs, I grabbed eyes, buttons, black pom-poms, and orange pipe cleaner – keeping our options open to whatever works
Cut a section of 3 pom-poms off of the garland – instant snowman body
Using your glue, attach the decorations. I cut a little piece of the orange pipe cleaner for his nose
We ended up just using the black pom-poms for the buttons, and google eyes
When I realized that I forgot about a supply for arms – I snapped off some twigs from some branches that I decorate with. It was far too cold and too much work to put my boots on and gather them from nature!
I cut about 1 inch off of the orange pipe cleaner and glued it to the back of the snowman in a loop. This will be what hold him to the cinnamon stick.
If you don't want to use cinnamon sticks, you can attach him to a spoon, or lollipop stick! Whatever you have around.
The flavor the cinnamon stick added to the hot cocoa was delicious.
Ella is keeping him to play with! I plan on sneaking him away for another photo opp! I have some Valentine's Day plans for him! Stay tuned!
~Melissa – KidFriendlyThingsToDo.com
Linking Up To: