Add a little touch of winter fun to your hot chocolate with this easy Melting Snowman for Hot Chocolate idea. Kids can even decorate their own snowman face before plopping them into hot chocolate and watching them melt away into a delicious drink.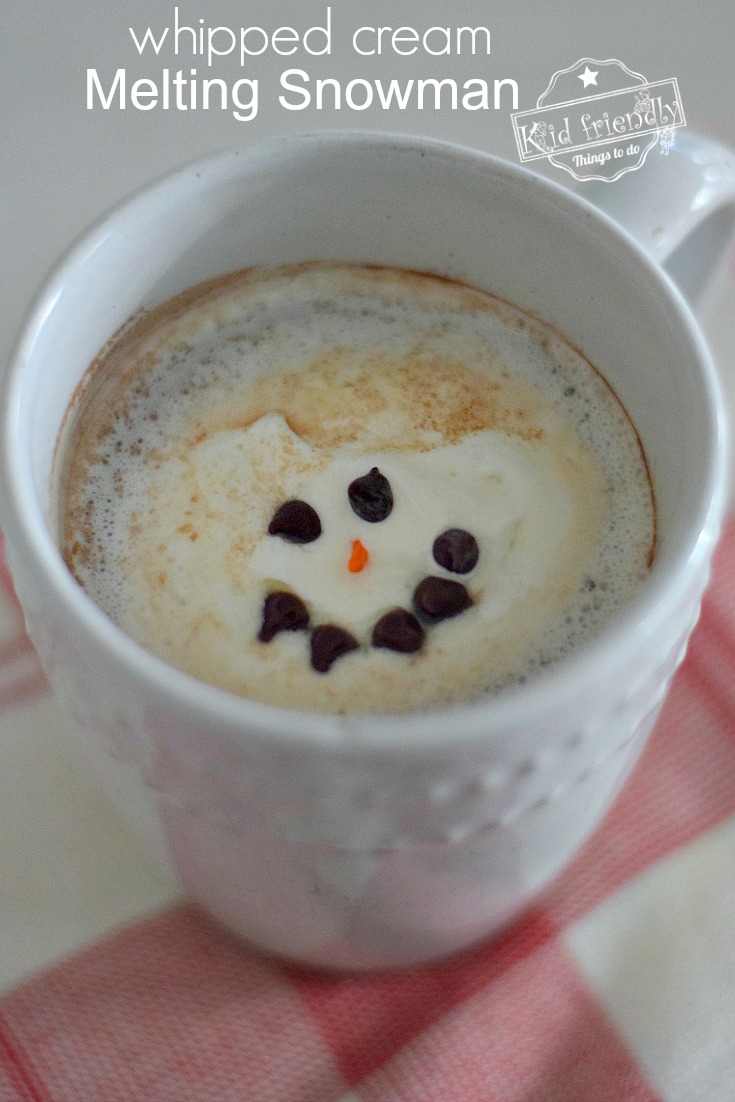 Melting Snowman for Hot Chocolate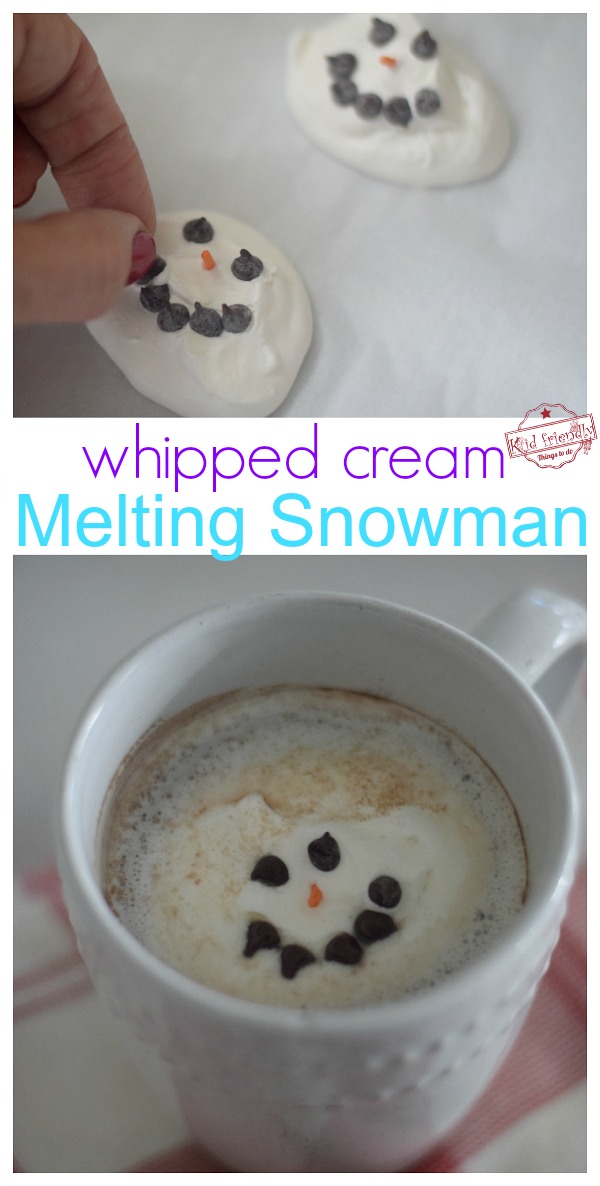 These little guys are so darn cute. They're also fun and easy to make.
Now, that winter is here, it's time for some hot cocoa fun. What's better than a warm cup of delicious hot cocoa? A warm cup of delicious hot cocoa with an adorable melting snowman on top.
Are you looking for fun holiday or winter ideas for the kids?
Try some of my other fun with food projects, like:
Tips and Tricks for your Melting Snowman:
Mound the whipped topping into tall hills. Using a small ice cream scoop that has a trigger will make it super easy to do
You can use any candy for the eyes and nose that will melt easily like, and M&M, sprinkles, chocolate chips, candy eyes and more
Make sure the whipped topping is frozen hard before decorating
Freeze whipped cream for an hour or more
Use the whipped topping in a tub as opposed to the aerosol version. It will freeze better
Here are my top Amazon Picks for this idea…
(affiliate links)
Here's What You'll Need for this fun snowman…
(printable recipe below)
Cool Whip – or whipped cream similar to Cool Whip
Wax Paper on a baking sheet
Mini chocolate chips
Mini M&Ms
wax paper
tray
(optional) Various candy to get creative with
(optional) small ice cream scoop with trigger
How do you make Melting Snowmen for Hot Chocolate?
Place a heaping spoonful of whipped cream on the wax paper lined tray and spread it around until it looks like a nice circular shape
Place the mounds of whipped topping in the freezer to set up
Once frozen take them out and decorate with the candies to resemble snowmen & snow-women faces
If they are already melting – Pop them back in the freezer for a few minutes to get nice and chilly again so you can slide a spatula under them when your ready and carefully place them onto the hot cocoa
Print
Melting Snowman for Hot Chocolate {Whipped Cream}
Fun whipped topping snowman for hot chocolate
Author:
Prep Time:

5 minutes

Cook Time:

1 hour +

Total Time:

2 minute

Yield:

varies
Cool Whip – in a tub
Wax Paper on a baking sheet
Mini chocolate chips
Mini M&Ms
wax paper
tray
(optional) Various candy to get creative with
(optional) small ice cream scoop with trigger
Instructions
Place a heaping spoonful of whipped cream on the wax paper lined tray and spread it around until it looks like a nice circular shape – making sure its nice an thick – about 1/2 inch tall so you don't loose your snowman too fast on the hot liquid
Pop the mounds of whipped topping in the freezer to set up
Once frozen take them out and decorate with the candies to resemble snowmen & snow-women faces
If they are already melting – Pop them back in the freezer for a few minutes to get nice and chilly again so you can slide a spatula under them when your ready and carefully place them onto the hot cocoa
Notes
**If some hot cocoa splashes up onto your cute snow face – and if you care – take a little spoon and carefully scoop it out. Voila' you're all done, and ready to enjoy your delicious cup of cocoa
Tips and Tricks for your Melting Snowman:
Mound the whipped topping into tall hills. Using a small ice cream scoop that has a trigger will make it super easy to do
You can use any candy for the eyes and nose that will melt easily like, and M&M, sprinkles, chocolate chips, candy eyes, and more
Make sure the whipped topping is frozen hard before decorating
Freeze whipped cream for an hour or more
Use the whipped topping in a tub as opposed to the aerosol version. It will freeze better