Yesterday, the kids came home from Grandma's house to find these fun Snowman Rice Krispies Treats and hot cocoa. Isn't that backwards? Shouldn't they get the sweet treats at Grandmas and the healthy snacks at home? I can't seem to get that right. Oh well. Come on in, and I'll show you how to make these fun and simple treats.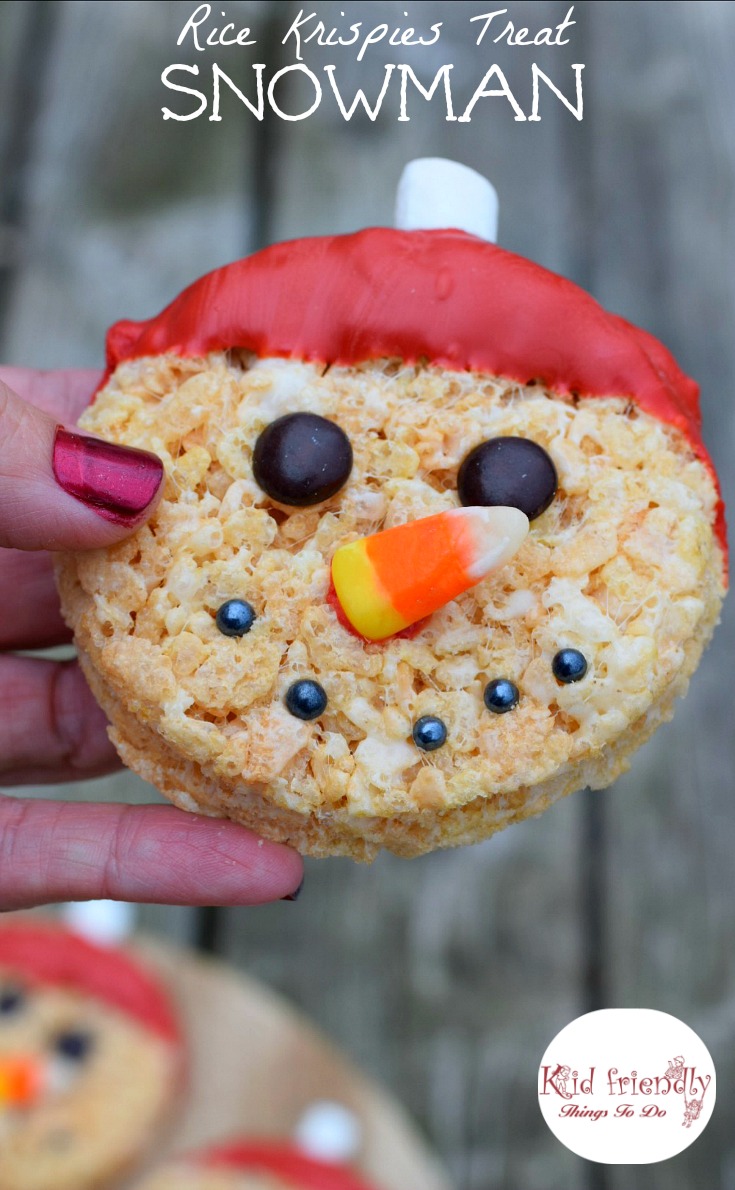 Here's what you'll need to make your very own Snowmen and Snow-Women (We don't discriminate at the Haines house) Rice Krispies Treats
(this will make between 10 and 12 treats)
3 Tbsp. of unsalted butter
4 cups of fresh mini marshmallows plus more for decorating (1 bag should do the trick)
6 cups of rice krisp cereal
9×12 baking pan lined with wax paper
round cookie cutter – I used a 4 inch, but a 3 inch would get you more treats
a small bowl of chocolate melts – any color will do, I used red
wax paper
My decorations included:

mini marshmallows
mini M&Ms – brown, for the eyes
black non-perils (little black ball sprinkles) for the mouth
candy corn for the nose
Now:
Melt the butter in a saucepan, and add 4 cups of the marshmallows
Stir and stir until the marshmallows are all melted and the mixture is smooth
Pull it away from the heat
Grab yourself a large bowl and dump the rice krispies cereal into it
Add the warm marshmallow mixture and stir until your arm feels like it's gonna fall off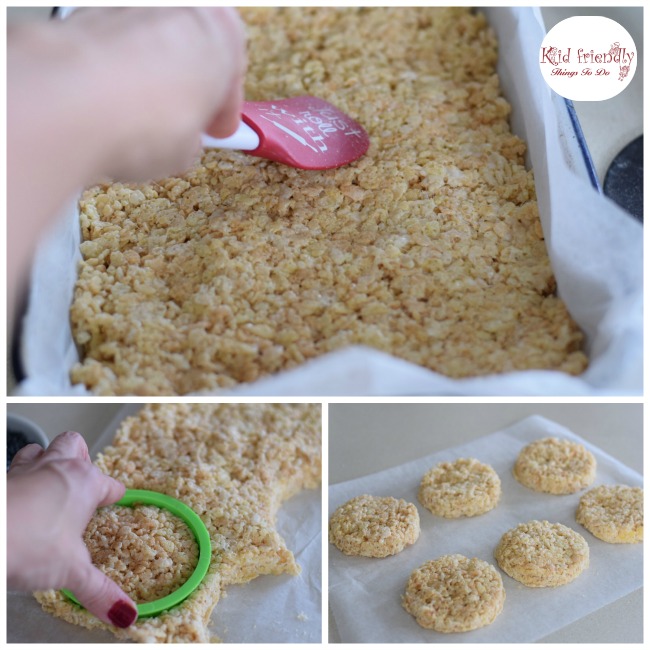 Pour the rice krispy and marshmallow mixture into the prepared pan
Press down until the mixture is nice and flat and takes on the shape of the pan
Pull the wax paper out with the cereal mixture on it, and begin cutting circle shapes with the cookie cutter
Set out another piece of wax paper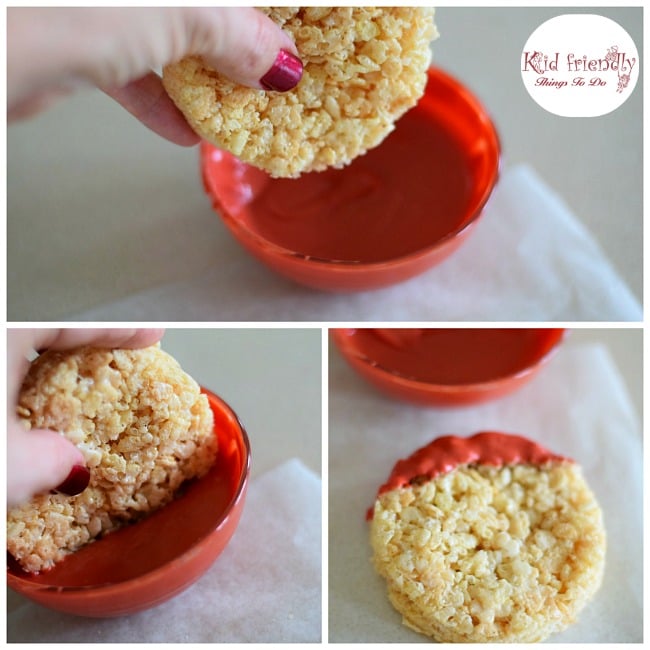 Melt your chocolate melts. I just use the microwave. I melt it for 1 minute, stir and then add 30 more seconds. Then I stir until it's smooth
Now, dip one end of the cut out circles into the chocolate and set it down on the piece of wax paper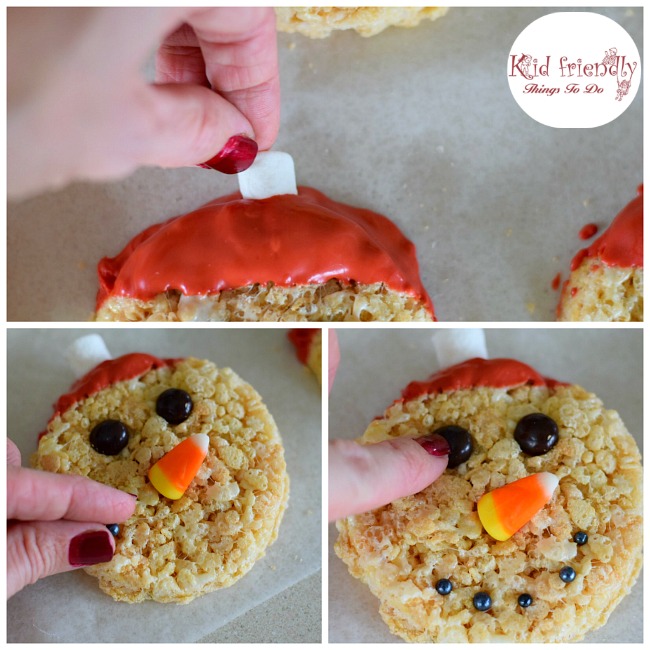 Add your marshmallow to the top of the chocolate while the chocolate is still melted
It sets up quick, so you'll want to add each marshmallow to each hat as you go
You can decorate the rest now too, or you can wait – either way is fine
When you're ready to decorate, just push the decorations into the soft faces – M&M eyes, candy corn nose, and black sprinkle smile
If you want, you can add a little melted chocolate to the back of the candy corn for added stability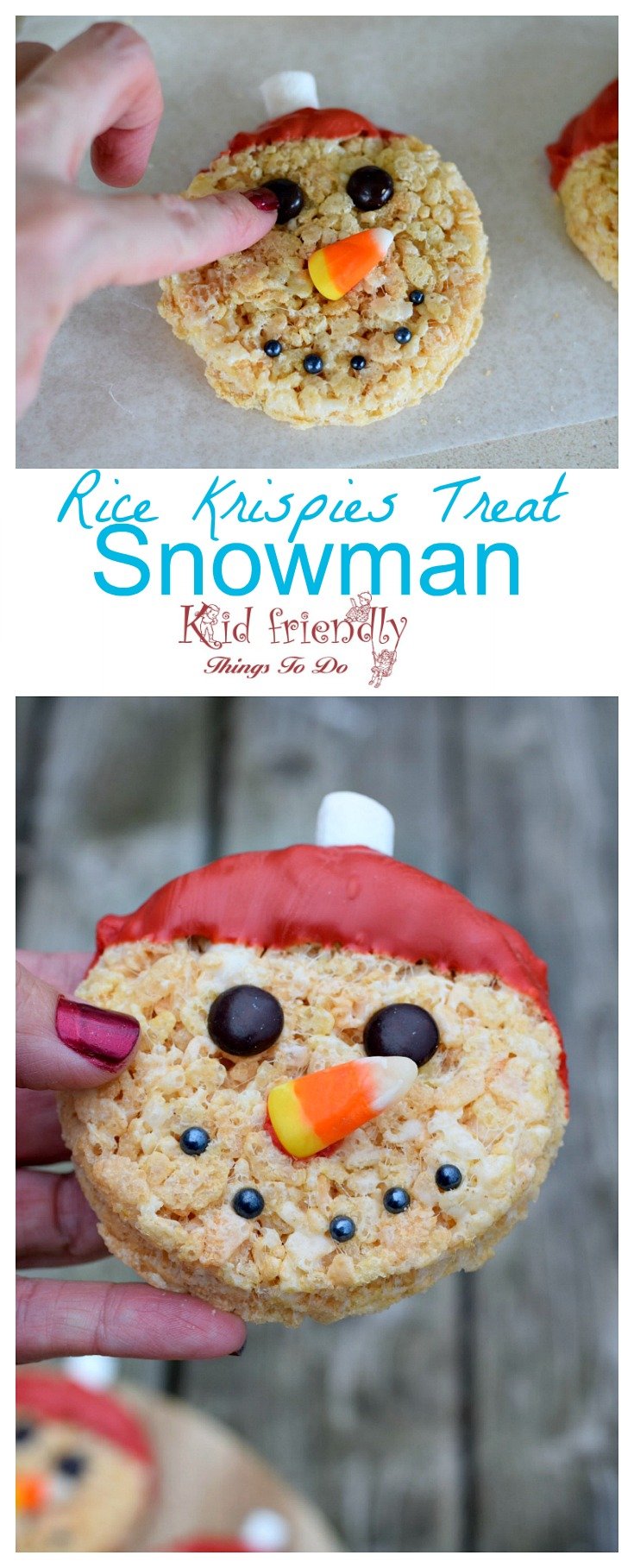 That's it! Happy Cozy Winter!
~Melissa – Kid Friendly Things To Do