These Rice Krispies Treats are just in time for Mother's Day, but they are also perfect for a spring or summer treat. Not to mention fairy garden parties and fun tea time treats. Who knew flowers could be so versatile? This might just be one of the easiest treats you'll find on this blog, too! Come on in and I'll share the "how to" with you.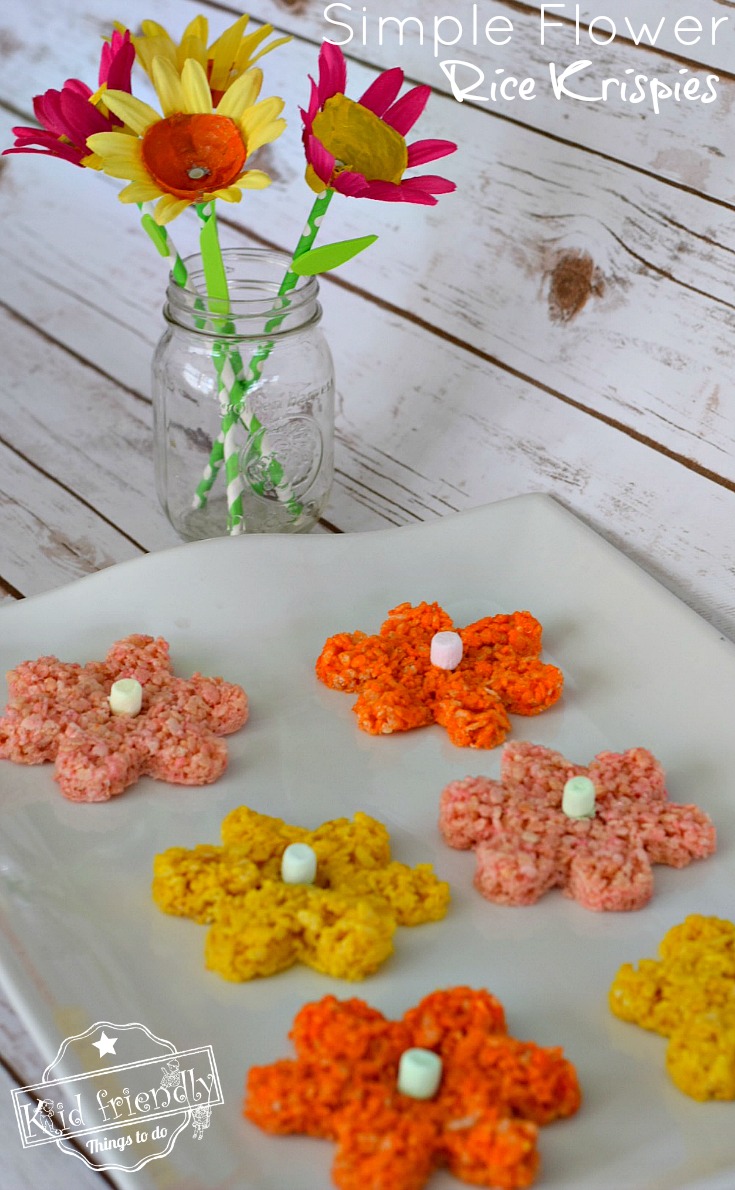 These are so simple, I'm a little embarrassed to even call this an idea.
Here's What You'll Need for these Flower Rice Krispies Treats:(makes 9-12)
3 Tbsp. of unsalted butter
4 cups of fresh mini marshmallows
6 cups of rice krisp cereal
food coloring – I used 3 different ones – orange, pink and yellow
pastel colored mini marshmallows
Extra Equipment Needed:
flower cookie cutter
medium sized saucepan
3 mixing bowls
rubber spatulas
wax paper
spray butter oil
square or rectangle baking dish
Now: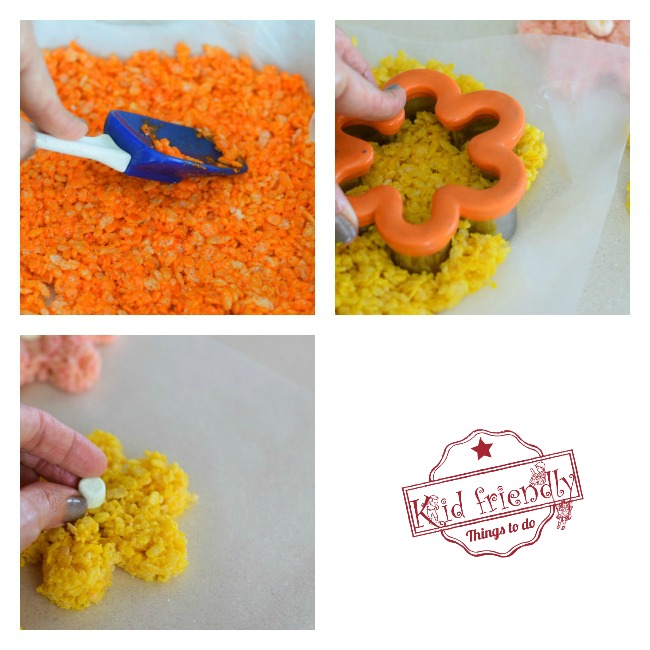 You'll first want to make the rice krispy batter
Melt the butter in a saucepan and add the 4 cups of marshmallows
stir until smooth
pour 1/3 of the marshmallow mixture into one of your mixing bowls, add a couple of drops of one of the food coloring choices you have, and quickly add 1/3 (2 cups) of the cereal
Stir until the marshmallow has coated the cereal
*Repeat with the remaining marshmallow mixture, colors and cereal
Now that you've made the rice krispy mixture:
Grab the baking dish and place some wax paper down
pour one of the colored rice krispies cereal into the pan and push down until it's flat and the thickness you want (mine were about 1/2 inches thick)
use the flower cookie cutter to cut out the flowers
add one of the colorful mini marshmallows to the center
*Repeat with the remaining bowls of rice krispies treat cereal mixture
you can push the scraps together to make more flowers or if you're like me, snack on them!
That's it! Happy spring, summer, and everything!
Here are my top Amazon Picks for this Simple Spring Flowers Rice Krispies Treats Snack:
(affiliate links)
[box] [/box]
~Melissa – Kid Friendly Things To Do