Invite the fairies to visit your Fairy Farm this summer! Complete with a little country home  and clothes hanging on the line ot dry. Check out these fun and simple ideas to make the garden even more special for the kids! Come on in and I'll show you what we've been up to and why my kids are so excited about these ideas: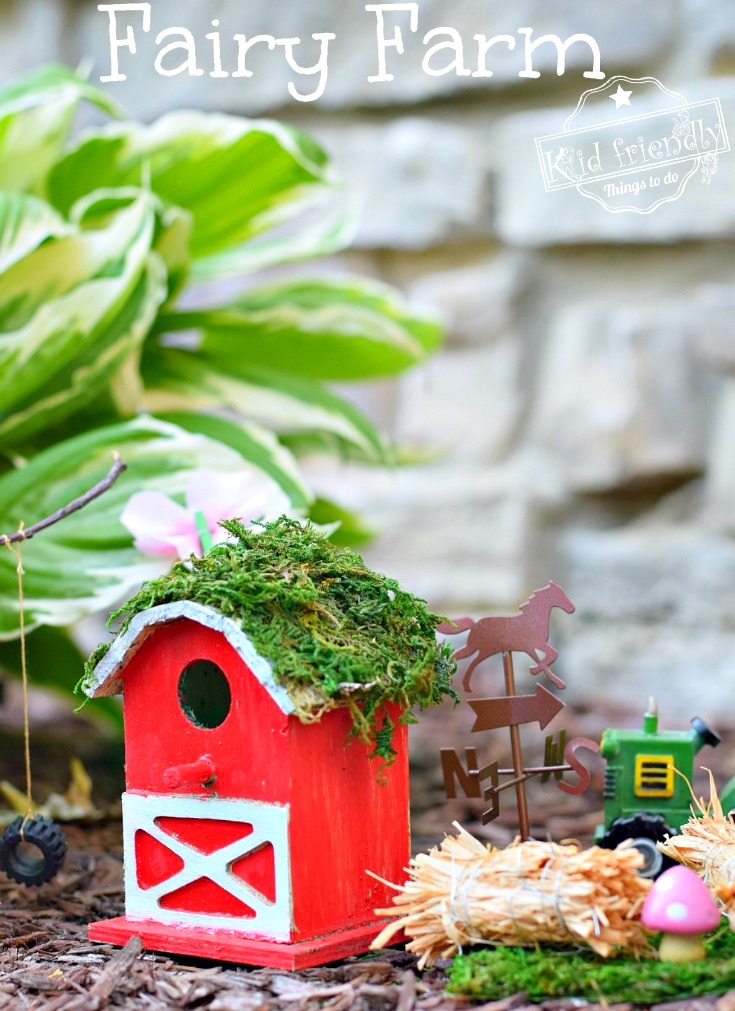 After we set up our little country home and fairy farm, Ella swore she saw a glowing light zoom past it at night! She is so excited to see evidence of fairies each morning. They always leave a little pixie dust behind to let us know they've visited. So fun!
Here's What We Made for our Barnyard Set Up:
Hay bales
Barn
Tire Swing
Here's What You'll Need for the Barn Section of this craft:
A small birdhouse barn
Red paint pen
white paint pen
moss for the roof
natural raffia
floral wire
an old lego car tire
some string
We also had:
(I found these at Michael's Craft store)
A small tractor
a weather vein
Instructions:
Haybales:
cut a bunch of raffia into strips that are about 2 inches long – bunch them together
wrap the floral wire around the raffia on both ends
Barn:
I used paint pens to paint a barn birdhouse – The kids also painted birdhouses with paint pens. It's so nice to have paint pens. Very little mess, and they can really get creative with embellishments
we added moss to the roof with a warm glue gun
Tire Swing:
I pulled a tire off of one of the kids old toys and tied some string to it
we found a twig that had an arm extending out to tie the swing onto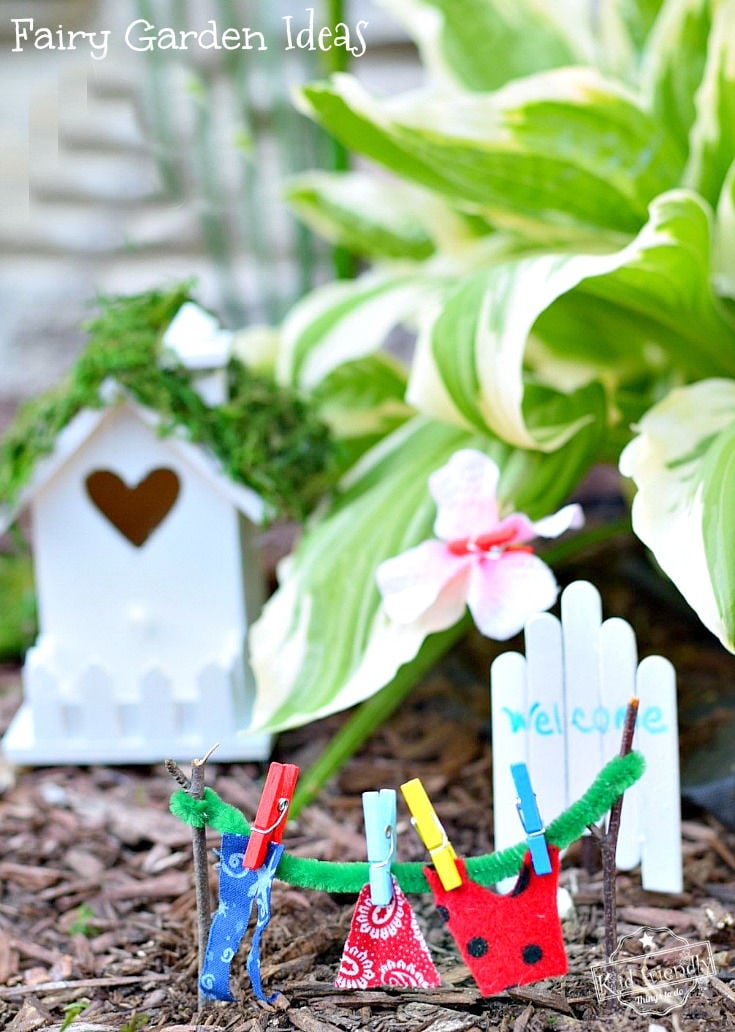 The farm comes complete with a little country cottage for the fairies. They can hang their clothes out to dry on this fun clothesline. We even have a little garden gate to welcome them home.
Here's what was made for the country home:
A house
Clothesline with clothes
a garden gate
a butterfly
You'll Need:
a miniature birdhouse that has a little fence (found mine at Michael's)
moss
white paint – a white paint pen, or white spray paint
5 medium sized popsicle sticks
a Sharpie
felt cut into clothes
mini clothespins
pipe cleaner
a silk flower petal that has 4 sections
Instructions:
House:
paint the house completely white and add moss to the roof with warm glue
Gate:
paint the popsicle sticks white
arrange the popsicle sticks like the picture of the gate and glue the sticks together – I used a warm glue gun
write welcome with a Sharpie
Clothesline:
wrap a piece of pipe cleaner around two sticks – one on each end of the pipe cleaner
push the sticks into the ground
attach your felt clothes with mini clothespins
Butterfly
pin a mini clothespin in the middle of a 4 petal flower and clip it to a leaf nearby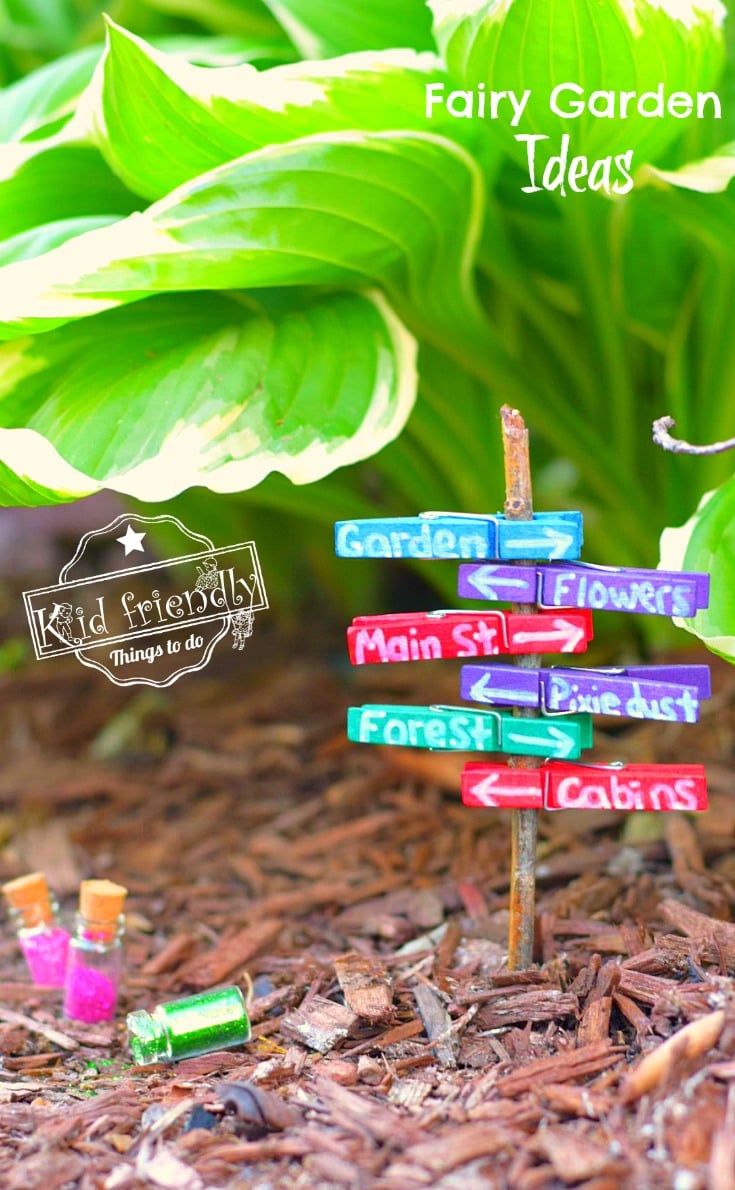 We have a sign posted to show the fairies just where to find everything, like the pixie dust in the picture.
Here's What You'll Need For the Fairy Sign:
medium colorful clothespins
fine tip paint pen – white
a sturdy stick
Pixie Dust – I found mine at Michael's Craft Store
Instructions:
use the pen to write destinations and arrows on the clothespins
attach the clothespins to the stick and push it in the ground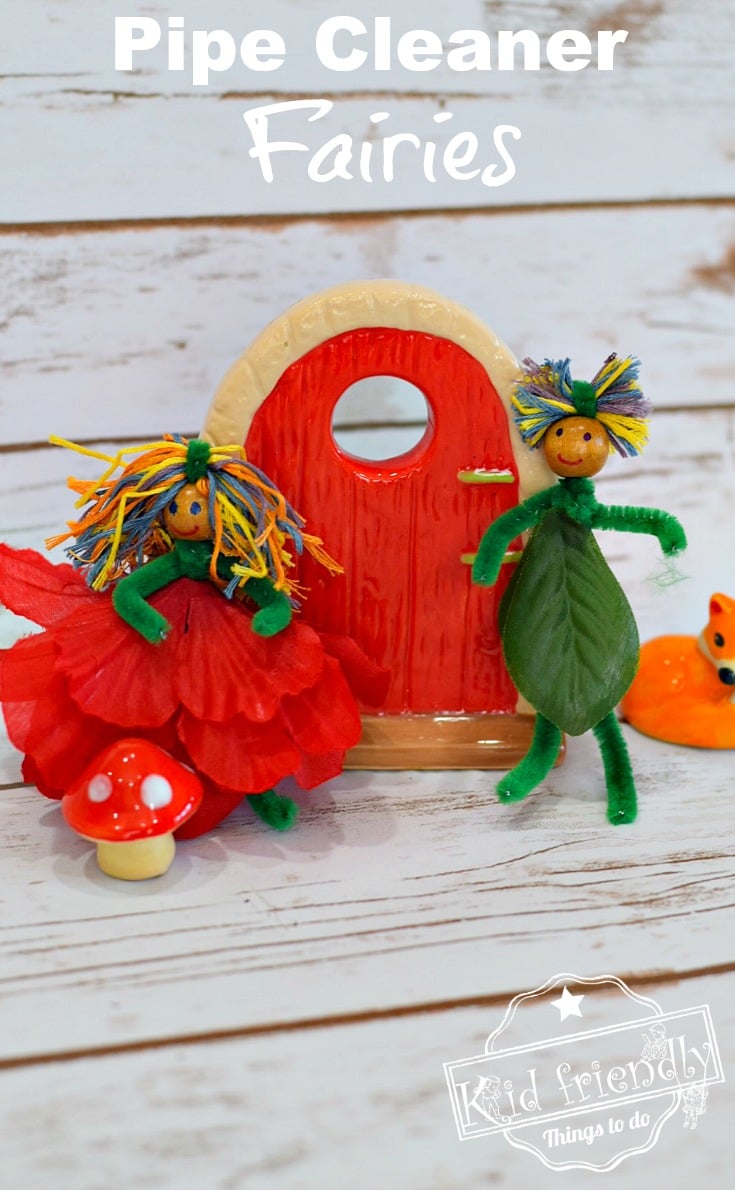 Need fairies for your Fairy Garden? Here's a link to these Pipe Cleaner Fairies