We love our teachers and we want to show them how much we appreciate them. These teacher gift ideas are perfect for holidays, the end of the year teacher gifts, and teacher appreciation week ideas.

Teacher Gift Ideas
Our school's teacher appreciation week is next week, and before you know it they will be wrapping up another year. Can you believe it's the end of the school year? Where does the time go? I don't know about you, but this time of year, I'm looking for some fun and simple DIY ideas to make for the kid's teachers. I have been searching out some good ideas on Pinterest, and I've found a few to share with you. Here's a collection of some really adorable teacher gifts from other bloggers!:
Does the end of the year make you sad like it does for me? The end of a school year is always worse than the beginning of a new one. I don't like closing chapters. It's sad for me to move on. Oh well, enough of my babbling. Let's check out some fun ideas!
End-of-the-Year Teacher Gift Ideas: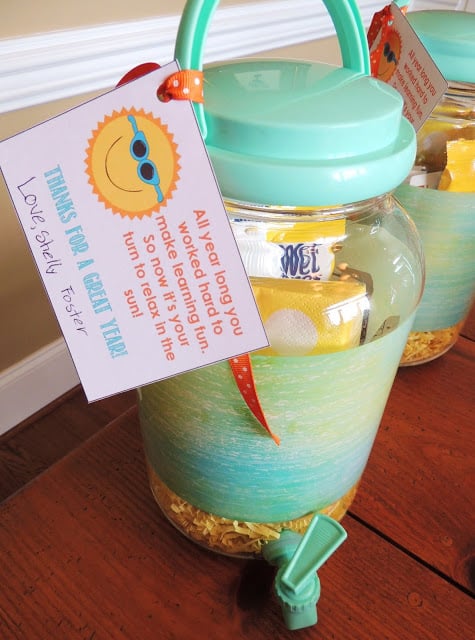 1.
Welcome your teacher into summer after a long hard year with your kiddos.
Summer Drink dispenser From Blogfork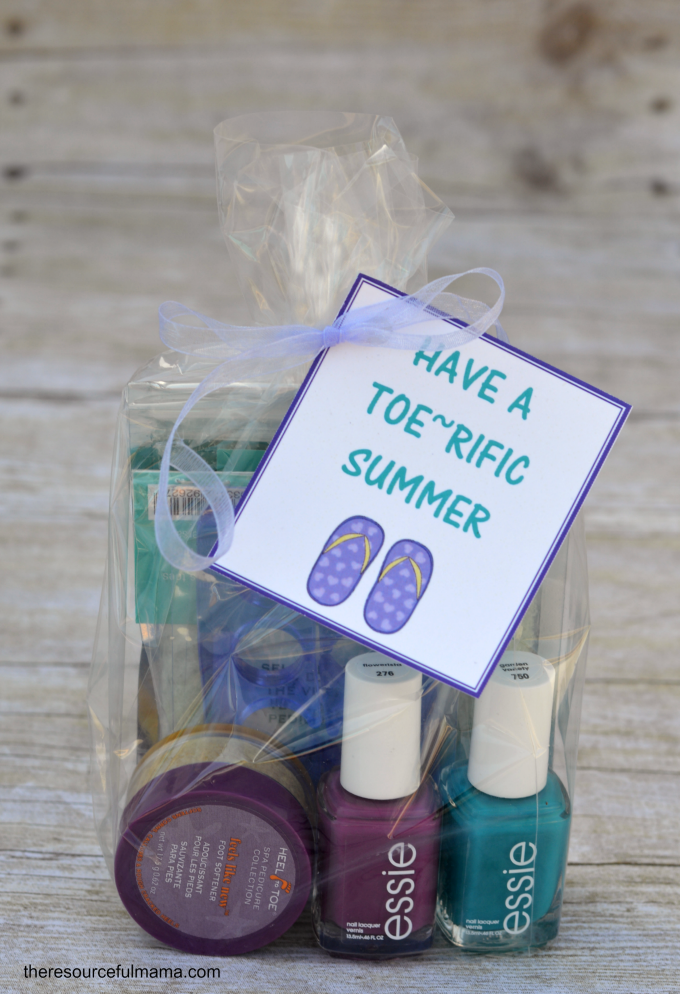 2.
Give teachers a fresh new look as they head off to enjoy their summer without a classroom full of kids.
Nail Polish idea from the Resourceful Mama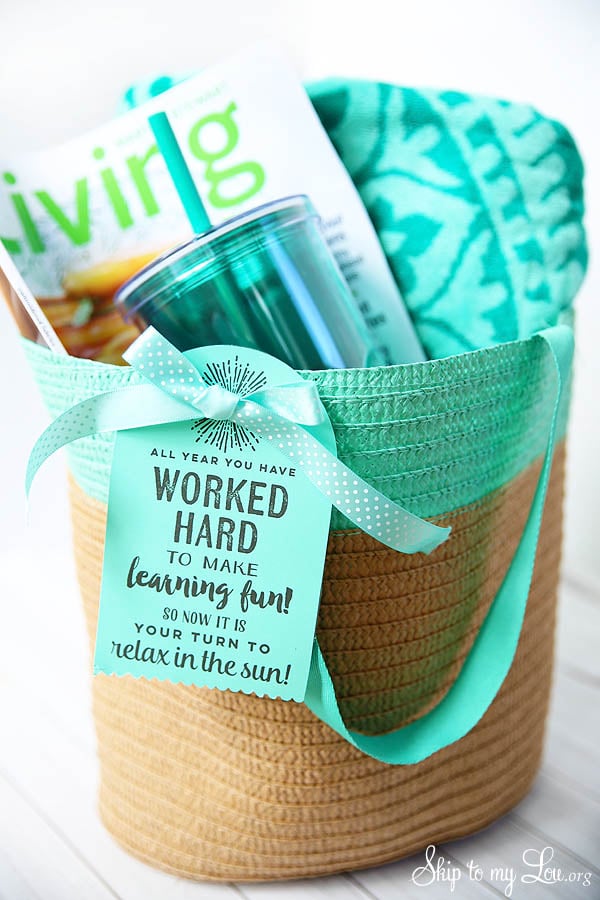 3.
Finally, teachers can enjoy summer and all it has to offer and take this bag to the beach or the pool.
Fun in the Sun Gift Bag from Skip to my Lou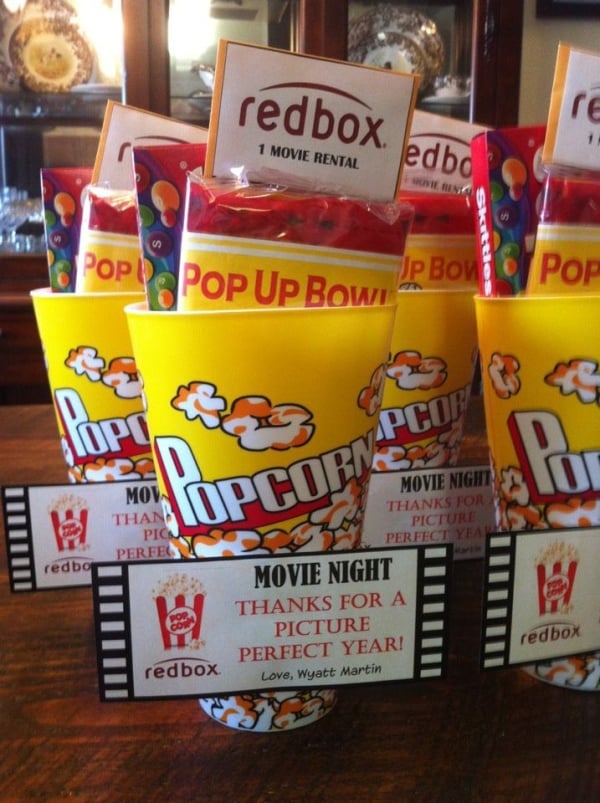 4.
Who doesn't love relaxing on the couch with a movie. This movie gift would probably also include a redbox code. You can find Netflix or other streaming service giftcards to go with your popcorn bucket and candy.
Redbox Movie idea No source
5.
This card is so sweet and heartfelt. Let your teacher know how much she meant to your and your child.
A fill-in-the-blank printable from The Suburban Mom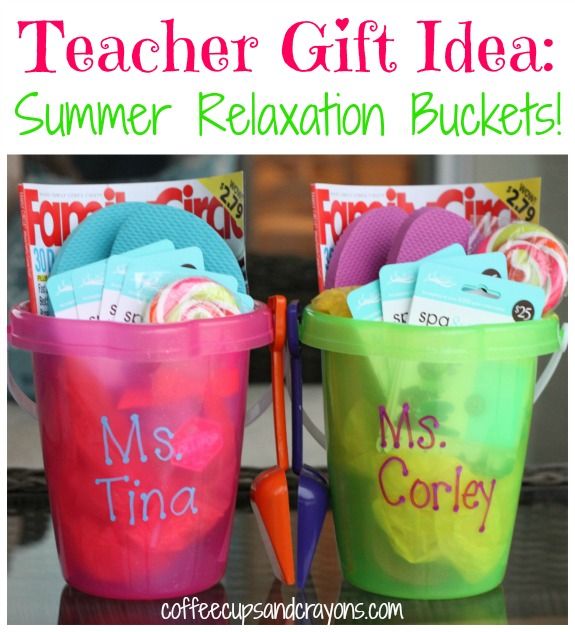 6.
Personalize sand buckets and fill them with summer essentials for teacher.
sand bucket gifts From Coffee Cups and Crayons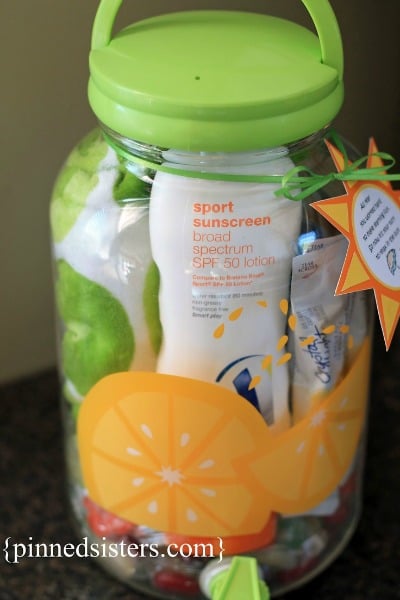 7.
Fill a drink dispenser with summer must-haves like sunscreen and tablecloths for teacher.
By Pinned Sisters! A cute collection of items for the summer. The site no longer exists – no link 
End of the Year and Teacher Appreciation Gift Ideas: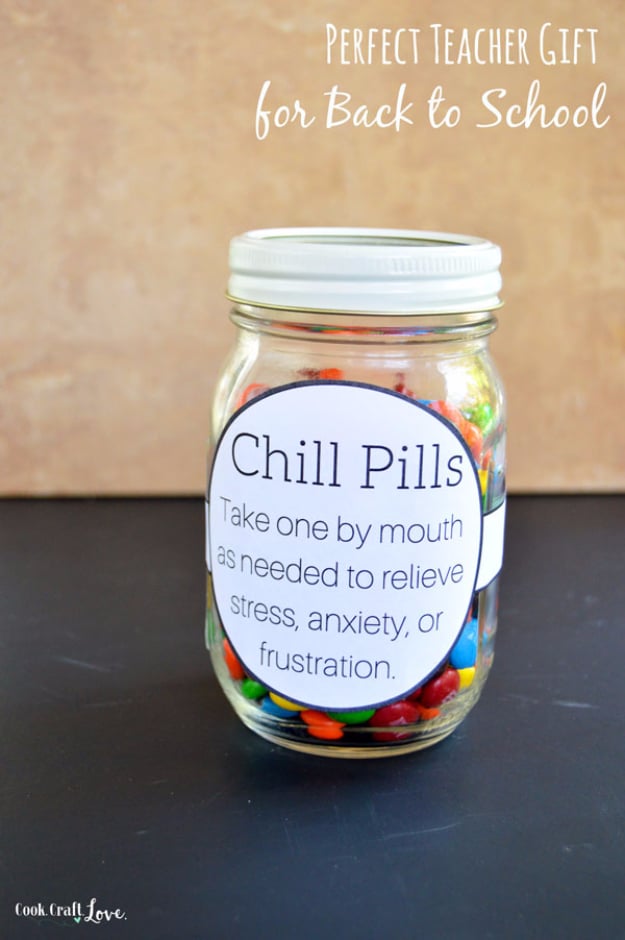 8.
This idea is perfect for during the year or after a year has ended in school. Teachers will certainly smile when they reach in for their candy chill pill. 
Chill Pills by Cook Craft Love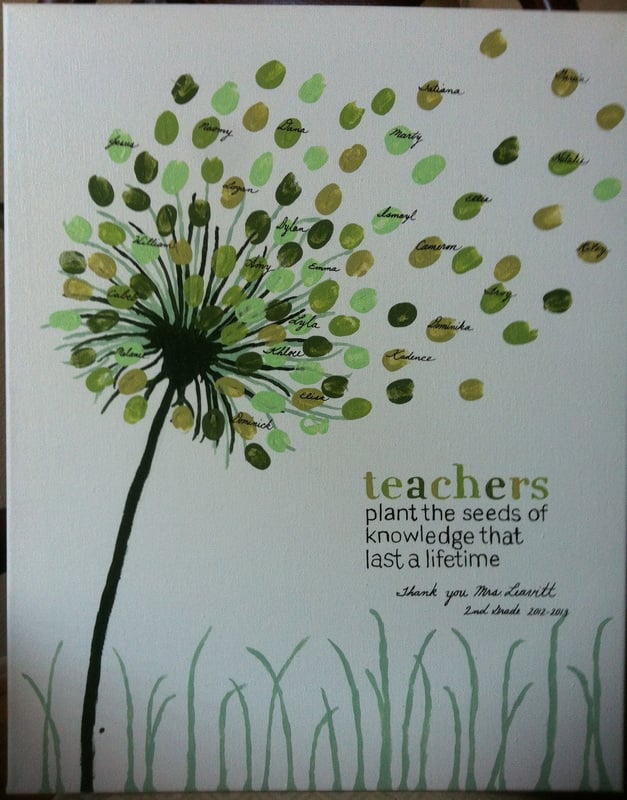 9.
This thumbprint art idea is perfect for the whole class to paint for the teacher, but that will involve some strategic planning and perhaps a room-parent to help. You could also make this from an individual student as a teacher thank you. 
Thumbprint Art Idea from all students in class From LHE Silent Auction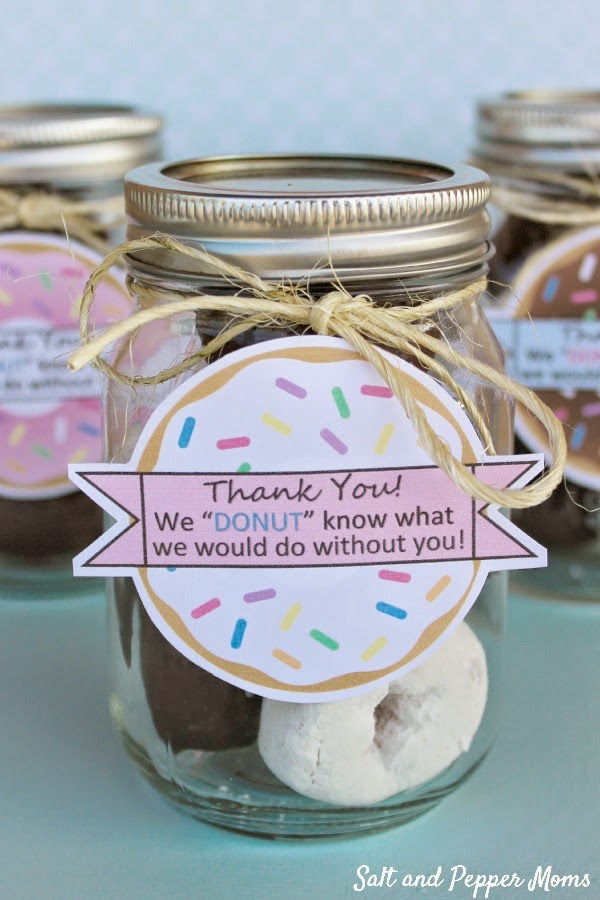 10
Oh yum! Teachers love donuts too. Add this fun thank you printable along with the yummy treat for your teacher thank you gift. 
Donut gifts by Salt and Pepper Moms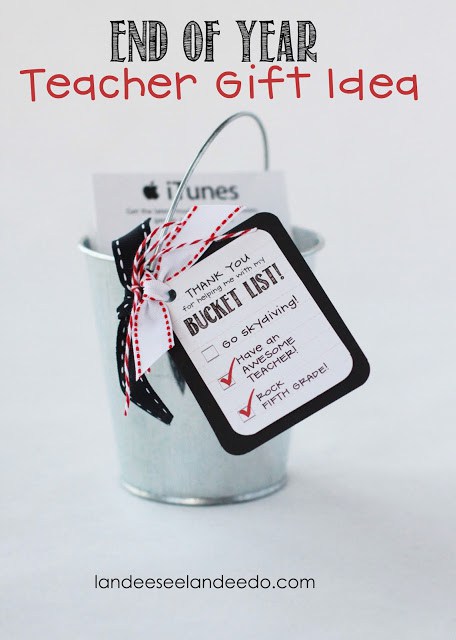 \
11.
A bucket list printable from student to teacher to say thank you. 
Bucket list from Landee Lou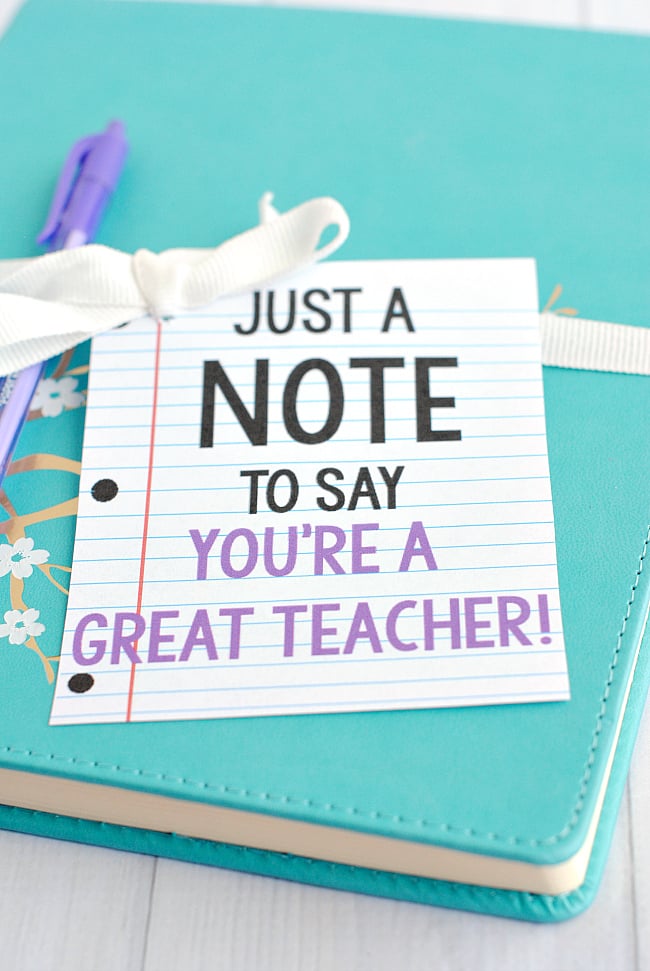 12.
A notebook or journal gift for teacher to say thank you
A notebook gift by Crazy Little Projects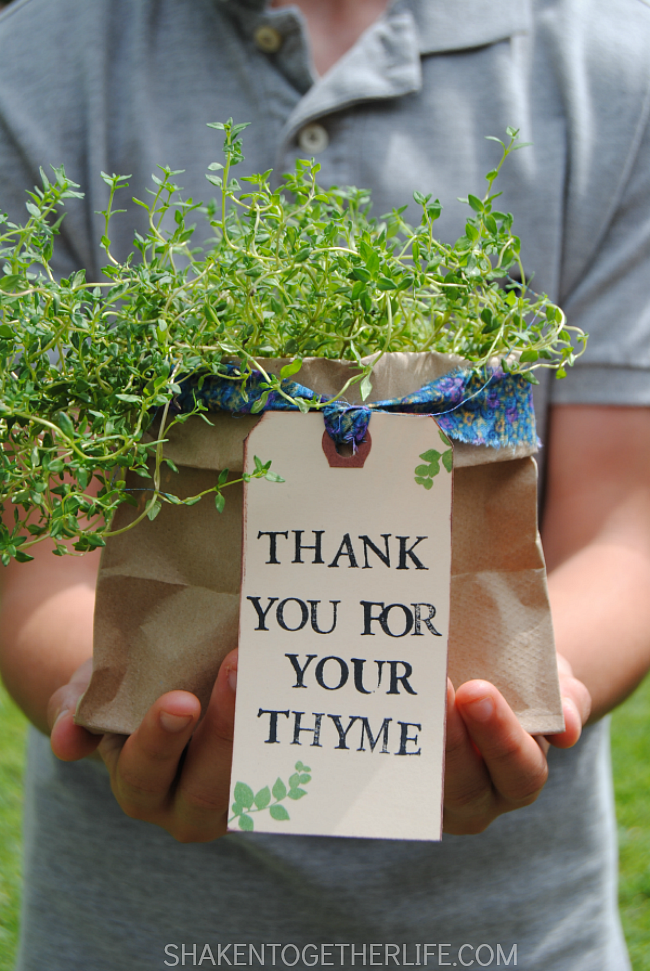 13.
Adorable herb gift idea for teacher with a fun play on words 
An Herb for their garden by Shaken Together Life
14.
Here are some great printables to pair with gift cards for teachers.
Free Printables for your gift cards by Hip 2 Save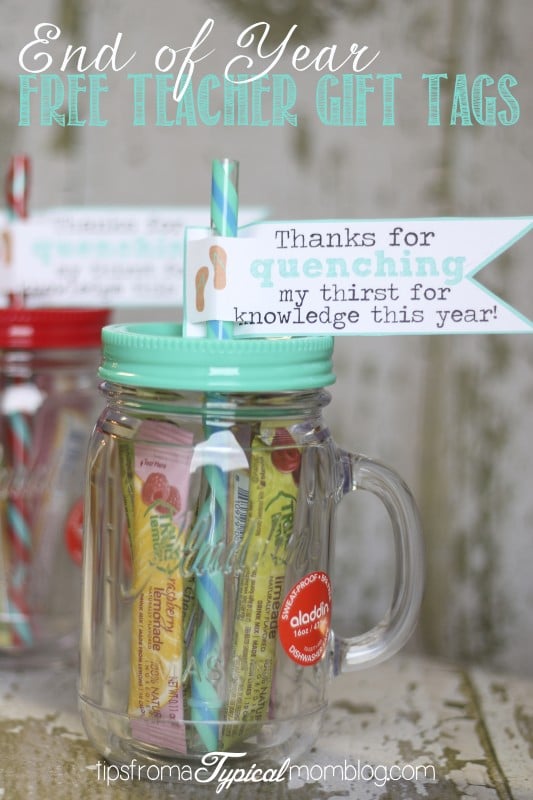 15.
Such a cute idea for a teacher's gift. Pair drink powder with a cut summer cup for a teacher. 
Drink idea from Typical Mom

16.
A sweet treat for the teacher. These chocolate pretzel bits are shaped like an apple for the teacher. 
Apple Bites from Two Sisters Crafting

17.
Turn a mason jar into an apple and fill it with treats. This is a cute teacher gift for anytime of year. 
Apple Jars from 36th Avenue
18.
Every teacher loves coffee and these Starbucks gift set ideas are perfect for a teacher thank you. 
Starbucks gift card idea from Just Add Confetti
19.
These mason jars that are turned into pencils and apples are perfect for teacher gifts. 
Mason Jar gifts from A Pumpkin and a Princess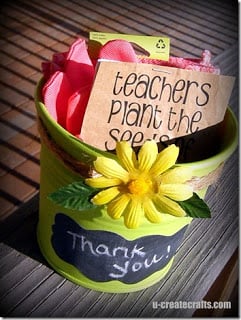 20.
I love this pot and seeds packet for teachers. Perfect for starting their summer off right. 
Seed packet thank you bucket by Skip to my Lou
21.
Give a teacher a thank you lantern or cute light and pair it with this printable. 
A lantern idea from the Crafting Chicks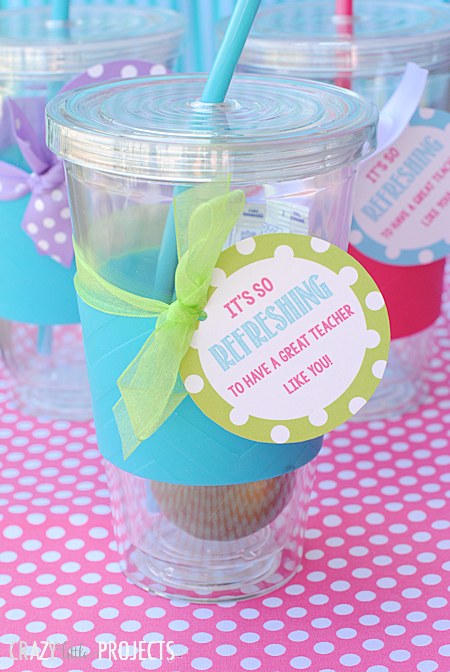 22.
Another cup idea for a cute teacher gift.  
A cup gift from Crazy Little Projects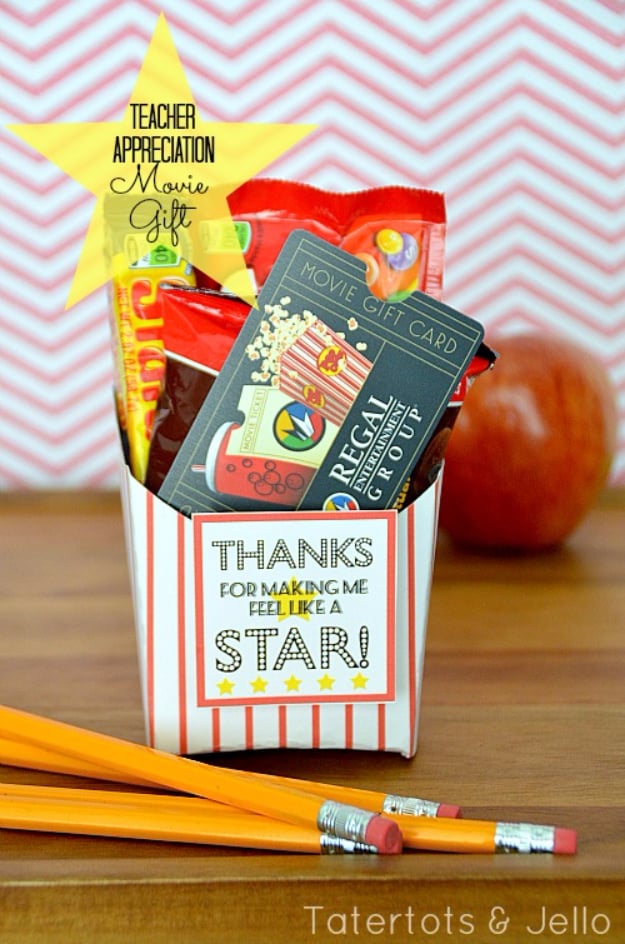 23.
This is another idea for a movie gift package to give to your child's teacher. 
A Movie Gift from Tatertots and Jello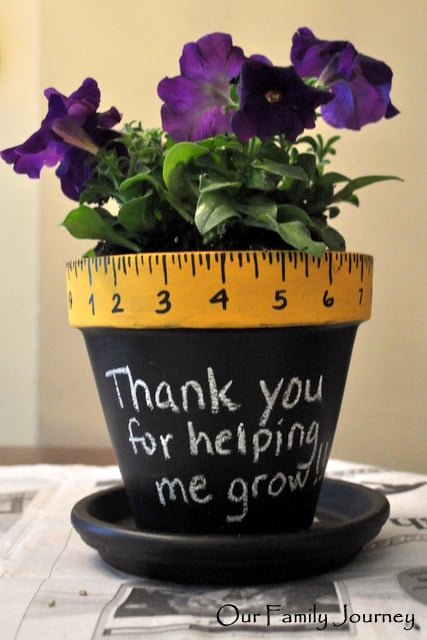 24.
Make an adorable painted pot and add some pretty flowers or a plant for a teacher. 
Chalkboard pot from Our Family Journey (could not find source)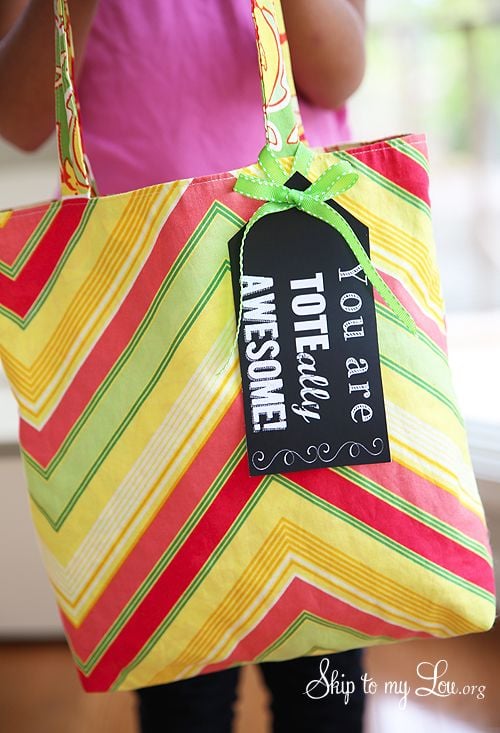 25.
Grab a summer tote bag for your teacher and add this tote bag printable
Skip to my Lou came up with You Are TOTEally Awesome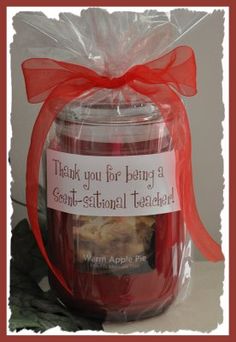 26.
A candle idea Cute and Simple – Thank you for being a Scent-Sational Teacher – no image source