Stuff The Turkey Game is an easy-to-make game that is a Thanksgiving Game for Kids. It's a fun fall game and is the perfect game for your Thanksgiving parties. It's so, so super simple to make, and a lot of fun for everyone.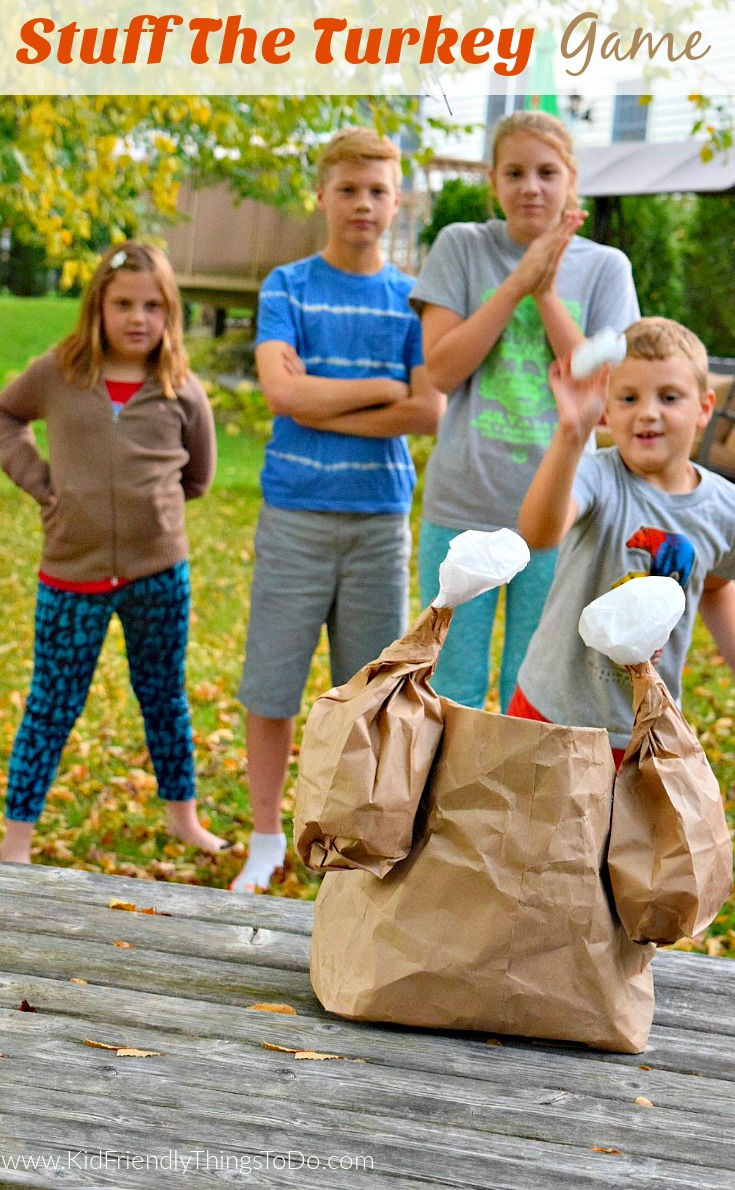 Stuff the Turkey – Thanksgiving Game for Kids
Boy oh boy, my kids have plum worn out this turkey bag. They have thrown stuffing (paper balls) into it for three days now. They just don't get tired of it.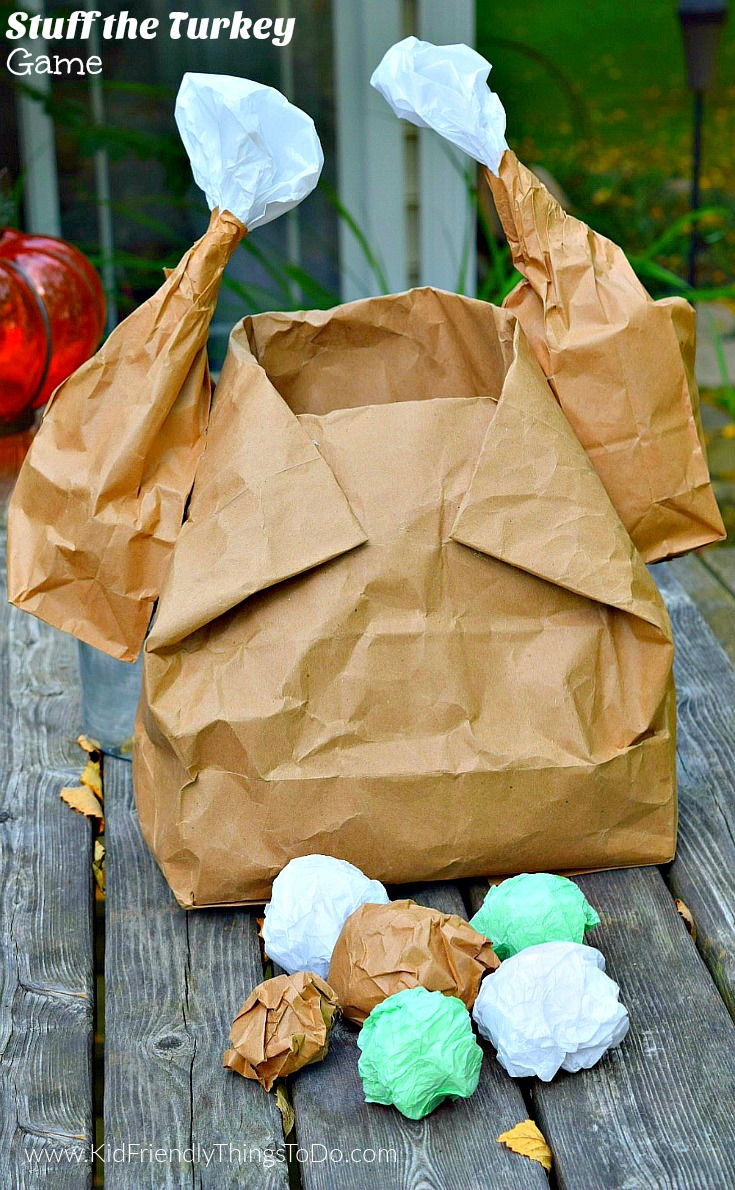 Things I love about this game…
easy to set up
endless hours of fun for the kids
a great idea for Thanksgiving

Tips and Tricks for setting up or playing this Thanksgiving game:
make this game easier or more challenging by placing the bag, close, far away, high or low
stuffing has a lot of different ingredients that you can find paper to represent – white for onion, brown for bread, green for celery, red for cranberries, etc…

More Thanksgiving Games to Try
Haystack Bowling Game – A fun outdoor game for fall and Thanksgiving
Turkey Leg Ring Toss Game – Use glow-in-the-dark necklaces to ring the turkey leg
10 Minute to Win It Thanksgiving Games – Rip-roaring hilarious games to play with the whole family
Are you ready to play this fun fall game? Let's make sure you have everything you'll need…
Supplies You'll Need:
1 large paper bag
2 small brown paper bags
scrap pieces of paper or newspaper
2 pieces of white tissue paper
Stapler
Warm glue gun and glue sticks
White paper for onions, brown paper for bread, green paper for celery
Instructions: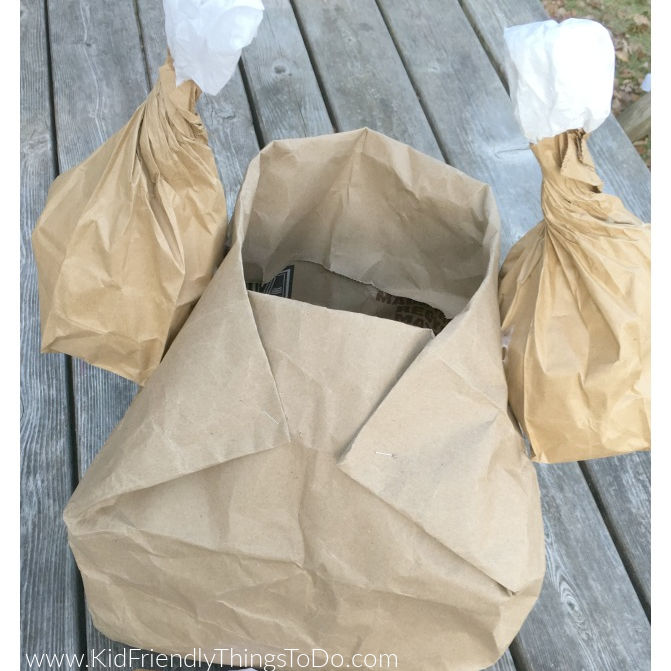 My bag had a LOT of advertisement on it, so I slowly, and carefully turned it inside out
Once you have your bag all set and ready to become a turkey, fold the top down toward the inside of the bag. Make the fold about 4 inches long
Take the two front edges of the bag, and fold them in like you're wrapping a present
Staple those two folds down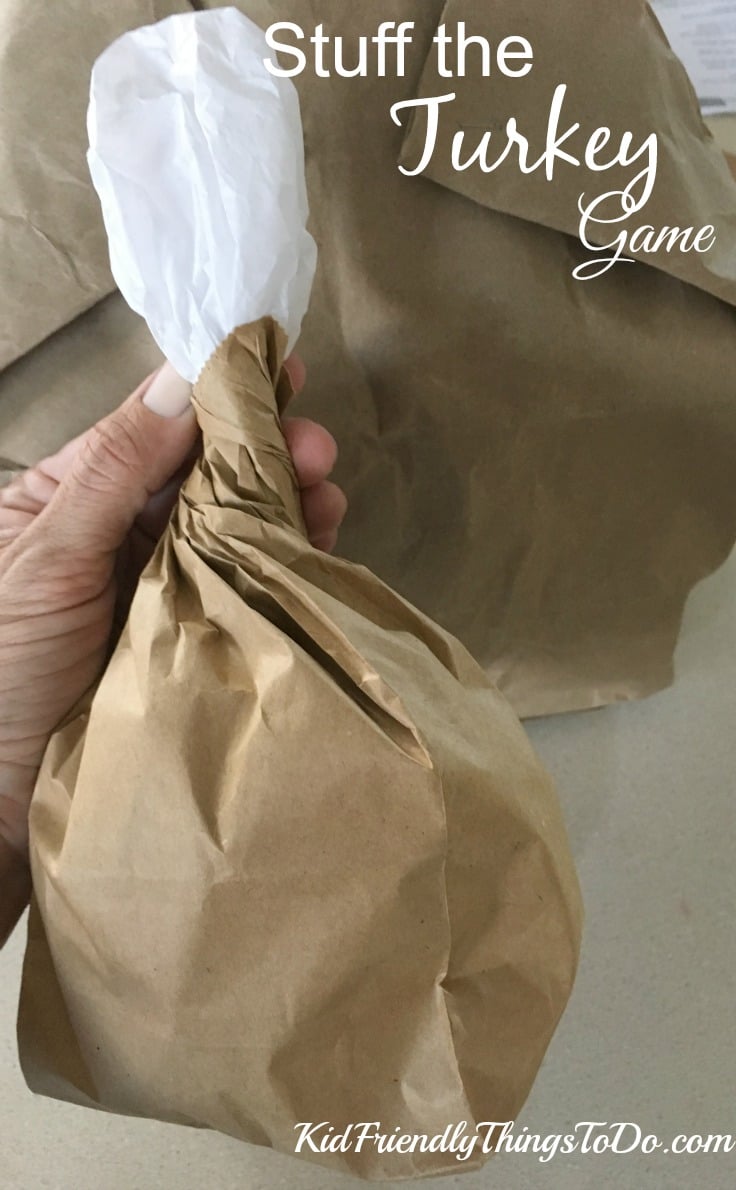 Take your scrap pieces of paper and wad them up
Stuff the bottom of the 2 small brown bags with the wadded-up paper
Place the ends of the white tissue paper down into the bags with only the end peaking out about 1-2 in.
Twist the top of the bags around and glue or staple to secure
Glue the turkey legs onto the big turkey bag
Wad the pieces of paper up (the brown, white, and green) and glue them into balls
  Now…set the turkey up on a table, and stuff it! You'll want to make it hard on the big kids.
*You can set up high, low, far away, or even blindfold the kids. 😉
~Melissa – KidFriendlyThingsToDo.com