For whatever reason, I am on a slime kick this summer. My kids can't get enough of the texture of slime through their fingers. Bear with me while I throw out a couple of Halloween Slime Activities over the next couple of weeks. They are really sort of the classic recipes with some fun ways to display them. This one is my Witch's Brew Glitter Slime Recipe for a Fun Activity with the kids this Halloween.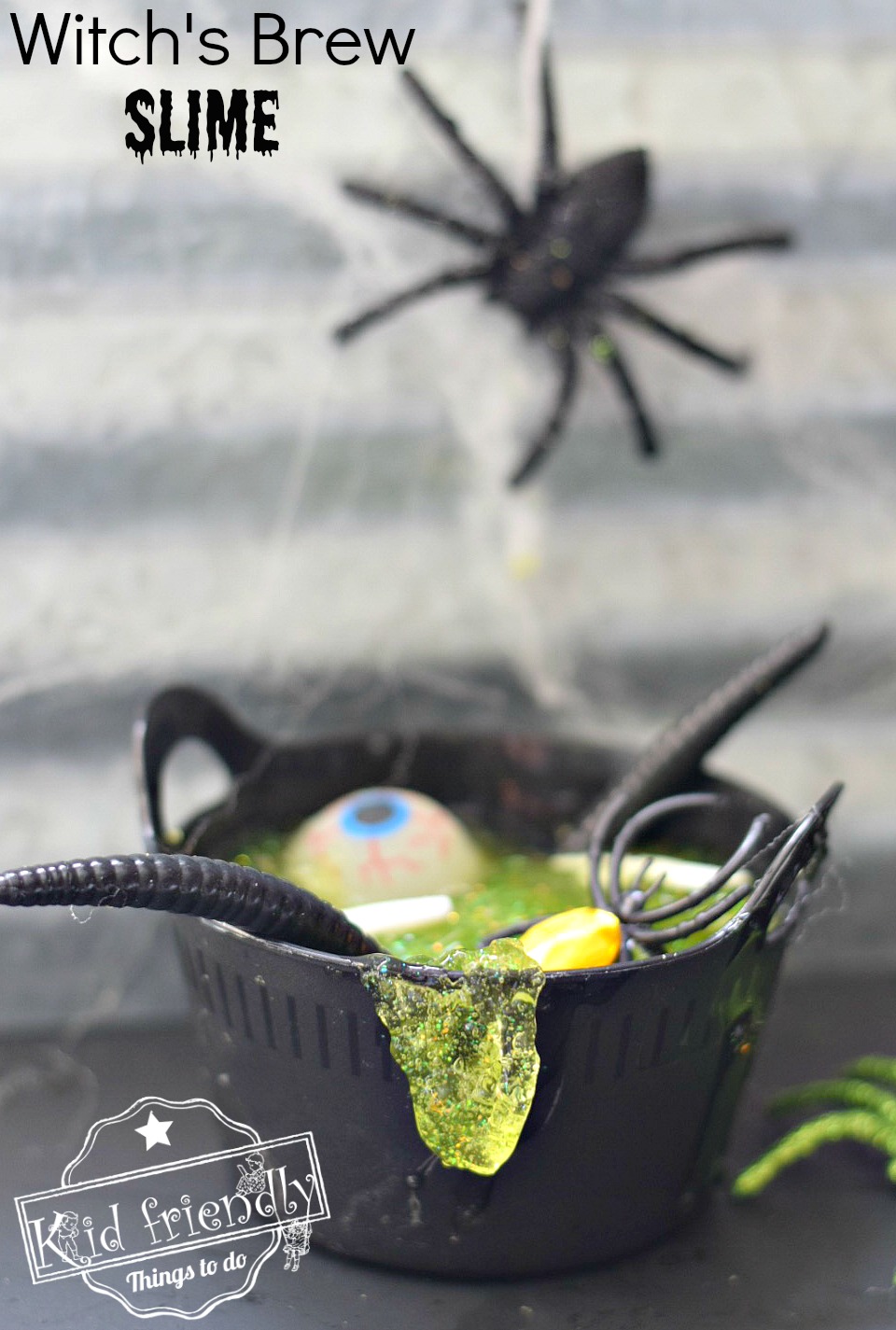 I thought it would be fun to take an ordinary sensory slime recipe and add witch's brew ingredients. Of course it wouldn't be a brew without a cauldron, so that's what we are going to put it in. I think this would be such a fun activity for a Halloween Party and a fun party gift for the kids to take home.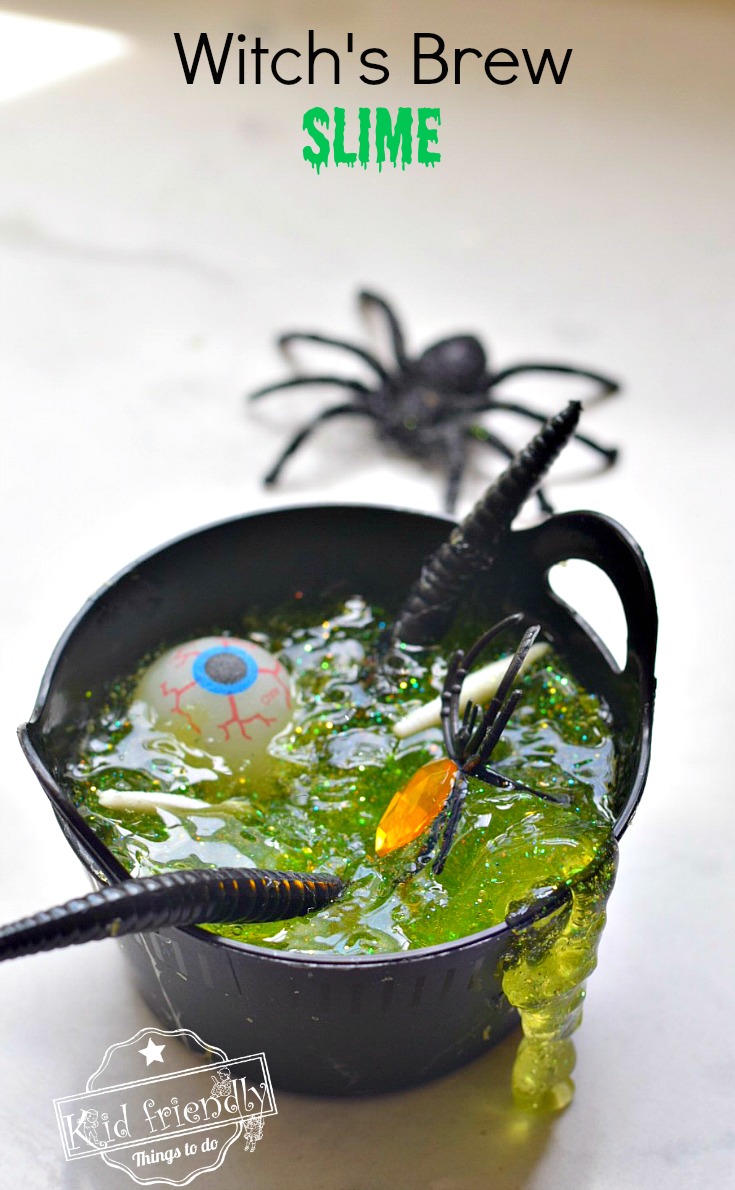 I have to tell you…the teenagers love this stuff as much as the kids. My teenager gets home from school before the little ones. I was actually hiding the slime (I know, mean!), because I wasn't sure that my pictures came out. I didn't want the kids adding their stamp on the slime until the pictures were, for sure, done. Abi immediately noticed slime ingredients and kept bugging me to let her squish the slime. My younger kids are usually the ones that bug me to buy more glue colors, and whip up a batch over the weekends. I didn't really know that my teenager was just as obsessed. It's a lot of fun for me, so it should've been a no brainer that a teenager would love it too.
Here's What You'll Need For This Witch's Brew Glitter Slime Recipe for a Fun Halloween Activity with Kids and Teenagers too
1 cup of really really warm water – warm enough to dissolve stuff, like salt or similar substance – cold water does not do as well
6 oz. of Green Glitter glue
1/2 cup of more warm water plus
1 tsp. of borax
Fun rubber eyes, rubber worms, maggots, spiders, etc… to push into your cauldron of slime
little cauldrons for a fun container
In a large bowl, mix the hot water with the glitter glue
*if you want extra glitter, now is a good time to add it
In a separate container, mix the rest of the water and borax
Pour the borax mixture into the glue mixture and mix in
As long as the slime has cooled enough to touch it – Let the kids mix the rest of the slime mixture with their hands and push the fun spooky objects into it
*I know that my eager kids can't wait to pick their slime up, even before it has all had a chance to congeal. Don't worry, the watery stuff that's left in the bowl will turn into slime, too. Give it a day or so, give it a good mixing, and it will solidify.
If you don't really care for using Borax in slime…here's an alternative recipe for your glitter slime that uses baking soda and contact lense solution – interesting! Click Here to go to Elmer's Glitter Glue Slime Recipe
Precautionary note: As always – be sure to supervise your little ones with slime. The slime is not meant to be ingested. Wash hands after playing with any slime activity.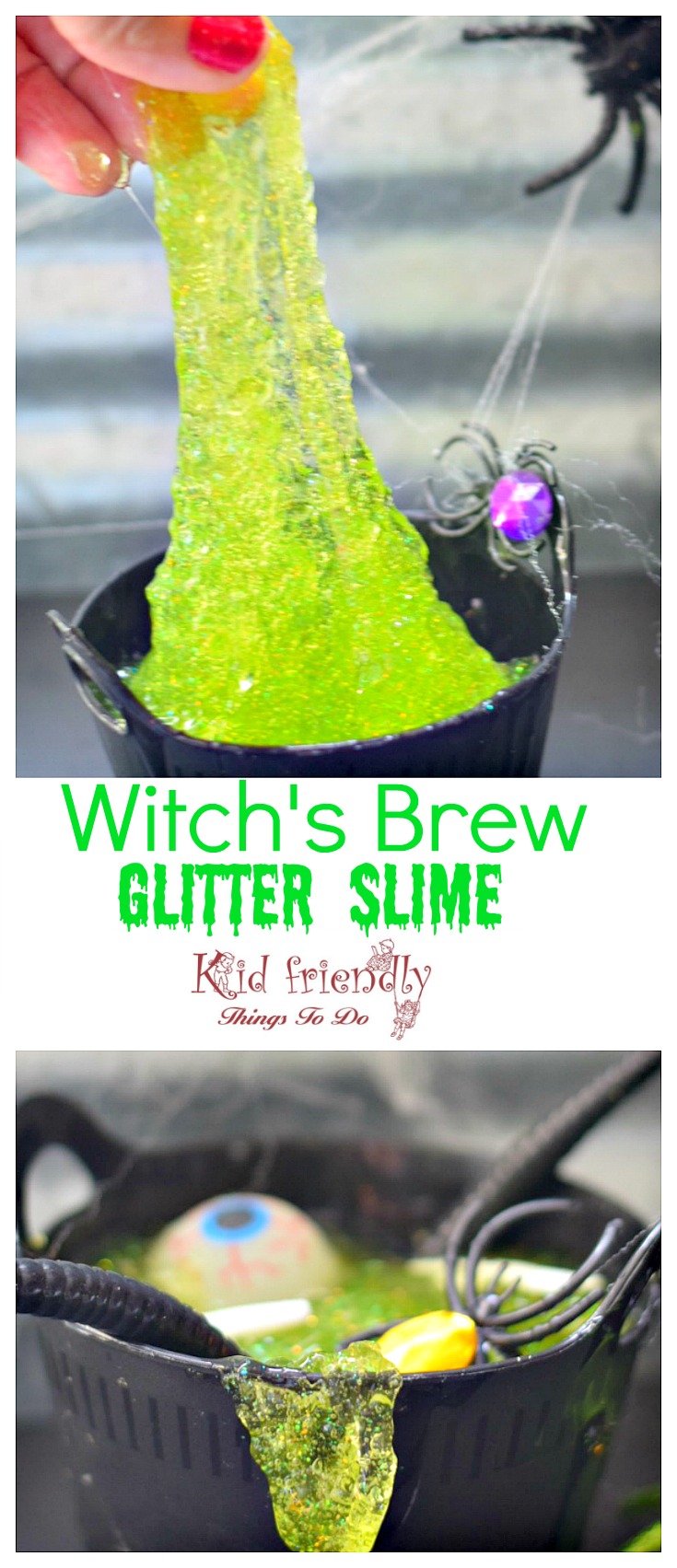 A Note about Storing your Slime – This slime recipe is really best when played with immediately. But, you can store it in an airtight container for more fun the next day. What you should expect from next day sensory slime is a very different kind of play. It may have thickened up a bit more. Any type of sensory object that you add to a slime recipe will not bind with slime for an indefinite period of time. When your children play the next day, the objects will pop out of the slime. It's a totally different kind of fun to watch the objects burst out of the slime and bounce everywhere. Put the slime and objects back in your container, and – in a little while – the slime will ooze back around the fun toys for repeated fun!
Here are my top Amazon Picks for this Witch's Brew Glitter Slime Recipe for a Fun Halloween Activity with Kids and Teenagers
(affiliate links)
[box] [/box]
I hope you enjoy this fun Halloween Activity. Please do follow me on social media or subscribe to get my latest and greatest ideas and posts.
Happy Halloween!
~Melissa – Kid Friendly Things To Do