This Easter Bunny DIY craft is so cute! My 7 year old, Ella convinced me to do this craft with her over the weekend. I have to say, I was really not all that enthusiastic about gathering supplies for a bunny box. Ella had found this craft in a book I brought home from the library, and she was determined to do it with me. So, I pushed on, and I'm so glad. This has to be one of my favorite Easter crafts! It doubles as an Easter Basket. As a matter of fact, Ella loves it so much that she is replacing her fabric Easter Basket with the bunny basket, this year. Here's what you'll need to make your own:
A box – We used a Saltine Cracker box
A small white paper plate – about 7 inch
2 Large google eyes – about 1&1/2 in. in diameter
Light blue foam sheet
White paper or foam sheet – 3 sheets
Pink paper or foam sheet
Spring color pipe cleaner
Large pom-pom – spring color – pink, purple or blue
2 pink pipe cleaners
1 pink foam heart
Fiber-fill
Hot glue gun
Instructions:
Head
Add some hot glue to the front of the paper plate, and fill it with fiber-fill
Cut bunny ears out of one of the white sheets of paper – ours are about 2&1/2x6in.
Cut pink to inside about 1&1/2 inches by 4in.
Glue the pink and white ear pieces together, and glue them to the back of the paper plate
Bend both of your pink pipe cleaner into Vs and place the heart sticker in the middle for the nose and whiskers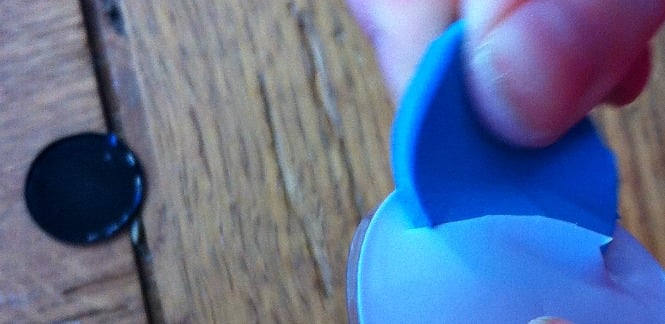 Turn the google eyes around and cut a slit out of the back – large enough to pull the black insert out
Cut 2 round blue pieces – a little larger than the black inserts and stuff those into the google eyes. These will replace the black round pieces
Glue your whiskers and eyes on the front of your fiber-fill paper plate
Body
Laying the box on it's side, cut one side out completely for the top of your basket
Wrap the outside of the box in white paper and glue to secure it
Glue the box to the head
Glue fiber-fill to the outside of the box, over the white paper
Glue some fiber-fill to the back of the head
Add a large pom-pom to the bunny's bum
Attach pipe cleaner somewhere on the top of the box as the handle. We poked a hole in both sides of the box, inserted both ends of the pipe cleaner and bent them tight to hold it in place. I added a dab of glue for more strength
Equipment Needed
[box] [/box]
Don't miss a thing! Follow along with me for more crafts, recipes, DIY, home & garden, and more!
~ Melissa – KidFriendlyThingsToDo.com