In the summertime, I love to take the kids to drive in movies! It's a fun way to experience a movie, and having so many kids…it really saves us money! Drive Ins are a little piece of the good ole' days! The big screen in the sky, is making a come back, and we are on board! Last night, we were lucky enough to see Monsters University. In honor of our fun summertime movie adventure, I made these really simple Monsters University cupcakes! Pressed for time, my thought was…"keep it simple!" So, when I saw the Monsters University Logo was a letter M with an eyeball, I was all over it! I think these would be so fun at a Monsters University birthday party. They only require a few items. I'll walk you through what I did to make these cute cupcakes:
You'll Need:
Cupcakes frosted with monster green frosting – If you look in the baking aisle, you'll find neon gel food coloring! The green neon mixed with vanilla makes a great Monster Green! Or, just use a tiny bit of primary green with white to get a Monster Green
A letter M mold – I used a Jello Jiggler "M". If you can't find that, try the play-dough section for letter molds, or cookie cutters
Blue Sugar Crystals
Mini Marshmallows – ones that are a little stale work perfectly! Leave some out in the open air (overnight) to harden up a little bit. Trust me! It's far less sticky!
Mini blue M&Ms
Scissors
Wax Paper
Rolling Pin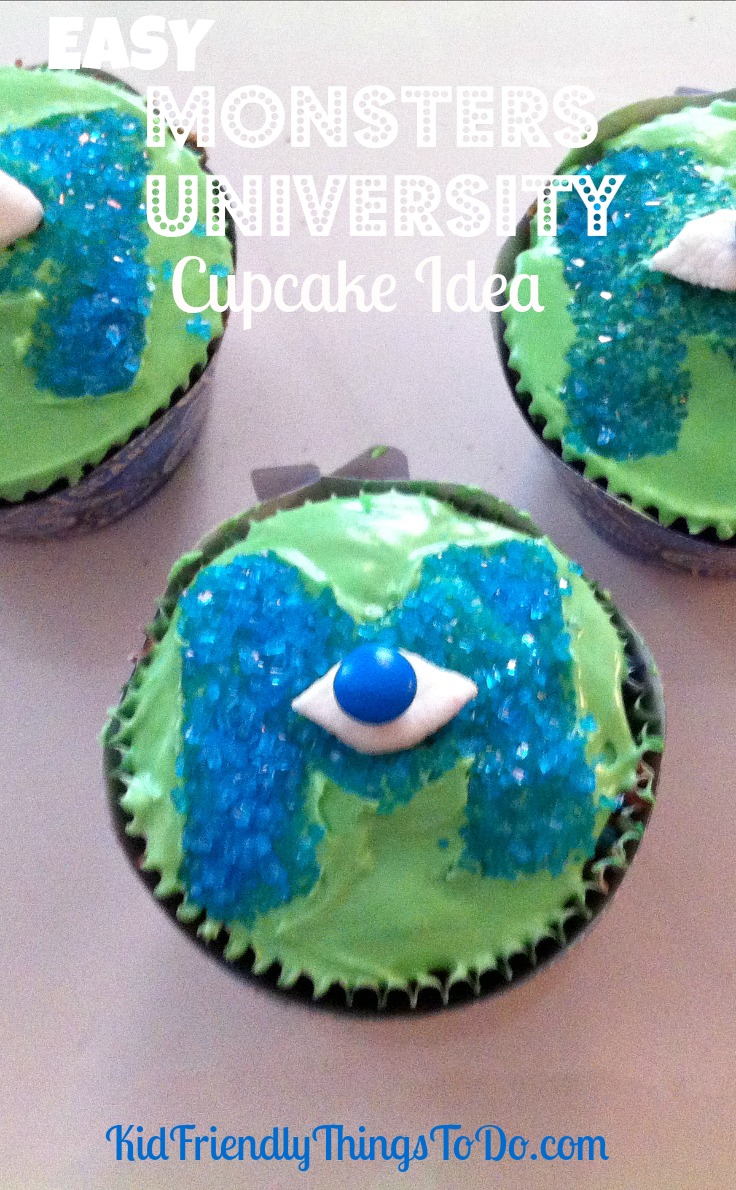 Now, on to the Monster Fun!:
Using the letter "M" mold, place it on the center of your green frosted cupcake, and shake the blue sugar inside the mold
Lift the "M" mold off of the cupcake, and do the same with the rest of your cupcakes!
Now, place a mini marshmallow between 2 sheets of wax paper, and roll it flat
Using scissors, cut each mini marshmallow (one for each cupcake), into eye shapes – like the picture above
Place those into the center portion of the blue sugar M's
Add a blue mini M&M to the center of the white eye gluing it down with your extra green frosting!
That's it!
Enjoy your Monsters University Party!
OR – the drive in!
Good Times With Friends!
~Melissa – KidFriendlyThingsToDo.com