This Pot of Gold Cupcake with candy cupcake toppers made to look like a rainbow and an adorable pot of gold is perfect for St. Patrick's Day. Shortcuts like boxed cake and easy cupcake toppers make this a great last-minute quick dessert for your party or St. Patrick's Day treat.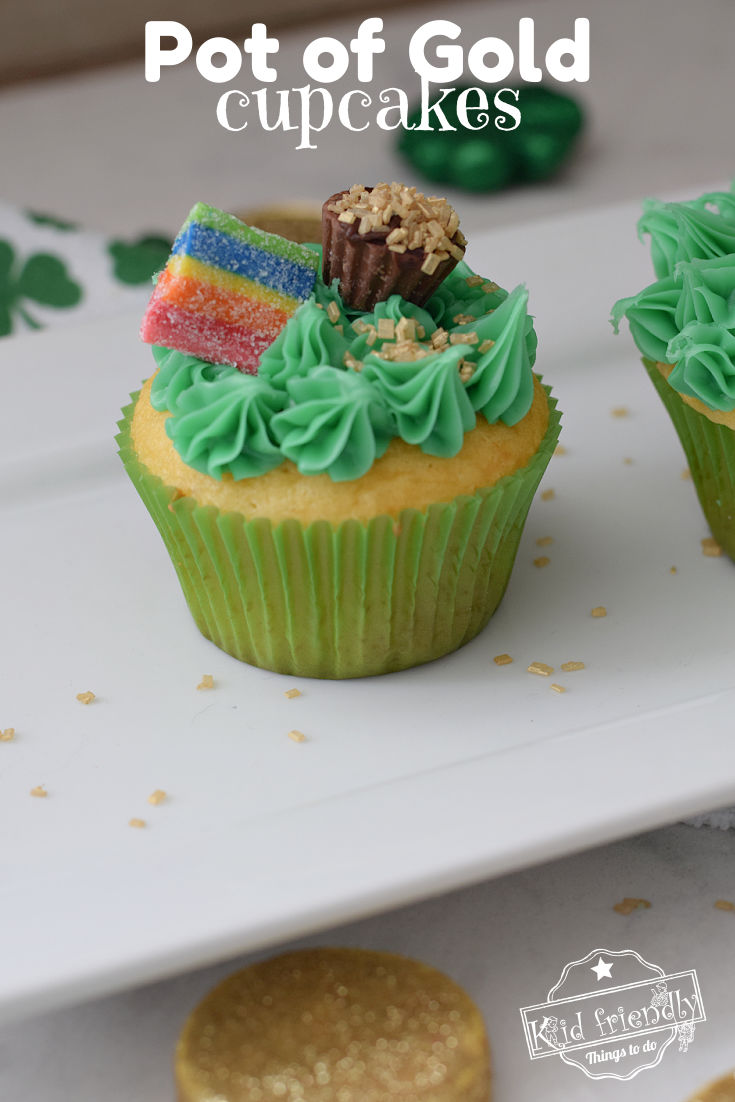 Pot of Gold Cupcakes
If you are looking for St. Patrick's Day treats, you might want to try some of my other fun and easy treats for the kids, like – Over the Rainbow Chocolate Covered Strawberries,  my Rainbow Jell-O Poke Cake, or a fun Shamrock Shake Recipe (McDonald's Copy-Cat} 
How Do I Store Cupcakes?
Typically, cupcakes can sit overnight on the counter, but beyond that, they should be placed in an airtight container and left at room temperature
How Long Will Cupcakes Last?
Cupcakes stored in an airtight container at room temperature should be fresh for at least three days.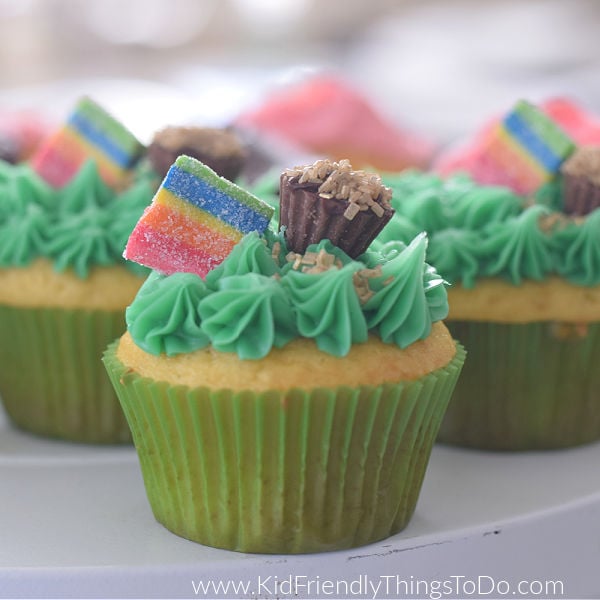 What I love about these cupcakes…
They are super easy to make – anyone can make and decorate these
shortcuts are key to these cupcakes – a Reese's is turned into a pot of gold, a store-bought cake mix is perfectly fine, and the candy is even used for the rainbow piece
you don't have to be great at piping frosting – you can use a grass tip (so fun!) or a star tip like I did to easily make grass
if you don't care about making a grass effect, then just spread the frosting on. Nobody will care, because you have a pot of gold and a rainbow sitting on top – so cute!
Tips and Tricks for this cupcake
if anyone has a peanut allergy, substitute a Rolo for the miniature Reese's cup
use a grass or star tip with your piping bag for a grass look
find premade green frosting – if you can. If not, just mix a little bit of green food coloring with white vanilla or cream cheese frosting – or homemade buttercream frosting
use cupcake liners for easy cleanup
another idea for grass is to color coconut flakes green by simply shaking them with green food coloring in a zip-tight bag until they are the color green
there are several rainbow candies to choose from – Airheads makes an extreme sour rainbow candy belt, they also make little rainbow bites (like the ones in the photo), Sweet Tarts makes rainbow ropes and there is even rainbow licorice – to name a few
Here are some of my Amazon Picks for this St. Patrick's Themed Cupcake idea
(affiliate links)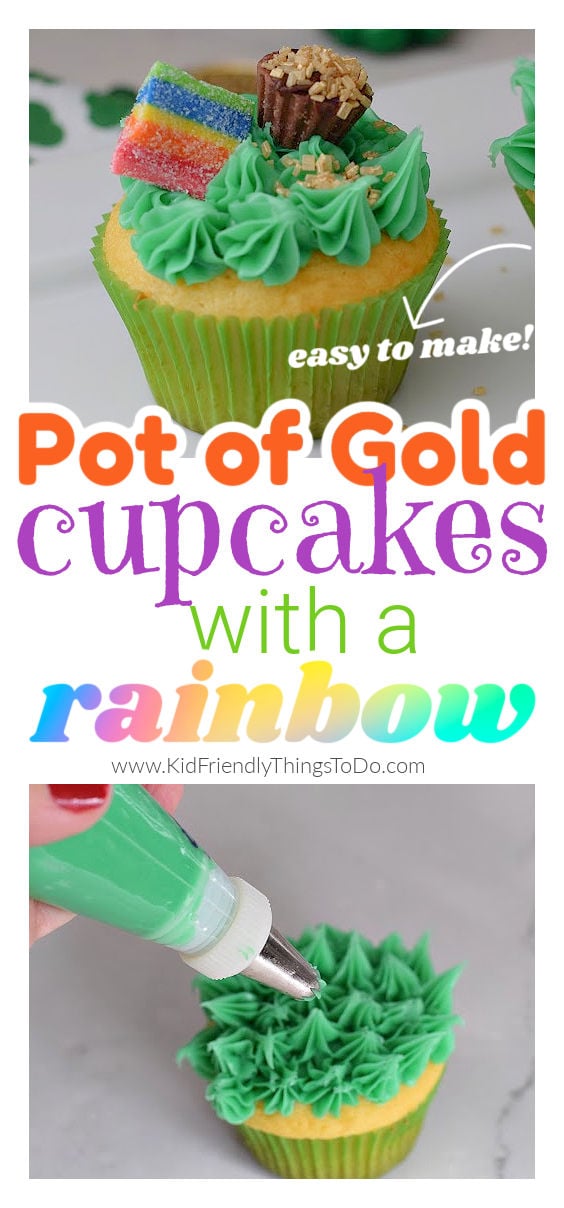 Are you ready to make these sweet treats? Let's make sure you have everything you'll need…
Ingredients:
boxed cake plus ingredients listed on the back of the box to make cupcakes
cupcake liners – I used green for St. Patrick's Day and to go with the grass
frosting – hopefully you can find some green colored icing like Funfetti or color white frosting green with food coloring
mini Reese's chocolate candy
chocolate frosting
Gold Sprinkles – you can buy candy gold coin sprinkles, cupcake gems, or gold non-perils
rainbow candy
Additional Equipment you might need:
piping bags with a star or grass tip
cupcake baking pans
mixing bowls
silicone mixing spoons or another mixer like a wooden spoon or whisk
measuring spoons
measuring cups
How do you make Pot of Gold Cupcakes?
(more specific details are in the printable recipe card below)
preheat your oven
mix the cake batter in a large bowl – using the directions on the box
place liners in the muffin cups
pour batter about 2/3 of the way up and bake
allow to cool completely – you can use a wire rack or just put cupcakes on a protected surface and let cool for about 10-15 minutes
decorate with green frosting
spread chocolate frosting onto Reese's and sprinkle the gold on top
place your decorations on the cupcake by adding the pot of gold and rainbow
Print
Making A Pot Of Gold Cupcake For St. Patrick's Day | Kid Friendly Things To Do
Easy to make Pot of Gold cupcakes for St. Patrick's Day
Author:
Prep Time:

10 minutes

Cook Time:

12-15 minutes

Total Time:

30-40 minutes

Yield:

2 dozen
premade and cooled cupcakes
green frosting
mini Reese's cups – can substitute Rolos
chocolate frosting
gold sprinkles
rainbow candy
Additional Equipment:
piping bag with a star tip or grass tip
Instructions
allow your cupcakes to completely cool
add green frosting to your bag that already has a star or grass tip in place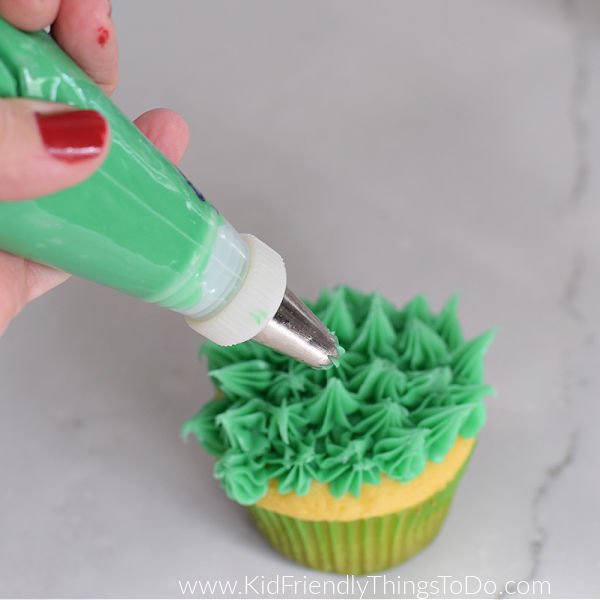 frost the cupcakes by squeezing out the frosting going in an up and down pattern – squeeze onto the cake – pull bag straight up, squeeze down, pull straight up, etc…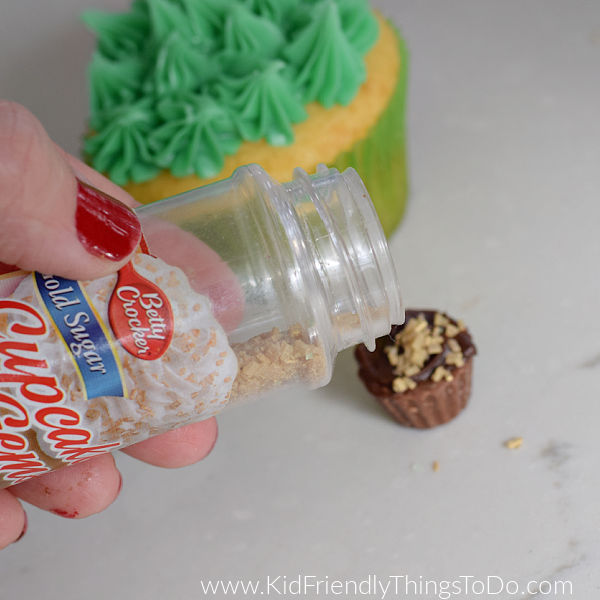 spread some chocolate frosting on the top of a mini Reese's
place the candy on the cupcake and shake gold sprinkles onto the chocolate frosting – some will spill over  and that's great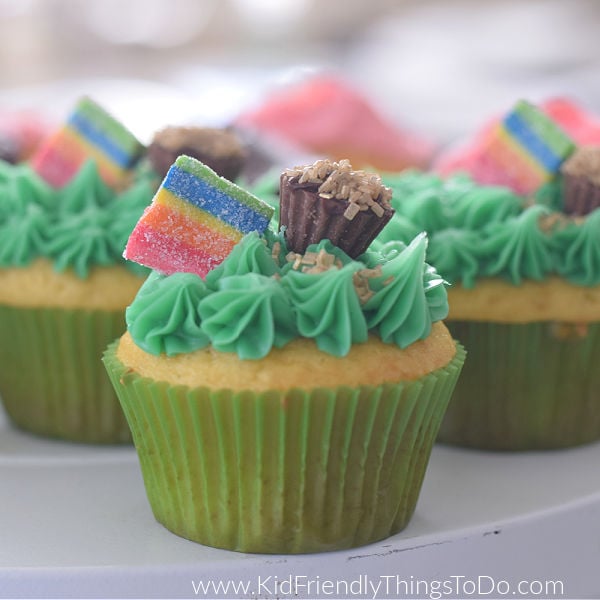 add the rainbow at an angle so it looks like it is pointing toward the sky
Notes
store at room temperature in an airtight container for up to 3 days
~Melissa – KidFriendlyThingsToDo.Com