Olaf From the Movie Frozen Jello Dessert – A Fun Food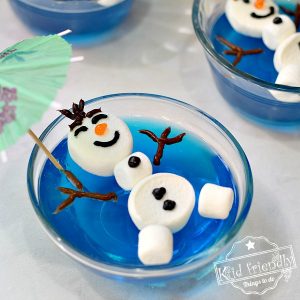 Posted by Melissa in Birthday Dessert Idea, Birthday/Holiday & Celebration Dish, Birthdays, Dessert, Easy Family Recipes, Fun Food Crafts, Game Ideas, Marshmallow Fun, Other Fun Foods | 0 comments
I have been meaning to get around to posting this idea of Olaf floating in a pool of Jello dessert. After a week of trying to find Ticonderoga sharpened pencils, Prang colored pencils, and all of the other 5,000 insane items on back to school supply lists…(I lost a week of my life, I tell ya!), I finally have time to post it! Here's how I made this Marshmallow Olaf, and the blue jello!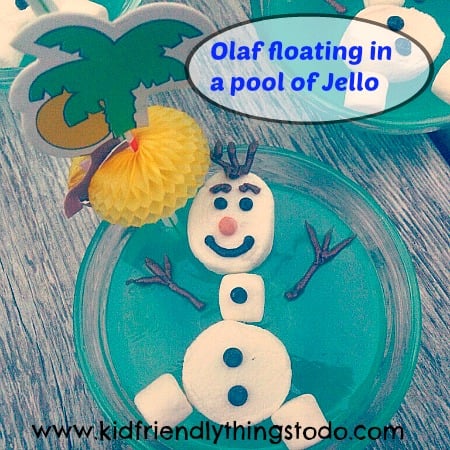 You'll Need:
Updated, thanks to a reader for asking about this much needed info.: A small container of Jello (3 oz.) will get you (4) 1/2 – or 4 oz. cup servings. The same is true if you go with the Knox Gelatin method. If you use a large box of blue Jell-O, you'll squeeze out (8) 1/2 cup servings – or 4 oz. servings.
Regular sized marshmallows
Mini marshmallows
Brown, black, and orange frosting (I used chocolate frosting for the brown – follow my tip below to get true black color)
A piping bag with a round tip
For Jello: Blue Hawaiian Punch, and Box of Knox Unflavored Gelatin
**OR – Alternate Jello – use a blue box of jello – the color will be much darker, though
Summer themed straws, or party drink umbrellas
I used individual glass bowls for individual pools – to conserve money, you could use clear plastic cups, like Chinet
For the blue jello: I used Knox Unflavored Gelatin, and Blue Hawaiian Punch
I just followed the directions on the back of the Gelatin box
Once the jello had set up, and I was ready to tackle Olaf,
I grabbed a regular sized marshmallow
I used scissors to cut it into 3 pieces
I used one piece for the head, and one for his bum – that one was turned sideways!
I then used mini marshmallows for the middle portion of Olaf, and feet
Then I decorated him with frosting that I had colored black (buttons, eyes, and mouth), some orange frosting (carrot nose), and brown (hair, eyebrows, and arms)
To get a deep black color, start with chocolate or brown frosting. Add your black coloring to the brown color, and you won't end up with gray
I used a round tip for everything 🙂
To add a special touch, I used fun summer straws that I found at the Dollar Tree
Equipment You Might Want: I'm so excited that I found the palm tree straws in the middle of winter!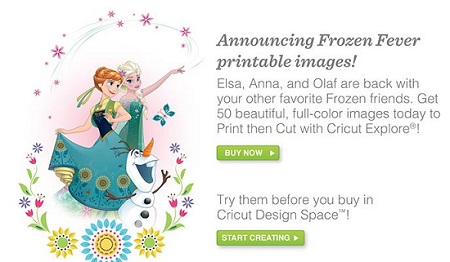 I'm always cooking up something. Please follow me for the latest up to date tutorials, and don't forget to sign up for my free newsletter. Posts straight to your inbox!