This Angel Ornament is such a sweet and easy Christmas Craft to make with the kids and preschoolers. Easily use items from around the house to make this Adorable Angel Ornament for your Christmas tree. Come on in and I'll show you how to make it today…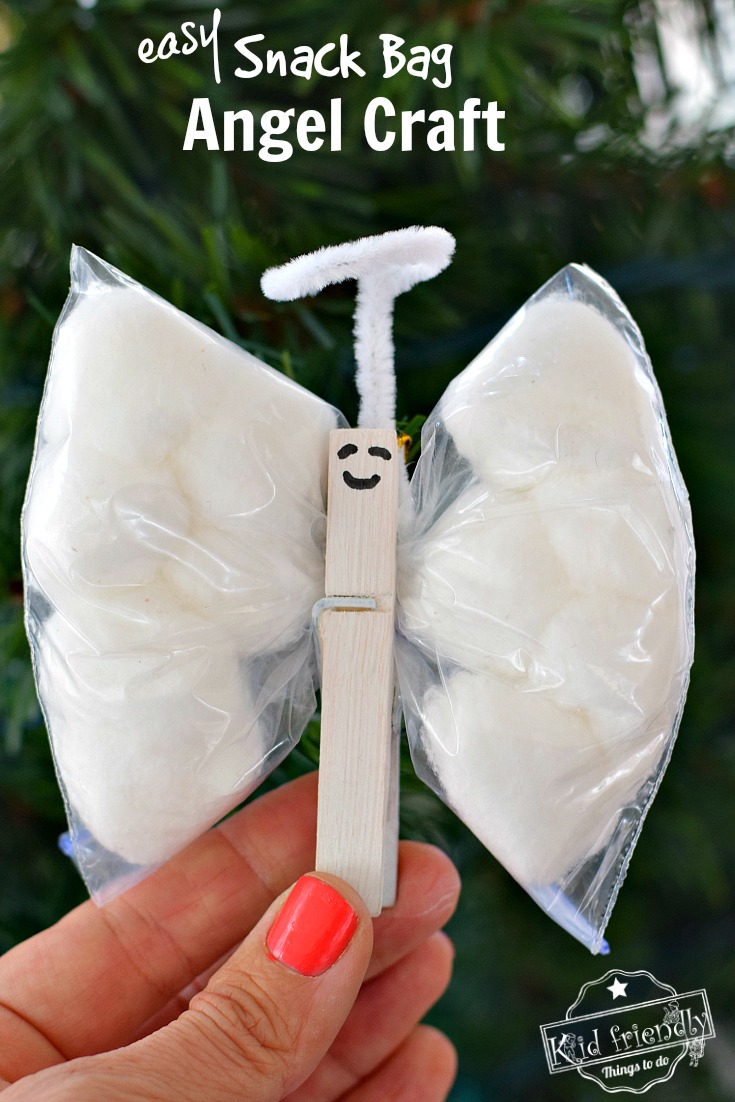 I love the simple things in life. This ornament is so easy to make with little kids.
Here's a quick video to get you started on this Easy Angel Ornament Christmas Craft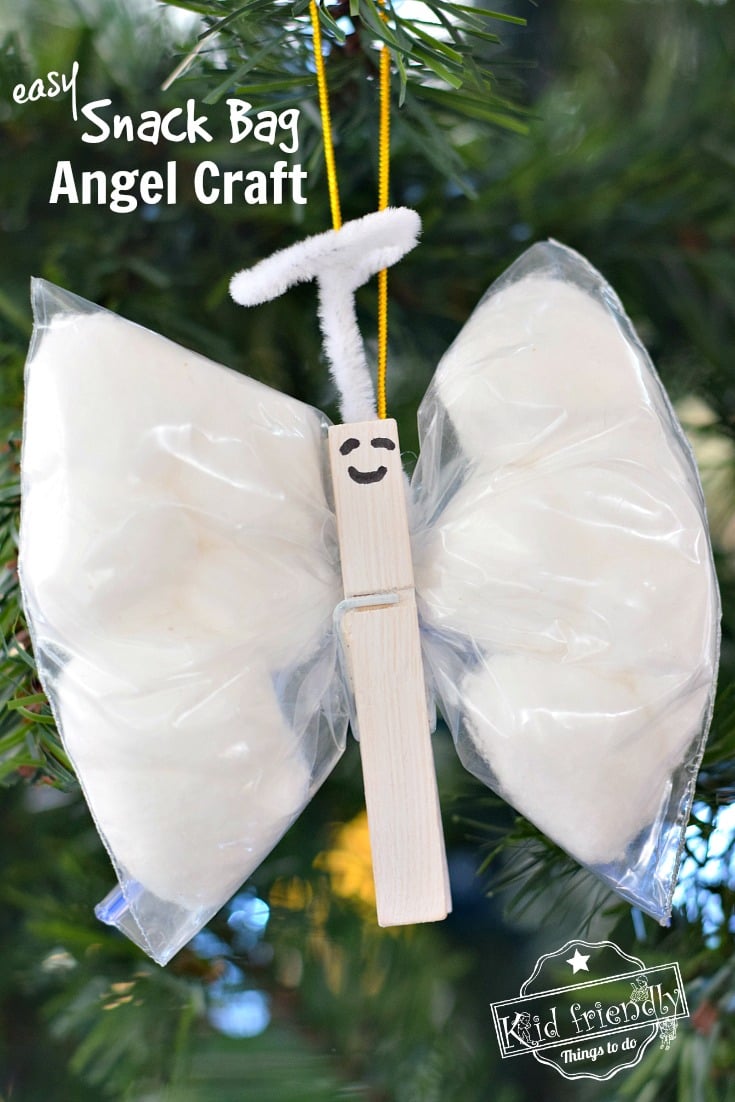 They will love turning a simple snack bag and clothespin into a sentimental angel ornament for the tree.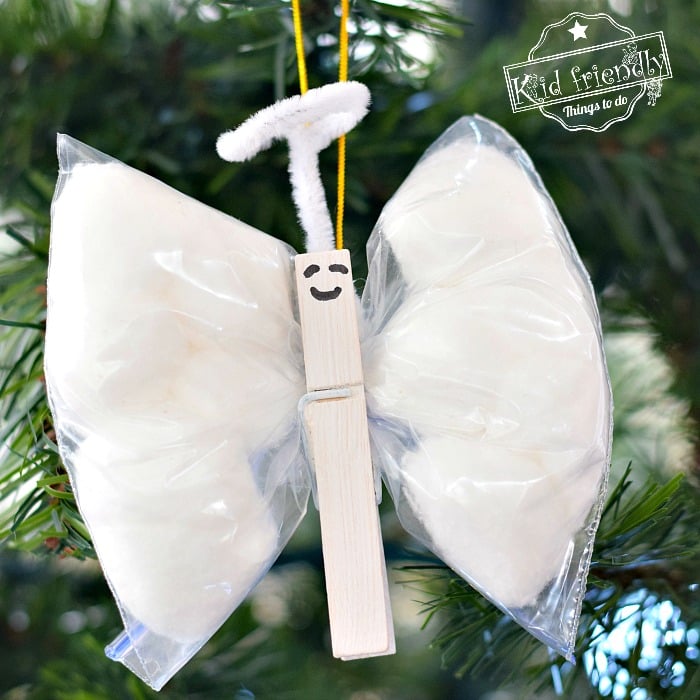 In no time at all you'll have this angel smiling back at you all Christmas long.
Here are my top Amazon Picks for this Angel Ornament Christmas Craft…
[box] [/box]

Here are the supplies and instructions for making this Sweet Angel Ornament for Christmas…
Supplies…
Clothespin
White Paint
Paint Brush
Fine Tip Black Sharpie
Snack bag
Scissors
10 Cotton Balls
4 inch of white pipe cleaner
Ribbon to hang the angel with – about 6 inches long
Glue – I used a warm glue gun, but you could use a tacky craft glue
Instructions…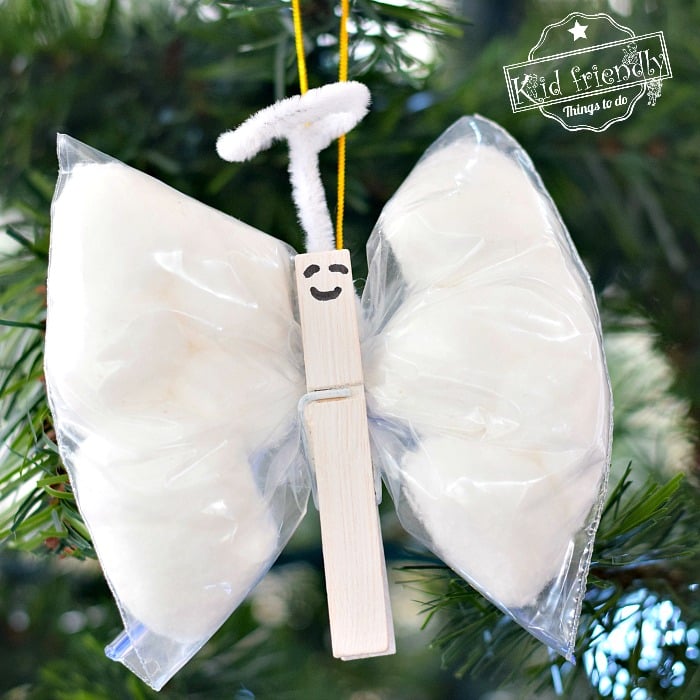 Paint the clothespins white and let dry
Cut the edging off of the snack bag – the portion that is above the seal
Fill the snack bag with about 10 cotton balls
Divide the cotton balls with 5 on each side of the bag and push a clothespin up between them
Decorate the face of the clothespin with the black marker
Turn the pipe cleaner into a halo by making a circle out of the top 1/3 of the pipe cleaner
Open the top of the clothespin and push the straight part of the pipe cleaner into the clothespin
Place the ends of the ribbon behind the pipe cleaner and glue to secure
That's it!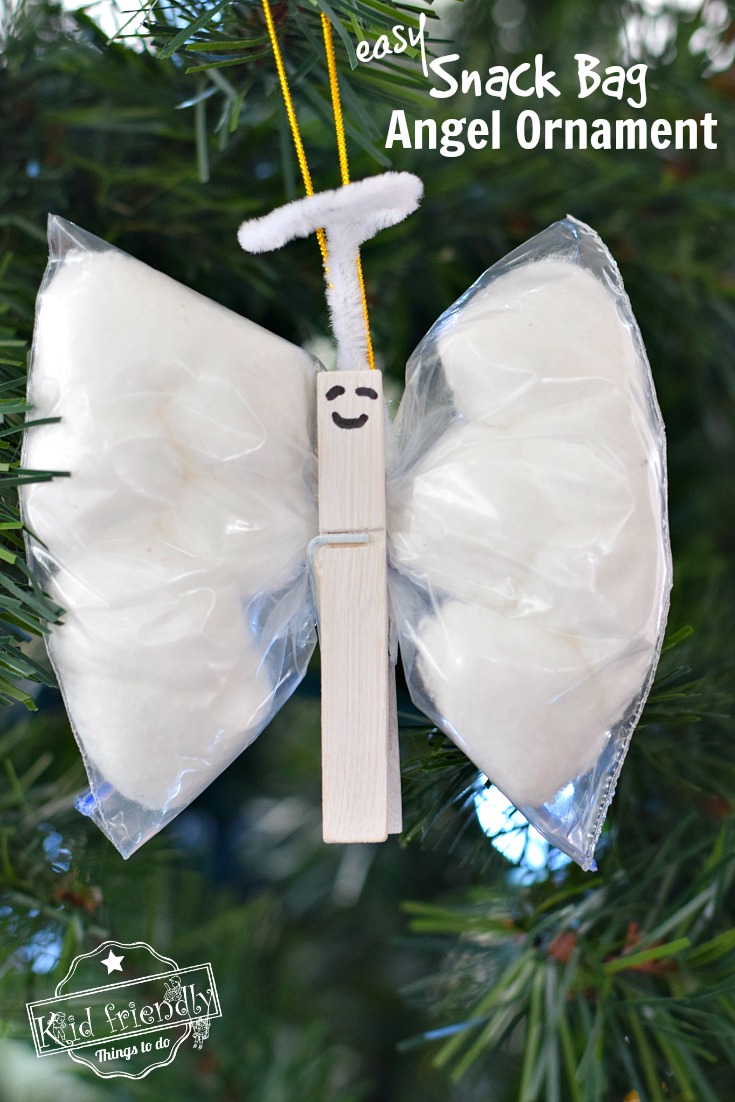 This would also make a great Angel Sunday School Craft for Christmas
If you are looking for more Easy Christmas Crafts, check out these posts below…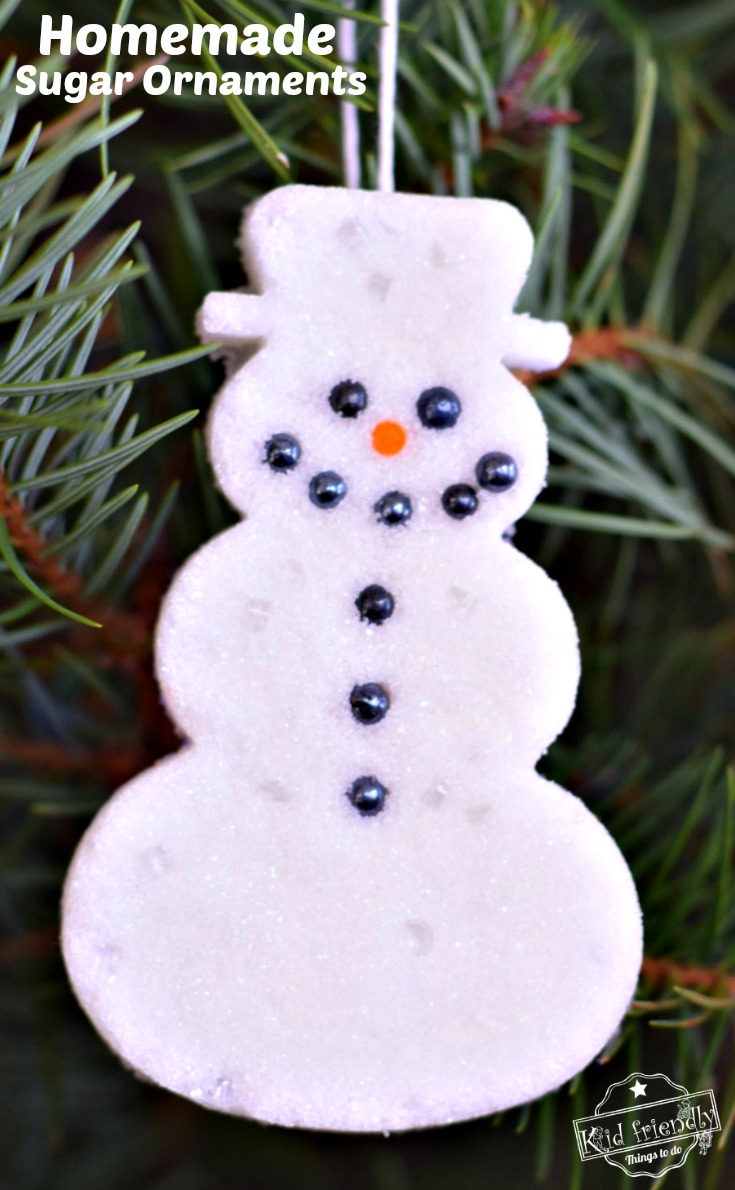 These homemade sugar ornaments are so much fun and so easy to make. Here's the link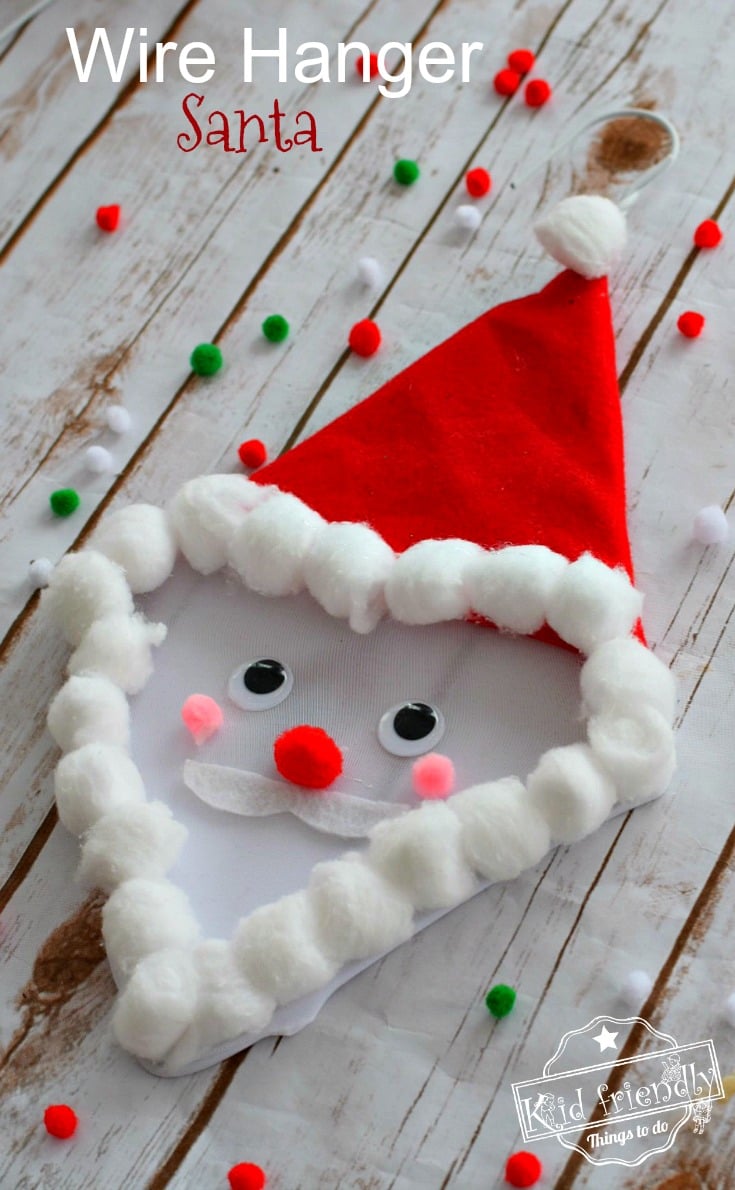 Santa Christmas Ornament made from a wire hanger. Here's the link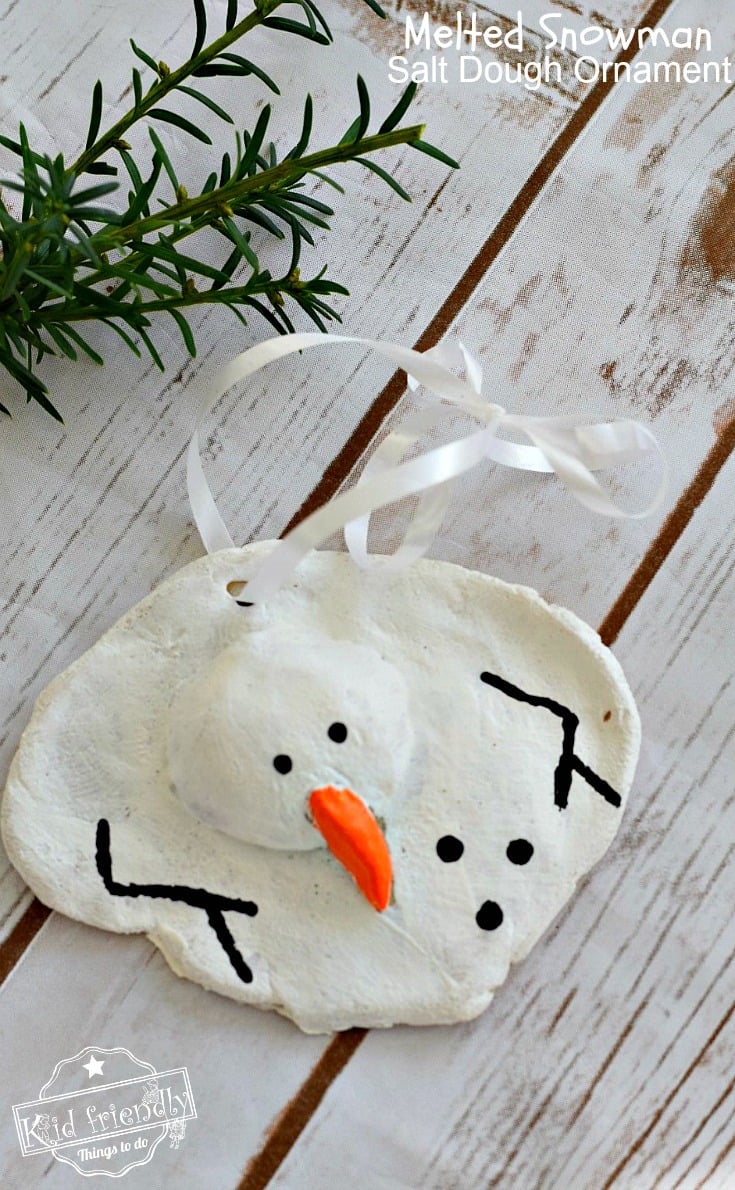 Fun and easy salt dough Christmas Ornament of a Melting Snowman – Here's the link
~Melissa – Kid Friendly Things To Do