Last fall, my then four year old guy, was all over castles, dungeons and knights. For his fifth birthday party, I thought I'd better plan a knight birthday. His knight birthday came complete with a rented castle! Lucky for me, our local museum looks just like a castle. After I miraculously saw a castle, in the middle of an Indiana town, I walked in and asked about renting it out for a birthday. They had never had a birthday party inside the museum, before ours! I always say, "it never hurts to ask!". With a castle/old jail, as our birthday place, I thought I'd better get some fitting crafts to go along with the theme. But, with the crazy life of 4 kids, I knew I wanted something simple. This Dollar Tree Cake Pan Knight Shield filled that bill!
For this craft, you'll need:
foil cake pans 11×9
white paper
marker
wooden dowels (12 in.)
glue gun, and sticks
knight themed stickers
*Because the guests would be quite young, I did a lot of the prep work. I made the shields all the way down to the cross shaped with a marker, and they decorated it with stickers. Adjust to what your think your kids can handle without frustrating yourself, and them. 🙂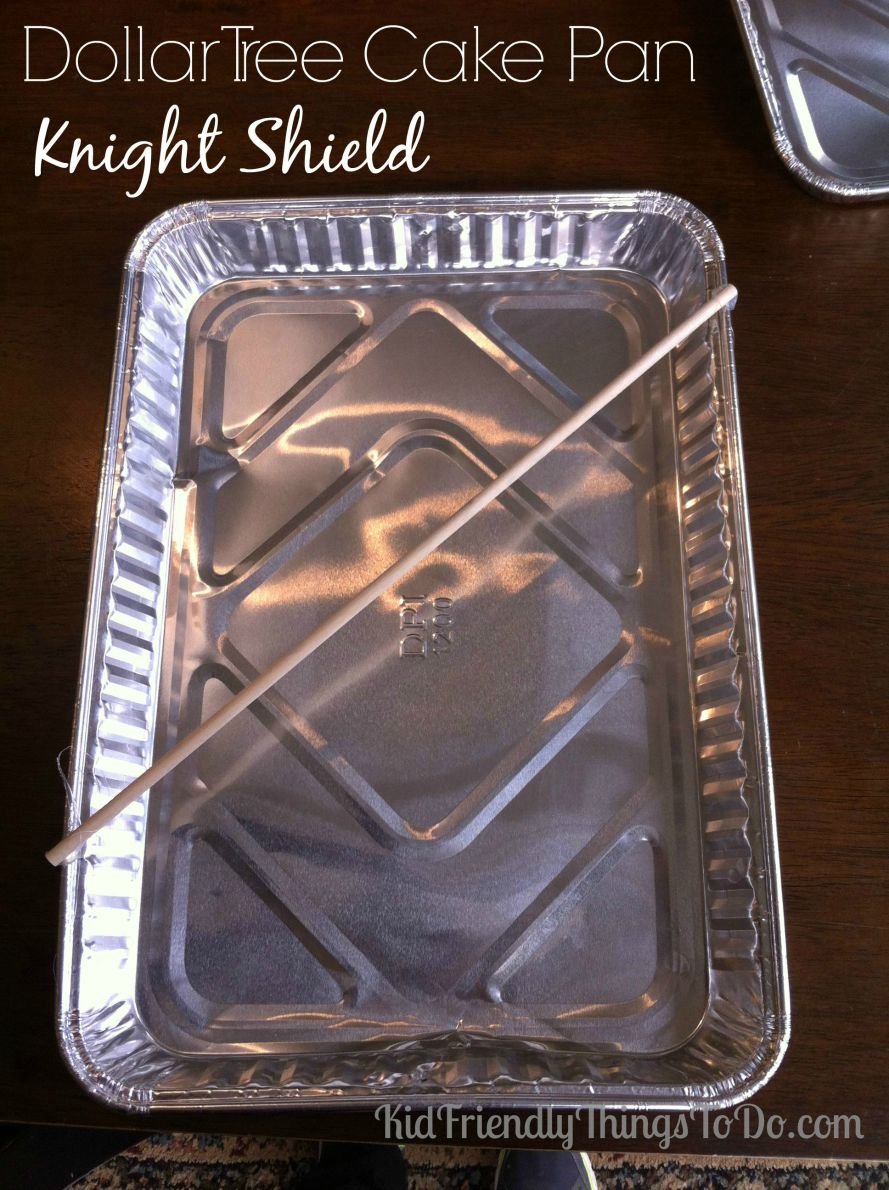 I started out with an 11×9 in. foil cake pan from the Dollar Tree. They come in sets of 2! So they are really only 50 cents each!
I hot glued wooden dowels to in a diagonal. My dowels were 12 in. long, but 15 in. would also fit. I wouldn't go less than 12 in.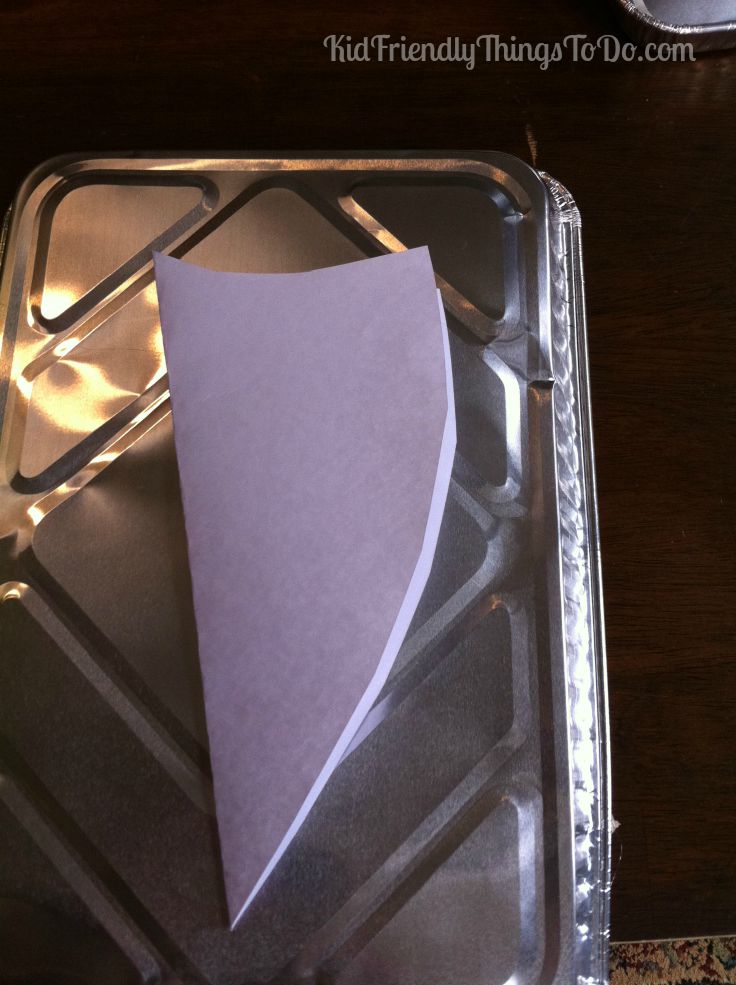 I just grabbed some plain old copy paper, but you could get some cardstock for a nice firm paper
I folded it in half down the long side
An easy way to describe cutting the shield symbol is by cutting out a large heart! Do you see how the right side is the same shape as a heart?
Then, at the top or your heart, make a curved line with the middle having a little taller of point
Open it up, and Voila'!
Make a cross with a marker from point to point
Flip the cake pan over to the bottom, and glue the paper shield symbol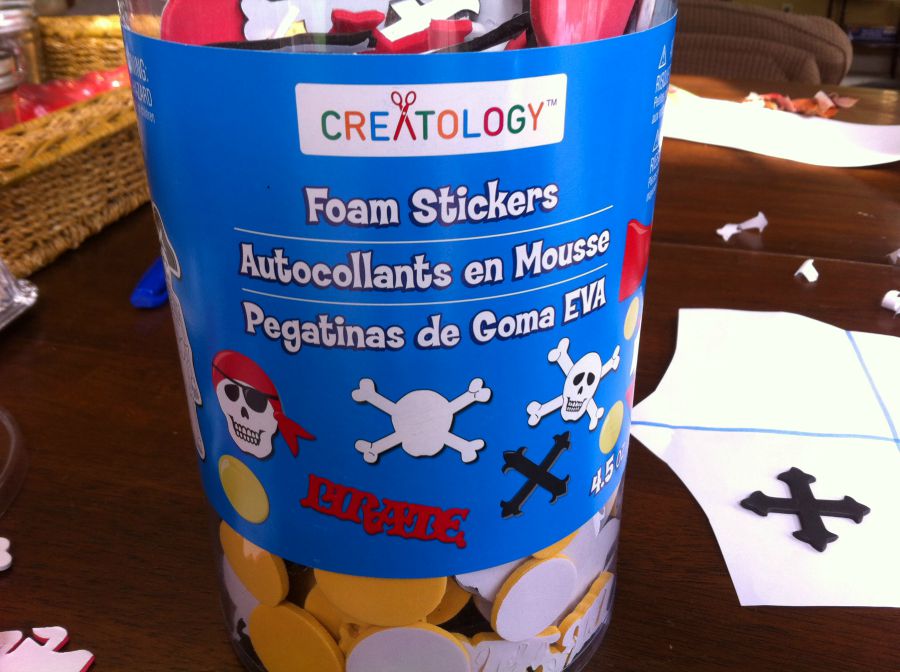 Let the kids decorate their shield with cool foam stickers! I found these at Michaels Craft Store.
Because we had girls coming to the party, I also had some princess stickers on hand. I also used a purple marker to make the cross on the girl's shields. Of course, not all girls are just into princesses. Mine love the pirate, dungeon, knight stuff, too!
Here are some supplies that you might need or even want for this craft:
[box] [/box]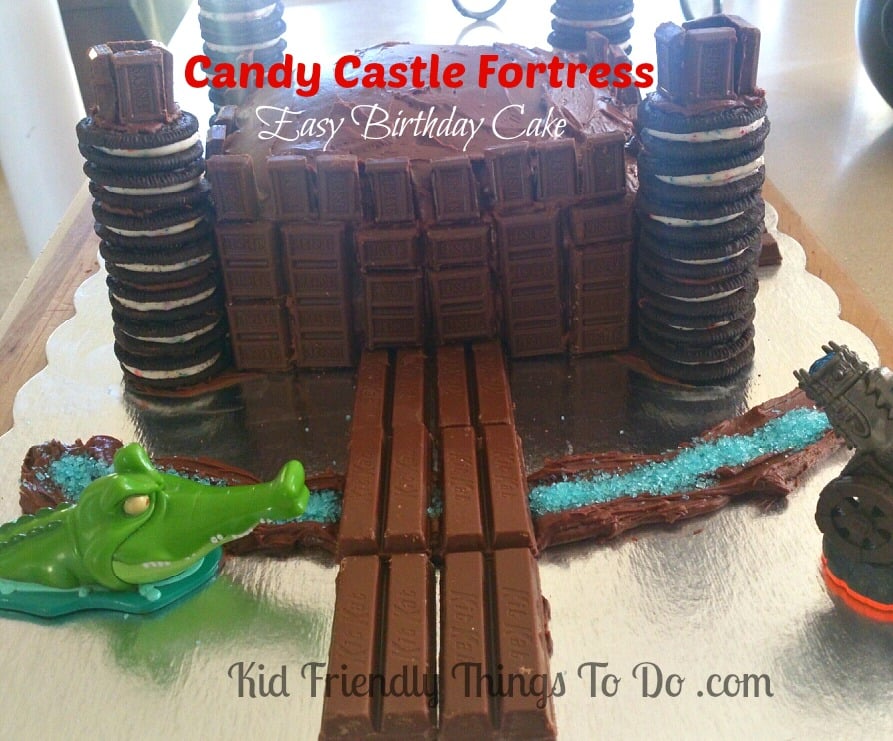 Oh…if you're looking for a castle cake! I made an easy, peasy candy fortress cake. Here's the tutorial!
[box] [/box]
Thanks for stopping by!
~Melissa – KidFriendlyThingsToDo.com