Easy DIY Flower Pen and Terra Cotta Pot Craft for a Valentine's Day Gift

Posted by Melissa in Arts & Crafts, Valentines Day | 0 comments
This craft is my new favorite Valentine's Day Craft. I would be so happy if one of my kids came home and presented me with this adorable flower pen with it's own Terra Cotta Pot holder. I can't wait to show you the "how to" on this Easy DIY Flower Pen and Terra Cotta Pot Craft for a Valentine's Day Gift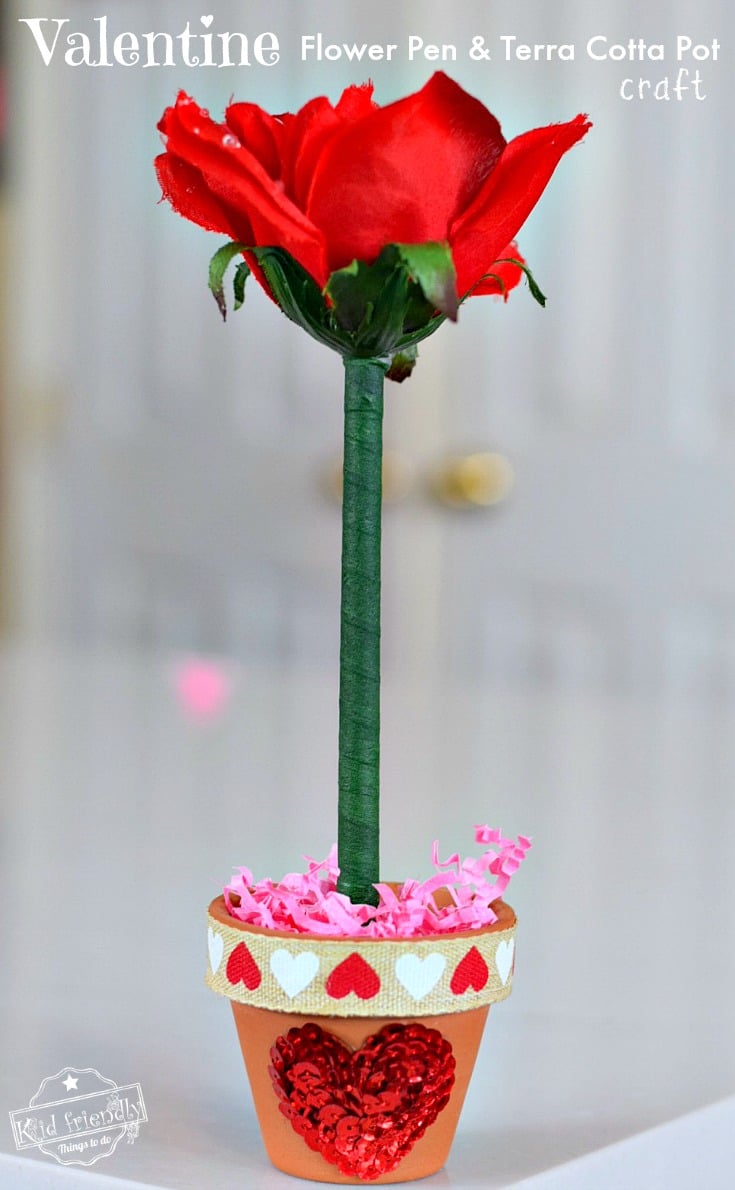 I love the simple – fun and done – crafts!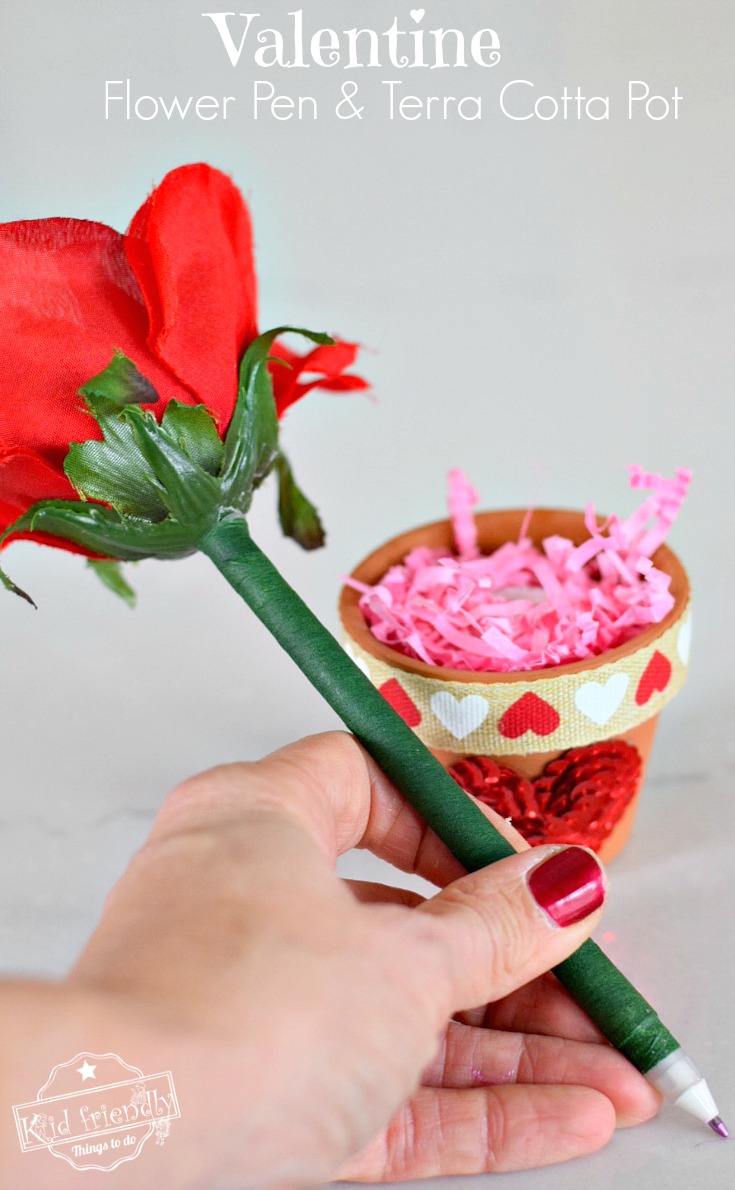 If you are planning on doing this with little ones (maybe third grade and younger) …want to do a couple of steps in advance. The difference between a great crafting experience and a stressful one is all in the prepping.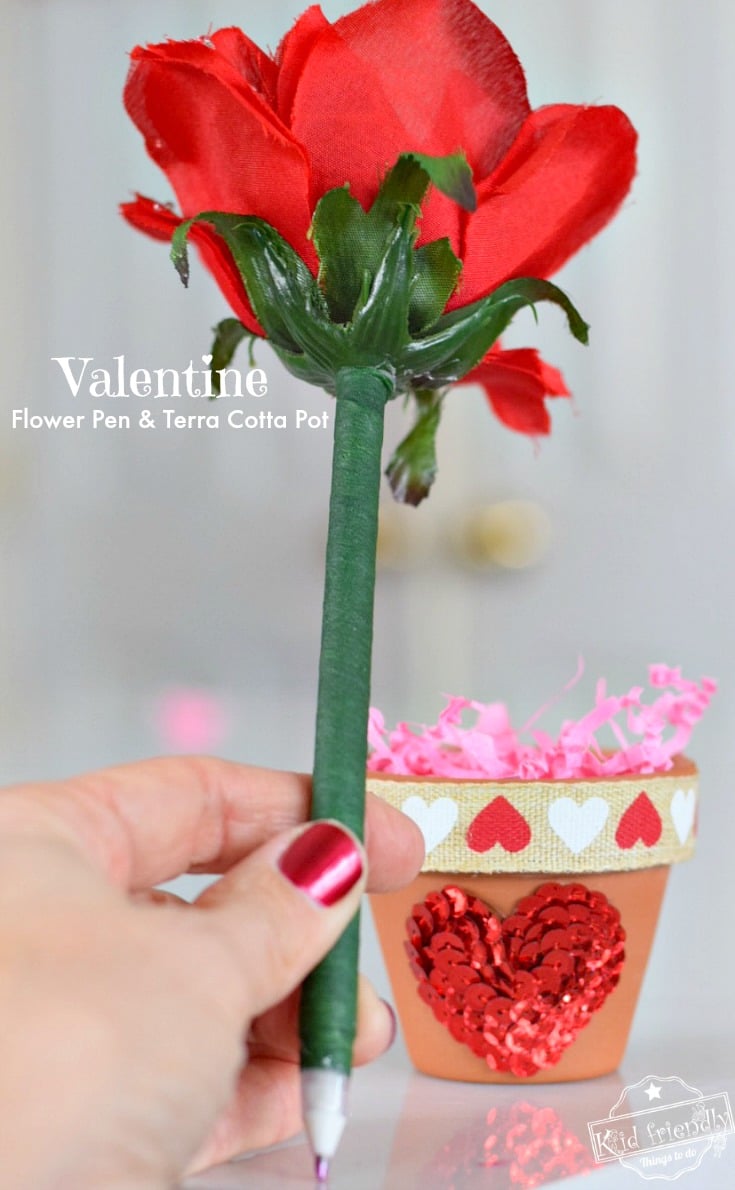 Don't worry. The prep work is so minimal. You'll just want to pull that plug on the end of the pen out. You'll want to wrap the pen with the floral tape as well. The tape goes on easily, but it really needs to be pulled nice and tight to adhere. If it's too loose it will fall off of the pen and that's no fun.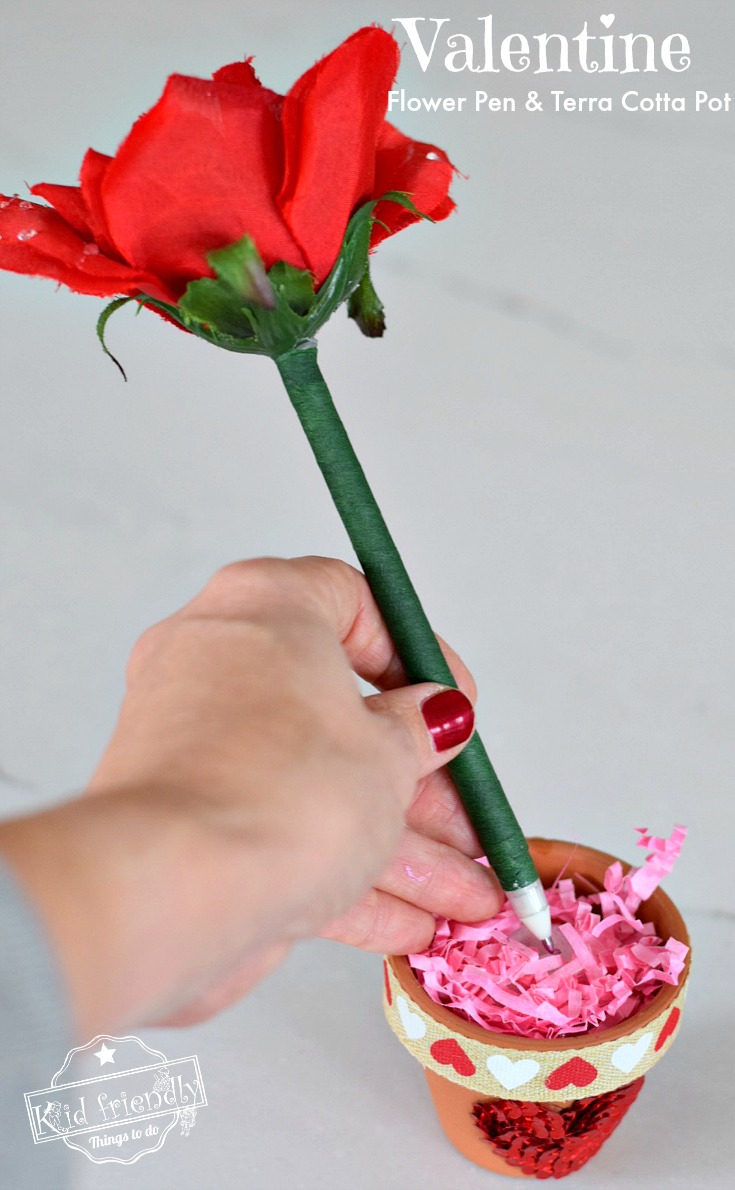 Here's What You'll Need to make this Easy DIY Flower Pen and Terra Cotta Pot Craft for a Valentine's Day Gift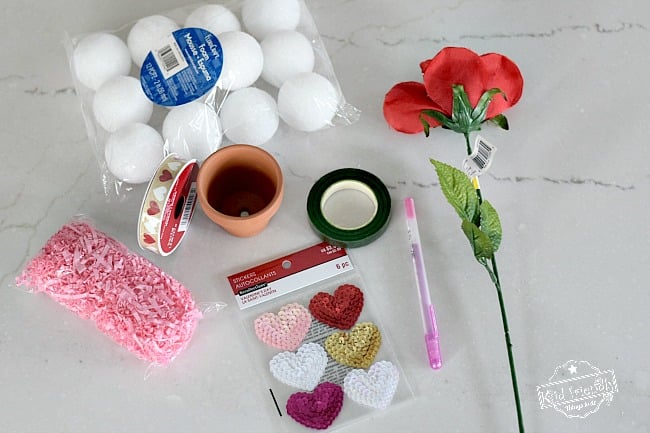 A miniature 2 in. Clay Pot
A 2 in. styrofoam ball
A silk rose
Paper fill – I used pink
A pen – Get one that has the end insert, so you can pull that out
Decorations – like these fun sequins hearts and ribbon (I found them at Michael's Craft Store)
Glue – I used a glue gun to glue the flower, but then switched to Fabri-tac for the rest (it's a great alternative to hot glue that you can use around the kids – it's really tacky so everything adheres quickly)
Instructions for Easy DIY Flower Pen and Terra Cotta Pot Craft for a Valentine's Day Gift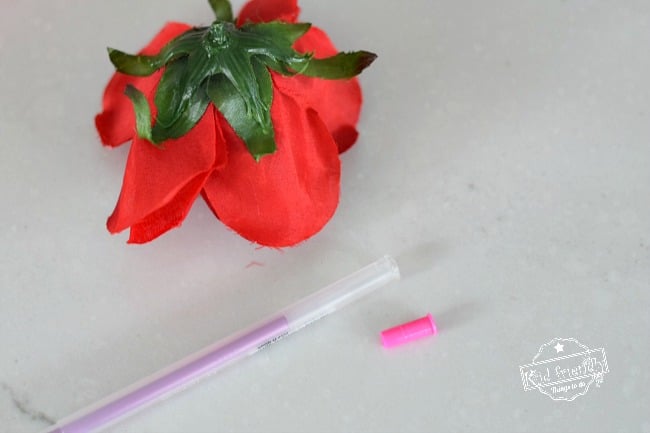 pull the end cap off of the bottom of the pen – the plug piece
*this will take some doing. They are in there pretty tight. When we were kids, we used to pull them out with our teeth. Today, I used a knife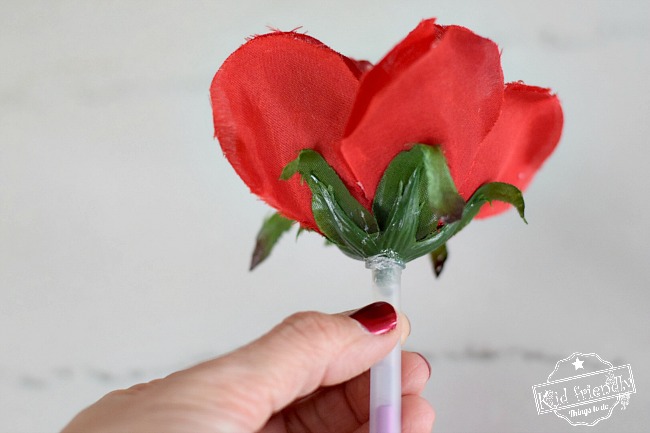 take the flower off of the stem and place it into the bottom of the pen – glue (this is when I used my warm glue gun)

wrap the pen with floral tape – start at the flower end – go at a diagonal and then straighten it out at the bottom giving it a few tight wraps. Cut the tape by simply pulling it apart and push the little bit that's hanging against the tape that's on the pen – no glue necessary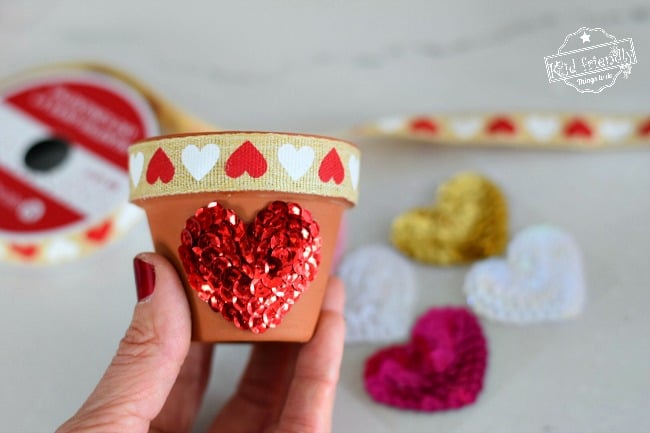 on to the clay pot…
I love the sequins stickers. They bend easily to mold to the curve of the pot
If you want, add some ribbon around the top of the pot. I used the tacky glue for this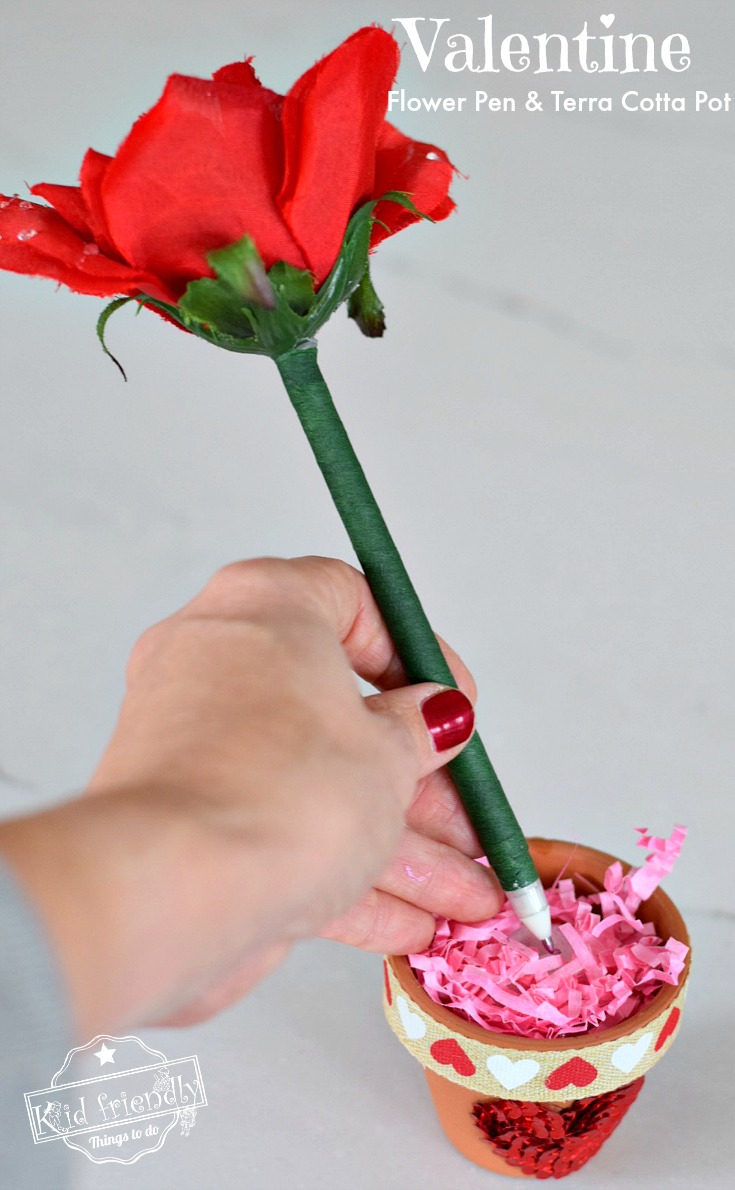 put the styrofoam ball in the pot and use another pen to push a hole in the middle for your decorated pen to rest – Just push it in a little bit. You just want a spot for it to stand upright and rest
Put some glue on top of the ball and place the paper – trim if necessary
That's it!
Happy Valentine's Day!
~Melissa – Kid Friendly Things To Do