Kids love to pop balloons. It never fails, no matter the age, they love to pop a balloon in any way, shape, or form. This fun game gives kids the opportunity to go crazy stomping and popping balloons plus involves teamwork to get the job done! Come on in and I'll show you my simple "how to" on Valentine Balloon Stomp Word Scramble Party Game For Kids and Teens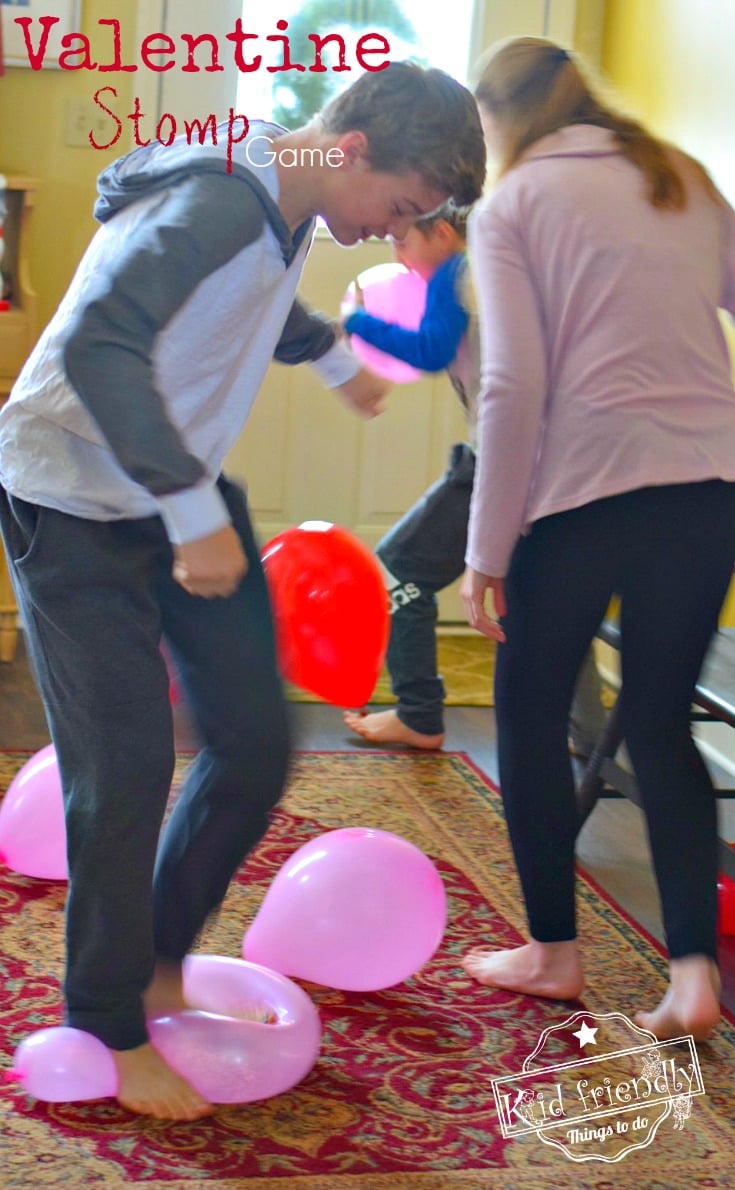 Balloon Stomp Valentine Party Game
I think my teens got into this even more than the kids. They were racing each other to stomp on the balloons first. They are competitive like their mama. 🙂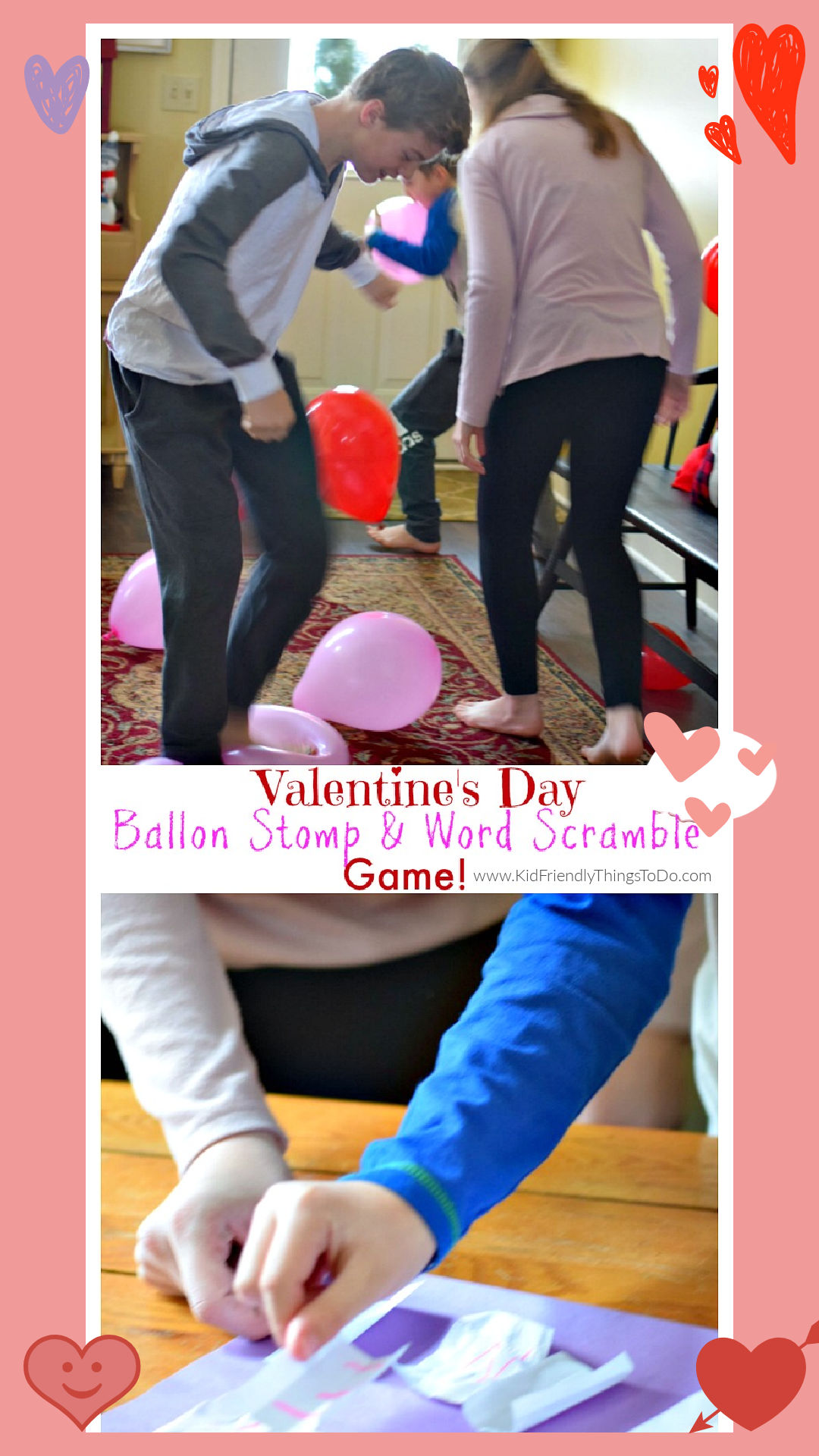 Here's What You'll Need for this Valentine Balloon Stomp Word Scramble Party Game For Kids and Teens
9+ Latex Balloons (1 color per team) – I got red and pink for a Valentine's Day theme
1 long piece of paper or Cardstock per team for assembling the word VALENTINE on
The letters V-A-L-E-N-T-I-N-E written on slips of paper – 1 letter per slip (per team)
Garbage bags to organize balloons and hold them
Instructions for Valentine Balloon Stomp & Word Scramble Party Game – For Kids and Teens
The objective: Be the first team to…Find the letters, from stomping on balloons, to correctly spell VALENTINE and arrange them on the paper provided to you so it spells the word correctly
Prep Work for this Valentine party game:
Make sure that you have slips of paper that correctly spell VALENTINE – enough so that each team can spell it with the slips provided
One at a time…Place 1 slip of paper with a letter on it into each balloon
Blow the balloons up and secure them by tying them
Each balloon that is blown up should now have a slip of paper rattling around inside
*Get a garbage bag (one for each team) and as you have the balloons ready with all the letters to spell VALENTINE for each team – place the blown-up balloons into the bag – Once you have the balloons to spell VALENTINE once – set that bag aside and start on another bag of balloons for the next team
*Just for fun, (if you want to make this more challenging for older kids) you could throw in a few or a few dozen empty slips of paper into blown-up balloons and add those to the garbage bags also
Ready?
Have a table ready with paper for each team to spell the word onto
Gather the kids, divide them into teams – have them form a large circle – 1 per team
Give them the objective of the game – to stomp on the balloons and gather letters to spell Valentine on their paper
Empty one bag of balloons for each team into the middle of their formed circle
When you are ready and they are ready – yell go! They should stomp on the balloons and find letters as they pop
They should run back to the table with their paper and start spelling out the word VALENTINE as they get letters
Once teams have the letters – to spell VALENTINE – If you check it and it's spelled correctly – they win!
That's it!
Happy Valentine's Day!
If you enjoyed learning about Valentine Balloon Stomp Word Scramble Party Game For Kids and Teens
Looking for more Valentine's Day Party Games? You're in luck. Check out…
Valentine's Day Candy Relay Race