This fall game is an easy pumpkin toss game to set up and fun to play for all ages. It's the perfect game for a fall party or a Thanksgiving game for the family to play together.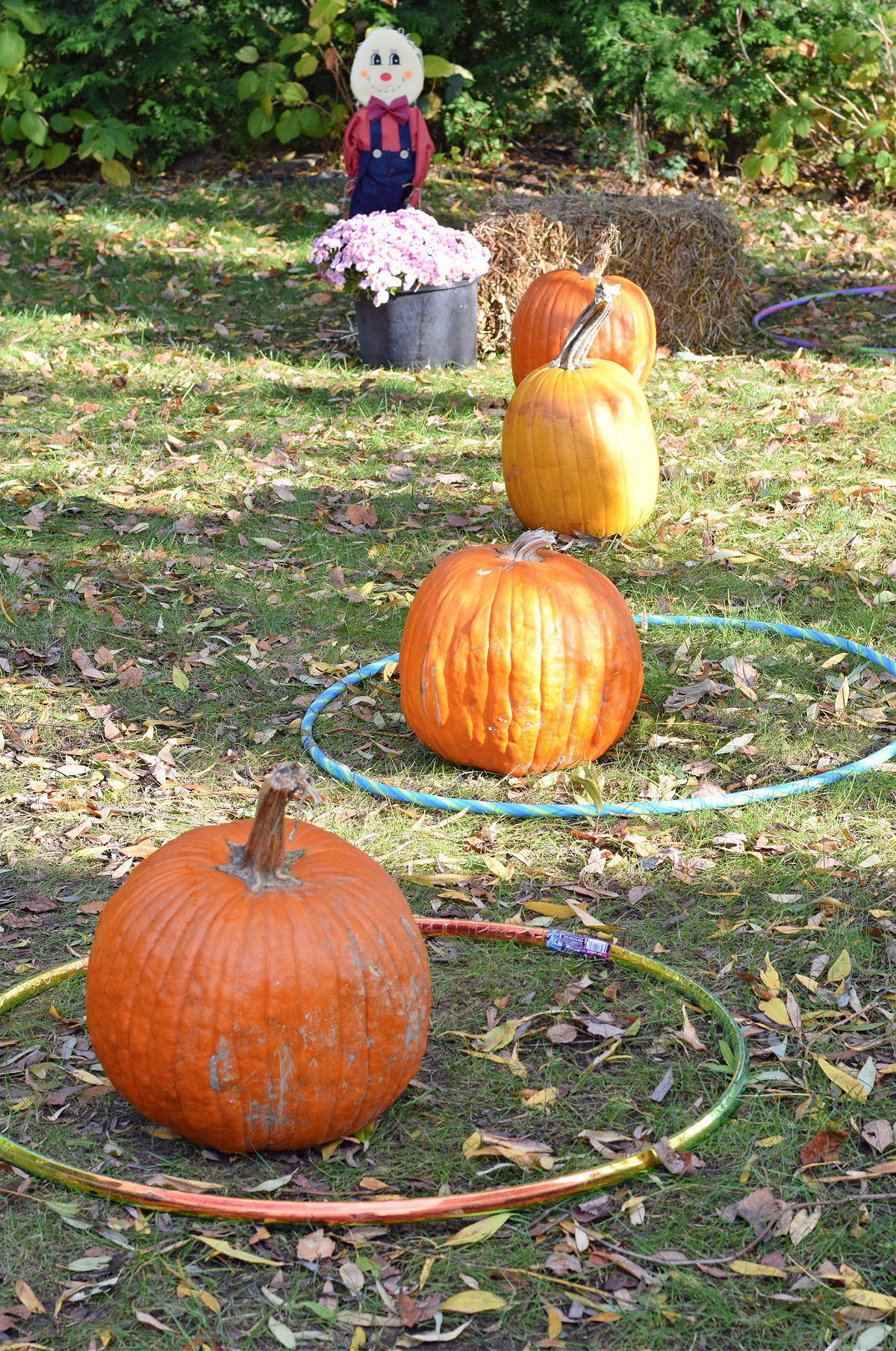 Pumpkins In a Row Fall Game
Disclosure: Post may contain affiliate links
There couldn't be an easier fall game to set up and play. You probably already have some pumpkins decorating your front porch and you might have some hula hoops in your garage. That's really all you need. Outdoor fall games are some of our favorite games to play. The weather is just perfect for hanging out in the great outdoors. Some of our favorites are Turkey Football Toss, Haystack Bowling, and Pumpkin Sweep. All of these games are fun for kids, teens, and adults, and they all make fun Thanksgiving games, as well.
What I love about this Game
It's easy to set up
There aren't a lot of supplies needed and you probably have most of them at your house
It is a fun game for kids, teens, and adults
Supplies Needed
Pumpkins – You can use real pumpkins or artificial pumpkins as long as they have some weight to them. They will need to be sturdy to withstand a hula hoop being tossed at it
Hula Hoops – If you have a few, then that is perfect. If you don't have hula hoops then you can order some hula hoops from Amazon
Setting up this Fall Game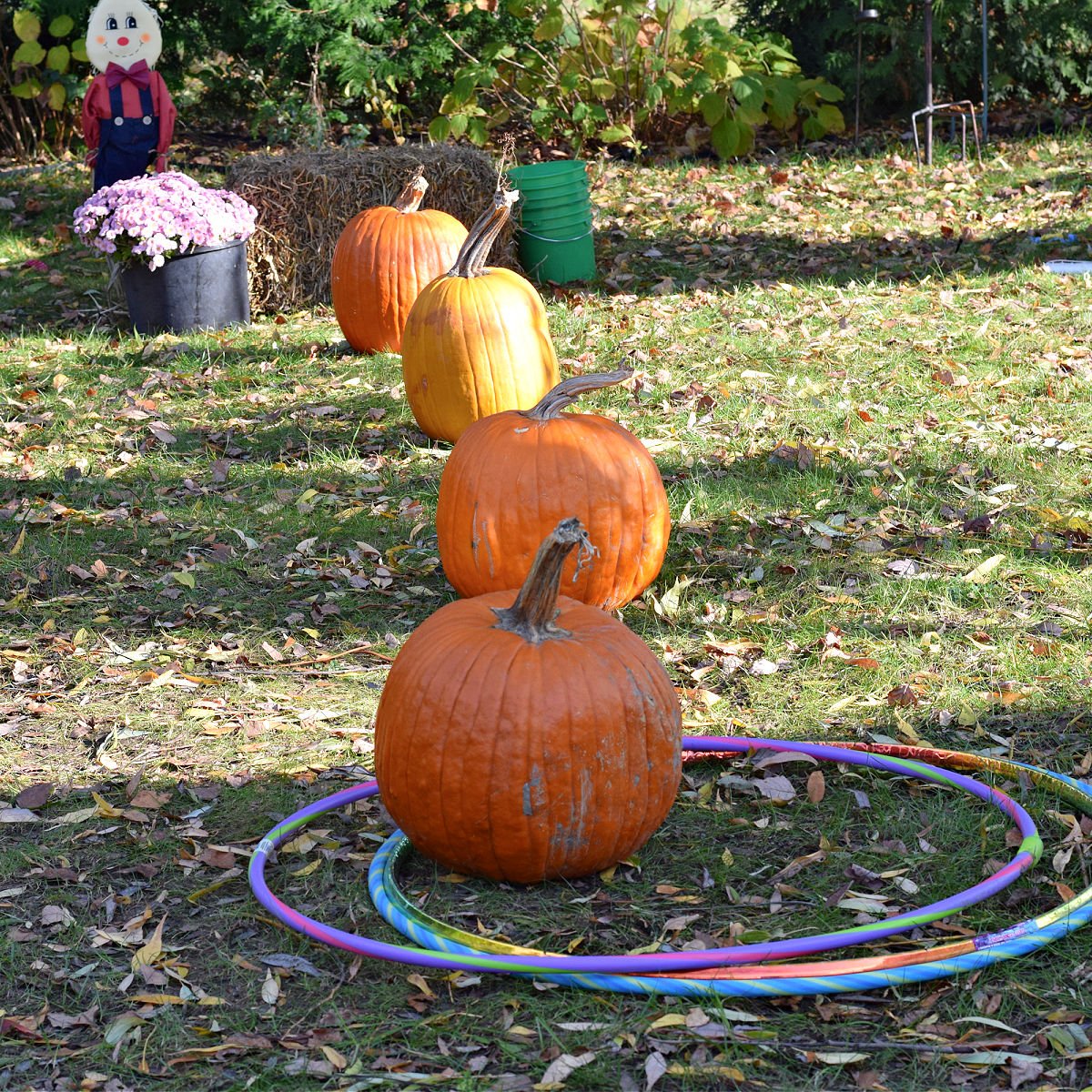 Place the pumpkins in a row far enough apart to allow for a hula-hoop to ring them (about 3 feet)
Set something down to indicate people should stand behind that to play the game – creating a starting line, We used a small bucket turned upside down for people to stand behind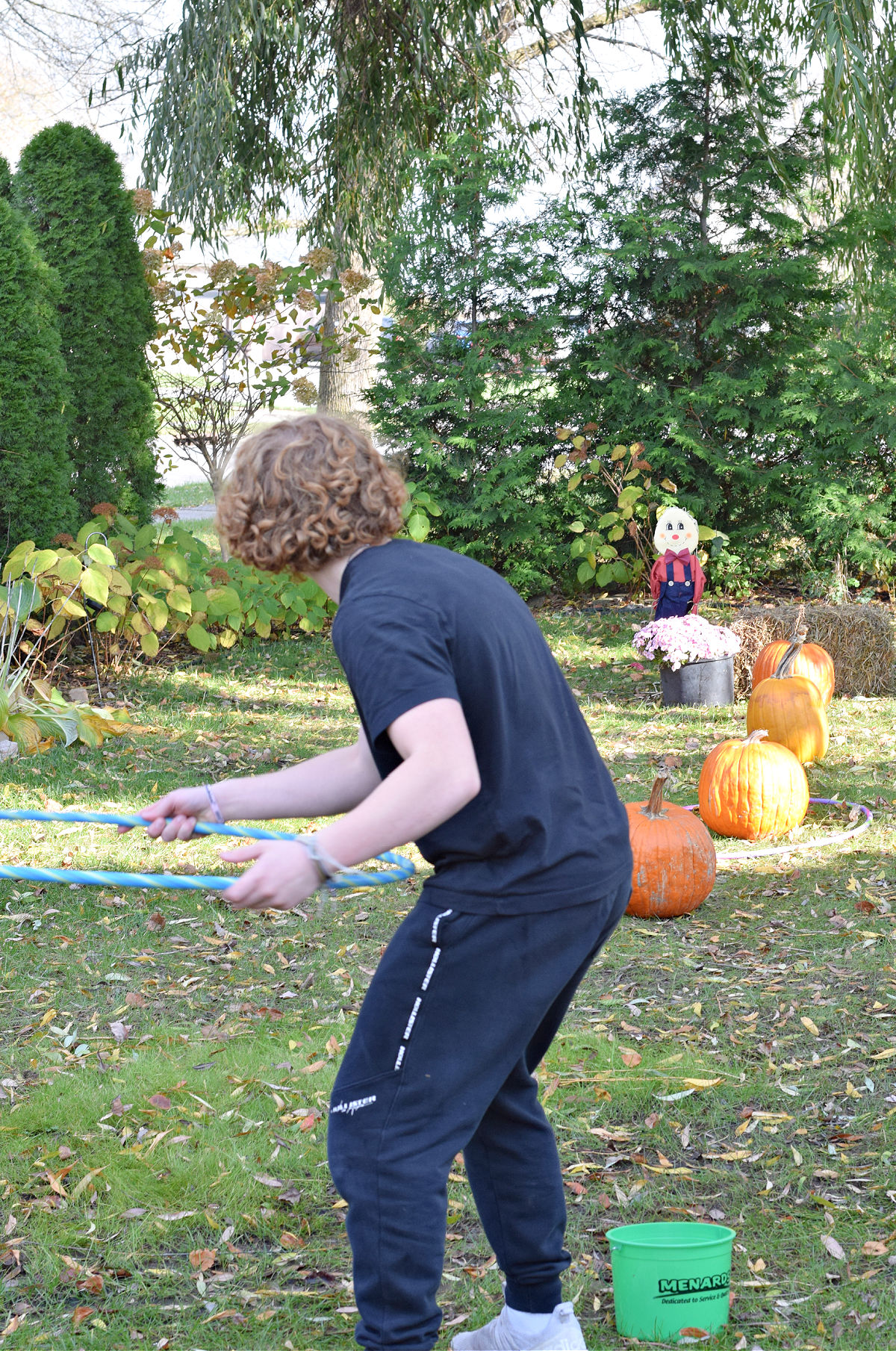 Place a few hula hoops at the starting line
Assign a point value to pumpkins – You can use a permanent marker to write a number on each pumpkin for a point value
How to Play Pumpkins in a Row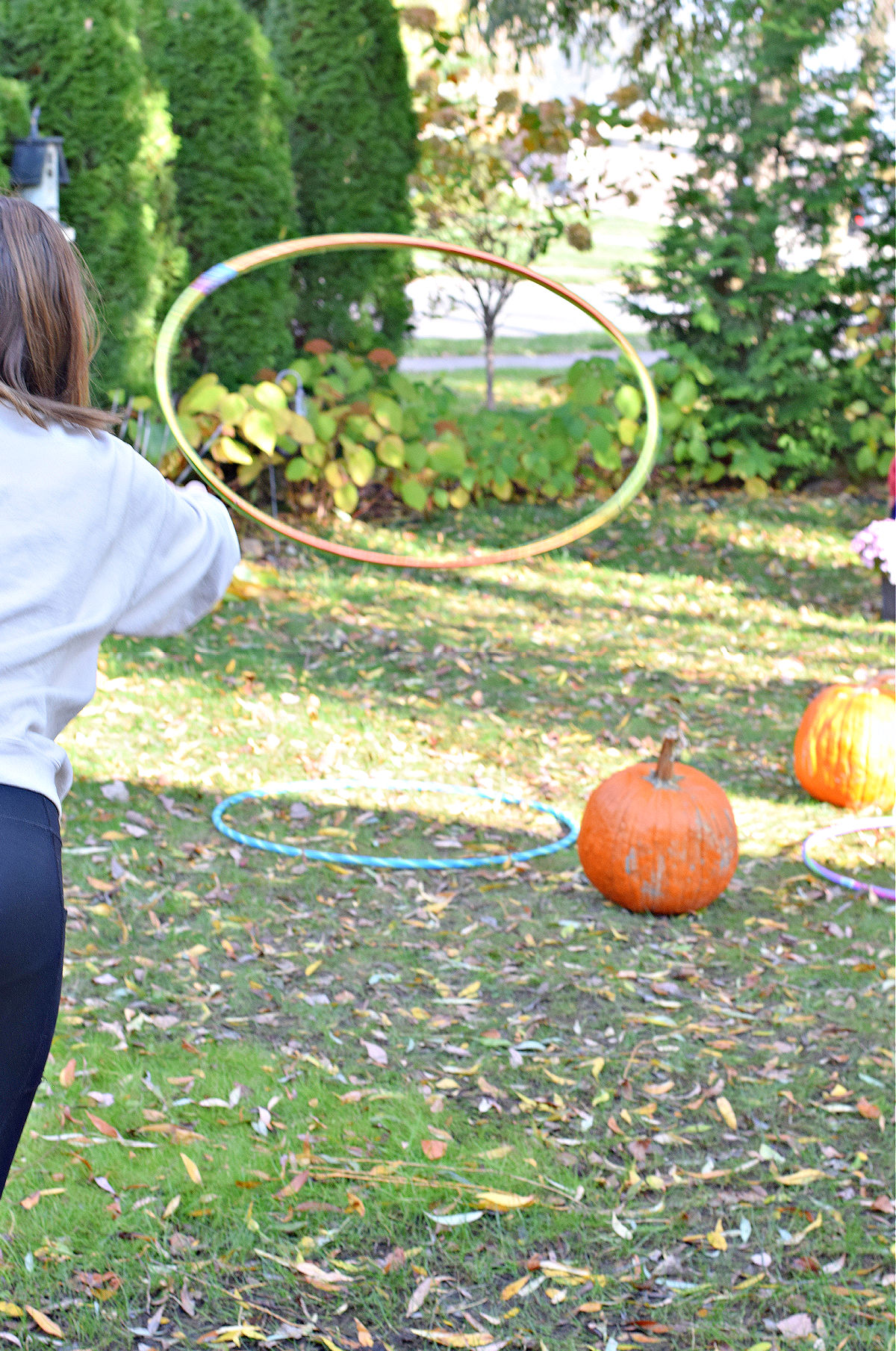 Players should use hula hoops to try and ring the pumpkins
They should get 3 tries before the next player gets a turn
The first one to get to 21 or your set number agreed on before the game wins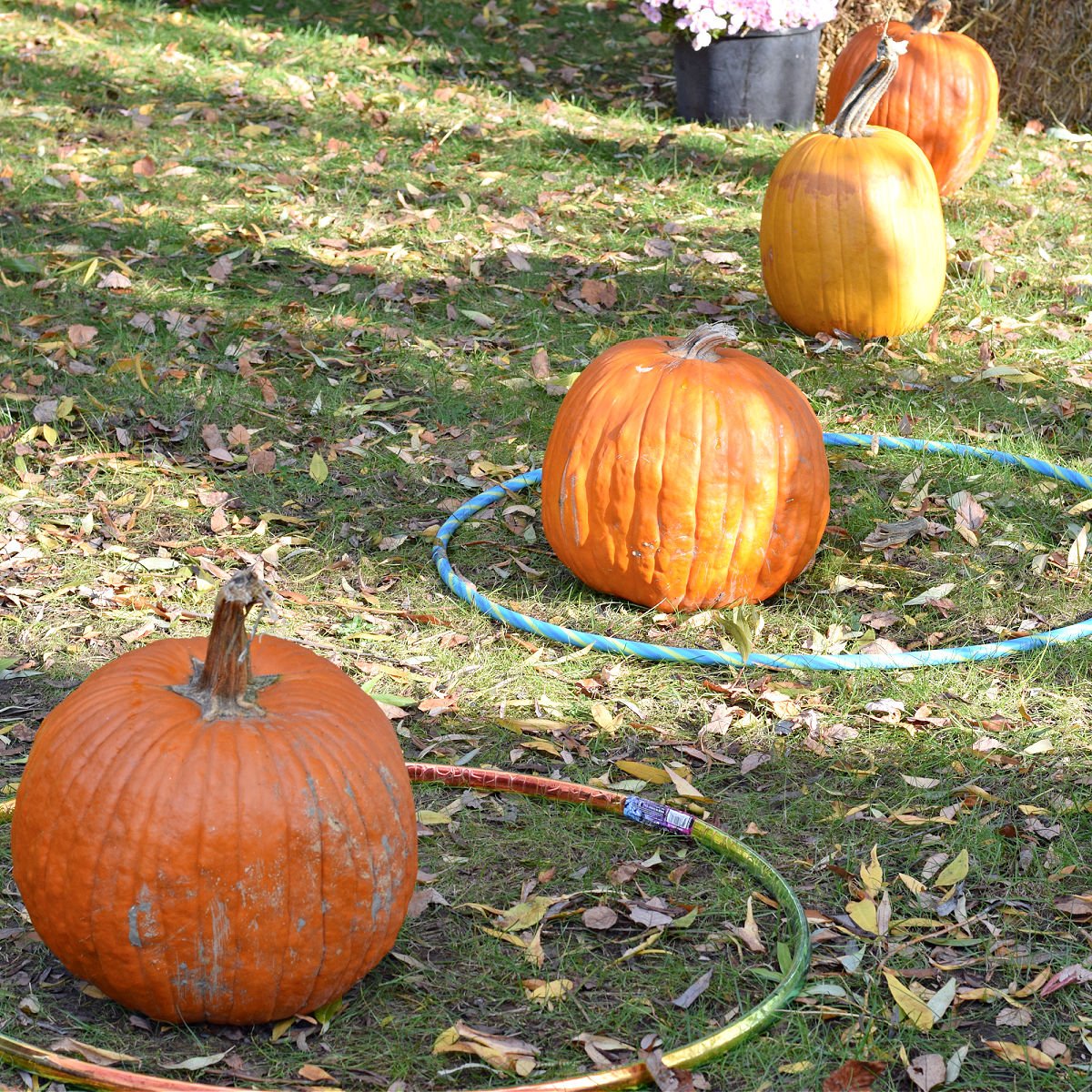 Expert Tip
Assign point values to each pumpkin and decide on a number goal for winning the game. We used the 21 points needed
Use a Sharpie to mark points on each pumpkin
Variations
Use glow necklaces to ring pumpkins
Set pumpkins in a square pattern
FAQs
Can I use fake pumpkins for this game?
Yes, but they will need to be heavy enough to withstand a hula hoop hitting it without moving
Can this game be played indoors?
Yes, but you might have to make some modifications. Use smaller pumpkins set on a table and glow necklaces to avoid hitting anything in the house
More Fall Games You'll Enjoy
My Top Amazon Picks for this Outdoor Fall Game
(affiliate links)
Printable for Pumpkins in a Row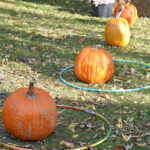 Print
Pumpkins In a Row Game
A fun and easy fall outdoor game
Equipment
outdoor space or large indoor space
Instructions
Setting up this game
Place the pumpkins in a row far enough apart to allow for a hula-hoop to ring them (about 3 feet)

Set something down to indicate people should stand behind that to play the game – creating a starting line

Place a few hula hoops at the starting line

Assign a point value to pumpkins
How to Play Pumpkins in a Row
Players should use hula hoops to try and ring the pumpkins

They should get 3 tries before the next player gets a turn
Winning the Game
The first one to get to 21 or your set number agreed on before the game wins