This Thanksgiving Game will keep the whole family entertained. Football Turkey Toss is a fun Thanksgiving Game for the whole family. Easy to make and so much fun to play.
Turkey Toss Thanksgiving Game
If you are looking for a fun Thanksgiving family game to play that everyone will enjoy, then this is the one for you. We love to play competitive games with our family and friends like Minute to Win It Games, and Haystack Bowling. This fall game is fun for kids, teens, and adults.
What I love about this Game
This is an easy game to make and set up
It's a fun Thanksgiving game to play for all ages. Adults will even get into the competitive nature of this fun game
This fall game is a great way to keep everyone outside and occupied while the Thanksgiving meal is being prepared
Football and Thanksgiving go hand in hand, so this game is the perfect combination of the two in a fun competitive game
Supplies Needed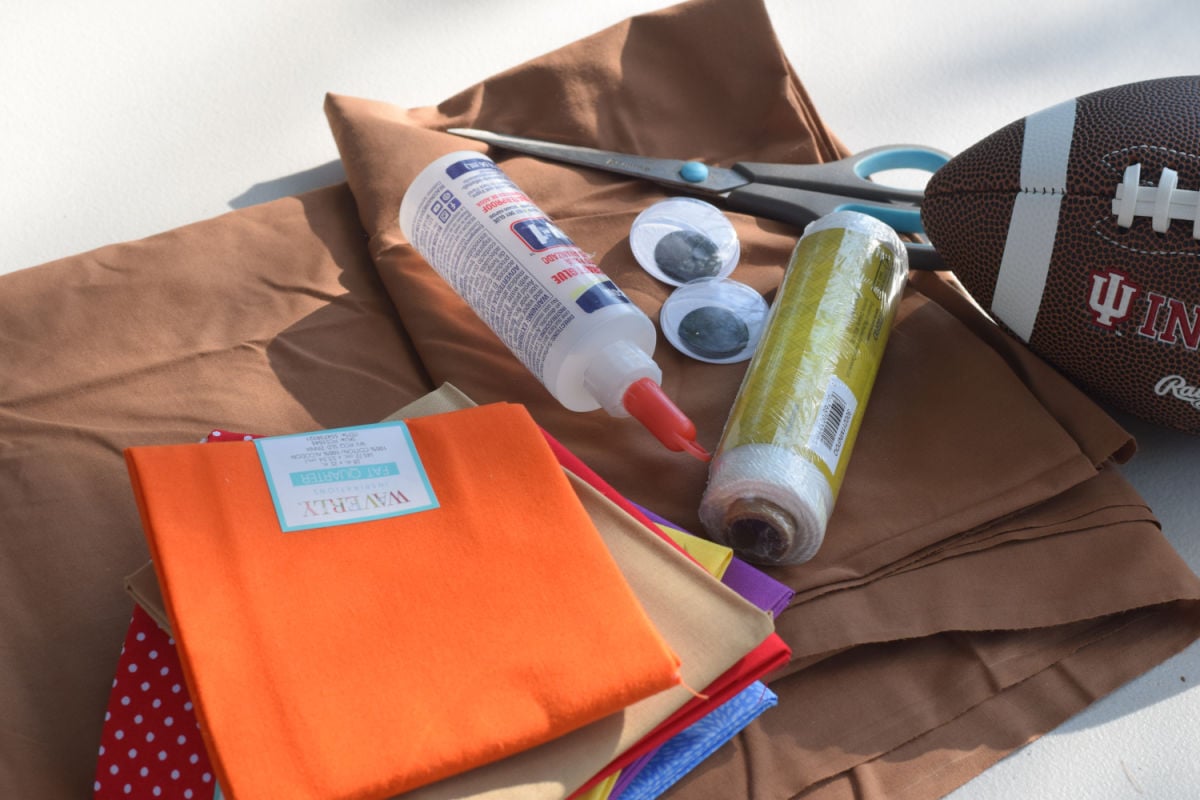 Brown Material – I ran into the material department at our local Walmart store and grabbed some pre-cut fabric. For the brown material, you will need a larger piece. I bought 2 yards of pre-cut brown material
Fat Quarters – You'll need several fat quarters. Luckily fat quarters come in plenty of colors and they are inexpensive. I picked out 5 colorful fat quarters for the feathers. Then, I grabbed a light brown in contrast to the big fabric for the turkey face. I also grabbed orange for the beak
Googly Eyes – You'll want to get big googly eyes. Mine are about 2 inches wide
Glue – Get good fabric glue. I like to use a brand called Fabri-Tac. It's tacky and sticks almost immediately
Scissors – It's important to have scissors that easily cut through fabric. I started out using some scissors that I had sitting around the house and the cuts were not pretty. I finally wised up and asked my mom for some of the scissors that she used in making quilts. They cut through the material like butter – a real game-changer
Rope – I used some rope that I bought at a hardware store that is a little thicker than twine. You'll need a rope that is strong enough to withstand hard hits from a football. The big guys really try to outdo each other and that poor turkey gets hit hard
Tape – You'll want to reinforce the corners with strong tape. I had some Gorilla Tape that is really strong and helped reinforce the corners. I started out without adding tape and quickly realized my mistake when the corners ripped off from hard hits. Once I added the tape, we were good to go
Equipment You'll Need
If you don't have a couple of trees to set the turkey game in between, then you'll need some poles on either side of the game that are set deep enough into the ground for support
PVC pipe is a cheap way to add 2 poles for support. They should be around 5-6 ft tall
Footballs – It would be great if you had 3 footballs so you don't have to retrieve a football every time someone throws one
Footballs should be smaller in diameter than the circles in the feathers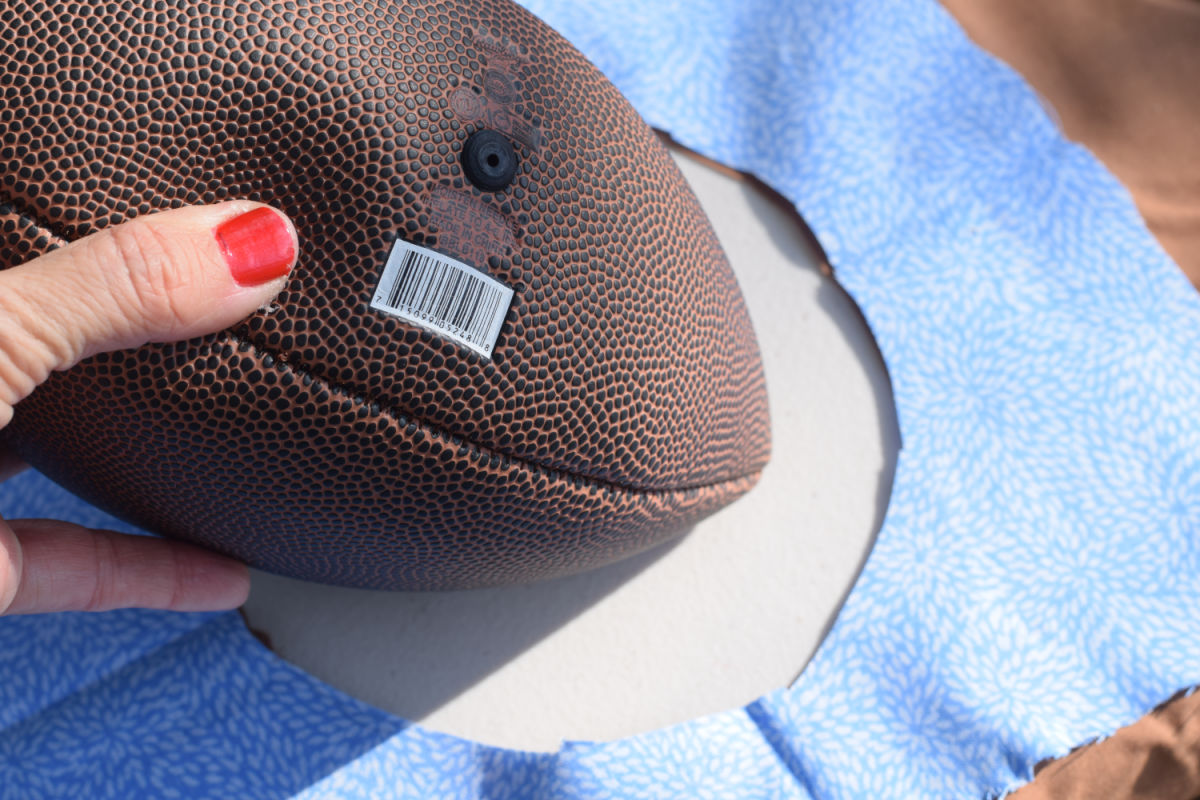 How to Make Turkey Football Toss
Set the larger brown material on a work surface
Open up the colorful fat quarters that you bought for the turkey feathers and cut them down the middle – you'll only need one half for a feather
Round out one end of the half to make a feather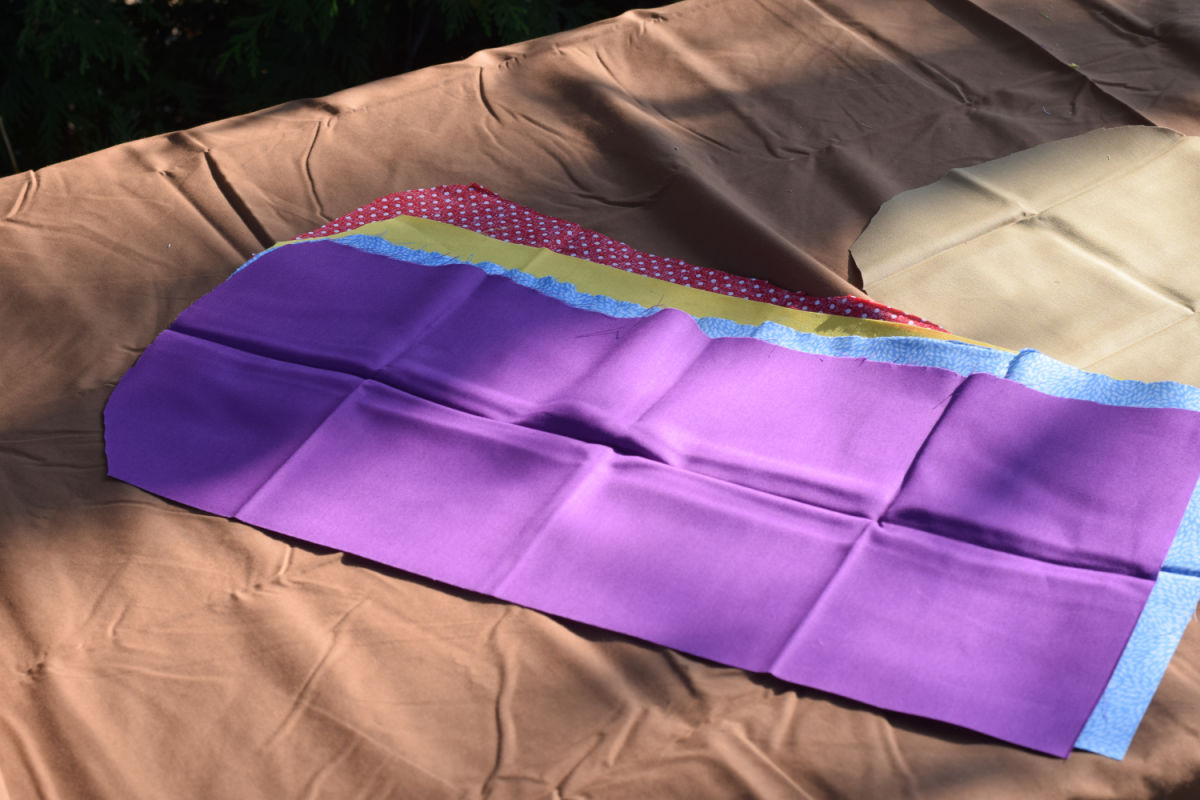 Open the light brown fat quarter and cut a large turkey head that is about 3 to 3&1/2 feet in diameter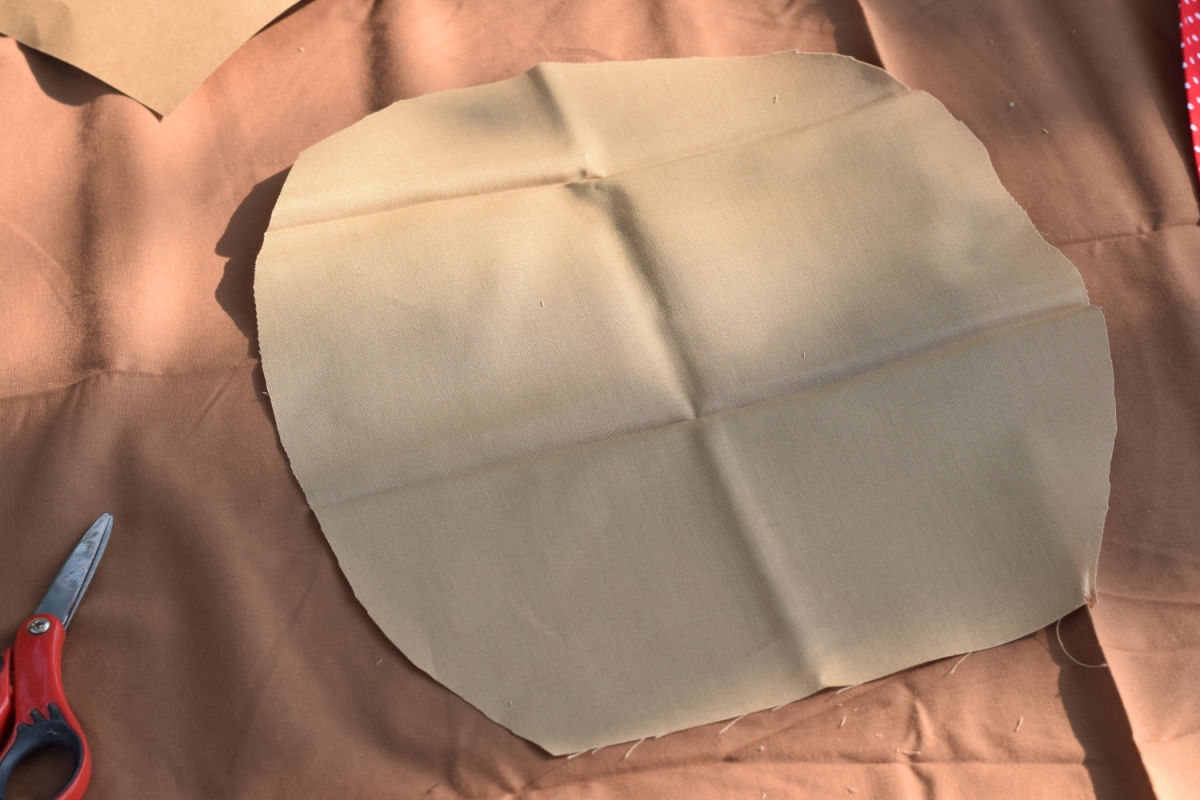 Cut a beak out of your orange fat quarter and cut a long piece of leftover red fabric for the gobble
Position the feathers in a fanned-out pattern on the dark brown material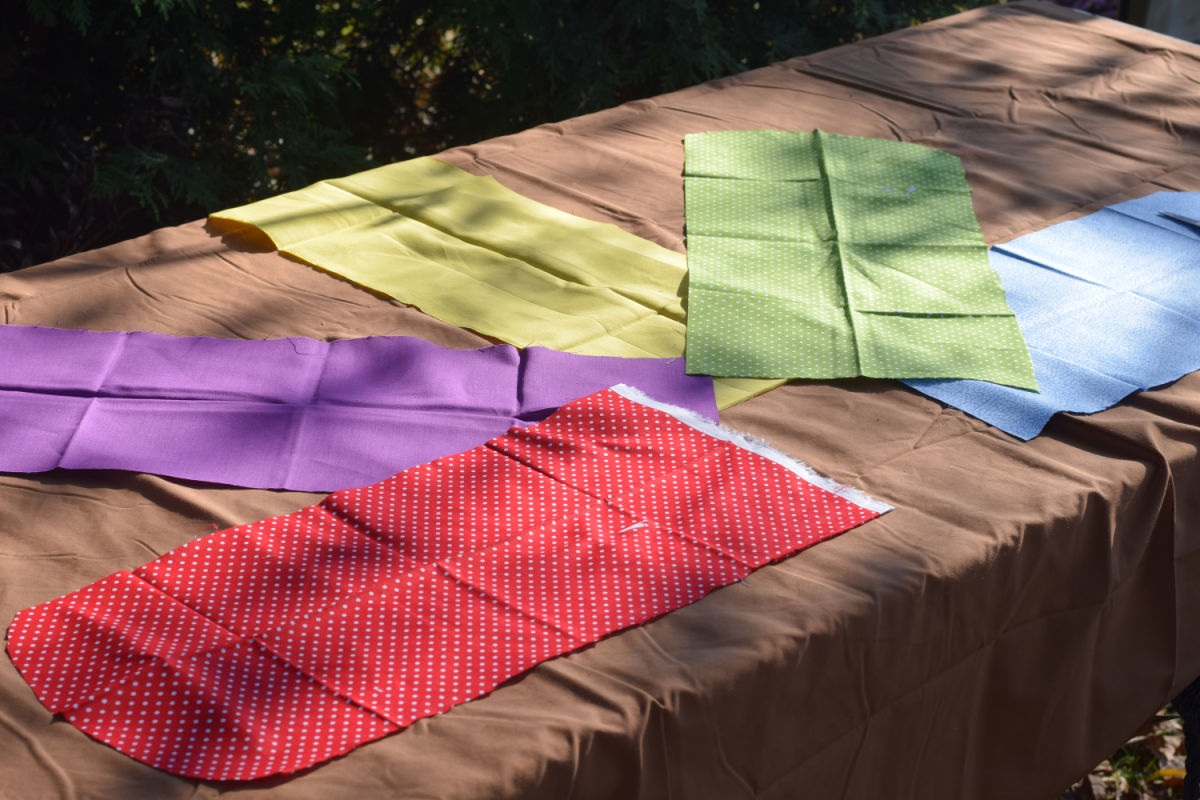 Place the head in the center of the feathers and reposition the feathers if you need to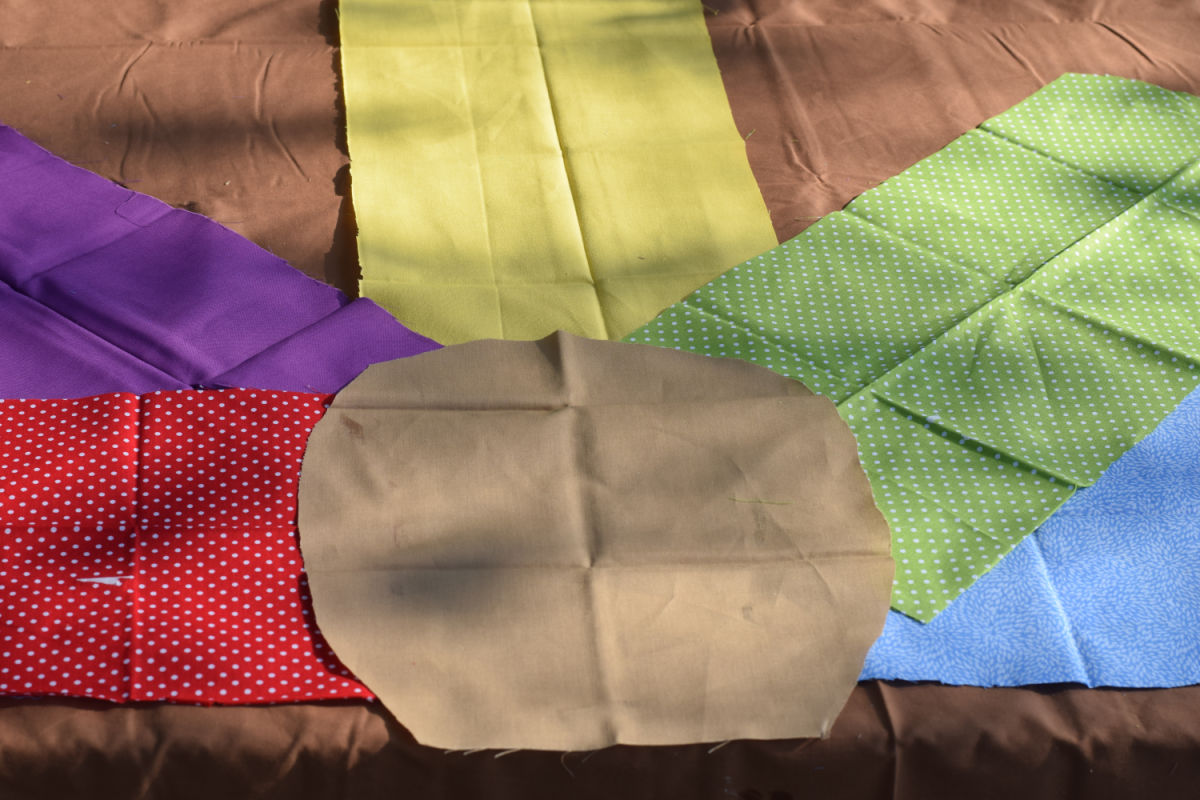 Once you've got everything in the position you like, then glue the pieces down
Add the beak, eyes, and gobble to the head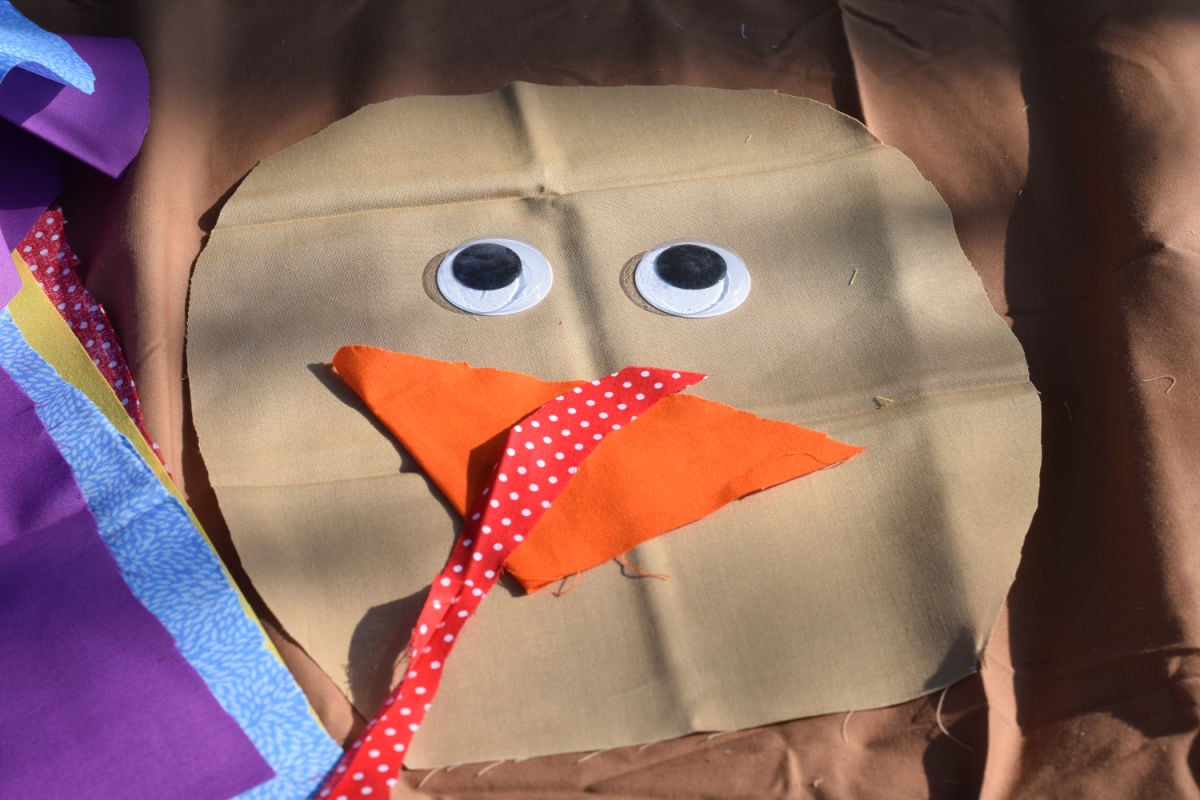 Use a circle template that is bigger than your football to trace circles onto the end of the feathers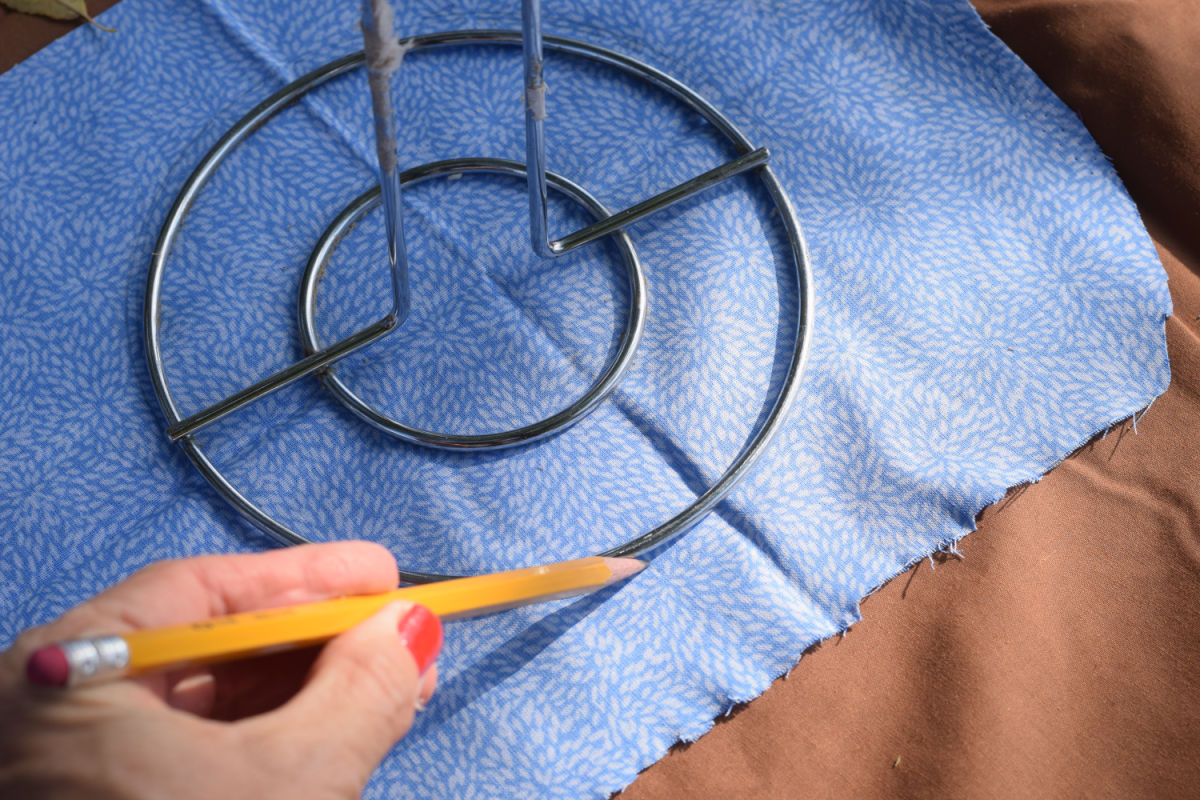 Cut those out, glue any loose pieces of material down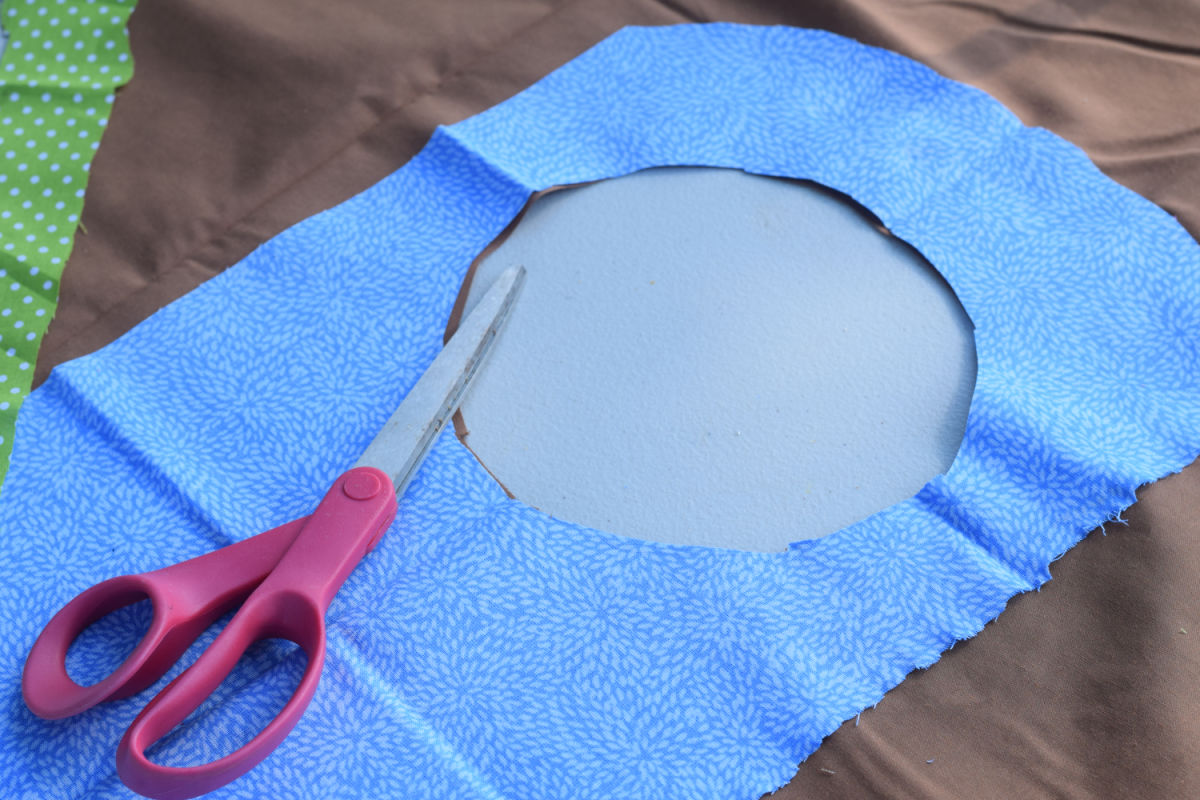 Fold the corners over for extra reinforcement and glue them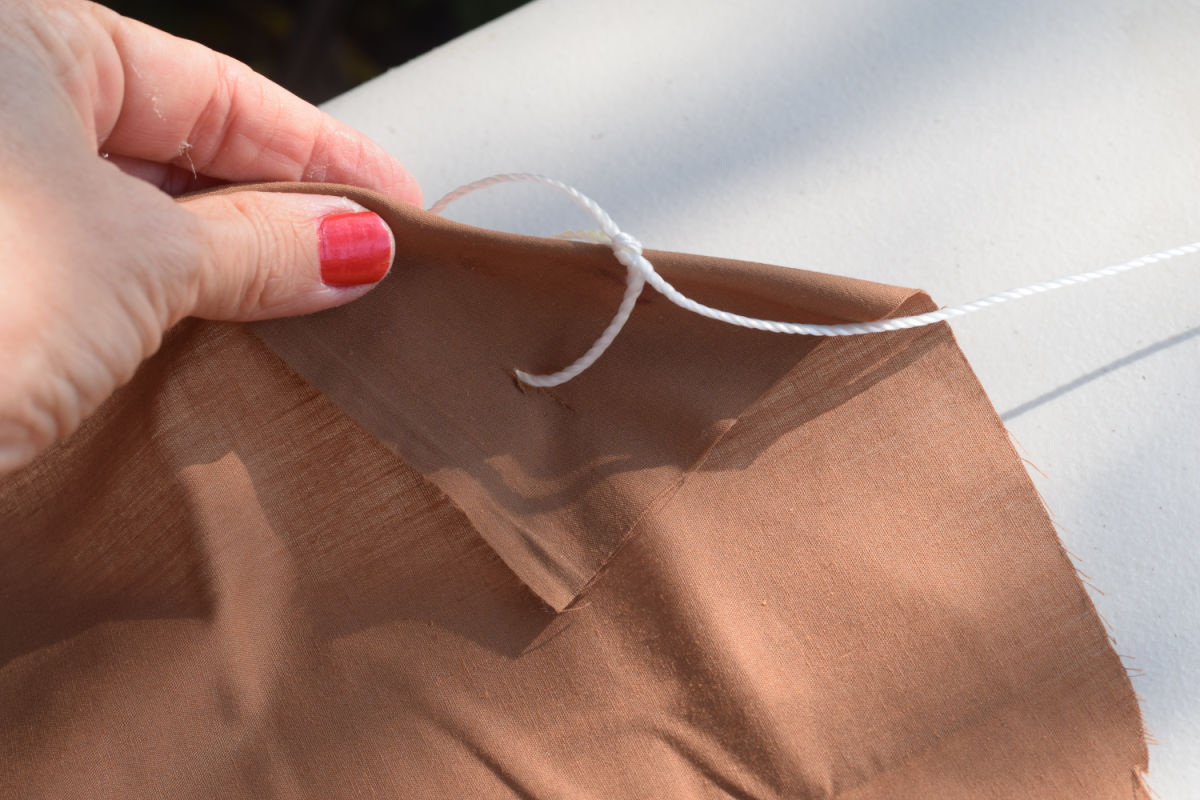 Cut a couple of slits into each corner for the rope to go through
Cut long pieces of rope and tie a knot on the end of the corners
Finally, reinforce the corners and rope by taping them on both sides with Gorilla tape or really strong duct tape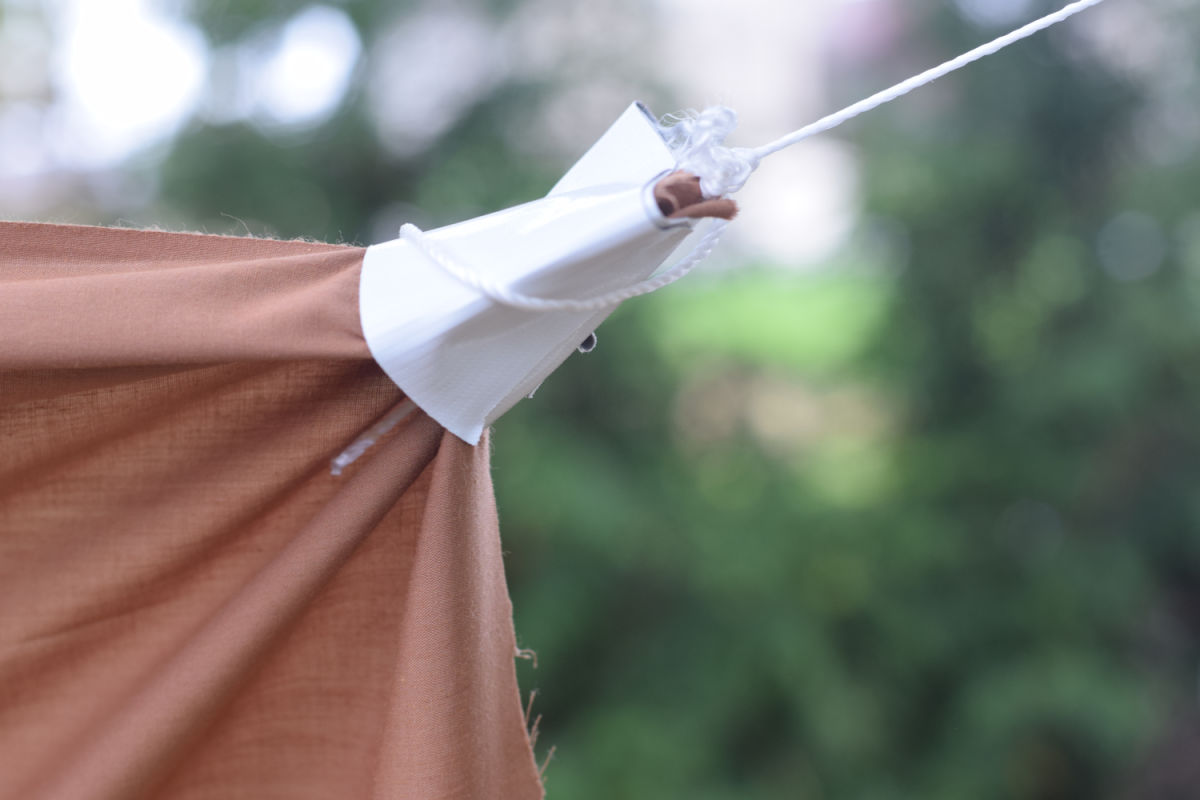 Tie your turkey toss game between 2 sturdy poles like PVC pipe or tie it between two trees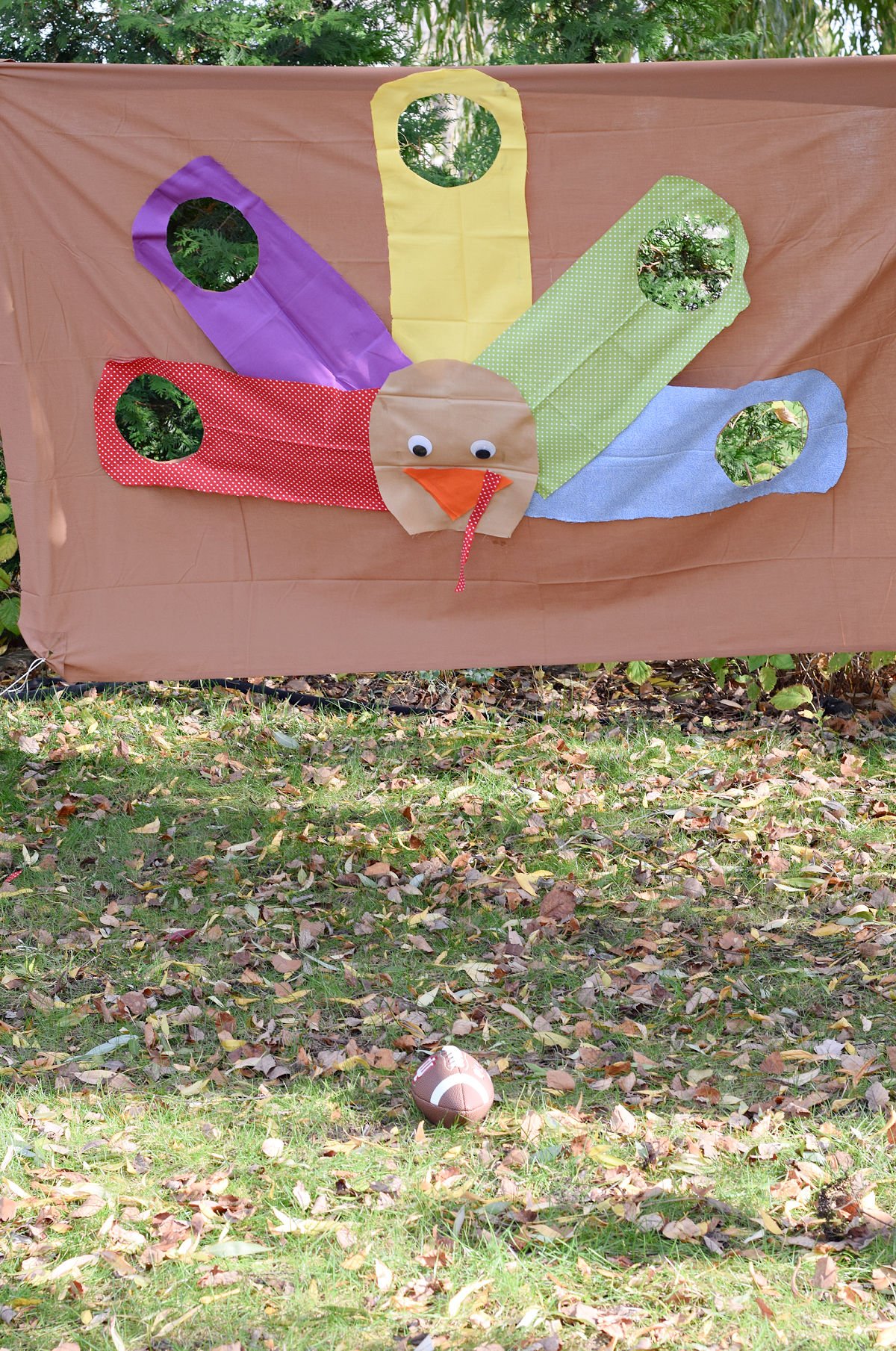 How to Play Turkey Football Toss
Set out a marker for people to stand behind
Each feather should be assigned a point value
Players will have 3 tries to get the most possible points
Then, the next player gets a turn
The play continues until someone has reached 21 points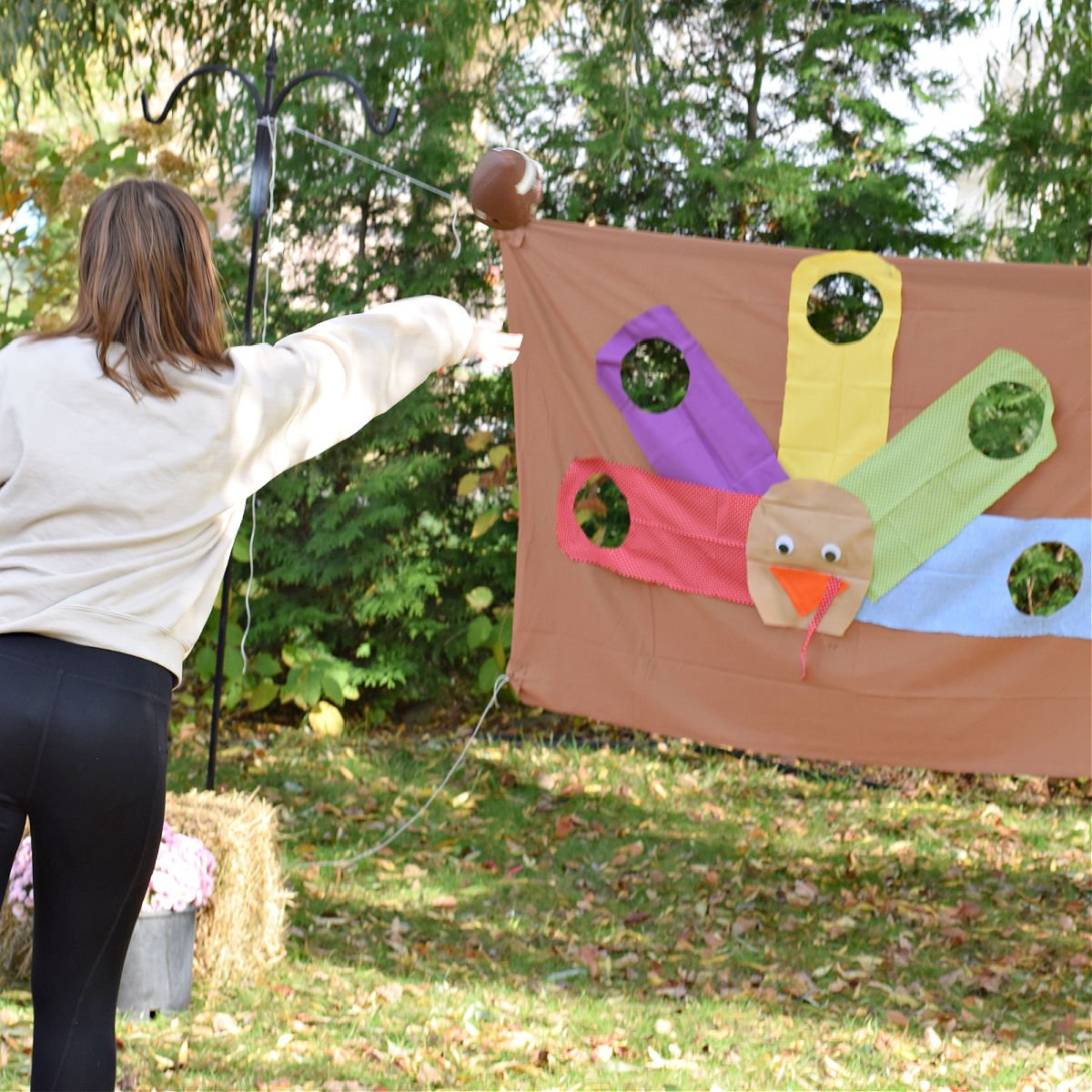 Team Play
Divide into teams
Assign point values to each feather
Each player gets three chances to throw the football through the targets before the other team gets a turn
Play continues until a set number of points is reached which is usually 21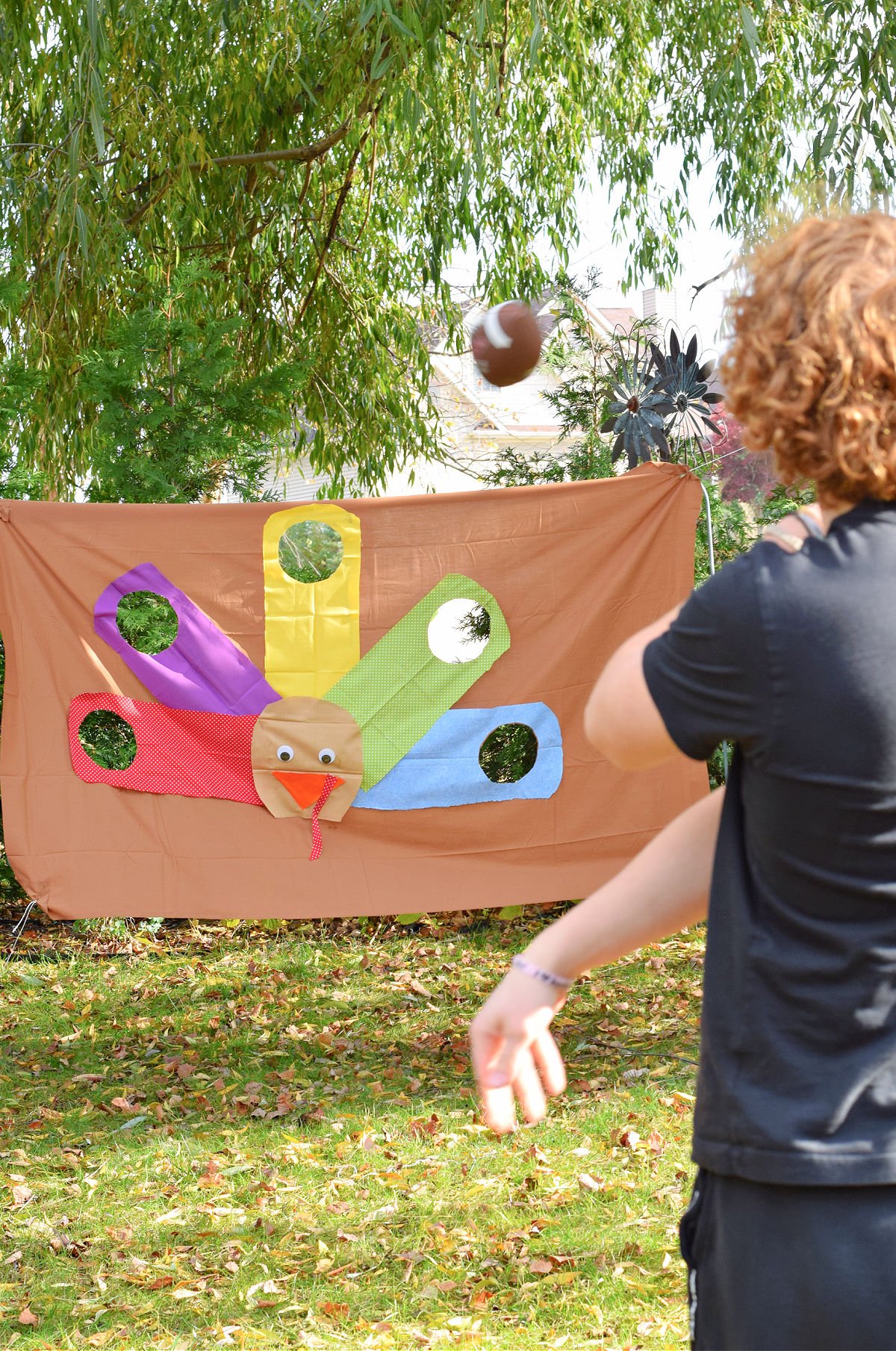 FAQs
What are some fun activities to do with kids on Thanksgiving?
Have a paper tablecloth on the kids' table and a fun container for colored pencils so kids can color on Thanksgiving, Play haystack bowling outdoors, Play pumpkin tic-tac-toe, Make a thankful tree, Play flag football, go for a nature walk, have a pie baking contest
More Thanksgiving Games to Play
My top Amazon Picks for this fun Fall Game
(affiliate links)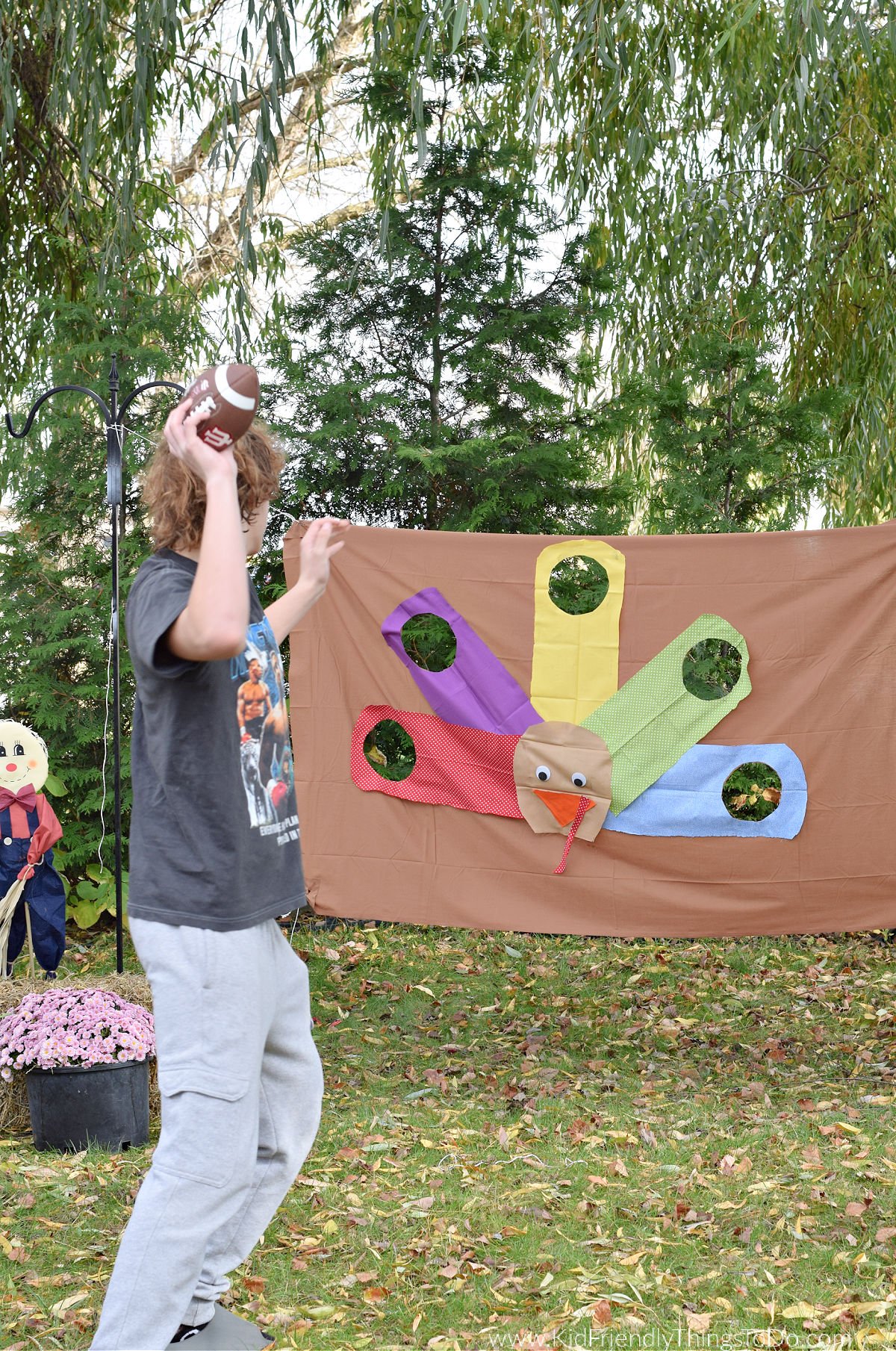 Come Hang out with Me
I'd love to see you over on Facebook and on Pinterest. Come by to say hello and stay a while
Print
Turkey Football Toss Thanksgiving Game
A fun Thanksgiving game for the whole family
Equipment
If you don't have a couple of trees to set the turkey game in between, then you'll need some poles on either side of the game that are set deep enough into the ground for support PVC pipe is a cheap way to add 2 poles for support. They should be around 5-6 ft tall

Footballs

It would be great if you had 3 footballs so you don't have to retrieve a football every time someone throws one
Materials
2

yards

Brown Material

4 ft. wide

5

Fat Quarters – different colors

I picked out 5 colorful fat quarters for the feathers. Then, I grabbed a light brown in contrast to the big fabric for the turkey face. I also grabbed orange for the beak

1

piece

material for the beak

orange

2

Googly Eyes

You'll want to get big googly eyes.

1

2 oz.

Glue

– Get good fabric glue. I like to use a brand called Fabri-Tac.

1

pair

Scissors

It's important to have scissors that easily cut through fabric.

1

package

twisted nylon or twisted polyester rope

You'll need a rope that is strong enough to withstand hard hits from a football

strong tape

I had some Gorilla Tape that is really strong and helped reinforce the corners
Instructions
Set the larger brown material on a work surface

Open up the colorful fat quarters that you bought for the turkey feathers and cut them down the middle – you'll only need one half for a feather

Round out one end of the half to make a feather

Open the light brown fat quarter and cut a large turkey head that is about 3 to 3&1/2 feet in diameter

Cut a beak out of your orange fat quarter and cut a long piece of leftover red fabric for the gobble

Position the feathers in a fanned-out pattern on the dark brown material

Place the head in the center of the feathers and reposition the feathers if you need to

Once you've got everything in the position you like, then glue the pieces down

Add the beak, eyes, and gobble to the head

Use a circle template that is bigger than your football to trace circles onto the end of the feathers

Cut those out, glue any loose pieces of material down

Fold the corners over for extra reinforcement and glue them

Cut a couple of slits into each corner for the rope to go through

Cut long pieces of rope and slide one end through a slit and back through the other one giving the corners 2 pieces of rope for more support

Finally, reinforce the corners and rope by taping them on both sides with Gorilla tape or really strong duct tape

Tie your turkey toss game between 2 sturdy poles like PVC pipe or tie it between two trees
Playing
Set out a marker for people to stand behind

Each feather should be assigned a point value

Players will have 3 tries to get the most possible points

Then, the next player gets a turn

The play continues until someone has reached 21 points or your set number agreed on before the game
Team Play
Assign point values to each feather

Each player gets three chances to throw the football through the targets before the other team gets a turn

Play continues until a set number of points is reached which is usually 21
Notes
Footballs should be smaller in diameter than the circles in the feathers