Setting out Leprechaun Traps on St. Patrick's Day is a fun way to celebrate with the kids. This Leprechaun Trap idea is fun and definitely easy to make.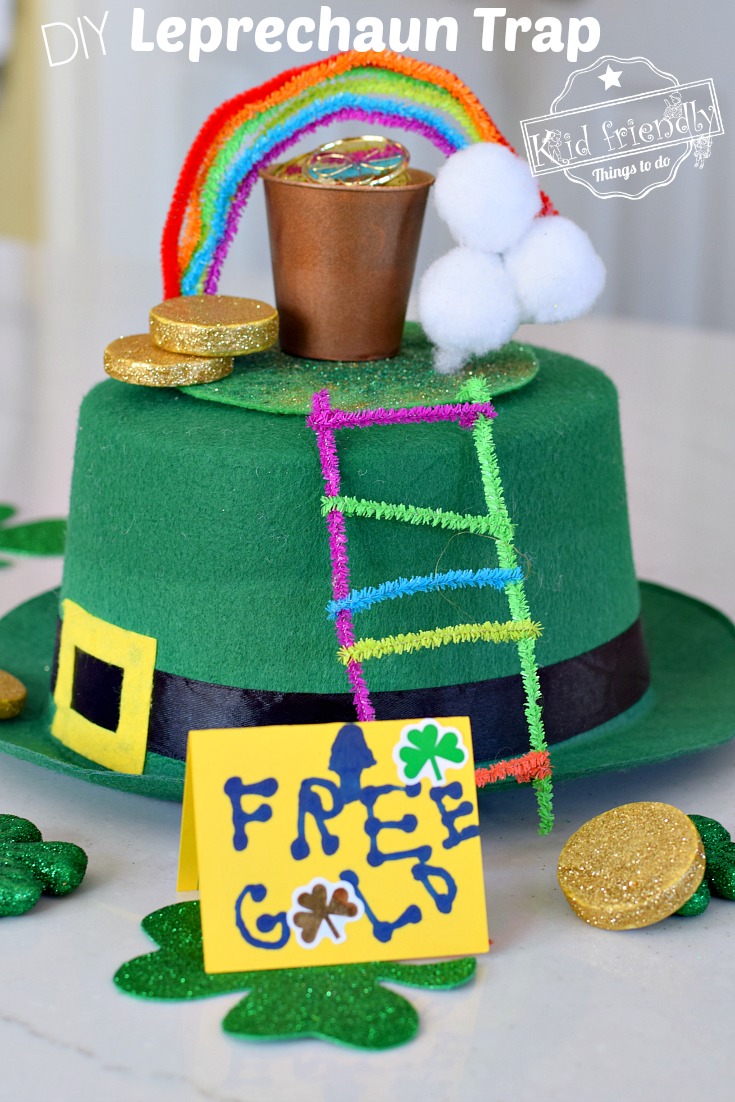 Leprechaun Trap
This is such a fun St. Patrick's Day Activity to do with the kids.
The kids literally checked our leprechaun trap every five minutes. They couldn't wait to trap a leprechaun.
Between you and I, they would have freaked if they saw a leprechaun at the bottom of our hat.
There are so many possibilities for making Leprechaun traps. I've seen elaborate traps, lego traps, cereal box traps, paper mache traps, etc…
The traps that get my attention are the easy ones.  We keep it as simple as possible.
If you are looking for fun things to do on St. Patrick's Day with the kids, then you'll want to check out these other Leprechaun Trap Ideas, Making a handprint Leprechaun from Puffy Paint, or The Gold Coin Shake – a fun St. Patrick's Day Game
What happens if you trap a Leprechaun?
Legend has it that you get to make a wish up to 3 wishes
What is a Leprechaun's Weakness?
Destroying his gold and a medallion that turns him or her into stone
What is the Best Trap to Catch a Leprechaun?
Using a trap door or trap floor for him or her to fall through
Do Leprechauns Leave Anything Behind?
Leprechauns might leave rainbow candy, footprints, a mess from their naughty tricks, and glitter all over the house
Our traps have changed over the years , but they've all had one thing in common. They've always been a Dollar Tree hat with the center cut out, St. Patrick's Day decorations (most likely from the Dollar Tree, as well), and simple homemade touches surrounding the hat.
Here's a quick Video on Making an Easy Leprechaun Trap out of a Dollar Tree Hat…
Tips and Tricks
you can find just about everything you'll need for a leprechaun trap at the Dollar Store
the gaudier the better – Leprechauns love bling so go crazy with it
camouflage the trap door or floor with shamrocks or more gold – they love both!
Here's what you'll need to make a Hat Leprechaun Trap
supplies
For the hat and ladder:
A St. Patrick's Day hat (plastic or felt)
A covering for the hole in the hat, like a St. Patrick's Day Napkin, moss, stiff felt, or tissue paper
Green or rainbow colored Pipe cleaners – to make a shiny ladder leading to the gold
St. Patrick's Day Decorations to tempt the Leprechaun to climb to the top of your hat
Scissors
fake gold coins
colorful pipe cleaner to make rainbows
optional: cotton balls to add clouds
paper signs saying Free Gold
shamrock decorations
Something to place Over Your Trap…
Gold Coins are always a safe bet
I painted a Dixie Cup with gold spray paint and filled it with fake coins
*you could use a Holloween Caldron and paint it gold for an even better pot of gold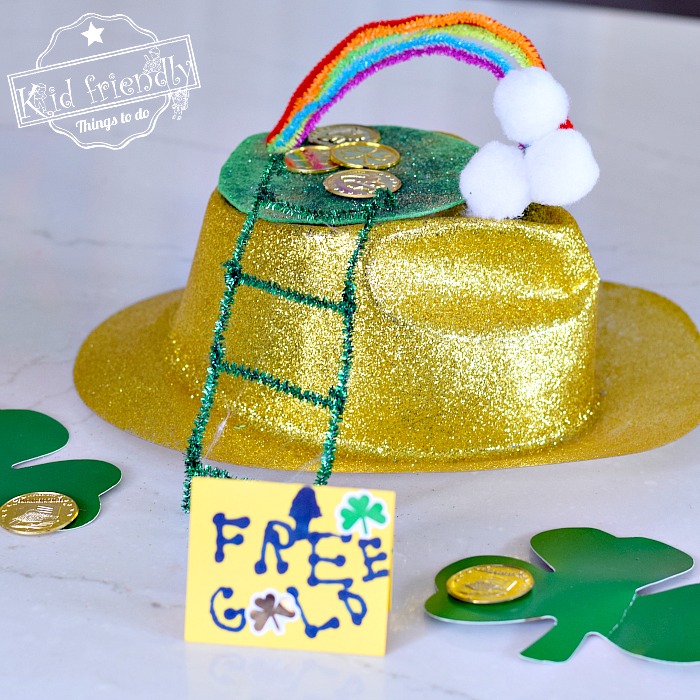 Here are some ideas for creating a Leprechaun Trap – as a simple guide to go by…
Instructions
Cut a hole in the top of the hat
Just in case the leprechauns are onto you, place something under the hat to tempt them to climb on anyway – like gold coins
Place moss or a napkin over the hole with something over it that the leprechauns will want really badly (more gold coins)
*The idea is that they will step onto the center of the covering and just fall right through
Place something over the covered up hole as a distraction – like a rainbow or a pot of gold
As if the gold isn't enough, place a DIY sign in front of the hat that says "free gold!"
Make a little ladder out of your pipe cleaners so they have something to climb up
Finally, make a path of shamrocks, rainbows, or gold coins leading to the hat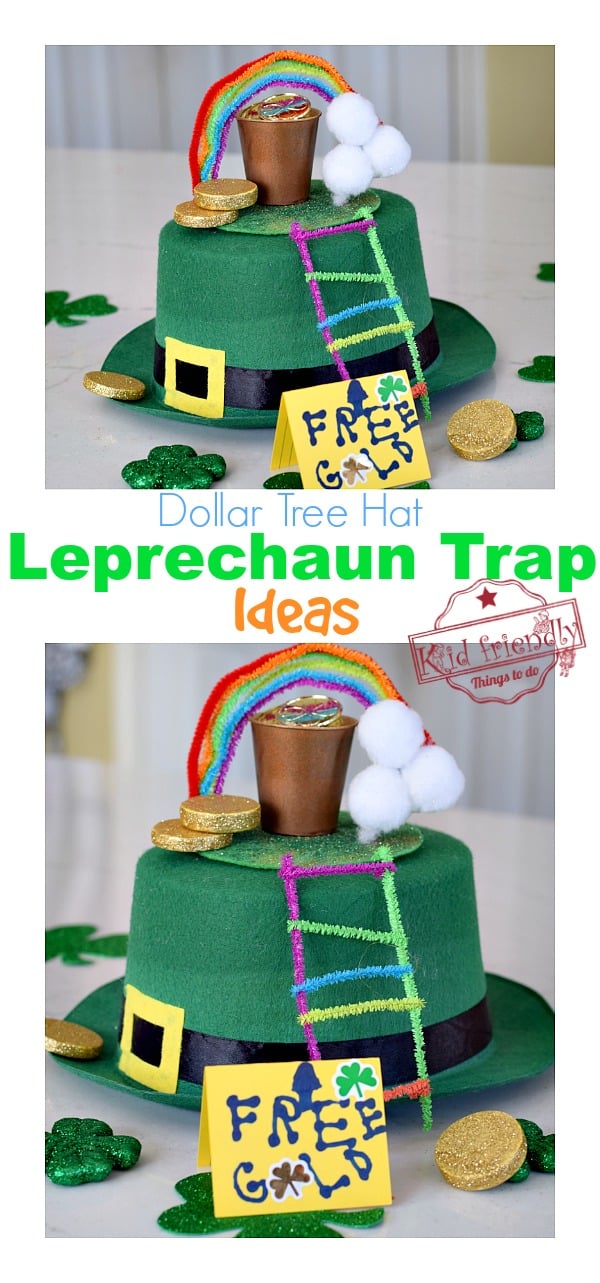 That's It. I hope this has helped you find an easy way to add a fun memory to share with your kids for years to come.
Happy St. Parick's Day