Use puffy paint to make an adorable Handprint Leprechaun Craft with the kids. A St. Patrick's Day craft that's easy and fun to make. Come on in and I'll share my recipe for puffy paint and show your how to make the Leprechaun Handrpint with the kids, today…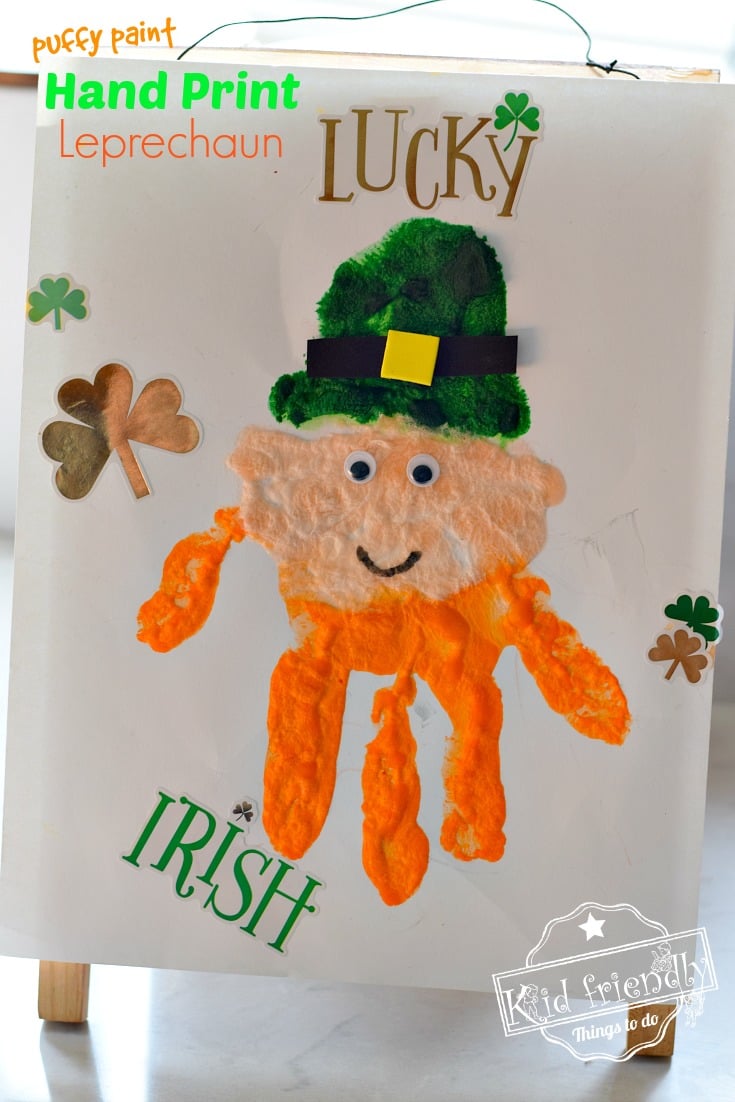 I just had to slip in this handprint craft. I am a sucker for sentimental crafts, – they grow up so fast 🙁 – and this is a cute one.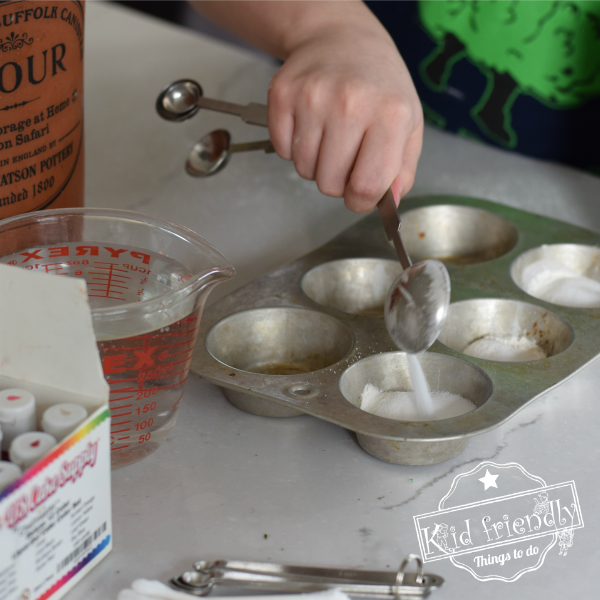 Using cupcake pans, and liners are a great way to hold the paint, and you literally have no mess to clean up. The kids can even get involved in making this recipe with you.
In the end, you'll have a really fun time spent together and a sweet Handprint to cherish.
Here's the recipe for Puffy Paint and How To Make the Leprechaun Handprint Craft for St. Patrick's Day…
Self Rising Flour
Salt
Food Coloring – we used green, orange, and flesh-colored gel
Water
Cupcake Pan works great for a paint tray
Q-tips (or paintbrushes)
Cardstock
Googly eyes, black foam paper, yellow foam paper, and a black marker
Don't have self-rising flour? No worries. You can make your own.
How do you make Self Rising Flour?
For every cup of all-purpose flour, add 1&1/2 tsp. of baking powder and 1/4 tsp. of salt
Instructions for this Leprechaun Handprint Craft…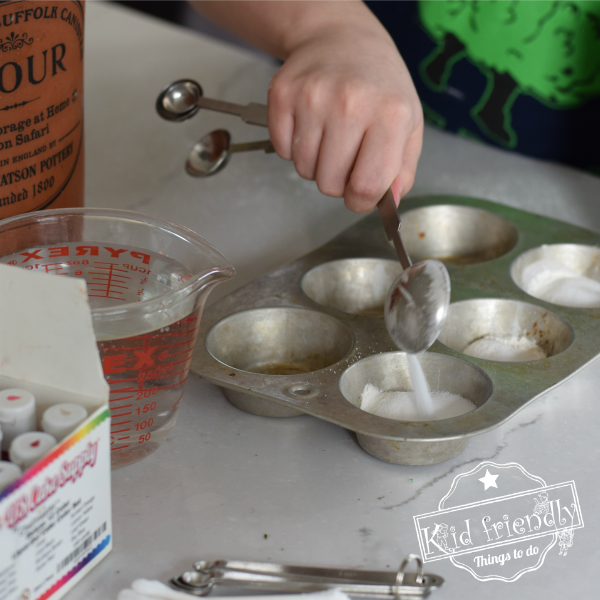 Mix 1 Tablespoon of Self Rising Flour with 1 Tablespoon of salt. Add a little food coloring and a few drops of water. Only add enough water to make a paste Puffy Paint Leprechaun St. Patrick's Day Craft
Use a Q-tip to paint stir the colors – One Q-tip per color so you don't mix them
Handprint Leprechaun St. Patrick's Day Craft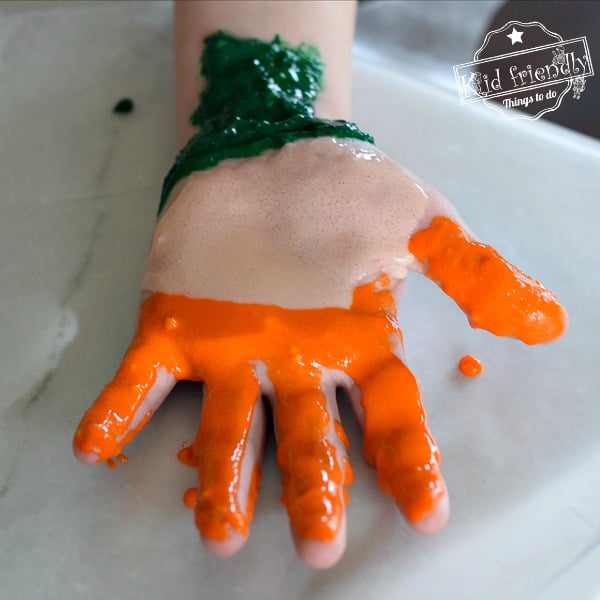 Start to paint your child's hand
Paint the fingers and thumb orange (and a little bit above the fingers), the palm flesh-colored, and the wrist green
*Use the paint liberally. The more you paste on, the more three dimensional your painting will look

Carefully and quickly flip the painted hand over and onto the paper
Press firmly, pushing down on the fingers to make sure the paint gets to the paper
Microwave the painting for up to 30 seconds. The painting should be puffy and dry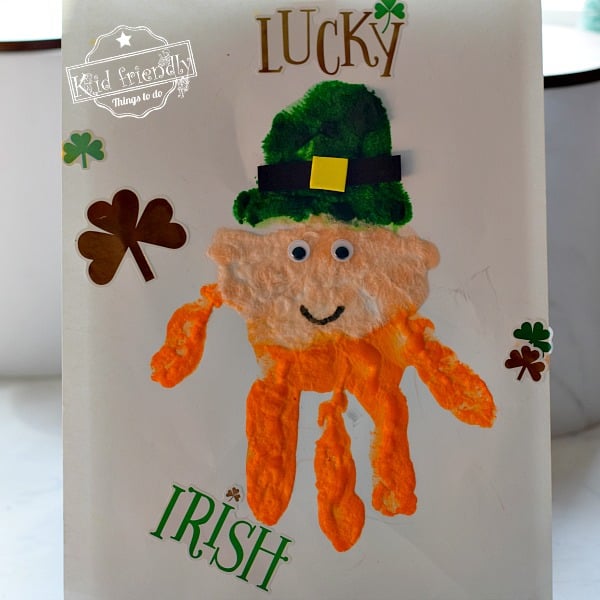 cut a square from the yellow foam, a black strip from the black foam
Use glue to attach the hat decorations and eyes
Use the marker to make a smile
Note…
The dry paint will continue to dry and may pull the paper into a curl. Be sure to tape it down to prevent the edges from curling.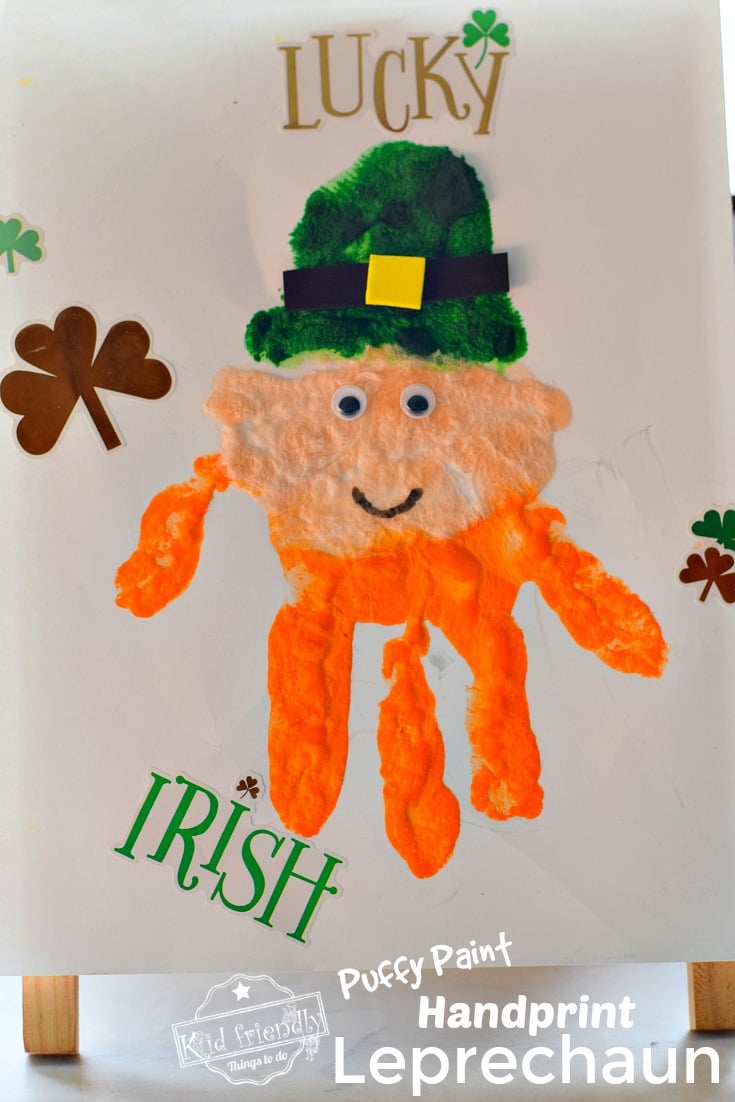 Add googly eyes, a felt band for his hat, and use a black sharpie for the smile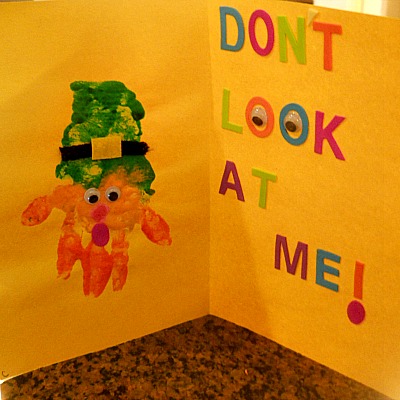 Years ago, we made a card from construction paper and added little sayings from the kids. We mailed them to the grandparents for a fun St. Patrick's Day card and keepsake. My little guy at the time was constantly making one disastrous mess after another – hence the phrase, "Don't Look at Me!" and "It wasn't me!"

~Melissa
KidFriendlyThingsToDo.Com