Get out your vegetable peeler, and broken crayons for this sun catcher craft.  I cut out heart shapes for Valentines Day, but you can do any shape you want! This is a fun way to catch the sun, and recycle!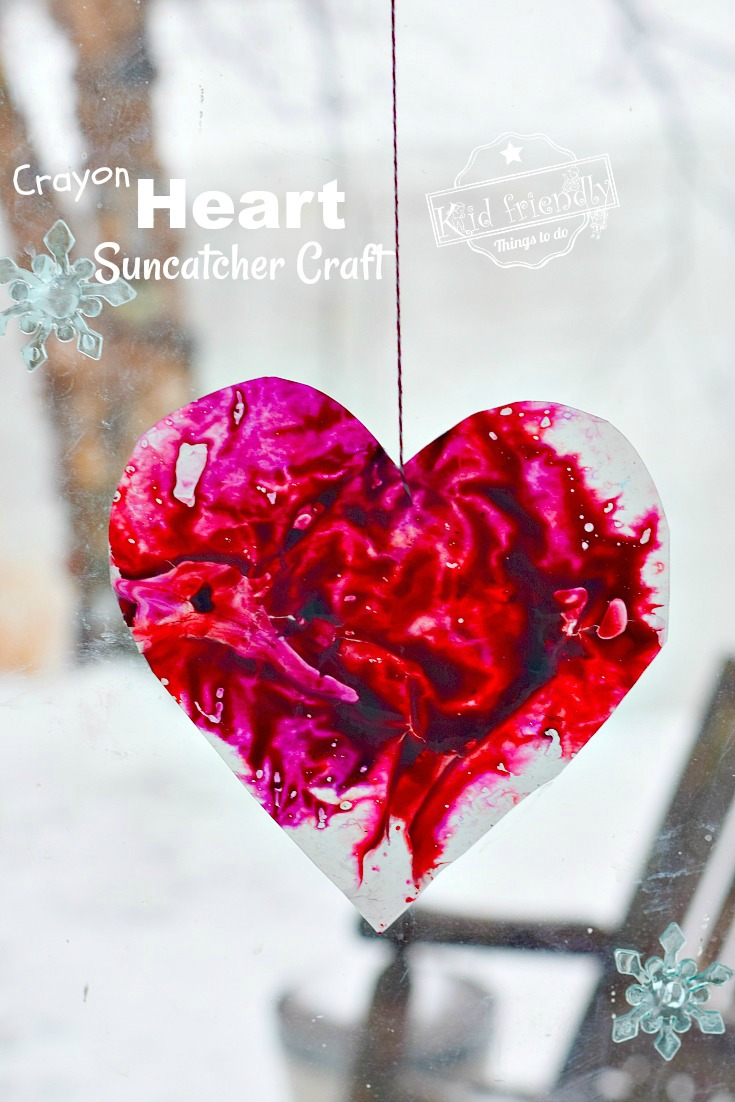 This is a fun craft to do with the kids.

Save it for a snow day as we did, or make it on a beautiful summer day.

Either way, it's a ton of fun and it'll look so cheerful hanging in the window. They are a great decoration for any holiday.
Here are my top Amazon Picks for this Heart Sun Catcher craft…
(affiliate links)
[box]   [/box]
For this Sun Catcher  Craft, You'll Need:
Crayons
Pencil Sharpener, Vegetable Peeler, whatever you can shave crayons with
*You can also buy shaved wax (link above)
Wax Paper
Hair Dryer
Scissors
String and tape for hanging
Instructions for making this Wax Paper and Crayon Sun Catcher…
You'll want to start out by protecting your surface from melted wax –
*I used a baking sheet lined with wax paper
Start shaving your crayons into little-shaved pieces
*This can be a bit trickier than you would think.  In my case…in using a pencil sharpener, I found that if a crayon had a flat tip, it would get stuck. A pointed tip worked best. I have used a vegetable peeler before. I shaved the crayons for the kids, easily with the peeler. Of course, then you have wax on your vegetable peeler. If you have any tips for us, please share them below. 🙂
Grab a piece of wax paper and set it out
Sprinkle your wax shavings onto your piece of wax paper
Add another piece of wax paper over the shavings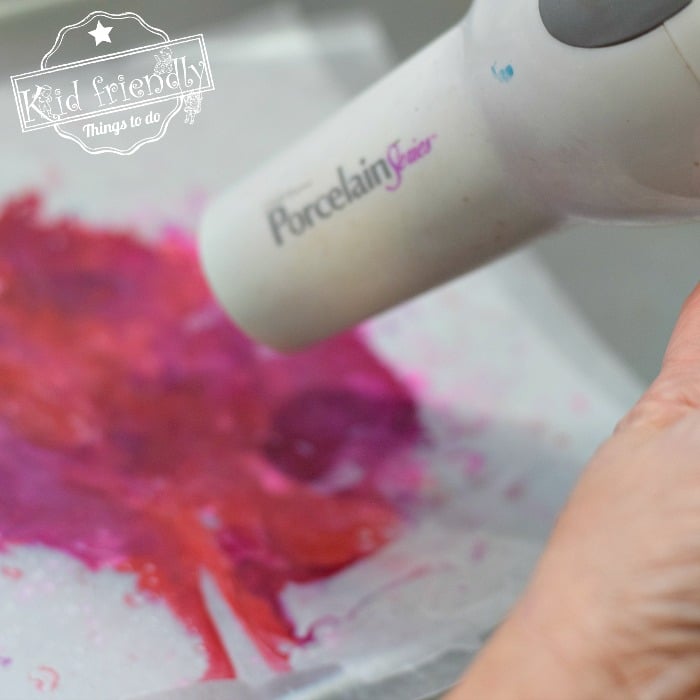 Use a hair dryer to melt the crayons between the 2 sheets of wax paper
*I opted for a hairdryer because iron is just too much of a liability. Even with a hair dryer, the temperature gets super hot. Watch that your hands don't get too close to the heat source.
Let your wax dry and cut your shape out – in this case, we cut out a heart
Hang your sun catcher with string and tape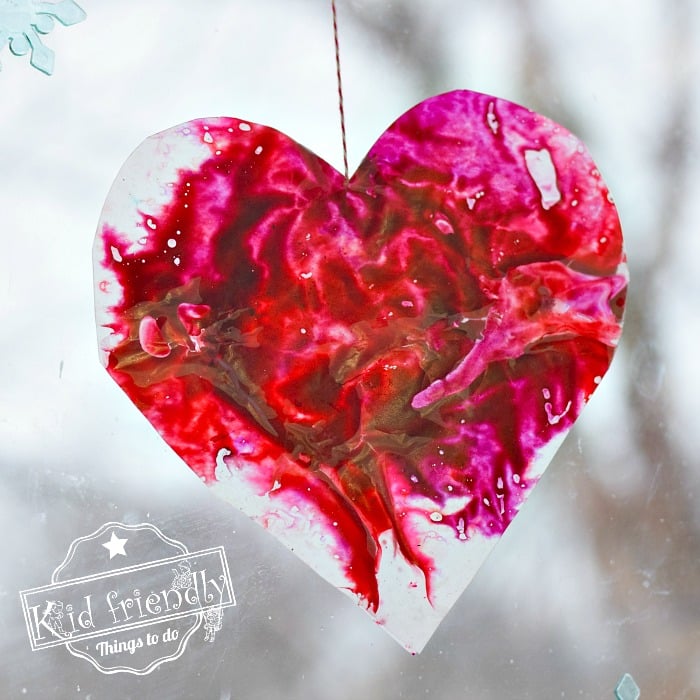 ~Melissa – KidFriendlyThingsToDo.com
If you need some more craft ideas to brighten up your windows, check out the links below…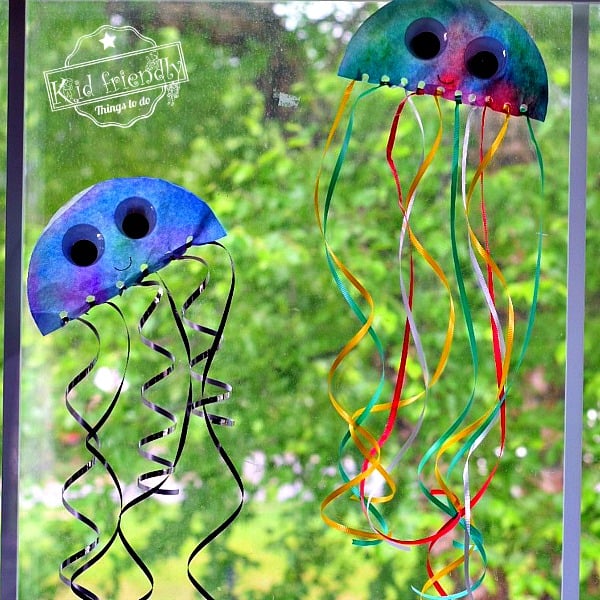 These coffee filter sun catcher Jellyfish are the perfect craft for summer.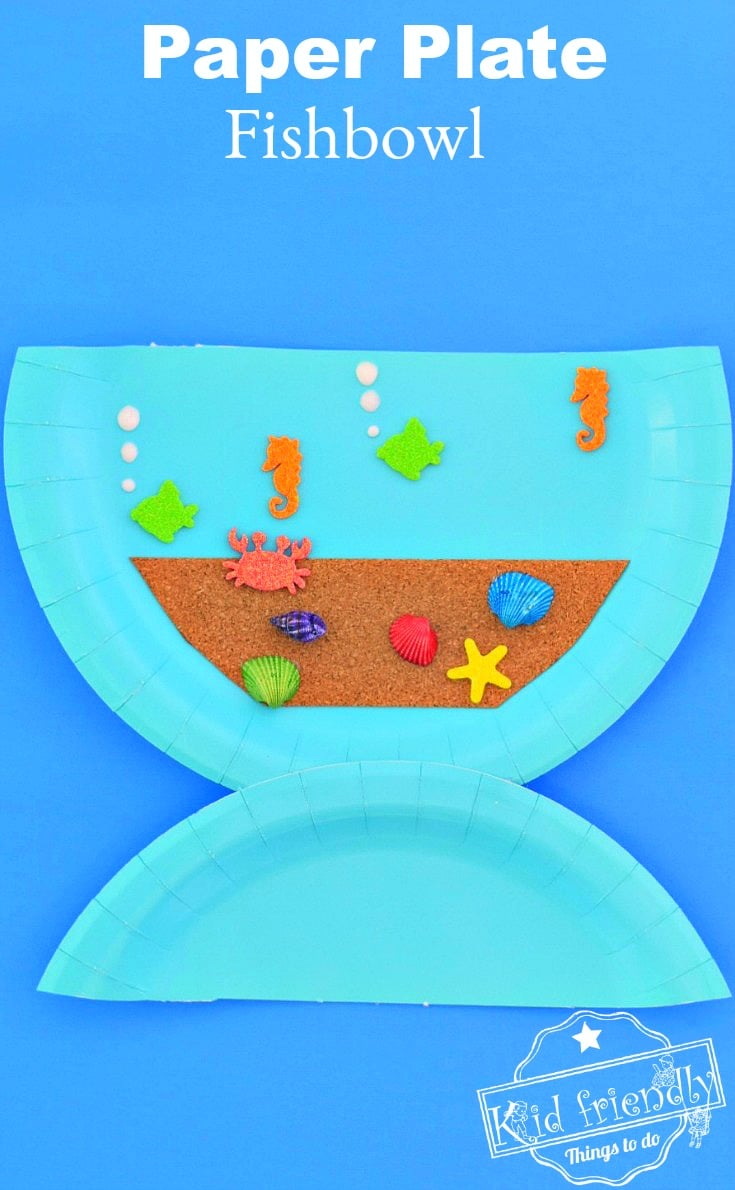 How about a fish plate summer craft for the window?